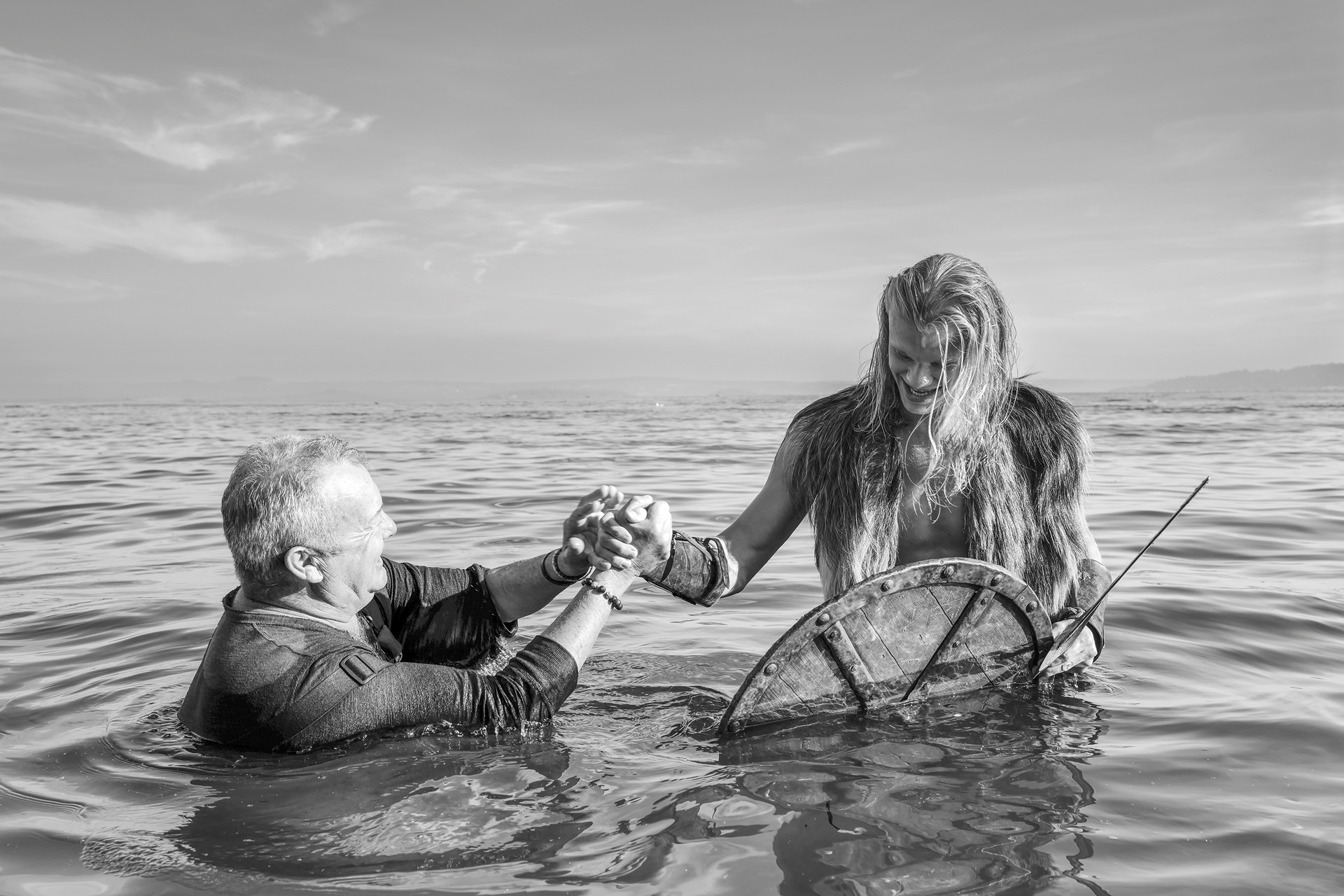 Artist's Studio: David Yarrow
Storytelling by David Yarrow is on until 26 November at Maddox Gallery
By Caiti Grove | 3 weeks ago
Caiti Grove looks behind the camera of acclaimed fine-art photographer David Yarrow.
Interview: David Yarrow
Photographer David Yarrow has just wrapped an Oliver Twist-inspired shoot with Cara Delevingne and David Gandy when we meet. The staged narrative pictures, taken at Chatham Docks, pay homage to London's history but also hint at the darker side mined by Dickens when sketching his colourful characters from the city's streets. In a few days David flies with his team to west Texas where he will riff on There Will Be Blood, the chilling 2007 drama centred on Daniel Day Lewis' monstrous oil baron. These are shoots not for brands or films, but rather for art, to be bought from a limited run starting at £10,000.
Yarrow started analysing shots from celebrated sports photographers at 17 and 18 years old. Later, when he arrived at Edinburgh University to study business and economics, he put theory into practice. 'I always loved sport. I wasn't so good at playing it and I thought the second-best option would be to photograph it,' he says. He honed his technique of getting close to his subject at varsity matches – a method he has since utilised to capture hippos in Botswana and most recently, footballer Erling Haaland dressed as a Viking in a fjord in Oslo, the proceeds of which go to charitable causes in Norway. 'What unites [all my work] is authenticity and freshness,' says Yarrow. 'We've got to elicit such strong emotion in people when they have so much choice, to get them prepared to invest their money and put it on their walls. So the starting premise is, will it excite people?'
When the 1986 Mexico World Cup began, Yarrow was in his penultimate year at university and flew out to photograph it for The Times. When England lost 2-1 to Argentina in the quarter-final, photographers from other newspapers were ordered home, yet Yarrow managed to secure a press pass for the final. When Argentina went on to win 3-2 against West Germany, Yarrow snapped Diego Maradona, hoisted onto his teammates' shoulders, with the World Cup held aloft. The photo was syndicated all over the world.
After graduating, however, Yarrow juggled a dilemma: a job at The Times as a sports photographer was on offer but he felt the pull of finance, too. 'I actually chose Wall Street, partly because of peer or parental pressure. So I put my cameras down professionally, but I still worked on a business plan that would allow me to monetise my craft.' That business began to gain traction 20 years ago, while he still had his own hedge fund, then photography became his full-time venture in 2014. The plan had paid off.
For his upcoming project in west Texas, he expects to shoot just after sunrise and before sunset. 'Low light is more atmospheric, it helps give a sense of distance and adds more emotion. It does mean we have to sleep twice – but you get used to it.' As we say goodbye, I wish him good weather for the upcoming shoot which he politely declines. 'If there is a thunderstorm, it adds a character for free. We'll seize that opportunity, what a gift to be given.' Yarrow brings an original and ambitious vision to photography, a sense of drama and tension to every shot. Clearly a romantic, he celebrates the wild and shows everyone (animals and footballers included) at their most vital, hopeful and optimistic. Compelling emotions impossible to resist in his work.
BOOK IT
Storytelling by David Yarrow is on until 26 November at Maddox Gallery (12 Berkeley Street, Mayfair). maddoxgallery.com