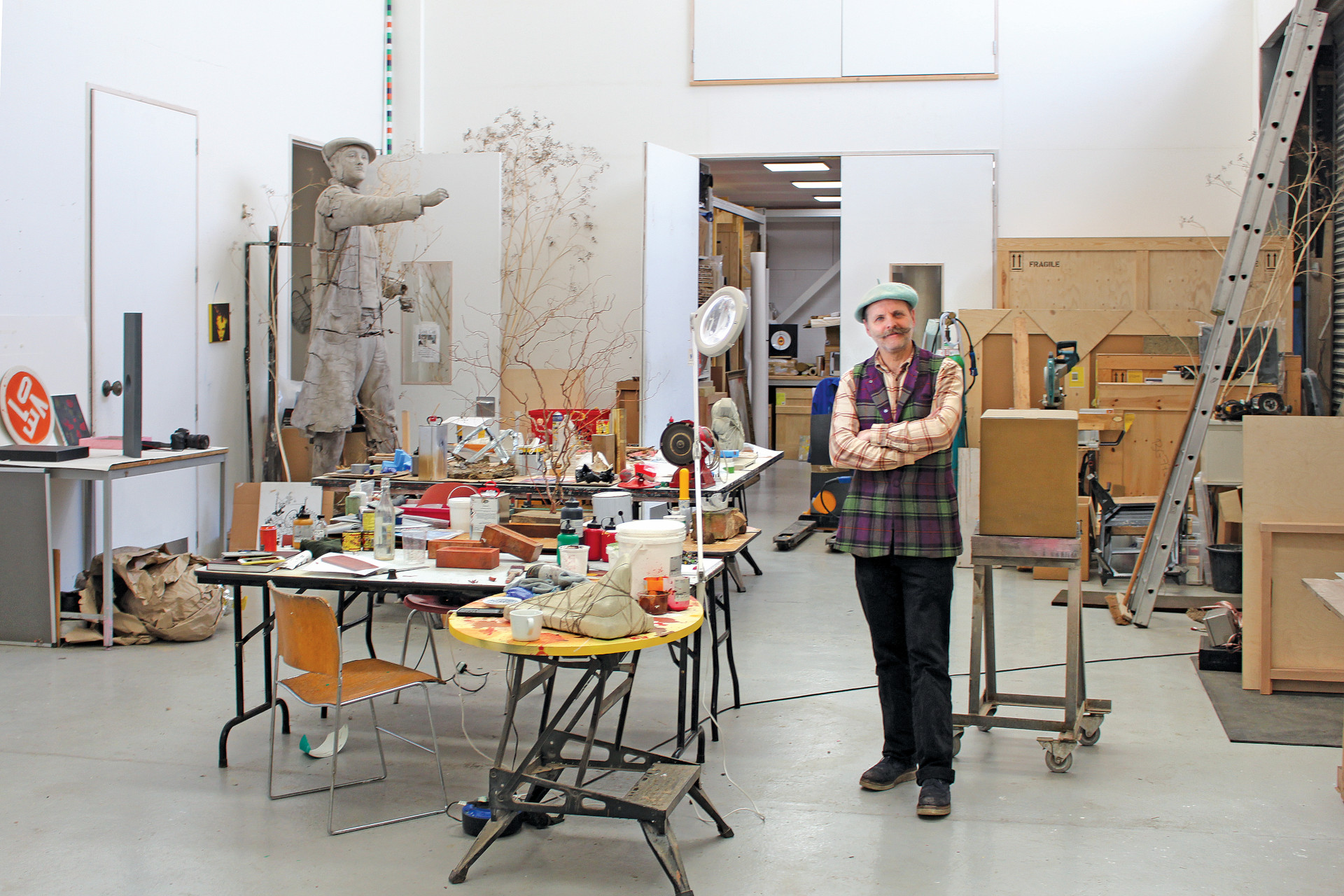 Artist's Studio: Gavin Turk
'Before the unveiling, the hatching, the greeting. It's all still unknown – anything can happen.'
The sculptor has to resist taking everything from the recycling plant, says Caiti Grove of British artist Gavin Turk.
Outdoor Art in London: A Guide
'I do miss the beautiful people,' says Gavin Turk with a wry smile. 'Folk famous for being famous. I was an eye-roller, too, but now they're gone I wish they were here.'
Gavin sprang to fame in the Nineties as one of the Young British Artists, famous for their conceptual outlook and untamed bohemian spirit. 'They never referred to themselves as "YBAs",' Turk asserts. 'It wasn't like the Surrealists who wanted to be called surrealists and had a manifesto about how they were going to change the world. If anything, we were all irritated about being British and didn't give a shit about being young.'
He himself gained notoriety for his final show at the Royal College of Art in 1991, which consisted of a whitewashed studio space containing only a blue heritage plaque: 'Gavin Turk worked here 1989-91'. The college refused to award him his degree, but the installation was spotted by Charles Saatchi, and made critics sit up. When asked the 'secret' of being an artist, Gavin's advice is crisp: 'find people whose work you're interested in and make conversations. It grants you potency and power.'
Today, Gavin is known for his large-scale sculptures and installations, such as the giant stainless-steel plug with a ball chain that materialised outside the Brunel Building in Paddington canal basin last September.
His studio is a huge minimalist space in Canning Town, east London, overlooking a recycling processing plant. It's a major distraction for an artist fascinated with value – and how it evaporates, 'I watch the diggers moving it all around from upstairs,' he says. 'I sometimes call them and say, "I'll have that" – I have to resist taking the lot.'
Usually, the studio would be buzzing with five assistants, a dynamic Turk has cultivated for the past 30-or-so years. Now it's just him and his son Caesar, who busies in the background, sourcing glue and soup. In a side room, a dusky green ten-foot-long long egg lies on its side. This is one of many; a reference to Magritte's eggs and his own childhood nightmares.
'If I was having a bad dream, a light would come from the back of my mind and this egg would rock towards me, blot out the dream and I'd wake up,' Gavin explains. A giant version is in residence at the Yorkshire Sculpture Park on the bank of its grand lake. 'The egg,' he continues, 'is like the open door.' He gestures to a door in the corner, cast in bronze, that stands slightly ajar. 'There's only one way out!'
Gavin then points to ground. 'And this is another bronze,' he says. I look down but can't see it. 'Where?' I ask. It's a bin bag, cast in hyper-realistic bronze and painted slick black, complete with a knotted top. Thirty years on, and he is still as subversive as ever.
'I like the moment before,' Turk says, reflecting on his work. 'Before the unveiling, the hatching, the greeting. It's all still unknown – anything can happen.'
See more of Gavin Turk's work at gavinturk.com