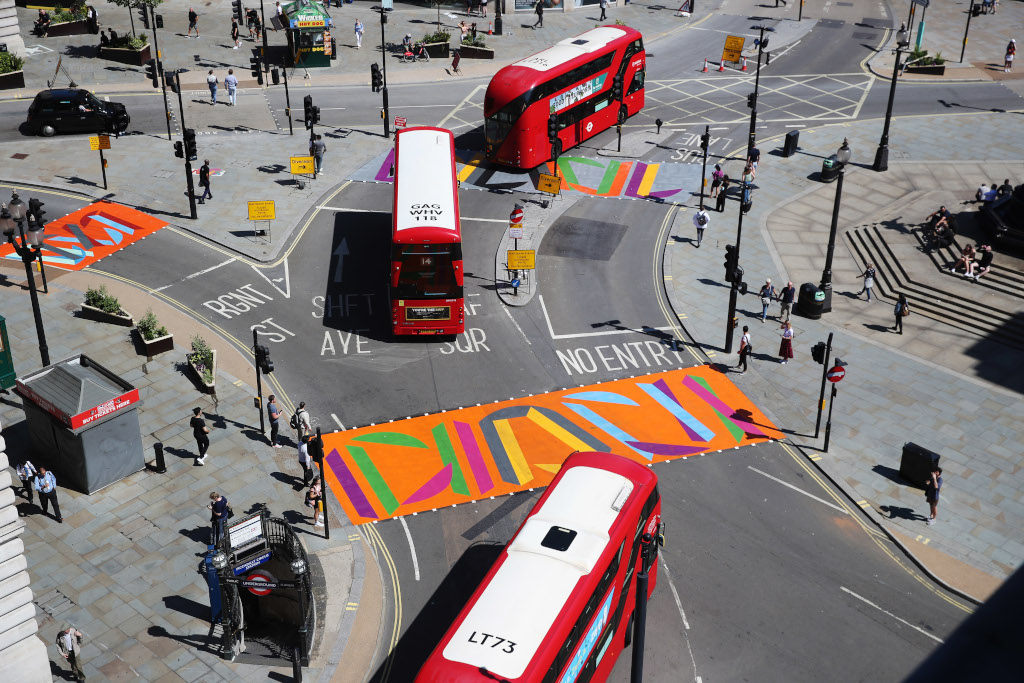 Outdoor Art in London: A Guide
---
Public art to spot on your next walk
Art is often best explored al fresco. Below we highlight the best outdoor art in London to see now, from 'Flower Flashes' to new wave street photography, and London's answer to the New York High Line. 
Outdoor Art in London: A Guide
Mr Brainwash at Battersea Power Station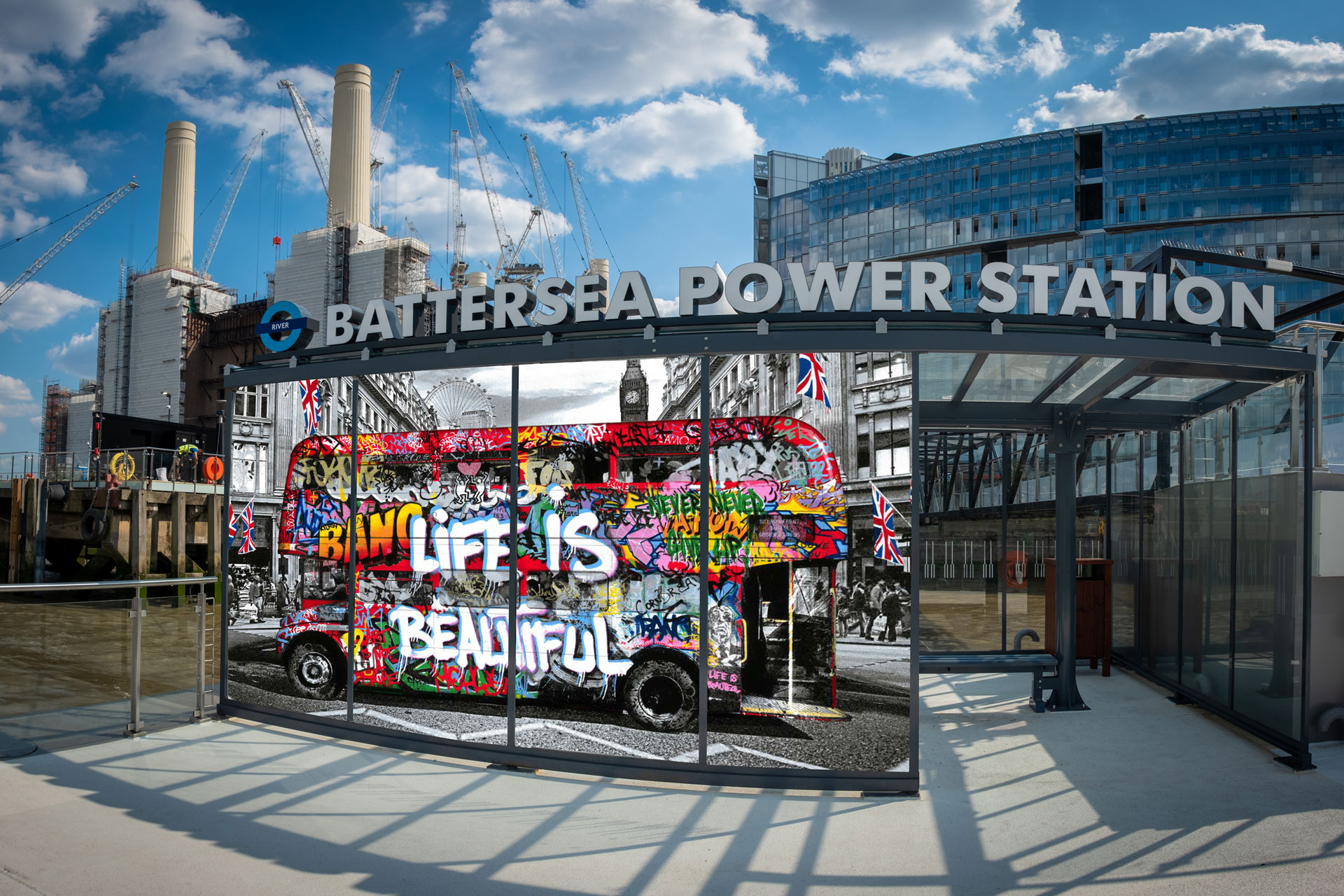 The LA-based French street artist Mr Brainwash is known for his graffiti, sculpture and large-scale silkscreen prints of celebrities like Madonna, Kate Moss and Marilyn Monroe. This week, though, his talent is being used to commemorate the opening of the new Battersea Power Station tube station, with a 17-metre mural by the artist unveiled at the venue yesterday. Love his work? Clarendon Fine Art Covent Garden will be showcasing some of his works from 23 – 30 September.
Sonic Bloom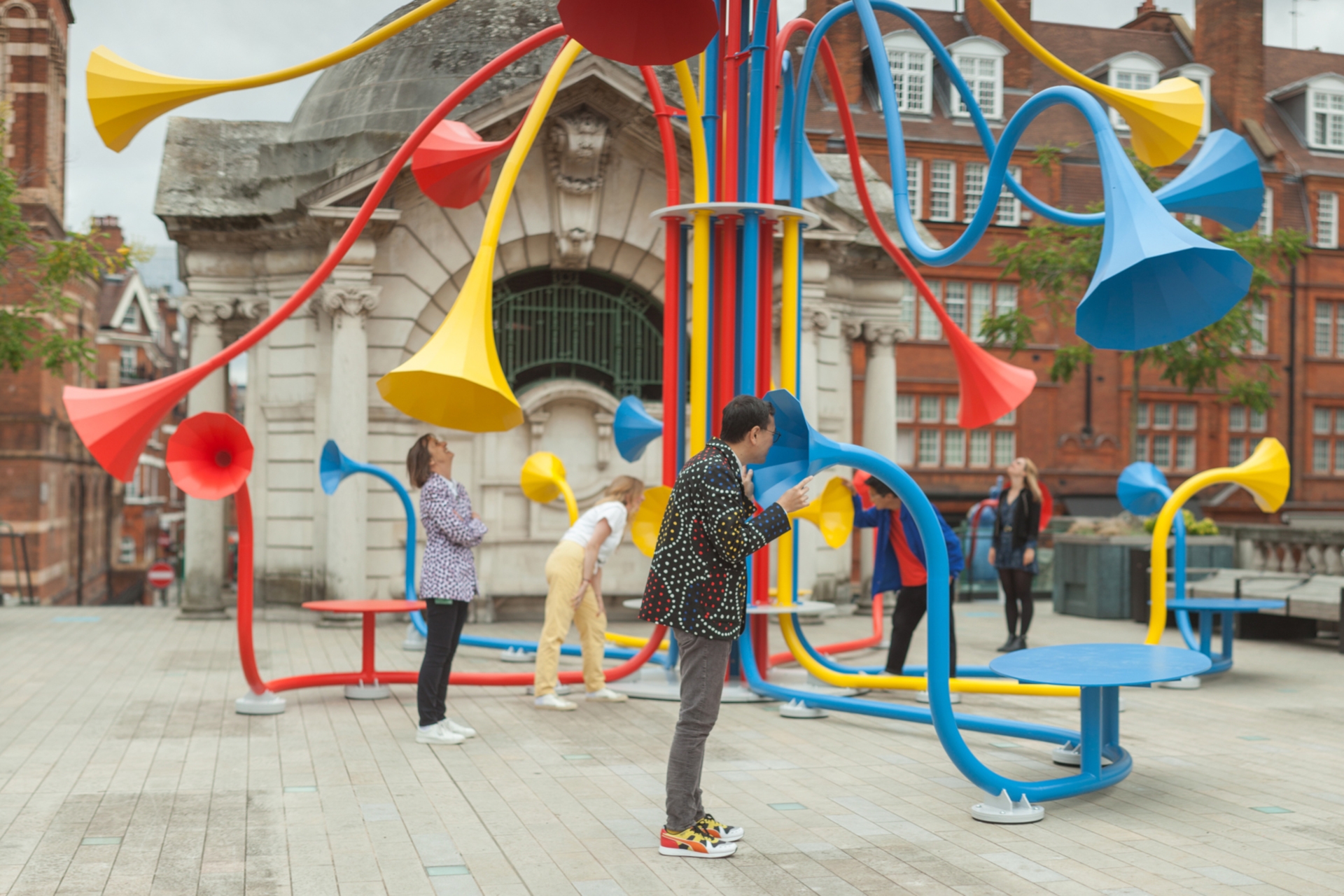 London's newest community-focused, multi-sensory and interactive public installation opened earlier this week in Brown Hart Gardens. Sonic Bloom invites Londoners to connect with each other through a network of pipes. Visitors can get stuck in by using the openings to speak and listen to people on the other side, establishing the connections missed during a year of lockdowns. Artist Yuri Suzuki wanted blend the themes of people, nature and the surrounding environment into an exploration of universal communication – and the result is an installation that is fun both to look at and interact with. On now until 23 August 2022, mayfairldn.com
Tusk Lion Trail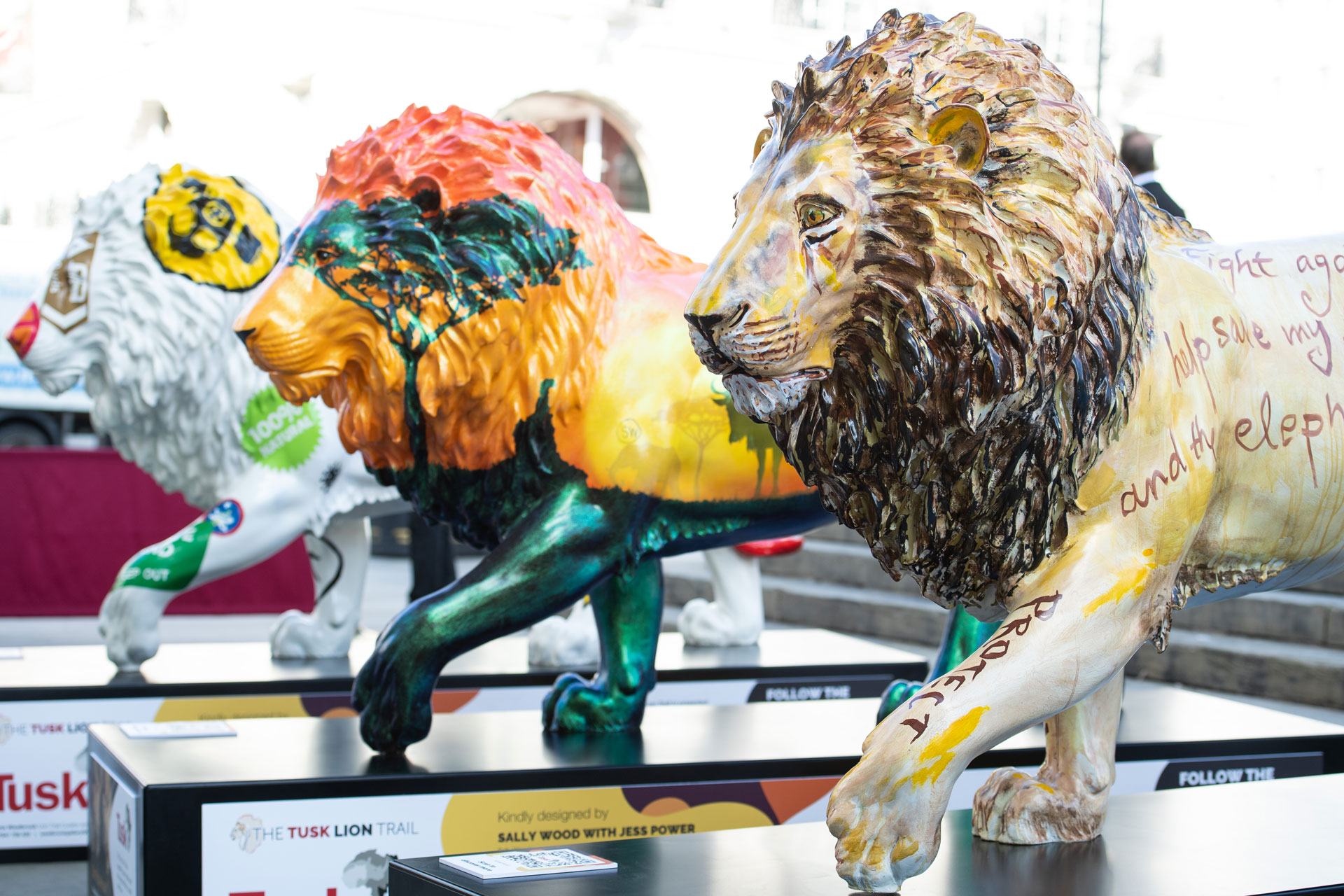 Life-sized lion sculptures are popping up around the capital in support of African conservation, aiming to raise awareness about the declining population of lions. A whole host of famous faces helped design the 27 artworks, including Rolling Stones guitarist Ronnie Wood, artist David Yarrow and actor Noel Fielding. You'll find them positioned around London landmarks until the end of September. tuskliontrail.com
Flower Flashes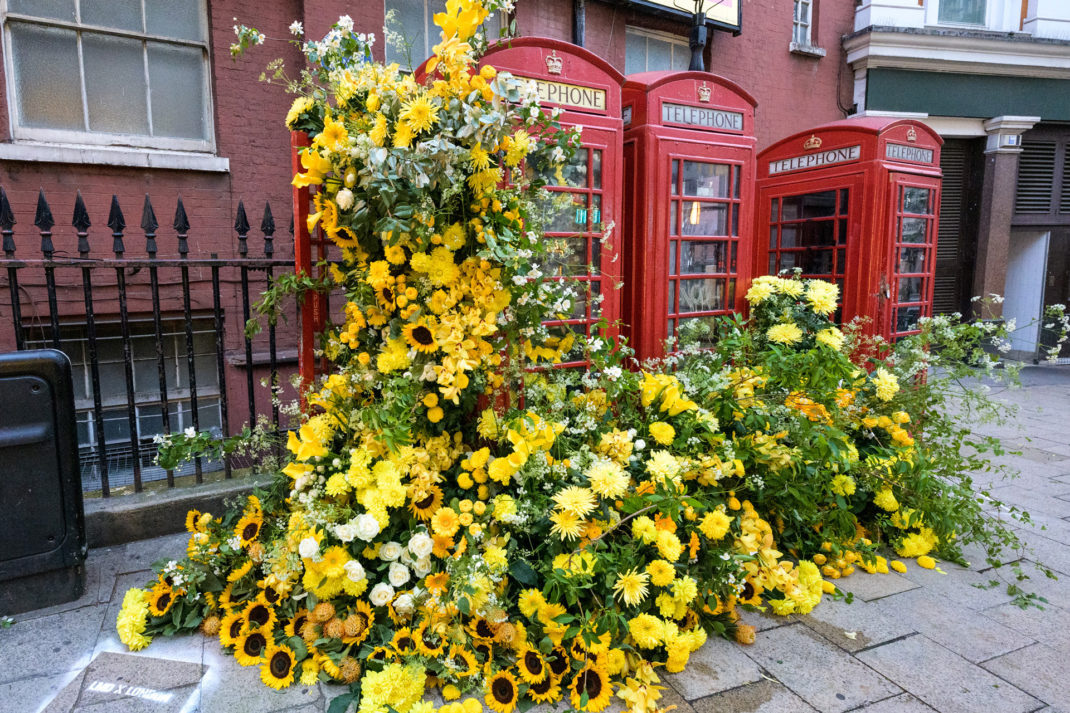 New York floral designer Lewis Miller and renowned British event florist Simon Lycett have joined forces in the creation of Flower Flashes, a new series of floral instillations exhibited across the capital. From Eros in Piccadilly Circus to a couple of phone boxes in Great Windmill Street, more than 12,0000 of Covent Garden Flower Market's blooms have been transformed into artworks as part of Funnyhowflowersdothat.co.uk's 'We Need More Flowers' campaign. More than just an exhibition of florals, onlookers are encouraged to pick and create their own bouquets. 'This is the first time I've created Flower Flashes outside my beloved New York and it's a fascinating social experiment to see how Londoners react to them', says Lewis. ' I started Flower Flashes back in 2016 with a very simple ambition; to create moments of natural beauty in unexpected parts of the city. Getting the opportunity to 'flash' such an iconic landmark as Eros is a career highlight; next stop Buckingham Palace!'
Illuminated River
From Monet to Turner, the Thames has inspired many artists over the years – but the latest addition to the riverside canon offers something entirely unique. Dreamed up by American artist Leo Villareal in collaboration with London-based architecture firm Lifschutz Davidson Sandilands, the Illuminated River project sees bridges across the capital ignited with light artwork. This spring will see the launch of the project's second phase, with an additional five central London bridges set to be lit up: Blackfriars, Waterloo, Westminster, Golden Jubilee Footbridges and Lambeth. They'll join four bridges that Villareal has already worked his magic on – and once complete, it will be the longest public art commission in the world. Take an evening stroll around the city to catch a glimpse of the mesmerising installations, which are in action from just before dusk until 2am. illuminatedriver.london
The Line
Described as 'London's first dedicated modern and contemporary art walk', The Line runs between the Queen Elizabeth Olympic Park and The O2 in Greenwich, broadly following the 'line' of the Greenwich Meridian. London's answer to the New York High Line, the three-mile route is peppered with 30 al fresco artworks from the likes of Antony Gormley, Damien Hirst, Richard Wilson and Gary Hume. You'll also pass by plenty of London landmarks, and the full route includes a ride in the Emirates Air Line cable car, which is always fun. the-line.org
THE END, Heather Phillipson
A 30ft swirl of whipped cream topped with a cherry, a drone and a large fly bang in the middle of Trafalgar Square, it's hard to miss Heather Phillipson's latest creation. Titled THE END, it's part of Trafalgar Square's Fourth Plinth Project, which allows contemporary artists to have their works seen on a large scale. 'THE END (has been) scaled up for its ultimate size and context – one in which the surrounding architecture and its population are participants in a mis-scaled landscape, magnifying the banal, and our cohabitation with other lifeforms, to apocalyptic proportions,' says the artist. The idea was conceived in 2016 – not long after Britain had voted to leave the EU – and Phillipson wanted to show the sculpture oozing off its platform precariously, because that's how the world felt back then. It wasn't revealed until last summer – but in the current uncertain climate, the artwork has taken on a new significance.
Ridley Road Stories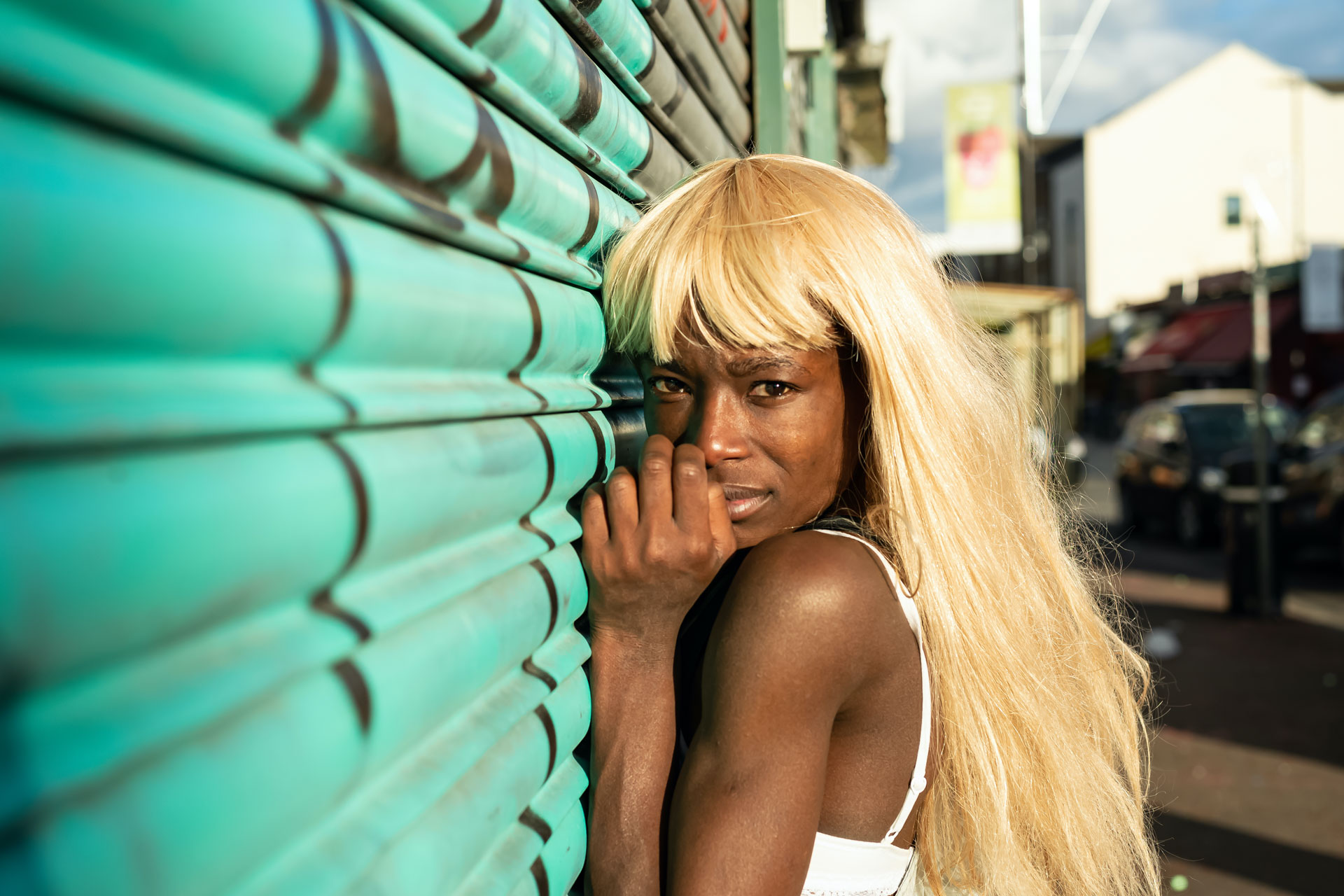 Photographers Donna Travis and Wayne R Crichlow recently set up an outdoor exhibition in Hackney, titled Ridley Road Stories after the street name. It's comprised of 10 large portraits celebrating Dalston's Afro-Caribbean community – which were taken just a few hundred metres away. 'You're showing the community to itself,' Travis told the BBC. 'I find that idea really powerful.' The exhibition is a project from Future Hackney, a group which documents social change in East London. This year, there are plans to create a free publication exhibition with Create London, focusing on BAME groups which have been disproportionately affected by Covid-19. futurehackney.com
Winged Figure, Barbara Hepworth
Remember Oxford Street? It's probably been a long time since you've been there – but next time you go, take a look at the outer walls of John Lewis. On the cross-section between Holles and Oxford Street sits one of Barbara Hepworth's sculptures, Winged Figure. The work was commissioned by John Lewis – who Hepworth admired, as the shop was collectively owned by its workers. It was unveiled to the public in 1963, and has sat there ever since – being seen by an average of 200 million people in a normal year. Oxford St, Marylebone, London W1C 1DX
Sculpture in the City
Every summer, a new selection of artworks pop up around the capital's Square Mile as part of Sculpture in the City, a free open-air exhibition. It's returning this spring for a ninth edition, with works set against the architecture of the City's insurance district. Highlights include Kevin Grancis Gray's Reclining Nude I, found in St Boltophs without Bishopsgate Churchyard, and Dutch/Light by Jyll Bradley: an artwork pavilion activated by light in Aldgate Square. sculptureinthecity.org.uk
ArcelorMittal Orbit, Anish Kapoor
In 2010, artist Anish Kapoor was given the commission of a lifetime: to design the new public attraction in London's Olympic Park. It was built to tie in with the Olympics – but to remain afterwards as a monument to the games. Known as the Orbit, the artwork is quite the spectacle: 115 metres high, with 560 metres of red tubular steel forming the structure. Not only is the Orbit one of the most famous pieces of outdoor art in London, it's the tallest sculpture in the UK, and home to the world's longest tunnel slide. You'll find it on the aforementioned art walk, The Line. arcelormittalorbit.com
Featured image: Flower Flashes
READ MORE:
Outdoor Art in London: Where To Spot Street Art / Best Art Exhibitions of 2021 / Sculpture