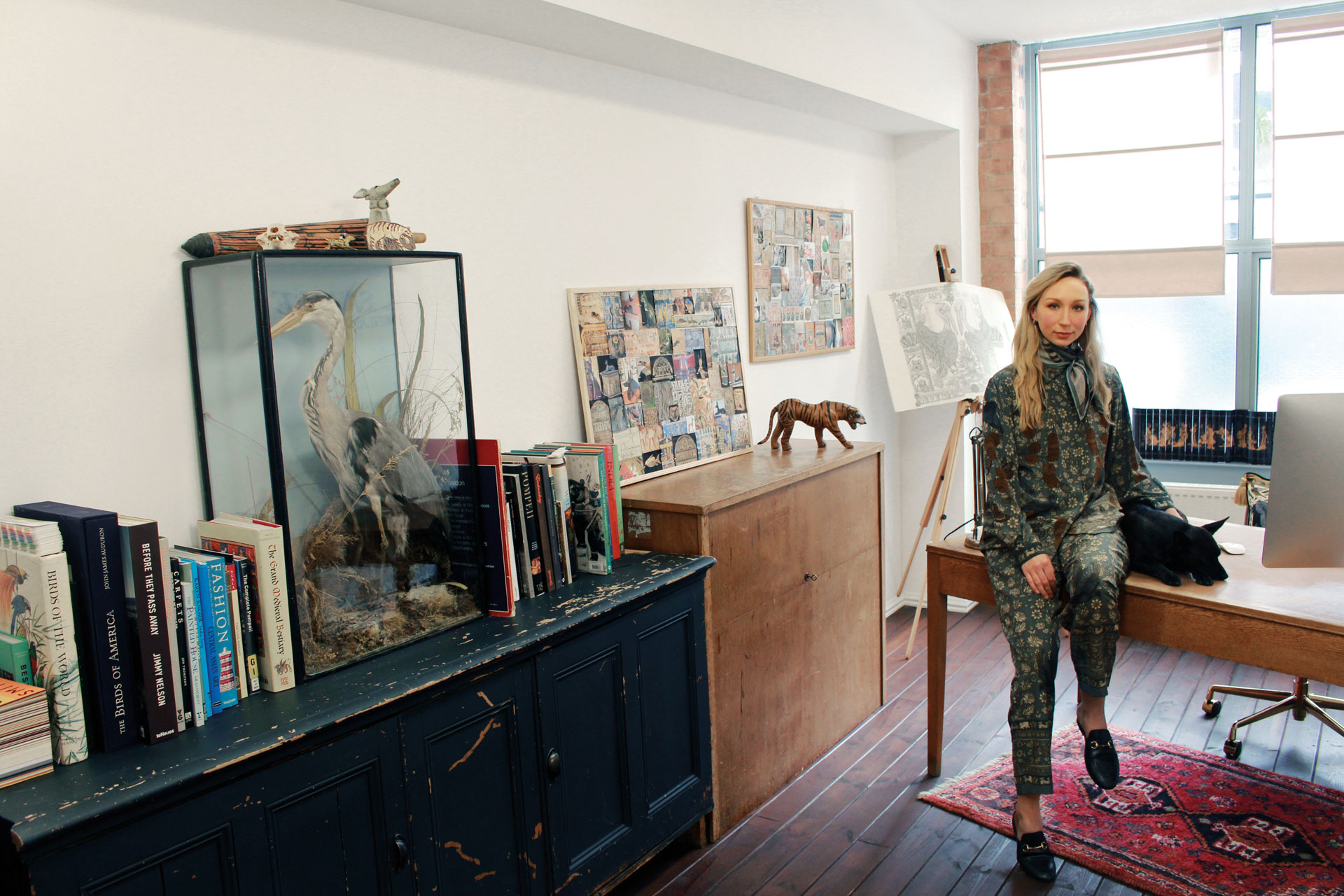 Artist's Studio: Meet Sabina Savage
---
C&TH meets designer Sabina Savage, whose eponymous scarf brand is going from strength to strength
Caiti Grove talks culture and couture with the illustrator and fashion designer Sabina Savage in her Hackney atelier
Artist's Studio: Sabina Savage
'I'm actually not very well travelled,' muses illustrator and print designer Sabina Savage, matter of factly. 'But I've researched so much into different cultures and countries, I travel through my work.' 
In her studio in East London, a pencil drawing sits on an easel, the finished silk scarf framed on the wall behind: an alligator in his river-bed lair, snapping at the heron perched on his back. 
Sabina releases two collections a year of intricately beautiful scarves, luxurious silk shirts and perfectly draped trousers. Each of her designs is inspired by a cultural or art movement with an animal-slant for inspiration. 'I love animals but not in a cutesy way,' she explains. 'The reality of nature quite often brings along a darker element.' 
But her path here hasn't been without its twists and turns. Central St Martin's turned Sabina down. 'Fashion at St Martins was all I ever wanted to do, the rejection really threw me.' So she took off for Paris to study couture – despite not speaking any French. 'I Google-translated my interview questions and they still took me,' she recalls. But when she arrived, the teachers were dismayed. 'Looking back, they must have known [I didn't speak French] because my grammar was awful.' 
Fortunately, they let her stay. The course was strict, and the work arduous and exacting. Lectures were eight to eight, five days a week, and initially involved a lot of frantic translation. 'I had to ask other students to summarise what was happening – and what were the tasks for the next class.' One was to make a suit, and if the measurements were out by more than three millimetres the teacher cut the finished items in half in front of the class. 'People cried – it was very emotional because we put so much effort in, and the fabric was expensive too,' Sabina remembers. 
After that first year, Sabina applied for an internship at Alexander McQueen's London studio. Only a single position was available, in the print department, somewhere she had never envisaged herself before. But it was a revelation. 'I remember thinking, "This is where I want to be. I learnt almost everything I know there.' Sabina illustrated at McQueen for three summers while she studied and helped at the house's fashion week shows in Paris. After she graduated in 2011 – winning the prestigious Nouvelle Couture Award – she moved back to Britain to work for fashion houses including Gareth Pugh and Paul Smith, before ending up at McQueen. Sabina left the house in 2014 and started a project designing her own scarves. 'My mother's friends bought the first collection,' she admits, laughing. Eight years on, she is about to launch a new collection based on the ancient Indian Panchatantra fables, as well as introducing slip dresses. 
'The couture mentality definitely stuck with me,' she says of her training in Paris. 'In retrospect, it was a good thing I didn't get into St Martin's. The minute detail in French tailoring is much more where my skills lie than the British way of expressing fashion – the big gestures.' She pauses to reflect. 'But people all over the world say my work is recognisably British. I love that.' An elegant pas de deux of cultures: French technique with British style. What could be better?
MORE ARTIST'S STUDIO: