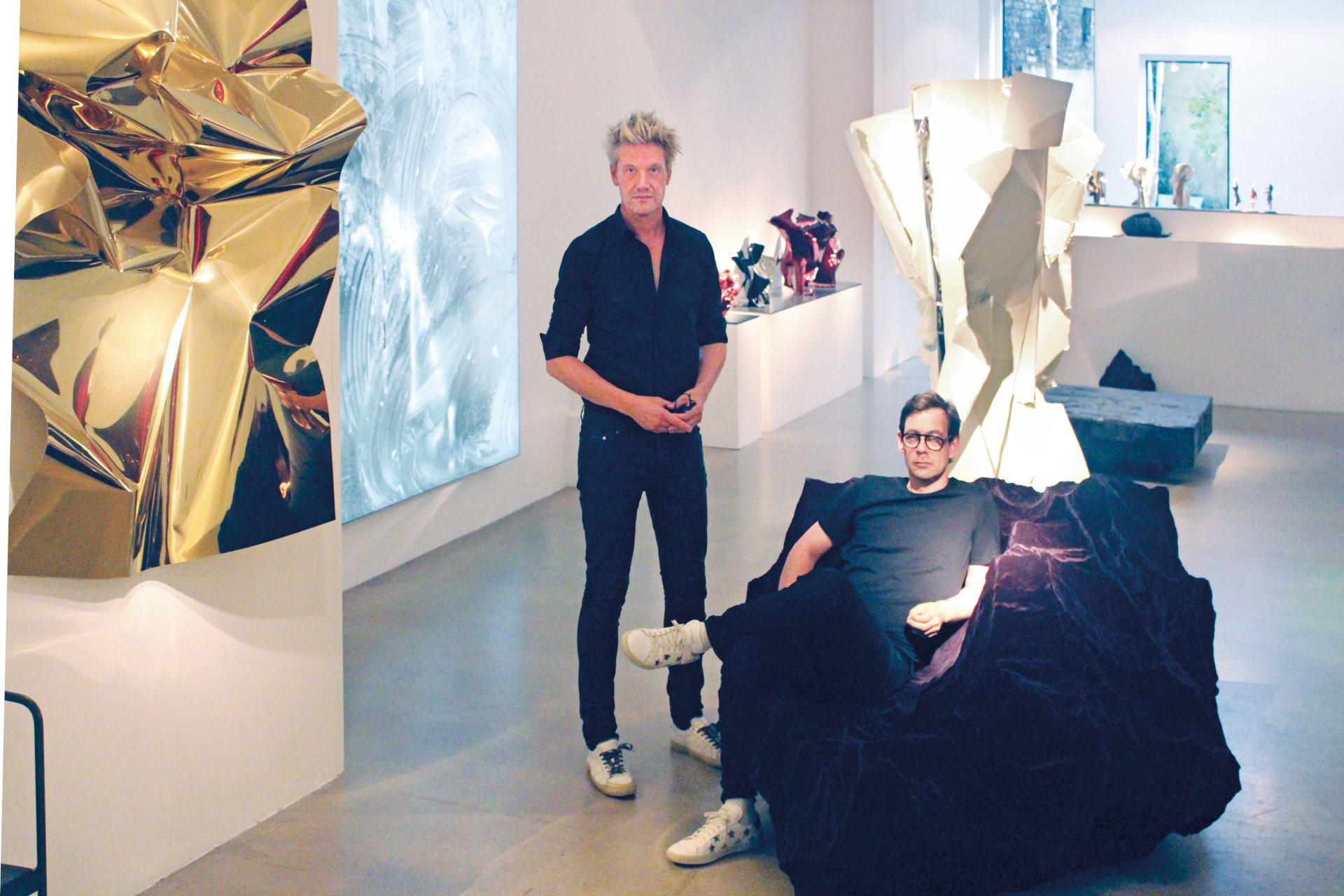 Artist's Studio: Fredrikson Stallard
---
Patrik Fredrikson and Ian Stallard blur the lines between art and design
Caiti Grove visits design duo Fredrikson Stallard at their Farringdon studio
Buy the Jan/Feb '22 Issue here
Artist's Studio: Fredrikson Stallard
Patrik Fredrikson gestures towards a sculptured bust on a sideboard in the flat above the joint studio he shares with Ian Stallard. The face is smeared into a gloopy mess, the head now an anonymous everyman. A couple first and for many years a design duo, Ian and Patrik make furniture, art and ceramics together as Fredrikson Stallard.
Their work walks a blurred line between art and design. Two lamps bookend a big grey sofa, both conceived in clay; they're huge and ornate, yet messy too, as if someone has just gouged them with hurried, impatient fingers. 'You just want to freeze that moment,' Ian insists. 'That's why we want clay because it is so immediate.'
In the middle of their studio, a dark purple rock glistens with a velvet sheen. It is sculptural and mysterious, like a meteor or a piece of set from a Sci-Fi film. But it's not a sculpture, or rather not just a sculpture – it's an unexpectedly squishy sofa, too. Other creations include a coffee table with legs that unscrew, its top so intriguing it can hang as a piece of art.
On the wall, an enormous piece of cardboard folds into a sculptural knot, painted with a dark red veneer. 'It's one of the materials we like using,' Ian explains. 'It is beautifully expressive; cardboards are like different brush strokes; dense cardboards fold in a very angular, masculine way, then other cards have a softer fluidity. We like the dichotomy between a material that you see lying on the street and then we cast it in bronze or cover it in these rich enamels to add a permanence and a value – the relationship between preciousness and disposability.'
'We trained to create for the masses,' Patrik says, recalling their art education at Central Saint Martins. 'Everything had to be based around cost, democratic prices were really important. But we felt that it wasn't us – we were prostituting ourselves to a cause that was taught to us.' These days, Patrik and Ian are bold about their work that will be unaffordable for some. 'We use expensive techniques and crafts people, but our pieces are built to last, and can be repaired. Because it has value, it's not going to be thrown away – they can be handed down and have a resale value.'
The artistic duo met in 1995, while Ian was studying ceramics and Patrik industrial design. After graduating, they maintained separate studios for several years. An opportunity arose to present a show together. 'It was still very much Ian and me as separate entities,' Patrik says, 'but the moment we took a step back, we realised it worked.' A few years later they joined forces.
'It's a cyclical thing,' says Patrik of the merging of art and design. 'If you look at 18th-century fine art and furniture, we're on a par. We admire modernism greatly, but it created a cleft between art and design.' Together, these artists have crossed that chasm with spectacular – and lasting – results.
See more of Fredrikson Stallard's work at fredriksonstallard.com
MORE ARTIST'S STUDIO