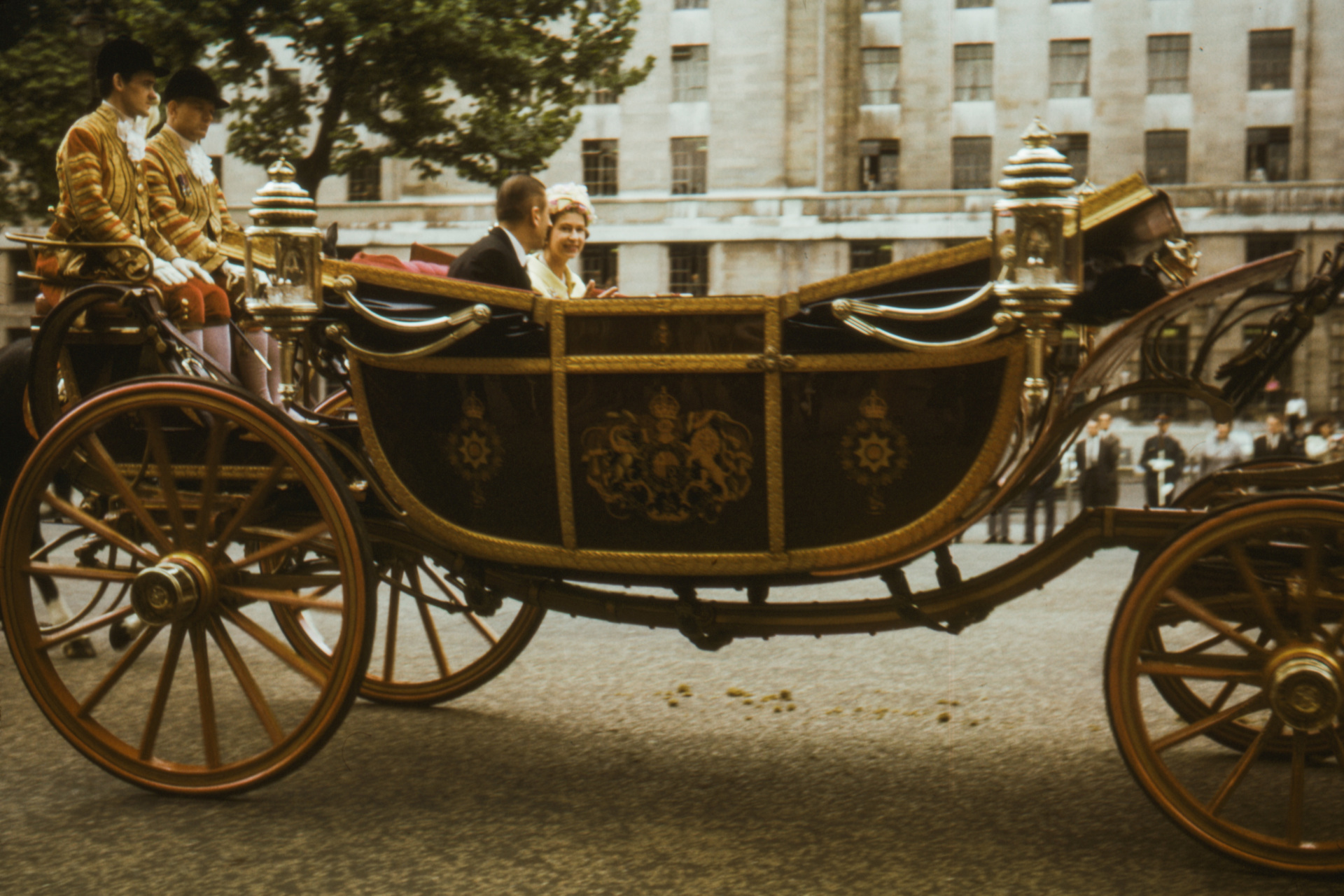 5 Artists Who Painted Queen Elizabeth II
Discover the artists who have immortalised our longest reigning monarch
King Charles II's first stamp as monarch has been revealed – which will start appearing on our post in April – picturing him without a crown. According to the BBC, the King wanted his tiny portrait to be 'simple', resulting in this 'human' picture with 'no embellishment'. While various photographs and digitally rendered portraits have been revealed – along with a certain sculpture on the cover of our 2023 Great British Brands magazine – the first official painting of Charles as King is yet to be revealed. While the late Queen Elizabeth II was still alive, Charlotte Metcalf met five artists who had the privilege of being commissioned to either paint or photograph the monarch. From light-artist Chris Levine to more traditional portraiture by Nicky Philipps, read their accounts of immortalising the Queen.
5 Artists Who Have Painted The Queen
We talk to some of the artists who've been lucky enough to paint or photograph Royalty – encapsulating them on canvas, and putting their own names in the history books collaterally. Here are the accounts of Nicky Philips, Christian Furr, Hugo Rittson-Thomas, Isobel Peachey and Chris Levine.
Nicky Philipps
Nicky Philipps painted the Queen in 2011 and Princes William and Harry in 2008. Her portrait of the Queen hangs to the left of the throne in the Throne Room at Buckingham Palace and her portrait of the Princes is in the National Portrait Gallery.
She tells us more: 'I was originally commissioned to paint the Queen by Royal Mail for the Diamond Jubilee Commemorative First Class stamp. I was commissioned just to paint her head but I asked if I could paint her full length as well. As the Royal Mail wanted a glimpse of the garter robes, it was agreed. I wanted to put dogs in the portrait and the Queen asked, "How many do you want?"
'It was the Queen's 134th portrait so I was so impressed by how she chatted away and was great fun. I love horses and dogs too, so, obviously, we talked about those – she has such an infectious laugh, which really broke the ice.
'In 2008 William and Harry chose me to paint them for the National Portrait Gallery after they saw a self-portrait I submitted to the Gallery's BP Awards and another portrait I'd painted of a 25-year-old man. I arrived at Clarence House and, in the hallway, I saw Harry sitting casually on a table with his hand on his hip and immediately that fitted my view of how he was. 
I wanted to put dogs in the portrait and the Queen asked, "How many do you want?"
'Call me a purist, but as Clarence House faces south, I asked them to come to my studio in South Kensington. What's amazing is that no one even noticed when they arrived and clanked into my house in full dress uniform with spurs, swords and the lot. So much for Neighbourhood Watch. 
'It was great fun to paint William and Harry together, as they weren't intimidated by the process. People imagine Harry to be a bit shambolic but, ultimately, he's a Sandhurst-trained army officer, has natural authority and is very articulate.'
Christian Furr
Christian Furr is a contemporary artist who was, at 28, the youngest ever artist to paint the Queen in 1995. His portrait hangs in the public foyer of the Royal Over-Seas League in London.
But how did it happen?
'The Royal Over-Seas League used to have an annual open exhibition of young artists and I had submitted a portrait of a guy in a red jacket holding a brush, which led to a commission to paint the Chairman of the Over-Seas League and former director of Air India, Maneck Dalal. I painted Mr Dalal in his garden and it had a slight feel of Matisse to it. 
'Then I received a call from the League's Director-General, Robert Newell. "Are you sitting down?" he asked me. "The Queen would like you to paint her portrait." I remember taking the call in the flat I was living in in Surbiton with my girlfriend Emma, now my wife. It was quite a shock but a great honour.
'I drove to Buckingham Palace in my red VW Beetle with its boot bristling with paintbrushes. When I told the guards I was there to paint the Queen they laughed. I wanted to paint the Queen quite close up – so many other portraits, including Annigoni's, had been fairly distant. 
'I wanted the Queen to wear national colours, red, blue and white, and so I'd chosen the Order of Star and Garter dress, which I thought summed her up as both a person and an icon. She also wore the diamond Girls of Great Britain and Ireland Tiara, a gift to the future Queen Mary in 1893. In 1947, Queen Mary gave it to her granddaughter Elizabeth as a wedding present. It has become such a familiar image through its appearance on our banknotes and coins.
Did anything surprise you?
'When the Queen came in she was carrying a blanket and put it on the side of her chair. I included it in the portrait because she's a human being and I felt it showed an element of vulnerability. It could have been overwhelming as a 28-year-old at the start of my career but she put me completely at ease and I think that comes out in the painting. 
'I had two sittings and she was really chatty, lively and charming. She asked me what paintings I liked. At the time I was really into Gainsborough and Reynolds. "I think we've got a few of those," she said – she has a very sharp sense of humour and I hope I've portrayed that in the way she's smiling enigmatically. She was also very animated and enjoyed the music outside during the changing of the guard. It was nice to see her chilling out.
Finishing touches…
'I finished the painting in my Hackney Wick studio. It took me two or three months and I felt so under pressure. This was one of the most recognisable people in the world and if one brushstroke was out of line, I was going to be judged. Sir Donald Irvine, the Secretary of the League, came to see it and was very pleased, and I know the Duke of Edinburgh has a copy of the painting because I presented him with a print on behalf of the Eccentric Club, a charity he is a patron of.'
Hugo Rittson-Thomas
Hugo Rittson-Thomas is a photographer and documentary film-maker. His photographs of the Queen, Prince William and the Duchess of Cornwall belong to a series of photographs entitled The Queen's People, which show Members of the Royal Household and British ceremonial position holders in their traditional uniform. The Royal Household holds a copy of the prints in their archive.
'I was commissioned by the Royal Scots Dragoon Guards to take a portrait of her Majesty to celebrate her colonelcy and the Regiment's 60th anniversary in 2013, so it all came together along with The Queen's People. It also tied in with the Waterloo celebrations – the Queen is wearing a Waterloo regimental badge in the image.
Reinventing traditional court portraits
'I wanted the photographs to have an element of 17th-century formal portraits with their black backgrounds. I'm inspired by Old Masters like Velázquez but, also, by photographers like Irving Penn, so I used a unique contemporary mirror device that means you see the person from the front, back and both sides.
'It has never been done before and reinvents traditional court portrait painting. It takes about four hours to build the mirrored box and to light it properly but when it came to shooting the Queen, my camera had a digital seizure, which meant I immediately had a mental seizure. The Queen was totally unflappable and very understanding. I said it would take a couple of minutes to fix the camera and this was my cloud's silver lining, as we started chatting about other things and I was able to explain the purpose and process better. She made me feel like she had all the time in the world – she was so generous.
'I photographed Prince William when he was doing a presentation at Aldershot Barracks. I was very impressed by what a natural leader he is. He has real presence and energy. He could so easily have been unrelaxed just before going on parade but, instead, he was totally calm and in control.'
Isobel Peachey
Aged just 31, Isobel Peachey was commissioned by Cunard to paint the Queen for the launch of the liner Queen Elizabeth in 2010, where it still hangs. Her portrait of Princess Anne was commissioned by the Royal Society of Arts when she succeeded her father as President there, and the portrait hangs outside the Great Room, over the top of the staircase.
How did it happen?
'In 2008 I painted a portrait of a childhood friend, which was selected for the 2009 BP Portrait Award exhibition. Meanwhile, Cunard had approached the Director of the National Portrait Gallery, Sandy Nairne, to commission a portrait artist. Shortly afterwards I received a vague email asking me to go to an interview without telling me who the sitter was. 
'At the interview, they wanted to see my portfolio and asked lots of questions about how I'd go about painting a portrait. They also asked if I needed anything in particular when painting a portrait. "A nice cup of tea to chat over is great to settle the nerves and relax the situation," I said. Then they told me they were looking for an artist to paint the Queen. I remember feeling shocked because it had never occurred to me that it would be such an important royal commission. I felt very honoured but didn't expect anything more to come of it as I was 31 and just starting out.
'After winning the BP Travel Award 2009 a few months later, I got a call from Cunard to tell me I had been awarded the commission. It was surreal but wonderful.
Welcoming and homely
'At Buckingham Palace I had three sittings in the Yellow Drawing Room and I was able to sketch and photograph it beforehand, as it has beautiful ornate gilding from floor to ceiling. Cunard wanted the Queen to look welcoming and homely, as well as regal, so they suggested having the grand fireplace in the background. 
'They did bring me the cup of tea and the Queen asked me lots of questions about my career, my background, other commissions and plans for the future. These exchanges allowed me to build up a picture of the Queen that I couldn't have possibly got from a photograph or other media. It was important to see her body language and build up a true picture of her. 
'It was a strange experience because I had gone from painting people I knew really well personally, to the most well-known person you could imagine and I felt a huge weight of expectation – from the Queen herself, from Cunard and from the public. It taught me a great deal and was a turning point in my career as portrait painter.
Painting in secret
'The portrait was completed in my studio at the top of my parents' house. As I wasn't allowed to tell anyone who I was painting I had to keep the door locked. My friends kept asking, "Why the secrecy?" and if I had a dead body in there. Eventually, when I was able to tell them, they were shocked and happy for me. I invited my closest friends and family to the official unveiling at the National Portrait Gallery and having them there really made my evening.
'The first time the Queen saw the portrait was on board the Queen Elizabeth liner on the day she named and launched it. I was standing next to the portrait as she came down the grand staircase and when she saw it she giggled. She asked me if it had progressed how I'd wished and although she never comments on her portraits I felt she approved.
Royal approval
'When Princess Anne became President of the Royal Society of Arts, Sandy Nairne was asked to advise on a portraitist and my name was put forward. Again the sittings took place in the Yellow Drawing Room but this time there was no formal brief.
'During a sitting she admired one of the sketches. After she left I found out it was her wedding anniversary that day, so I wanted to offer her one, which I later presented to her when her portrait was unveiled at the RSA.'
Chris Levine
Chris Levine is a pioneer in the field of light art. In 2004, to mark 800 years of Jersey's independence from France and allegiance to the Crown, Jersey Heritage Trust commissioned Chris to do a portrait of the Queen. The hologram Equanimity remains at Mont Orgueil Castle in Jersey and also appeared on a holographic £10 Jersey stamp and £100 banknote. The sitting resulted in a body of work, including Lightness of Being, that has made Chris internationally renowned.
Something different
'The call came out of the blue. I think I was put out there as a bit of a wildcard by artist Gordon Young, who curated the commission and was behind the whole idea. It didn't need to be an oil painting, so Jersey was obviously looking for something different and contemporary. 
'I thought, "This can't be for real." I went over to Jersey and thought there'd be circles of bureaucracy and lots of people sticking their oar in but, actually, I was entirely left to my own devices. However, the fact that the client was so trusting made me feel hugely responsible to create a worthy item.
Creating an icon
I asked for a selection of capes and as soon as she put the ermine one on, it was if someone had spoken from above – there was the image.
'I wanted to make an icon and distill the image down to its purest essence. So I chose one string of pearls, not three, and the cross in her diadem is so beautifully simple. I took every opportunity to pare the image right back and simplify it. I asked for a selection of capes and as soon as she put the ermine one on, it was if someone had spoken from above – there was the image. 
'I was offered a second sitting and then it became so much more than just one image. I made subtle changes in the way I positioned the camera and lights for a much softer feel. At the time I was just getting into meditation and thought about how it could affect our whole evolution as a species. I've been on about ten retreats and taken a vow of silence, and I really wanted to share what I felt about meditation's power.
'It's all about equanimity and I wanted that to be the title of the portrait, as it seemed so appropriate in terms of the image. I asked the Queen how she felt about that and she agreed it would be appropriate.
Bright lights
'She was under a lot of bright lights and the camera was moving along on a track. I suggested she rested her eyes while we reloaded and that out-take with her eyes closed between takes was the image that resonated – pure magic.
'Mario Testino said that it was the most beautiful image of the Queen he'd ever seen. I'd delivered the original hologram to Jersey but realised I was sitting on all this amazing material so, in 2008, I exhibited with StolenSpace Gallery at the Old Truman Brewery in Brick Lane. It was a massive hit and, since then,
the images have been all around the world.
Time magazine cover
'The original commission with her eyes open is the one that ended up on the cover of Time magazine in 2012 and on the banknotes. The banknote is so beautiful with the Annigoni portrait as part of the watermark. I was blown away. 
I like to think I've tapped into a spiritual dimension and that capturing the Queen with her eyes closed has a meditative, soulful connection with people
'At the National Portrait Gallery my pictures bookmarked the entire exhibition of 60 portraits of the Queen – starting with her eyes open and then, at the very end, next to a portrait by Lucian Freud, with her eyes closed. Amongst so many iconic artists, I'd just expected my work to be in a corner, so it was surreal and I felt very honoured, especially as they also used my image for the catalogue cover. 
'Half a million people came to see those light box 3D portraits, which are experiential and can't be expressed by print, though billions around the world went on to see printed images of the work. I still get emails from people saying they're not royalists but that something about my images touches them. I like to think I've tapped into a spiritual dimension and that capturing the Queen with her eyes closed has a meditative, soulful connection with people.' 
Featured image: Annie Spratt, Unsplash
READ MORE
The Must-See Fashion Exhibitions of 2022 / Best Books About the Royals