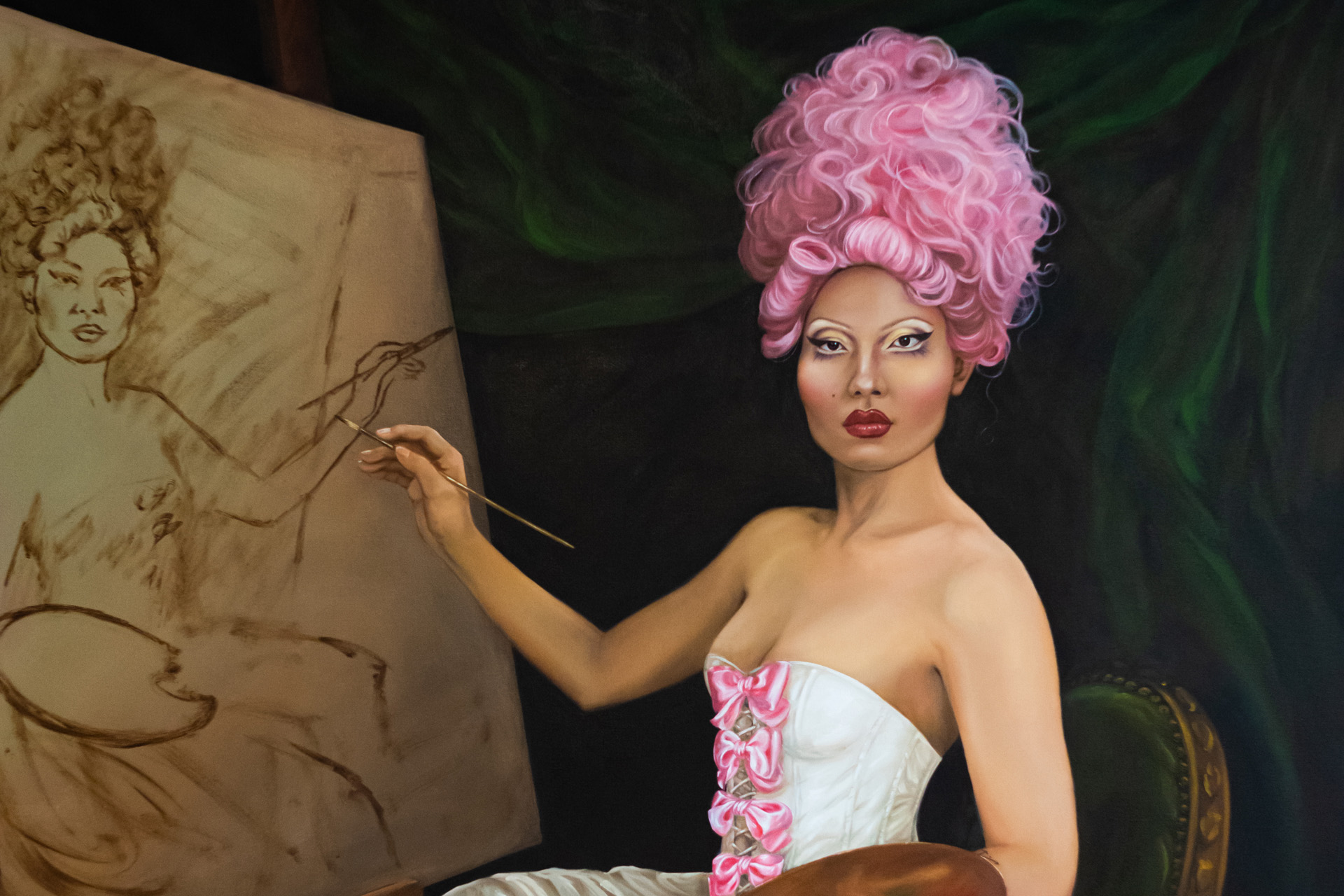 London's Must-See Fashion Exhibitions of 2023
The most fascinating fashion displays which you won't want to miss
There's a plethora of art exhibitions in London – and across the UK – at all times. But if you're more interested in the art of dressing, you've come to the right place. These are the best fashion exhibitions to visit this year.
The Must-See Fashion Exhibitions of 2023 (& 2024)
Style & Society: Dressing the Georgians
When? 21 April–8 October 2023
Where? Queen's Gallery (Buckingham Palace, London SW1A 1AA)
Bringing together over 200 words from the Royal Collections – including paintings, prints and drawings by artists such as Gainsborough, Zoffany and Hogarth, alongside rare surviving clothing and accessories – Style & Society: Dressing the Georgians illustrates a picture of what the Georgians wore, from laundry maids to court darlings. Expect major Bridgerton vibes.
Read our full review of Style & Society: Dressing the Georgians here
BOOK IT: Tickets from £9 per person. rct.uk
Treasures of Gold and Silver Wire
When? 29 September–12 November 2023
Where? Guildhall Art Gallery (Basinghall St, London EC2V 5AE)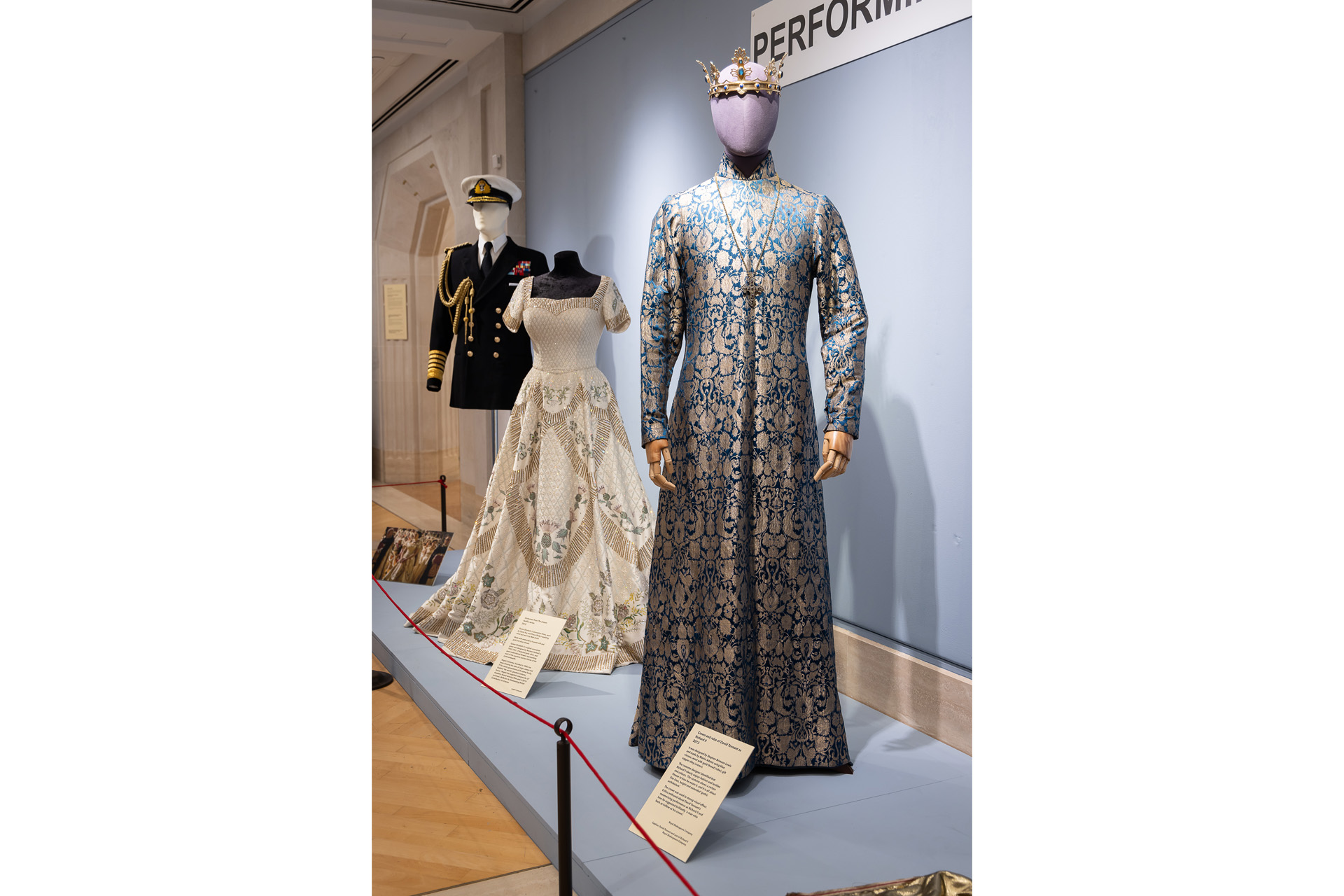 The only surviving dress worn by Queen Elizabeth I, Charles Dickens' court suit, an RSC robe worn by David Tennant as Richard II, and the Coronation glove of Queen Elizabeth II: the City of London's latest fashion exhibition draws together a vast range of unique and rare items, with over 200 items spanning the Middle Ages to the present day. It's all tied together by gold and silver wire, a fine material incorporated in each item. Running for six weeks only, pop by to see royal regalia, theatrical costumes, military attire, ecclesiastical artefacts, and beautiful modern jewellery, silversmithing, and embroidery.
BOOK IT: Tickets are £10 per person. thecityofldn.com
Gucci COSMOS
When? 11 October–31 December 2023
Where? 180 Studios (180 Strand, Temple, London WC2R 1EA)
London fashion is also getting a further look in at the Gucci Cosmos show. Accoladed artist and stage designer Es Devlin has dreamed up an impressive immersive retrospective exploring the archives of this extraordinary fashion house. This affair is a curious trotting exhibition – shipped from Shanghai, where it last held residency – and adapts its curation to resonate with each city in which it lands. By Ed Vaizey
BOOK IT: Details TBC. gucci.com
The Missing Thread Sponsored By Morgan Stanley
When? 21 September 2023–17 January 2024
Where? Somerset House (Strand, London WC2R 1LA)
This major new exhibition will explore the story of Black British fashion, chronicling the shifting landscape across 50 years and the contribution Black British culture has made to Britain's design history. Celebrating the unique impact of a largely unseen generation of Black creatives, The Missing Thread will examine how culture, politics and socio-economics shaped Black style – and, in turn, mainstream fashion.
BOOK IT: Details TBA. somersethouse.org.uk
Designed For Life
When? 2 October 2023–19 January 2024
Where? London College of Fashion – Olympic Park (105 Carpenters Road, London E15 2JE)
View this post on Instagram
How can fashion be a force for positive social change? This is the exploration of Designed for Life, the London College of Fashion's first exhibition at its new East Bank home by the Queen Elizabeth Olympic Park. Featuring various designs, the exhibition will explore the themes – such as empowerment and ideas for a sustainable future – that the college holds dear. Highlights include: the first ceremonial coat created for the high sheriff of Greater London, which drew on the London College of Fashion and charities working with current and ex-prisoners to develop fashion skills for its design; and 'Dress For Our Time', a piece created by Professor Helen Storey from a decommissioned refugee tent.
BOOK IT: Free to visit. arts.ac.uk
REBEL: 30 Years of London Fashion
When? 16 September 2023–11 February 2024
Where? Design Museum (224–238 Kensington High Street, London W8 6AG)
During my time as Minister for Fashion, I was hugely impressed by the British Fashion Council (BFC) and the hard yards it puts in to support the industry. I'm pleased it is collaborating with the Design Museum on new exhibition Rebel: 30 Years of London Fashion. It will celebrate the 30th anniversary of the BFC's Newgen programme, which supports the UK's emerging fashion talent. The show will feature nearly 100 innovative fashion looks from ground-breaking debut and early collections, many of which have entered pop-culture history. Highlights include the swan dress worn by Björk at the 2001 Oscars, Harry Styles' Steven Stokey-Daley outfit from his video for 'Golden,' and a unique replica of Sam Smith's inflatable latex suit by Harri from this year's Brit Awards. By Ed Vaizey
BOOK IT: Adult tickets from £16.33. designmuseum.org
Gabrielle Chanel. Fashion Manifesto
When? 16 September 2023–25 February 2024
Where? The V&A (Cromwell Road, London SW7 2RL)
There is no contest for autumn's main fashion event – and that is the V&A's blockbuster show about Chanel. First shown in Paris in 2020, it opens in London on 16 September and will run until 25 February. Amazingly, it is the first show in Britain dedicated to the life and work of Gabrielle 'CoCo' Chanel.
Chanel opened her first millinery boutique in 1910 and died in 1971, so the show covers more than six decades of her work, with more than 180 outfits on display. These include clothes made for the British model Anne Gunning, as well as for Marlene Dietrich and Lauren Bacall. The designer's early life was difficult, as she was orphaned at a young age. However, she showed a talent for sewing, and this led her to fashion. Her designs were simple, elegant, and comfortable, and were inspired by the everyday lives of women. She rejected the elaborate and restrictive fashions of the time, and instead created clothes that were practical and easy to move in. She also introduced a new aesthetic of simplicity and minimalism, which had a profound impact on women's fashion. Chanel's most famous creations, of course, include the Chanel suit, the little black dress, and the quilted handbag. These designs are still popular today, and they have become iconic symbols of fashion.
London and Paris are famous fashion rivals – London is edgy, Paris is refined. But this autumn, London exhibition-goers can enjoy the best of both worlds. By Ed Vaizey
BOOK IT: Tickets available to book now from £24 per person. vam.ac.uk
DIVA
When? Until 7 April 2024
Where? The V&A (Cromwell Road, London SW7 2RL)
Though not solely a fashion exhibition, expect to see incredible costumes and sketches exploring the fashion of history's most iconic performers at this V&A exhibition, spanning Victorian opera to modern day pop.
BOOK IT: Tickets are £20 per person. vam.ac.uk
Fashion City: How Jewish Londoners Shaped Global Style
When? 13 October 2023–14 April 2024
Where? Museum of London Docklands (No 1, West India Quay, Hertsmere Road, London E14 4AL)
An iconic Princess Diana coat – which she wore when announcing her pregnancy with Prince William – is just one of the beautiful garments that will go on display in October at the Museum of London Docklands as part of an exhibition celebrating Jewish people's contribution to London's fashion scene. Setting the scene in London's East End – where many Jewish migrants arrived from the late 19th to early 20th century – the exhibition will detail fashion across the city to the West End's boutiques and couture salons.
Read more about the exhibition here
BOOK IT: Off-peak adult entry from £12, peak adult entry from £13, with concessions available. Tickets are on sale now at museumoflondon.org.uk
The Cult of Beauty
When? 26 October 2023–28 April 2024
Where? Wellcome Collection (183 Euston Road, London NW1 2BE)
This major upcoming exhibition will explore beauty in all its forms across the world and across time. Examining the profound influence of morality, status and health, age, race and gender on the evolution of ideas about beauty through history, The Cult of Beauty will consider fashion and much, much more. Through new artist commissions, contemporary artworks, and historical and modern material, expect to see over 200 objects and artworks exploring three overarching themes: The Ideals of Beauty, The Industry of Beauty, and Subverting Beauty.
BOOK IT: wellcomecollection.org
Barbie
When? 5 July 2024–23 February 2025
Where? The Design Museum (224-238 Kensington High St, London W8 6AG)
Barbie-mania is here to stay, it seems. The Design Museum has announced a Barbie exhibition will arrive in summer 2024, celebrating the fresh faced doll's 65th birthday. It will survey the blonde beauty's evolution, from her early years to becoming the world's most recognisable doll. Curated closely with Mattel Inc., dozens of rare and unique items will be displayed to tell the story of the iconic brand over the past six-and-a-half decades.
BOOK IT: designmuseum.org
Featured image: The Cult of Beauty, Wellcome Collection. Xu Yang, Perhaps We are All Fictions in the Eye of the Beholder (cropped).