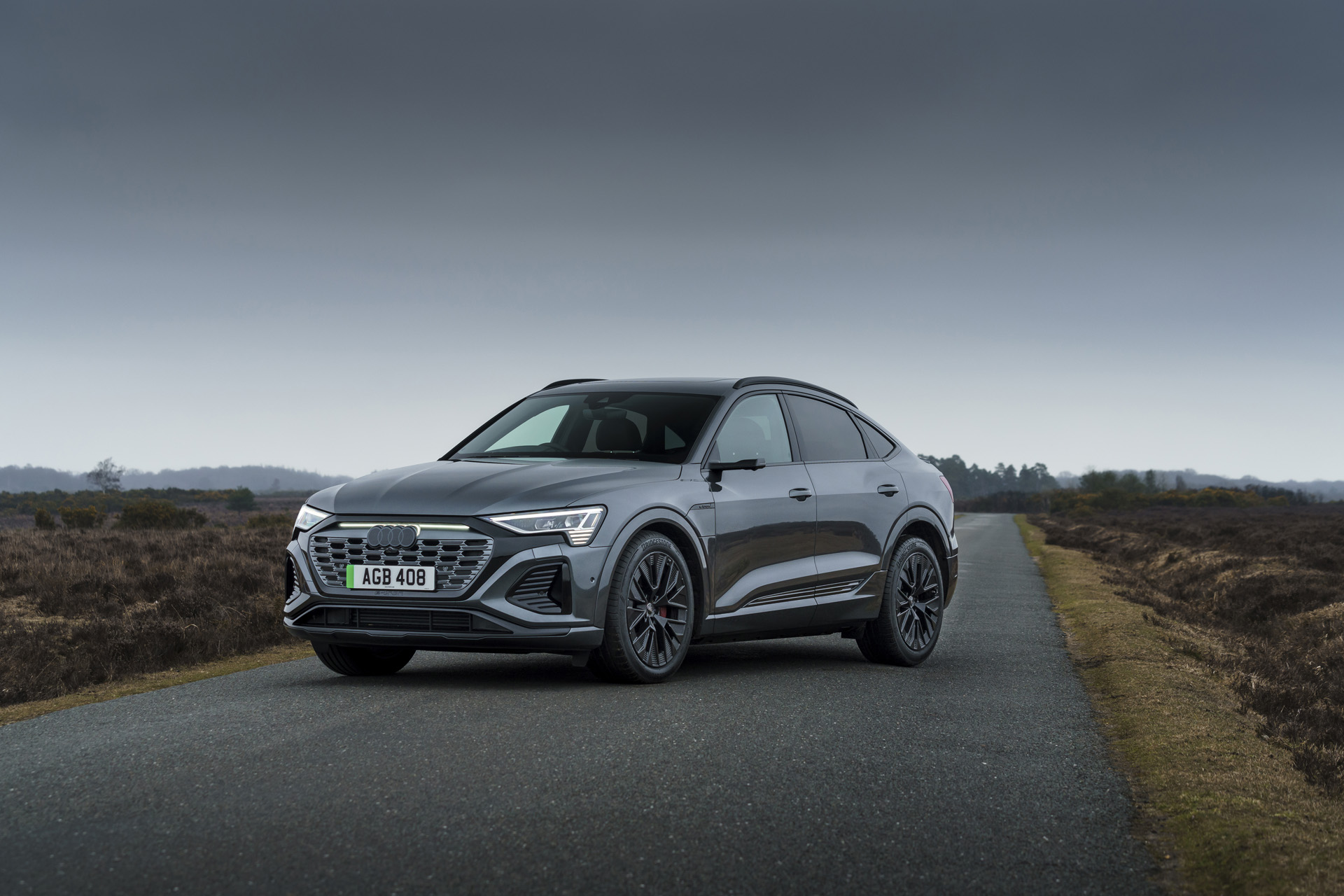 Audi Q8 e-tron Sportback 55 Launch Edition — The Green Lane
Audi serves up an ace
Has Audi served up an ace with the all-electric Q8 e-tron? Motoring writer Jeremy Taylor and sustainable fashion expert Jessica Saunders discuss…
Car Review: Audi Q8 e-tron Sportback 55 Launch Edition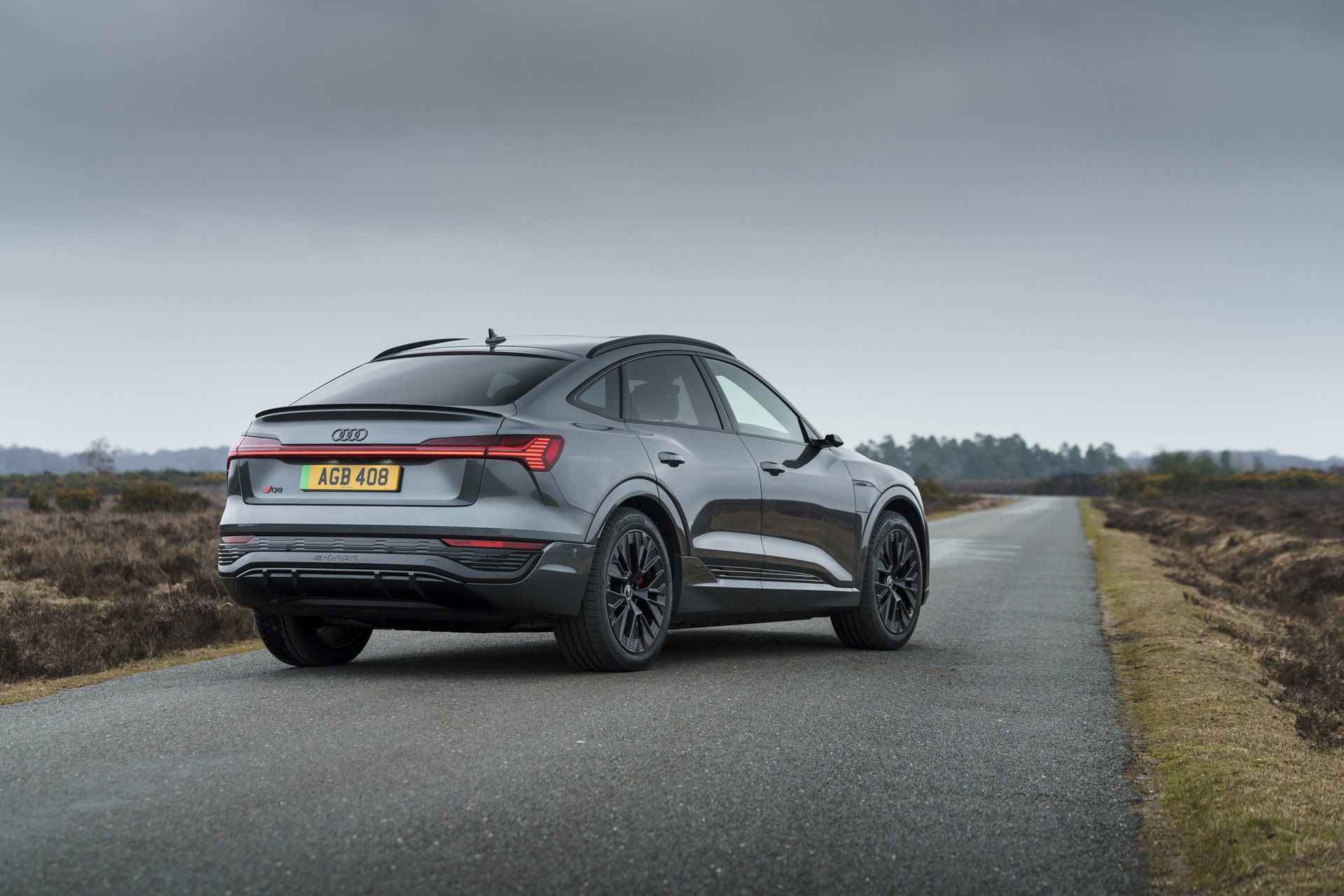 JT – You know, about six years ago I trained with the Wimbledon ball boys and girls at SW19. Highly regimented, the exercise was like signing up for National Service. I wanted to find out more about the Hawk-Eye camera line-call system, instead I learnt how to throw a tennis ball with laser accuracy.
JS – Painful on the knees and shoulders – all that running about on court and avoiding angry players. So, what did you discover?
Hawk-Eye consists of a network of cameras that capture 60 high resolution images per second. At least five cameras cover every bounce. The slow-hand clap build-up is the soundtrack to every Hawk-Eye decision, and it's caused plenty of controversy over the years. Which leads me neatly to the side-mounted cameras in the doors of an Audi Q8 e-tron.
Ah, yes. A particular bugbear of yours and mine. New technology is often difficult to embrace, but I'm not sure the system makes driving any safer – or easier.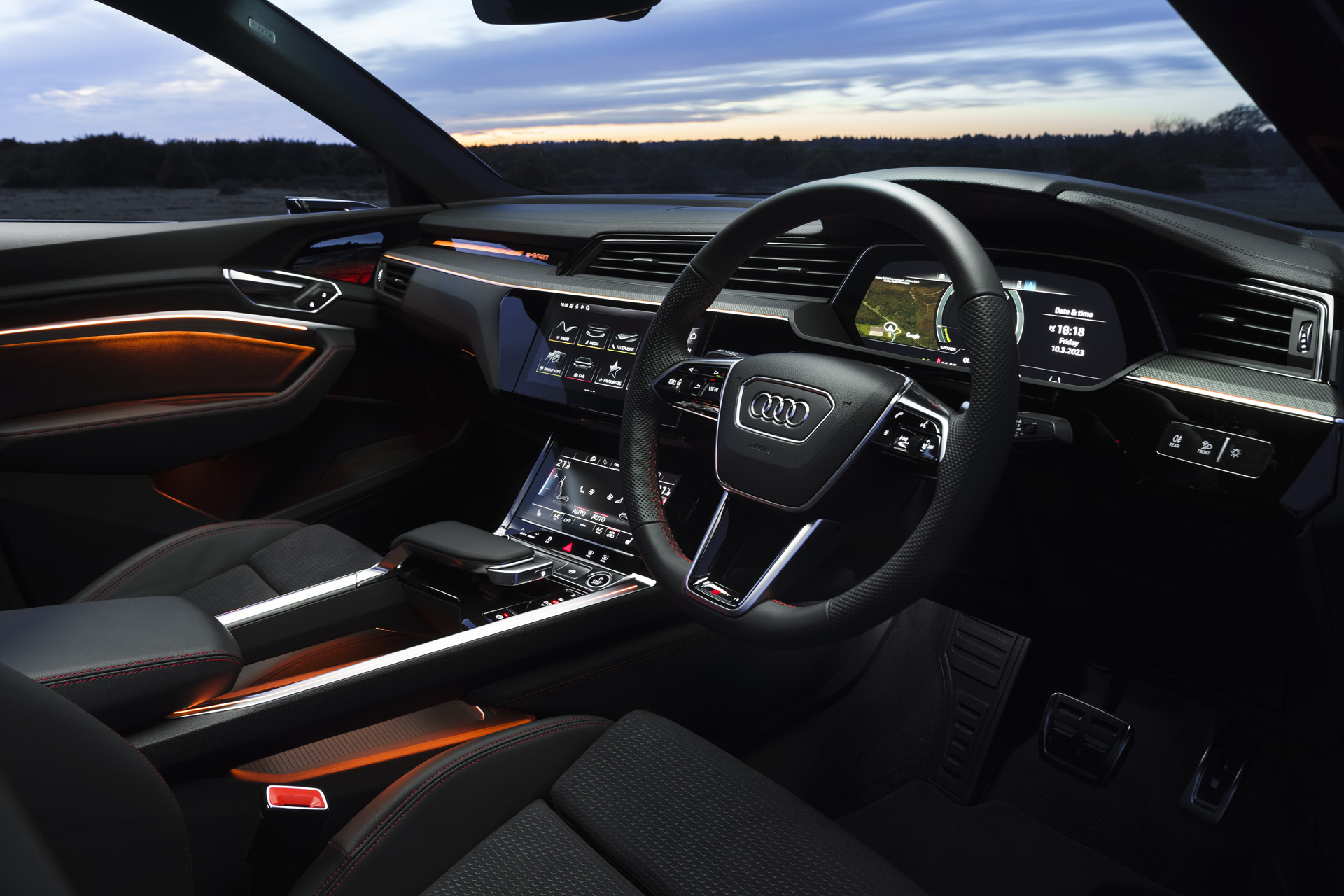 I can understand why electric windows, central locking and rain-sensing windscreen wipers all work for the greater good, but rear-facing cameras that flash imagery onto a screen just don't gel with a human brain. Audi calls them 'virtual door mirrors' – I hear a slow hand-clap every time I want to check what's happening beside me.
At least the rest of the Q8 isn't as ugly as some of its luxury SUV rivals. I'm thinking about the BMW iX and the Mercedes EQE SUV.
True, it is well proportioned, although our streamlined Sportback test car that tries to turn the Q8 into a coupe isn't as slick as it should be. I'd opt for the 'standard' SUV version, which is what most Q8 buyers do. The front-end is very smart and the interior a special place to sit.
You might expect that at £97,585 for the top specification Launch Edition. Apart from the head-up display, a panoramic sunroof and Audi's excellent virtual cockpit – a 'virtual' experience that actually adds to driving pleasure – the e-tron is stacked with safety kit.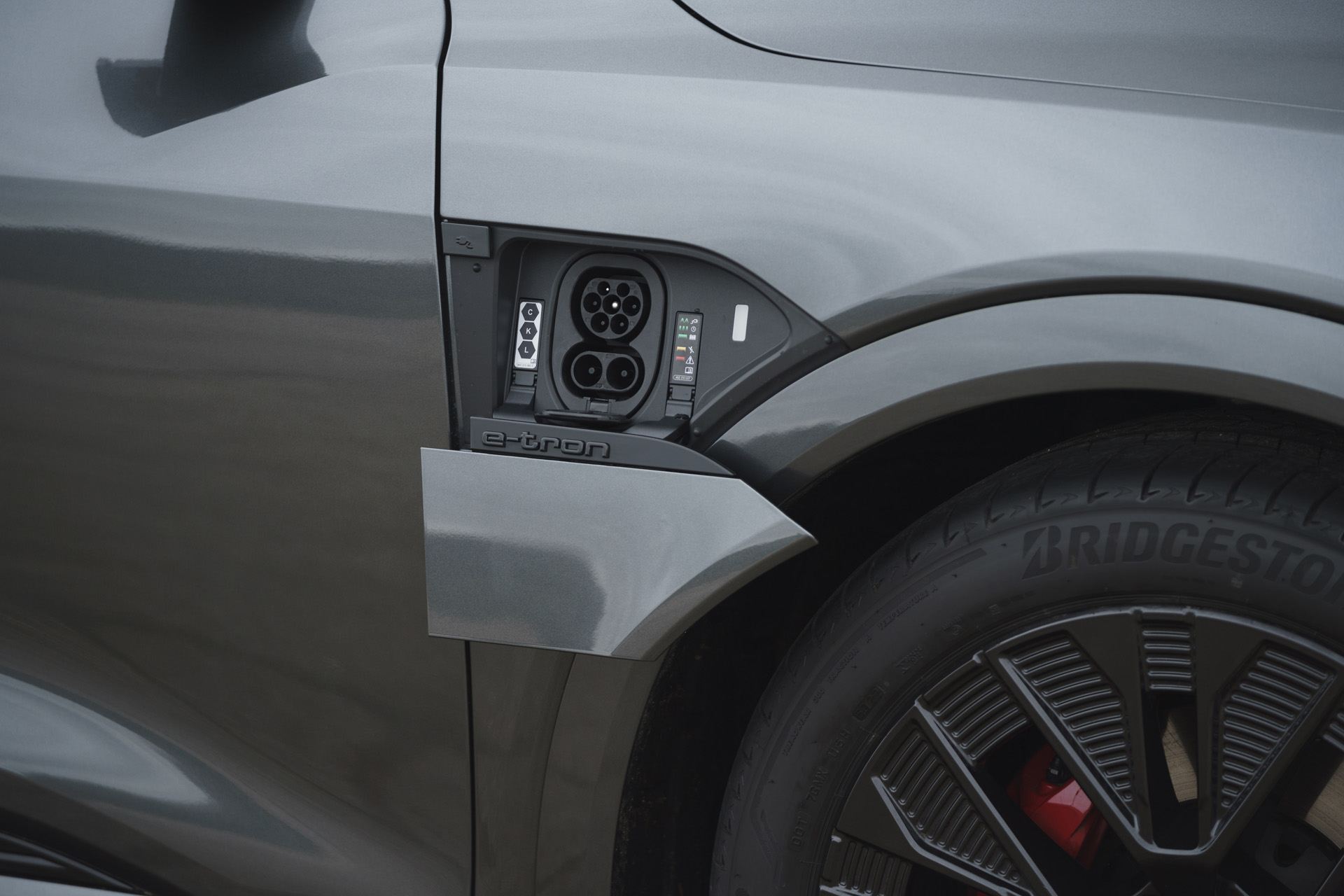 Yes, technophobes look away now! Cameras and warning systems that will one day be the basis of self-drive cars are very much in some of the vehicles we drive now. The Q8 being a case in point.
We should also mention that the Q8 is big – very big. That makes it harder to manoeuvre around town and park – even with all the camera systems. Load space is excellent and even the lower roof line of our Sportback didn't hamper rear-seat space for adults.
Where the Q8 scores is with EV-sceptics, because it doesn't look like an all-electric car at all. Apart from the green flash on the number plate, there's very little hint of battery power. The two charger point flaps – one on each side of the car – are a give away, but having a choice is helpful when plugging in.
And how far will the Q8 travel on a full charge?
Audi claims 336 miles but, as is often the case with EVs, expect a more realistic range of 285 miles in normal driving conditions.
Why is it called Launch Edition – has the Q8 been around for a few years?
Our car is really just a mid-life facelift rather than a new model. It's best used as a supremely comfortable family cruiser with a lot of space. The weight of the batteries and sheer size are the drawbacks.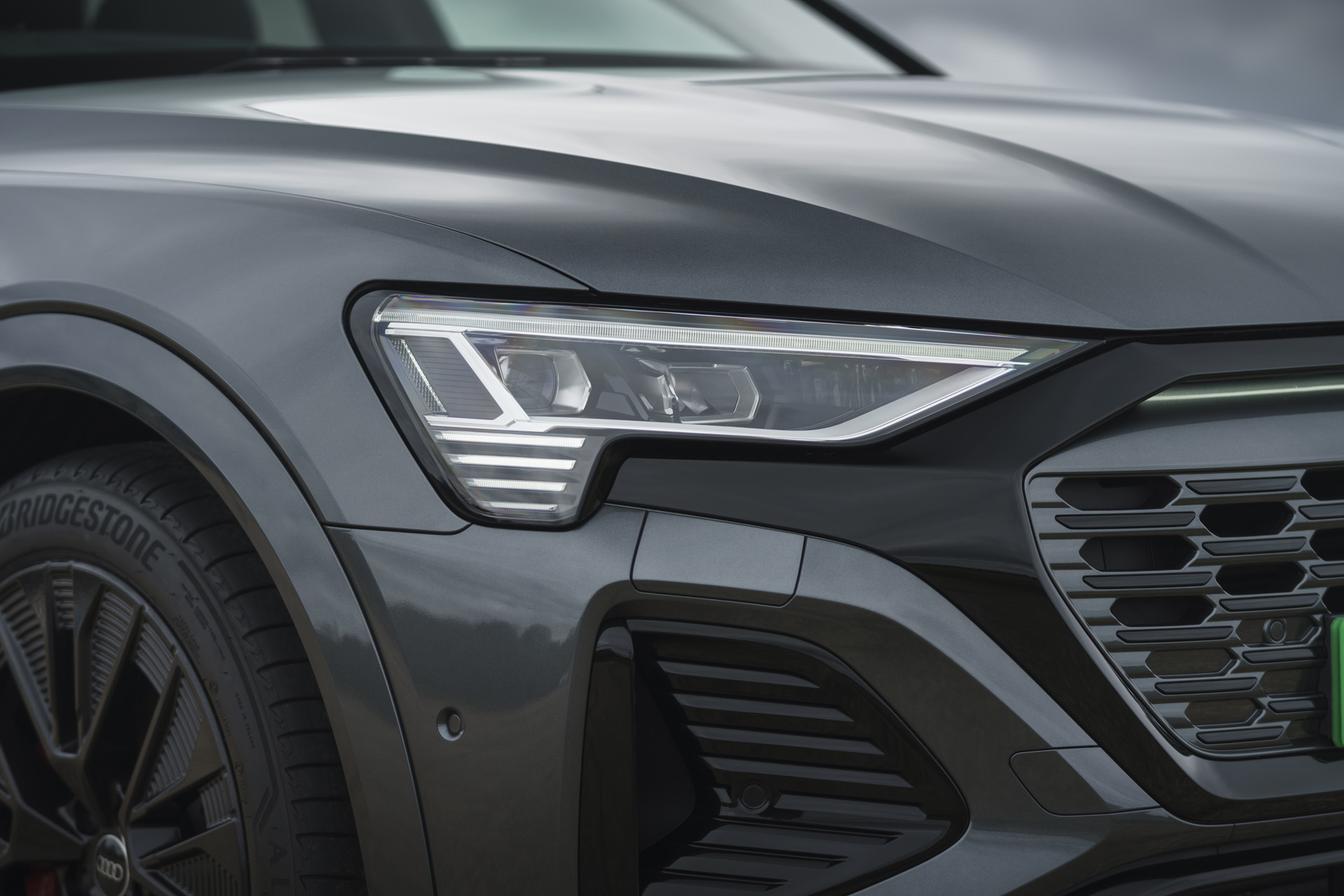 Discover more about the Audi Q8 e-tron Sportback 55 Launch Edition at audi.co.uk 
Jessica Saunders is Director of Programmes at London College of Fashion, studying for a PhD in sustainable e-textile design.