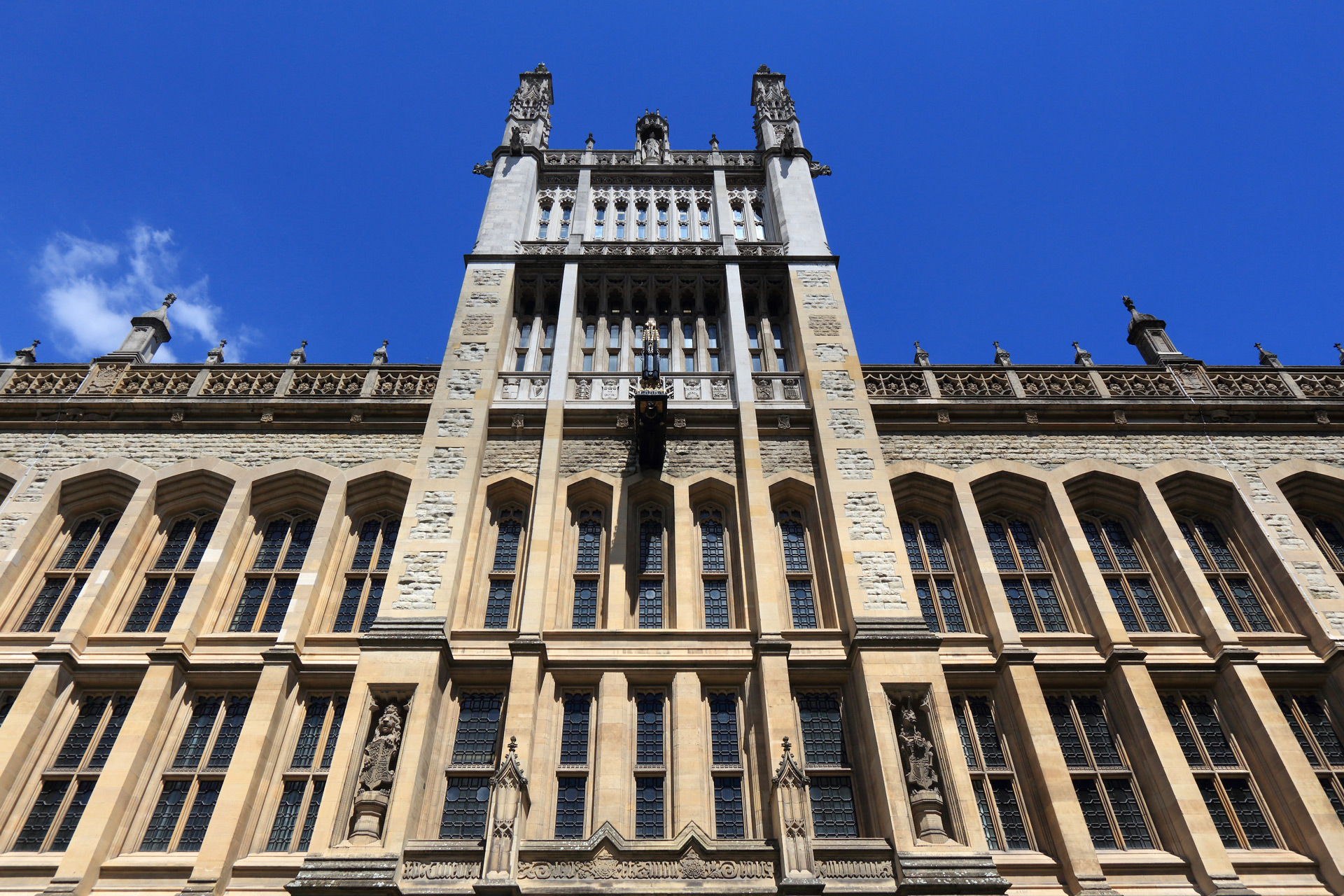 These Are London's Best Libraries
---
A city truly well read...
Bookworm or not, London's library offering is impressive. From cosy reading nooks to incomparable grandeur or modernist edge, as with most things, the capital has got it all. Whether you're in the market for a new study spot, somewhere to read in peace, or just an idyllic space brimming with books, these are the best and most beautiful libraries in London to explore now.
The Best Libraries in London
BFI Library
Best for: Film buffs
Film buffs need look no further than the BFI Reuben Library on the Southbank. A modern but welcoming atmosphere sets the scene for an afternoon spent trawling through books, journals and digitised material on the history of cinema. The library prides itself particularly on its comprehensive tracking of the moving image in Britain, but you can also find international resources if you're looking. Southbank Centre Food Market is primely situated for snack breaks and sugar fixes to keep you going.
VISIT: Belvedere Road, South Bank London, SE1 8XT. Open Tuesday–Saturday, 11 am–7 pm. Accessible by bus, or the nearest tube stations are Waterloo, Embankment and Charing Cross. bfi.org.uk
Barbican Library
Best for: Open access brutalist magnificence
The brilliant Barbican Centre is home to exhibitions, theatre, musical concerts, cafes, bars and a gorgeous library to boot. There's an events schedule alongside a peaceful study and/or reading space, with books, spoken word recordings, DVDs, CDs and sheet music available for loan to all members (and membership is open, free of charge, to anyone who lives, works or studies in the City of London, and regular visitors to the Barbican).
VISIT: Silk St, Barbican, London EC2Y 8DS. Easily accessible by bus, or close to Barbican and Moorgate tube stations. barbican.org.uk
The Wellcome Collection Library
Best For: Reading in an armchair
Part library, part museum, The Wellcome Collection originally began as a cabinet of curiosities belonging to a certain Sir Henry Wellcome. His huge wealth came from medicine, so it's no surprise that this library is the obvious choice if you're a scientist enthusiast, since it boasts one of the world's best health and medical history catalogues. Those interested in humanities don't leave empty-handed either: pour over books on travel, gender, witchcraft on a sofa at The Reading Room's cosy corner. Membership is free to all, and day passes are available, but on a first-come first-served basis.
VISIT: 183 Euston Rd, London NW1 2BE. Easily accessible via bus, and close to Euston, Euston Square, Warren Street and King's Cross St Pancras tube stations. wellcomecollection.org
Kensington Central Library
Best for: Public access study space
Although not strictly an academic library, eating carrots will most definitely be frowned upon in what is predominantly studying territory. The Grade II listed building stand tall and pretty in the famously fancy Kensington area, and while interiors are nothing special, Kensington Central is a brilliant space to buckle down and get some work done – plus within walking distance to Whole Foods for a study break lunch. Forewarning, however, if you're looking to get a spot during exam period you're looking at an early wake-up call.
VISIT: 12 Phillimore Walk, London W8 7RX. Close to High Street Kensington tube station. kbkc.gov.uk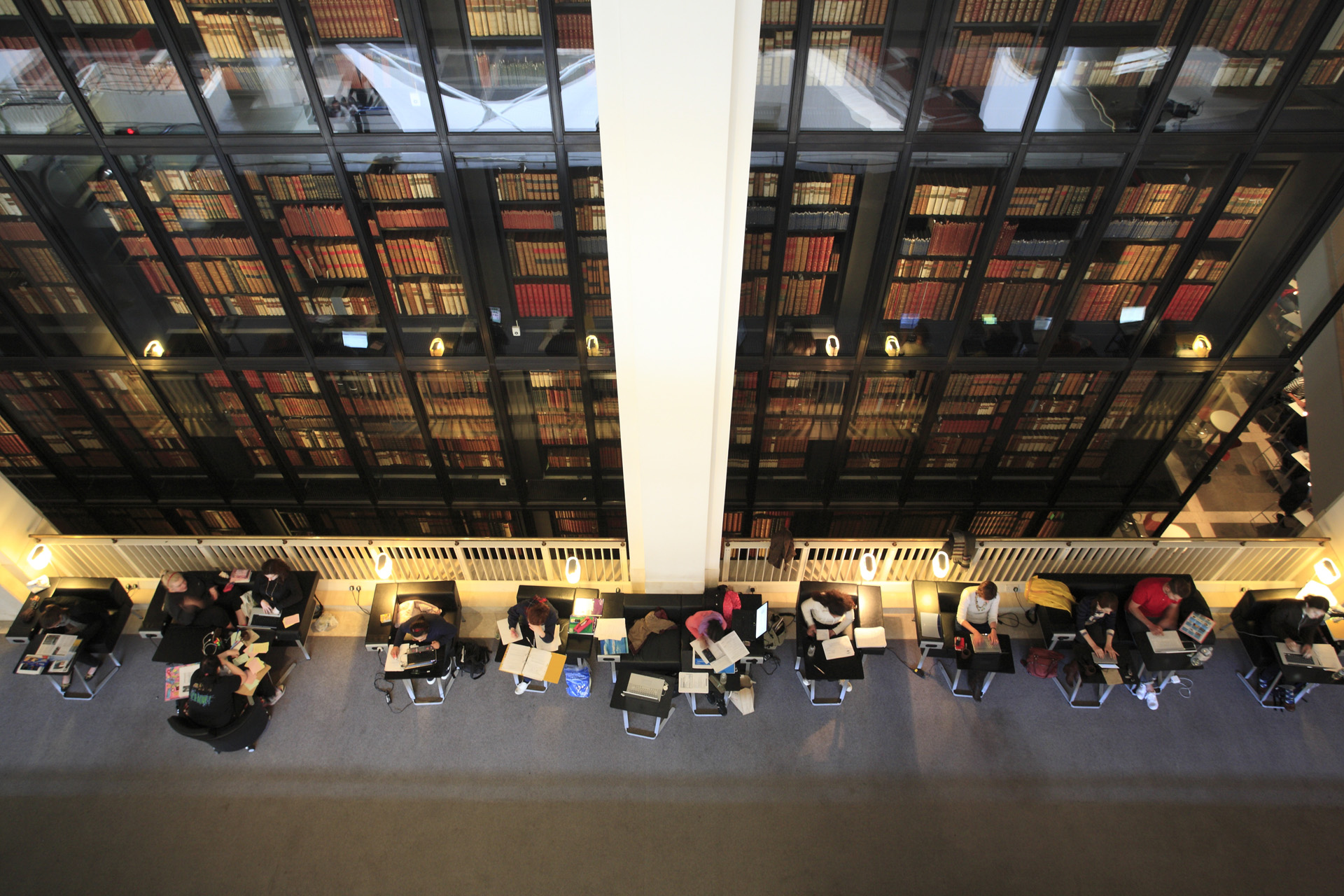 The British Library
Best For: Rare books
The grand dame of English libraries, The British Library has the highest number of items catalogued of any library in the world. With sprawling bookshelves across five floors and 11 reading rooms, enter this spectacular Grade-I listed brick building to find a copy of every journal, periodical, book every published in the UK. A whopping 150 million items sourced from across the world are at your fingertips – once you've secured your (free) membership, that is. For the most treasured and rare of the bunch, head to the Sir John Ritlat Treasures Gallery which houses the Magna Carta, Leonardo Da Vinci's notebook and the original copy of Alice's Adventures in Wonderland, scrawled in the handwriting of C.S. Lewis himself. If you're looking to study here, make haste: the desks fill up extremely quickly.
VISIT: 96 Euston Rd, London NW1 2DB. Easily accessible via bus, and close to Euston, Euston Square and King's Cross St Pancras tube stations. bl.uk
The London Library
Best for: A storied history
Boasting over 1 million books and a fascinating history dating back to 1841 (when Scottish historian Thomas Carlyle proposed a new lending Library be established in the city), St. James's The London Library is one of the capital's finest. Writers such as Rudyard Kipling, Agatha Christie and Virginia Woolf are said to have been members, while T.S. Eliot became president of the library in 1952. Inside, you'll find all sorts of rooms dedicated to art and literature, from reading and writing rooms, to the Grade II listed book stacks. Note that membership is paid for.
VISIT: 14 St James's Square, London SW1Y 4LB. Accessible by bus, or Green Park and Piccadilly Circus are the closest tube stations. londonlibrary.co.uk
Maughan Library
Best for: Natural light
Grand and striking, King's College's Maughan Library stands proudly in Holborn as part of the university's Strand Campus. Pretty as a picture, the 19th century neo-gothic building has been featured in a handful of iconic films – you'll likely recognise the beautiful dodecagonal Reading Room with its glass-domed atrium from The Da Vinci Code. Bibliophiles will delight at the sheer volume of books towering above you from every direction. As a university library, entry is strict, but keep an eye out for university tours to get a glimpse into this book haven.
VISIT: Chancery Lane, London WC2A 1LR. Easily accessible via bus, or Temple and Covent Garden are the closest tube stations. Membership essential for entry. kcl.ac.uk
SOAS Library
Best for: Studying
Another university library for the books (pun definitely intended), and another space you might recognise from the screen: this is the library used by the teenage ghost hunters of Netflix's Lockwood & Co. The School of Oriental and African Studies' library bids adieu to the lacquered wood and leather, but is instead a mid-century Brutalist masterpiece courtesy of Denys Lasdun. Grey panelling is made less boring with touches of bronze aluminium trim, glinting in the light given off by the pyramid shaped ceiling fixtures. Architecture aside, the library houses more than 1.2 million volumes and electronic resources, attracting scholars from all over. The general public can apply for reference and borrowing memberships – although you'll have to get there early to vie for a spot amongst the hordes of students.
VISIT: Thornhaugh Street, London WC1H 0XG. Accessible by bus and Russell Square, Goodge Street and Tottenham Court Road tube stations. soas.ac.uk
National Art Library
Best For: Art Books
An authority in all things pretty and historical, it's no shock that the Victoria and Albert Museum houses a particularly beautiful library. Upon entrance you'll find art and fashion students reading up on fine art and design, painting, textiles, furniture, print and sculpture on the dark wood desks dotted around the Reading Room overlooking the John Madejski Garden. Members of the public are welcome to browse (quietly) and, once sufficiently inspired, head to the adjoining museum for an extra dose of art. If you're looking for a study session here, apply to join the library – you can also request to view specific books with a membership.
VISIT: Cromwell Rd, London SW7 2RL. The nearest tube stations are South Kensington and Gloucester Road. Open Tuesday–Thursday, 11 am–5 pm. vam.ac.uk
Guildhall Library
Best for: London lovers
For all London queries or really all things London related at all, Guildhall Library should be your first port of call. Founded by Lord Mayor Dick Whittington in the 1420s, despite a huge loss of books in a World War II bombing, the library still boasts the world's largest collection in the world of material dedicated to the history of a single city; manuscripts, prints, maps, drawings and printed books dating back to the 11th century line the shelves. While admittedly not holding a broad appeal, Guildhall Library's esoteric offering will be the perfect fit for those existing in the cross-section between history buffs and London lovers.
VISIT: Aldermanbury, London EC2V 5AF. Accessible by bus, and very close to Bank, Mansion House and St Paul's tube stations. cityoflondon.gov.uk
Best Books for Hopeless Romantics / Timeless Poetry Books to Buy Now & Love Forever