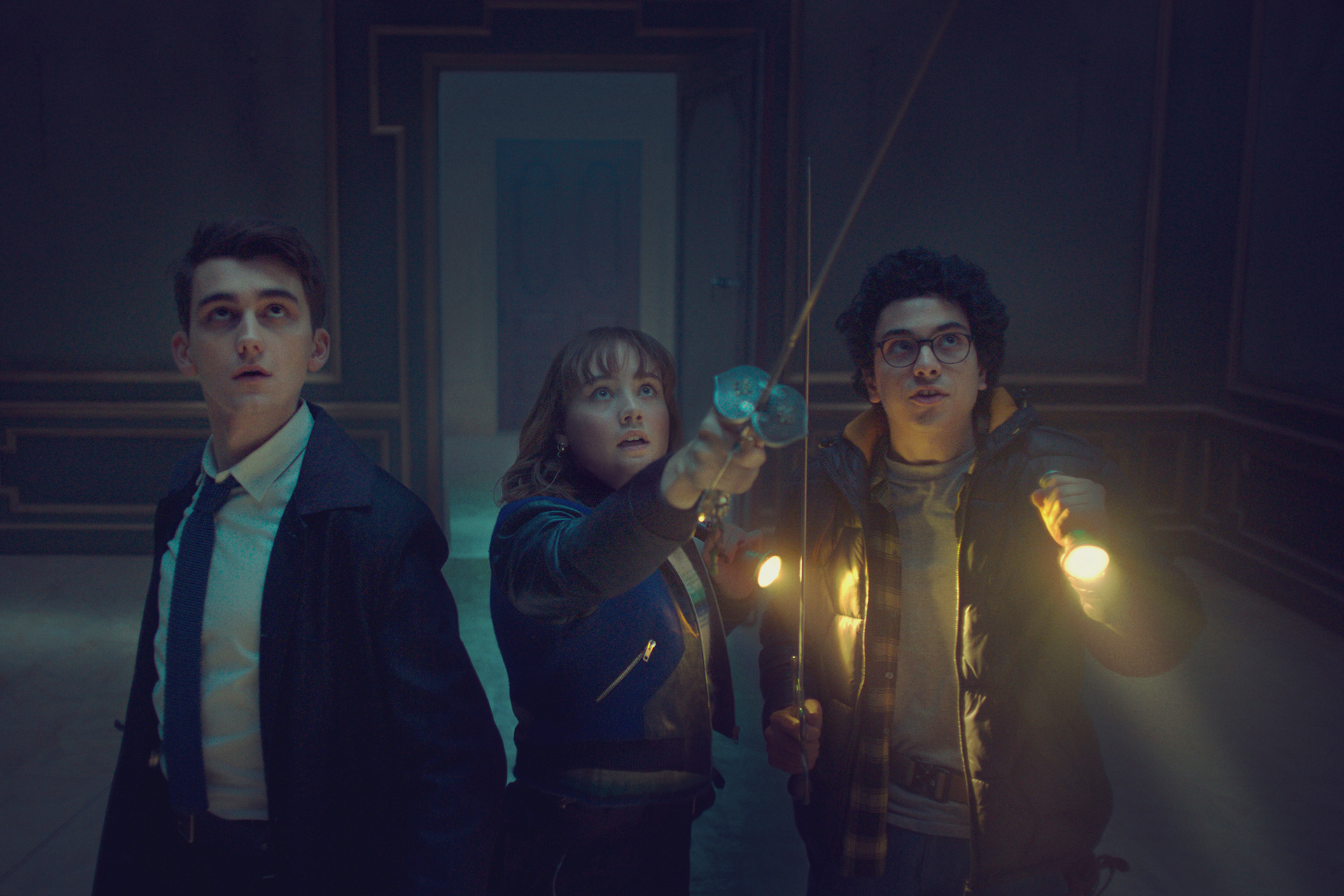 Where Was Lockwood & Co. Filmed? (& Can You Visit?)
Inside Netflix's hottest new fantasy show
After much anticipation, Netflix's latest fantasy series, Lockwood & Co., finally landed on the streaming platform at the end of January – and we're loving it. Following three friends – Lockwood (Cameron Chapman), George (Ali Hadji Heshmati) and Lucy (Ruby Stokes) – the show is set in an alternate universe where ghosts haunt London, but only under 18s can see (and defeat) them. Set in an alternate universe, but surely not filmed in one. So, where was Lockwood & Co. filmed? If you fancy yourself a filming locations connoisseur, here are the locations used for filming in Lockwood & Co. And, most importantly, whether you can visit…
Read the C&TH Responsible Tourism Guide
Where Was
Lockwood & Co.
Filmed? (& Can You Visit?)
Where Was
Lockwood & Co.
Filmed?
Lockwood & Co. was filmed in London, often at the real locations mentioned in Jonathan Stroud's books. The exterior scenes, that is: if you're looking to pay a visit to Lockwood's house, you'll be disappointed to hear that the interior was produced in a studio (Ealing Studios, to be precise) and it doesn't exist in real life. That said, read on to discover where you can find the exterior of Lockwood's abode.
Filming for Lockwood & Co. took place between July 2021 and March 2022, with so many scenes shot across London that you could do a full tour of the city following in the footsteps of the characters.
Lockwood & Co.
 Filming Locations 
Lockwood's House On Portland Row AKA Claremont Square, Islington
In Lockwood & Co., Lockwood's house is located on a leafy square in London named Portland Row, though we are never given a specific part of London that the teens are supposed to be residing in. In episode six, when Lucy is walking home and is ambushed by Kipps (Jack Bandeira), we get a fuller view of the square, which is lined with identical townhouses with metal railings and stone steps leading up to their front doors. In reality, this square is Claremont Square in Islington, just steps from Angel station and a short walk from Kings Cross. Specifically, 33 Claremont Square plays the role of Lockwood's house.
Lockwood's house features so much in Lockwood & Co. that it becomes a character in its own right, complete with quirky furnishings and seemingly endless rooms across partial floors in true London townhouse style. This all said, the interiors were created in a studio, the exterior was shot in Islington – at Claremont Square, 
Can You Visit? This is private property, so better not knock on the door hoping for a peek inside (or a biscuit). That said, you can stroll around the pretty, leafy square. Note that you may also recognise 23–29 Claremont Square, which plays the role of Grimmauld Place in Harry Potter.
Kensal Green Cemetery
Extremely fitting for a series about ghosts and the undead, north west London's famed Kensal Green Cemetery repeatedly features in Lockwood & Co., including its Anglican Chapel temple and its famous extravagant tombs and catacombs – and the real cemetery was used for filming. Open since 1883 and one of London's 'Magnificent Seven' cemeteries, the gothic Kensal Green Cemetery was originally inspired by Père Lachaise Cemetery in Paris. According to Facebook page The Friends Of Kensal Green Cemetery, filming took place over a 'couple of weeks' in August 2021. The Cemetery has played host to other films in the past, including Theatre of Blood and Afraid of the Dark. 
Can You Visit? Yes, Kensal Green Cemetery is open to the public everyday from 10am–5pm. Visit to see the graves of a plethora of famous names, including James Malcolm Rymer (co-creator of Sweeney Todd), author Wilkie Collins and playwright Harold Pinter.
Fittes Agency AKA Barbican Centre
Perhaps one of the most instantly recognisable filming locations (if you've visited before), the vast Fittes Agency building was filmed in London's brutalist Barbican Centre. This is where Lucy first goes after arriving in London on the hunt for a job, and though the Fittes Centre appears occasionally throughout the series, it isn't until the sixth episode that the Barbican is showcased in all of its glory during the 'Fittes at Fifty' ball. Here, you'll see the carpeted walkways, abundant staircases and concrete columns in all of their glory – albeit with a more ghostly touch than is usual. It's a surprisingly apt location, with the postmodern, retro-futurism interiors lending well to Lockwood & Co.'s bizarre alternate phantasmic present.
Can You Visit? Yes – and we highly recommend it. From the incredible  exhibitions, to the theatre shows and music performances, to the gift shop and library, to the dystopian Barbican Conservatory, there's plenty to do and see here. You could also just stroll around and absorb the Lockwood & Co. vibes.
Combe Carey Hall AKA Mentmore Towers, Buckinghamshire
Lockwood & Co. occasionally ventures out of London, with Mentmore Towers in Buckinghamshire playing the role of the Combe Carey Hall in the third episode.  This magnificent Grade I listed country house was built between 1852 and 1854 for the Rothschild family but was sold in 1944. And, if you're wondering how they managed to make it look so dilapidated, that's because the property has fallen into disrepair in recent years. There were attempts to open the house to the public as a National Trust property in the past, but these plans fell through. The house was then purchased by property tycoon Simon Halabi who hoped to turn the site into a luxurious hotel – but his plans fell through, too. Sadly, Mentmore Towers has sat derelict for many years and is listed on the Heritage at Risk Register, despite previously starring in films such as Eyes Wide Shut and Batman Begins. Perhaps Lockwood & Co. will finally draw the attention this property so desperately needs. 
Can You Visit? While 'No Trespassers' signs never stopped the Lockwood & Co. gang, though abandoned, visiting Mentmore Towers is currently illegal.
Satchell's AKA Waterstones Piccadilly
When Lucy first arrives in London, you might recognise the streets immediately: she takes a stroll through Piccadilly Circus, passing an agency supply store named 'Satchell's'. Book lovers with a keen eye will know that this shop isn't normally Satchell's but Waterstones Piccadilly, which the shop recently Tweeted about. 
Back in summer 2020 we were excited to host Netflix for some location filming. Now you can see us as Satchells in #LockwoodandCo! @NetflixUK @FictionComplete pic.twitter.com/1wNMtLOkNT

— Waterstones Piccadilly, London (@WaterstonesPicc) January 27, 2023
'Despite our small screen fame we stay humble and haunted as usual,' the shop added, taking to Instagram. Series author Jonathan Stroud has since visited the shop to sign some books.
View this post on Instagram
Can You Visit? Yes. Better still, Waterstones Piccadilly is Europe's largest bookshop, open Monday–Saturday 9am–9pm, and 12–6pm on Sundays. waterstones.com
Lucy's Home Town AKA Chipping Campden, Gloucestershire
With her friendly northern accent, you'd expect Lucy to hail from somewhere in Yorkshire, but it is Chipping Campden in Gloucestershire that was used as the filming location for her home town. Filming specifically took place at Market Square Car Park, outside the town hall. Chipping Campden's Old Police Station's historical courtroom also makes a cameo. This more traditional, classical village is the perfect scene setter for the series' first episode: looking slightly old-timey, it evokes the strange stasis of Lockwood & Co. which, according to series creator Joe Cornish, 'is set in the present day, but it's a parallel reality where the digital revolution never happened' (hence Lucy's cassette tapes, too). 
Speaking on the series' soundtrack specifically, Cornish said: 'There is lots of early 80s goth, like Bauhaus, The Cure […]. We leaned back into the 80s where there was that Thatcherite gloom hanging over Britain. A lot of the music reflects romantic gloom.' And this 'gloom' is never more palpable than during Lucy's origin story.
Can You Visit? Yes and, despite all of this talk of gloom, this Cotswolds town makes for a very pretty day trip.
The British Archives AKA SOAS Library
The trio call it the British Archives, but it is actually the SOAS Library where research sessions take place. George loves it here – and the team spend a lot of time here throughout the series paging through old articles to research the lives of their ghostly visitors. 
Clerkenwell Prison
Opened in 1847 and demolished in 1890, Clerkenwell Prison historically held prisoners awaiting trial – making it another aptly spooky filming location for Lockwood & Co. After being demolished, the site was used for a school, which later closed in 1971. The school was then converted into flats, which remain today. Throughout all of this, the catacombs remained untouched – now known as the 'Clerkenwell Catacombs' – and it was here that some filming for Lockwood & Co. took place.
Can You Visit? If ghost tours are your thing, you're in luck: a couple of London ghost tours also pass through the catacombs of Clerkenwell Prison. Also keep your eyes peeled for Clerkenwell Design Week (returning in May 2023) which has historically used the catacombs.
More
Lockwood & Co.
Filming Locations
Kings Cross Station: When Lucy first arrives in London, this is the station she pulls into.
River Thames: The waterside Flo Bones scenes were filmed on the banks of the Thames – specifically at the Old Pier at Crowleys Wharf Power Station in Greenwich.
Blavatnik Building: This Tate Modern building, observation deck and exhibition appears as the Fairfax Iron Tower in the third episode of Lockwood & Co.
Queen Elizabeth II Centre: This conference centre plays the role of the New Scotland Yard building, with Westminster's domed Central Hall visible in the background.
Lockwood & Co. is streaming now on Netflix. netflix.com
Featured image: Lockwood (Cameron Chapman), Lucy (Ruby Stokes) and George (Ali Hadji-Heshmati) in Lockwood & Co. Courtesy of Netflix.