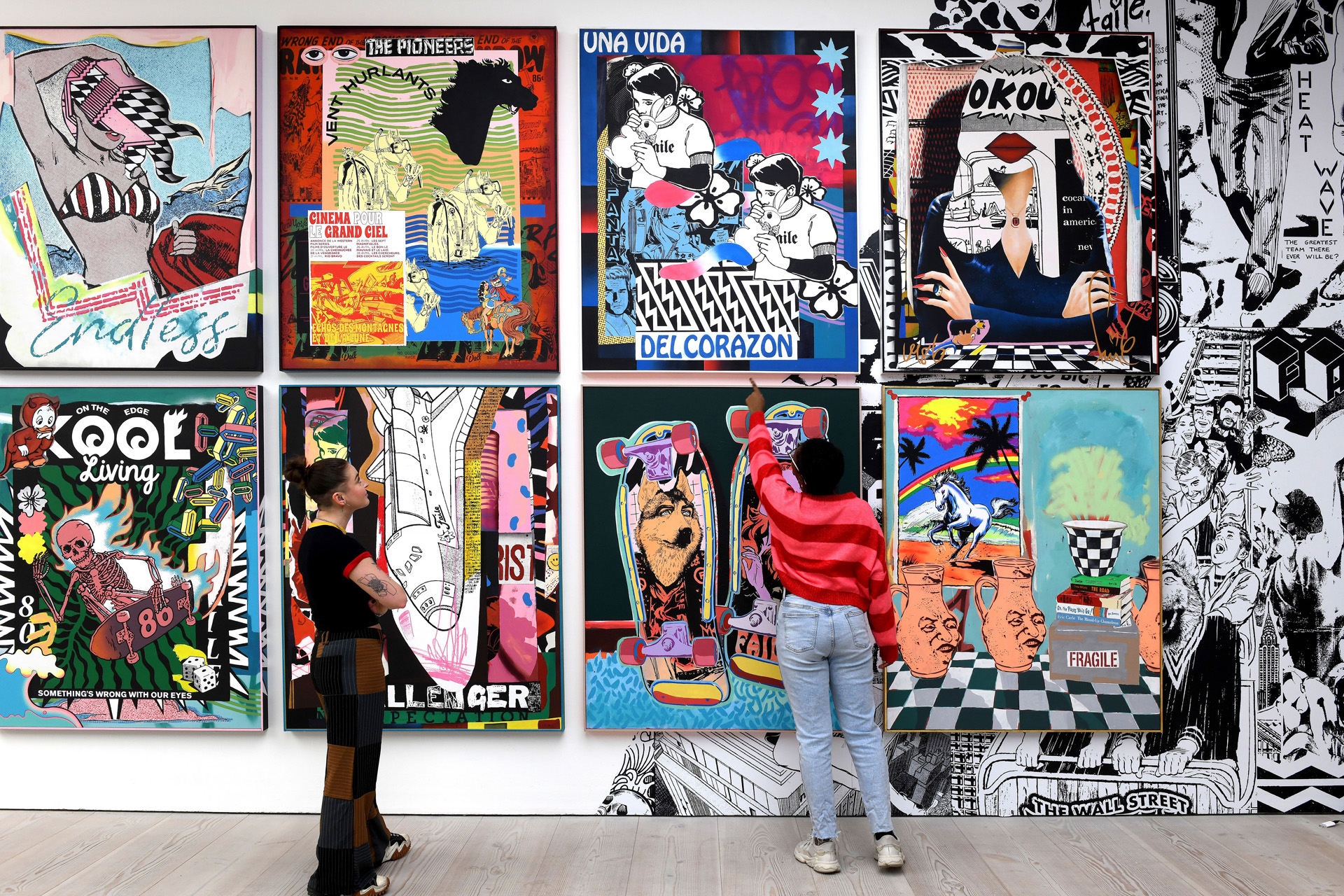 A Love Letter To Street Art: Beyond The Streets, Saatchi Gallery – Exhibition Review
---
Olivia Emily visits the Saatchi Gallery's latest large-scale exhibition
Beyond The Streets is a love letter to graffiti and street art in all of its forms: the culture, the shoes, the flyers, the fashion. Occupying the entirety of the King's Road's Saatchi Gallery with the work of over 100 artists, Olivia Emily visits this large-scale, encapsulating exhibition.
Beyond The Streets, Saatchi Gallery – Exhibition Review
How to display street art indoors? Perhaps even to do so subverts the original intention. Then again, subversion is exactly where street art originates: that desire to express yourself publicly, often in the face of oppression and economic decline, because no one is listening.
Street art today isn't just the graffiti we see sprinkled across the city, or the commissioned murals occupying the side of plenty of London's buildings. It's often a strict discipline, honed in studios and displayed in new and unique ways across the globe – on the street, but also in galleries and museums, even homes.
Having previously debuted in Los Angeles, then New York, Beyond The Streets is a love letter to the ongoing, burgeoning conversation between artists and their peers, artists and the public, artists and the state powers they (and the masses) are beholden to. Now in London and in a new space (the Saatchi Gallery), new works are displayed, many for the first time, and others created for the occasion. Roger Gastman, graffiti historian and Beyond The Streets curator, nurtures that ongoing conversation: artists sit side-by-side, accompanied by detailed notes, nuggets of history, archival photographs. 
'With every exhibition we've put together, I always learn something new, and London is no exception,' says Gastman. 'The amount of stories and historical moments – some of which may have been forgotten and arguably unknown until now – are what will make our Saatchi Gallery show such a spectacle. We really hope to educate and inspire through a curious lens that digs into the nooks and crannies of all these subcultures and the massive role London played in bringing them to light on a world stage.'  
Not just a love letter, then: Beyond The Streets is a comprehensive history of the intersection between street art, fashion, music and film. With sections titled 'Timeline', 'Social Commentary: Graffiti as a message' and 'Art with Conscience', there's as much to learn as there is to see. Or just come to absorb: there are videos to watch and towering bubblegum pink walls to gaze up at; display cases filled with trainers and Beastie Boy streetwear on mannequins; pixelated, mind-boggling walls and colourful scribbled sculptures; hyperpop bubble art and geometric bunnies painted directly onto the walls; secret rooms and a life-size Lego display.
Expect to see world-famous, groundbreaking works: FUTURA2000's 30 ft painting created on stage with The Clash in 1981 at London's Lyceum Ballroom; a wall of Jenny Holzer's truisms; AIKO's stencilling, and the work of Kieth Haring, Malcolm McLaren and photojournalist Martha Cooper. Nodding to the lack of women – across the art world, and including in street art – a large wall vinyl courtesy of feminist collective Guerrilla Girls is also on display. 
Cavernous galleries are occupied by smaller pockets – separate rooms dreamt and erected for this rendition. We begin with Todd James' The Vandal's Bedroom (2013). Colour spills from the small space, which is designed to look like a bedroom, complete with small bed and flickering TV. It feels like an intrusion: an intimate space, walls papered with juvenile drawings in what looks like felt tip. But it mirrors the self-awareness, experimentation and ultimate self-expression that we see on the exterior: the graffitied walls we are more likely to associate with 'street art'.
Further along, step inside Trash Records, a fully recreated record shop, complete with countless records to thumb through, walls papered with stickers, scribbles and posters, and blasting music. Or, even further in – up the stairs (Beyond The Streets occupies all three floors of the Saatchi), the walls of which display even more art – Kenny Scharf's Cosmic Cavern brims with Day-Glo paintings and materials found in the streets of LA, all illuminated with neon colours. Alongside sits Paul Insect's weird and wonderful puppet characters, made with recycled materials.
We're pulled through the history of this artistic movement both in the US and the UK, from music (the emergence of punk to the birth of hip-hop) to film to fashion. Socio-political turmoil and oppression is documented with the artistic reply, the resistance, evolving youth culture and graffitied walls. Covent Garden in the 1980s: home to buskers and street vendors and a burgeoning street art scene; or, slightly earlier in the '70s, hosting The Roxy and punk's earliest days. Down the road, Charing Cross's smooth tile floor provided the ideal surface for breakdancers to experiment – watch a video about it here. Closer to the Saatchi, there's the King's Road, the 1970s/80s home of Trevor Myles's Paradise Garage/Let It Rock record shop and Malcolm Maclaren and Vivienne Westwood's SEX boutique.
There's so much art and paraphernalia to see, no corner of the Saatchi left untouched: glued and stapled to the walls, decorating stairways, displayed in frames, broadcasted on screens, filling hallways and tunnels, collected under glass display cases. 
Some artworks are displayed as in traditional galleries – huge frame canvasses interrupting towering walls and swathes of whiteness. They're left alone, accompanied only by explainers that illuminate the history of London's streets just beyond the Saatchi's walls. Other artworks spill over their confines onto the wall; in some cases, the wall itself is the canvas, creating a special ephemerality. Gazing up at these towering installations, I wonder where the art ends and the gallery begins. Perhaps that's the entire point.
VISIT
Beyond The Streets London at Saatchi Gallery, London is open until 9 May 2023. Tickets from £15. saatchigallery.com 
The exhibition headline supporter is adidas Originals. Support also provided by LA Tourism Board and onefinestay. 
All images courtesy of Saatchi Gallery, London and BEYOND THE STREETS LONDON.