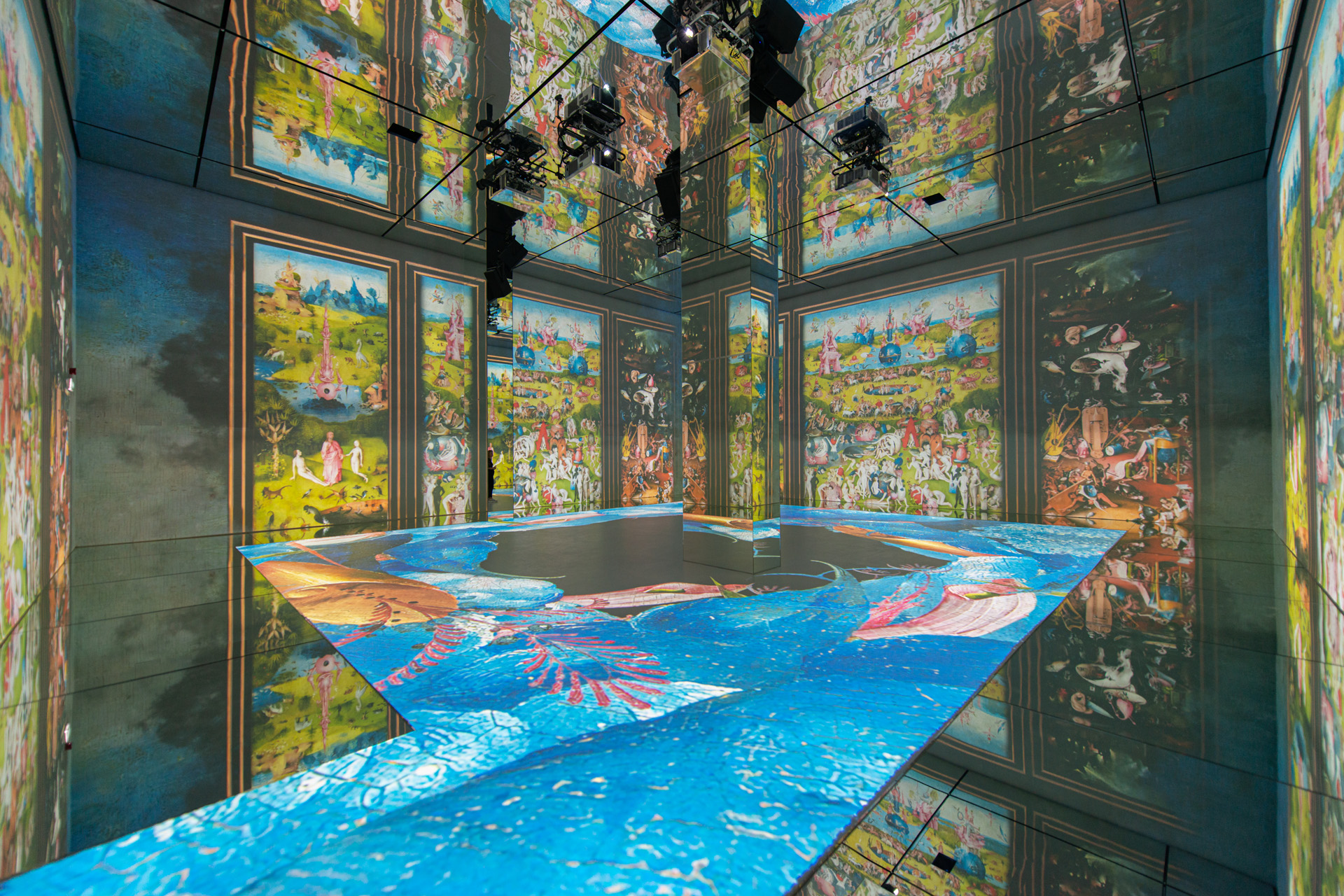 Frameless Is Instagram's Favourite Exhibition Right Now – But Is It Worth Visiting? – Review
Situated in a new space at Marble Arch Place, Londoners have been flocking to Frameless
It's all over Instagram, but is it worth going? Olivia Emily visits Frameless, London's new permanent immersive art exhibition…
Review: 
Frameless
If you haven't visited an immersive exhibition in the last few years, you must have been living under a rock – or you're much more immune to the sways of peer pressure than we are. Some call it the Emily in Paris effect (Emily, Gabriel and Camille visited the Van Gogh exhibition at L'Atelier des Lumières in the show's first season), others blame TikTok, but all can agree that our interest in immersive exhibitions has spiked in recent years – and the recent popularity of Frameless proves there is no sign of it fading away just yet.
What is
Frameless
?
Situated in West London, Frameless is a new, 30,000 sqft digital immersive art space, part of the new Marble Arch Place development. Consisting of four 'galleries' focussing on different themes, Frameless envelops the audience in the art rather than separate it with the boundary of a frame, using projections and music to bring a vast array of paintings to life in new ways. The different galleries are as follows:
Beyond Reality

Colour in Motion

The World Around Us

The Art of Abstraction
Outside each gallery, there is a board explaining the gallery's concept and providing a sneak preview of the artworks waiting inside (avoid at all costs if you hate spoilers, or if you'd like to challenge yourself with a guessing game). Likewise, there is a handy notice of how long each installation takes to watch end-to-end. On site, there's also a chic gift shop (watch out, V&A) and an elegant café-bar.
If you do experience each gallery's full exhibition end-to-end, you will see over 40 artworks – by the likes of Van Gogh, Klimt, Monet and Rembrandt – presented and interpreted in new digital ways, bursting through the static seams we are used to. Projected onto giant walls and splashed across display panels, the art is also accompanied by engulfing music composed by Nick Powell and Ron Colvard.
Beyond Reality
Hieronymus Bosch, Gustav Klimt, Edvard Munch, Salvador Dalí: 'Beyond Reality' collects and inflates the surreal art of these renowned artists (among others), bending and shaping – with the help of wrap-around projection, mirrors and slow, lingering movement – to intensify the dreamlike quality to a mind-bending result. The soundtrack is equally as immersive, combining bespoke music with sounds you might expect from the world of the painting – think animal noises or a breeze rustling the leaves of a tree.
The mirrored floors combined with slowly moving art on the wall make this a slightly woozy installation – not ideal for motion sickness sufferers. At over 20 minutes long, you might want to find a seat (or preferably a corner), sit back and enjoy the entire vista. Or, slightly samey, you might want to move on after catching the more iconic paintings (Edvard Munch's 'The Scream', Salvador Dali's 'The Persistence of Memory').
Colour in Motion
Frameless' best gallery by far, 'Colour in Motion' utilises advanced tracking technology to make guests part of the creation process – or as close as you can get. Showcasing recognisable artwork by the likes of Claude Monet, Paul Signac, Georges Seurat and Vincent van Gogh, stomp around the motion sensor floor filled with virtual brush strokes, and watch in awe as they dart away from your feet and climb the walls, landing in the arrangement of famous paintings.
'Colour in Motion' truly allows you to unleash your inner child, whether that's chasing the piles of brush strokes across the floor or attempting to guess ahead of time – based on the colours, the brush stroke sizes, and the slowly accumulating arrangement of strokes – which artwork you are about to see splashed across the four walls. Truly, 10/10.
The World Around Us
A more classical rendition of 'Beyond Reality', 'The World Around Us' uses six-sided projection to bring famous landscapes to life, from cityscapes to seascapes. The sound effects are much louder in here, focussing more on the sound of the painting than music, and truly immersing you in the scene surrounding you on the gallery's long four walls.
Be swept away by Rembrant's 'The Storm on the Sea of Galilee', accompanied by dramatic storm sounds and dark clouds pulling in overhead. In Canaletto's 'Piazza Di San Marco', in particular, with the pavement slowly moving under your feet, pulling you from one side of the Piazza to the other – you'll swear you're in Venice. 
The Art of Abstraction
Perhaps Frameless' most unique space (and definitely its funkiest), 'The Art of Abstraction' is a dark room that utilises tall mesh boards to refract projections of abstract art across multiple layers. Compared to the other rooms, the art in 'The Art of Abstraction' is most divorced from the original pieces – and, where abstract art can often be baffling, it's extremely enjoyable.
It's tricky to know whether you're viewing the art correctly here, perched on one of the perimeter benches as shapes fly across the rooms and between the layers. But the art –  including pieces such as 'Yellow, Red, Blue' by Wassily Kandinsky and 'Composition in Red, Yellow, Blue and Black' by Piet Mondrian – is surprisingly recognisable and fun to watch fly across the room.
The Final Word
Perhaps the most surprising part of Frameless is the true range in ages; luckily, it's not all Gen Z snapping pics, and you'll bump into many friend groups of all ages, couples tucked into corners, and solo exhibition attendees here to experience art in a new form. If you like immersive art exhibitions, you'll definitely enjoy Frameless, which pushes what we know about the genre that little bit further to great avail ('Colour in Motion', I'm looking at you). 
BOOK IT: Adult tickets from £25, and child tickets from £15, with free admission for children under 5 years old. frameless.com 
6 Marble Arch London W1H 7AP
Featured image: Beyond Reality at Frameless (c) Antonio Pagano.