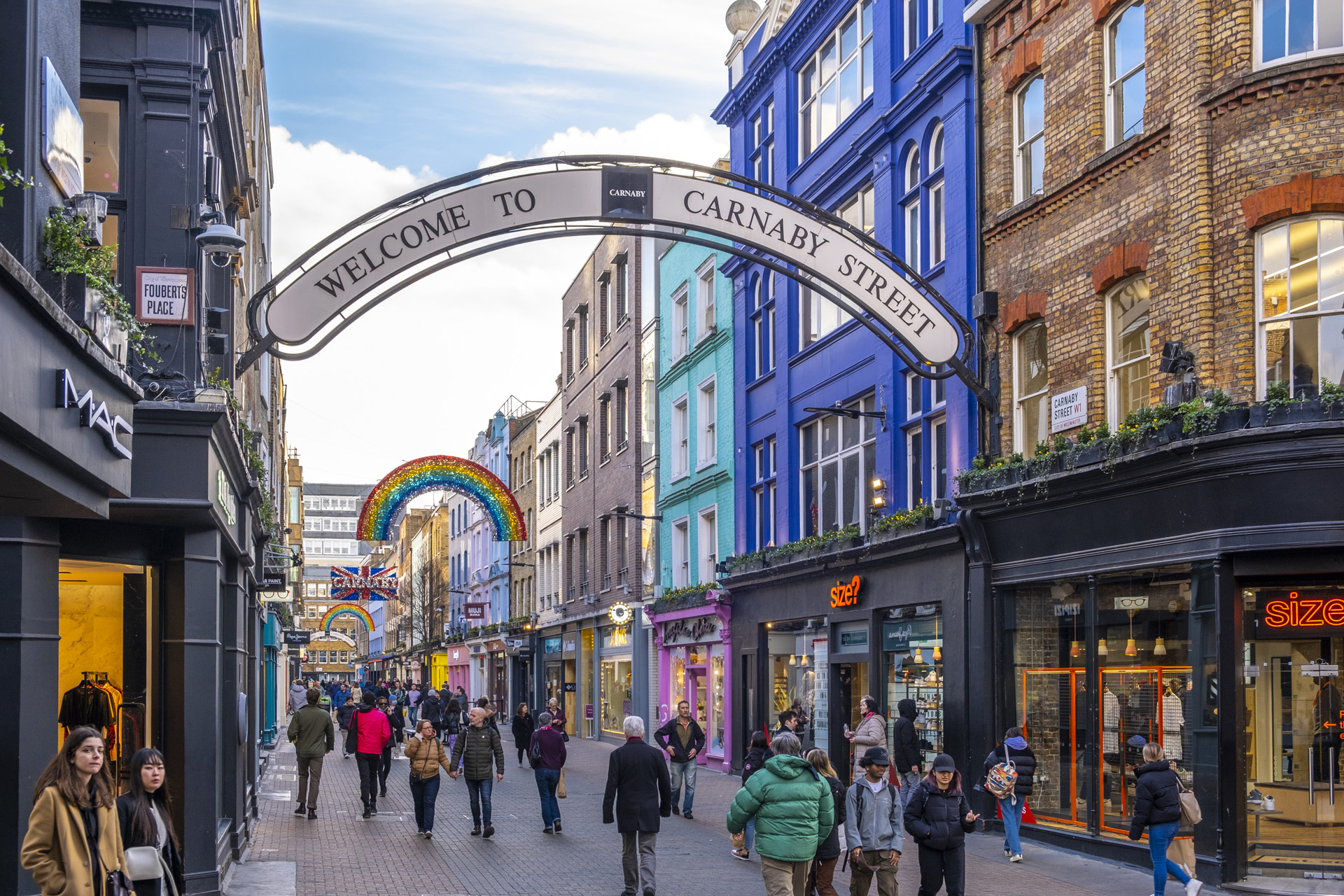 Is This The Most Instagrammable Part Of London? – Exploring Carnaby
Olivia Emily explores Carnaby London
A stone's throw from the backbreaker that is Oxford Circus these days – with its overwhelming, overfilled streets – lies lovely Carnaby, at once a well-known destination and a best-kept secret. Made up of 14 streets, Olivia Emily asks, 'is this the most Instagrammable part of the city?'. Very possibly – but Carnaby is much more than meets the eye. Here's how to have a lovely (and aesthetic) weekend in Carnaby, London.
Read the C&TH Responsible Tourism Guide
An Aesthetic Weekend In Carnaby
Carnaby embodies modern Soho: shops housed in classical buildings, winding streets with installations hanging over them, splashes of colour wherever possible, and a storied history. It's considered the home of Swinging London, the city at the centre of the Swinging '60s movement and its associated rock music, mod fashion and general hippie vibe. The likes of The Who and The Rolling Stones performed at the nearby Marquee Club, drawing fans to the area; the latter just opened their first shop right on Carnaby Street, an immersive shopping experience ideal for fans of the band.
Pitted between Piccadilly Circus and Oxford Circus, Carnaby – centred around the main Carnaby Street – is a destination in its own right. This is shopping elevated from mundane to experiential, with showstopping displays filling the windows and glittering outdoor installations and street art to match. Whether you're looking to browse the 160 stores (from known brands to concept stores to independents), dine at the countless delicious restaurants, snap pictures with the Instagrammable street art, or just stroll the pedestrianised streets – absorbing London's exhilarating bustle sans angry drivers – here's how to spend your time at Carnaby Street.
Karma Sanctum Soho
20 Warwick St, London W1B 5NF
Start by relinquishing your bags and checking into your new home for the night. Sanctum Soho is a rock'n'roll concept hotel hidden behind a beaux arts facade. It's everything you'd expect from a rock legend's house: thick carpets, moody lights, a constant distant-sounding music, black and white artwork filling the walls, an omnipresent balmy warmth, and a ubiquitous scent that can only be described as your rock legend's musky aftershave. And that's just the corridors. Enter your equally moody bedroom (one of 30 guestrooms and suites) through a dark wood door with glittering silver rhinestone door handle for dark purples, pewter metallics, textured wallpaper, black bedposts, amber light emanating from freestanding black lamps, more playful black and white artwork, and a haven of lightness in the bed with its white sheets and cream throw pillows. Step into the bathroom for a rain-like shower head and spacious sink cocooned by tiles the iridescent rainbow colour of an oil puddle.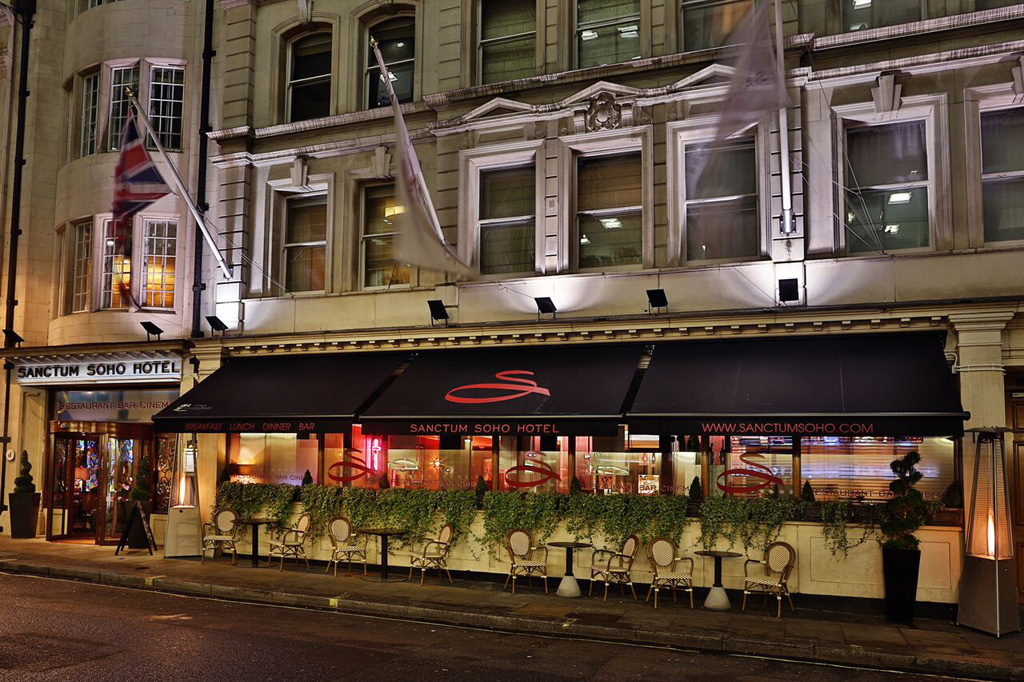 It all makes sense: Karma Sanctum Soho was designed in 2009 by music insiders looking for a boutique hotel with the feel of a home away from home. Two converted Georgian town houses, venture upstairs – back through those scented, carpeted corridors – to the rooftop terrace with 24 hour bar and hottub to boot. Or go subterranean and visit Inner Sanctum, the members cocktail bar and lounge. Though delicious adventures await just beyond your doorstep, Chef Garry Hollihead serves tempting Japanese street food onsite at Wild Heart Bar & Shokudo. sanctumsoho.com 
So.Shell
34 Marshall Street, Carnaby, London, W1F 3EU
Tear yourself away from your cloud-soft bed, and into Carnaby. Start as you mean to go on: with self care. So.Shell is a new Ukrainian nail and brow bar, hiring Ukrainian refugees and boasting the ability to complete a manicure, pedicure and eyebrow treatment in 90 minutes without scrimping on quality. Inject a springy pop of colour to your life with a gel manicure from one of the lovely nail technicians – or go even further with a spot of nail art. Nail extensions, lash treatments and eyebrow treatments are all also available. soshell.uk 
View this post on Instagram
Bar Kroketa
21 Beak Street, London, W1F 9RR
Then, it's only right and proper to fuel up with tasty Spanish tapas. Tucked away on Beak Street, Bar Kroketa is a long, neighbourhood-style bar and restaurant with a daily-changing menu fed by the kitchen and deli counter. Leave your restaurant formalities at the door: this is a true Spanish space, brimming with chatter and a playful attitude.
Tuck into bar snacks like crisps with olives and pickles, refreshing mussels with pico de gallo, and moreish padron peppers with a sprinkling of sea salt. Peruse today's menu on the blackboard hovering above the small open kitchen, and pick from a range of titular kroketas: pumpkin and shallots, calcots and manchego cream, king prawn and prawn head aioli, or perhaps the black squid ink and aioli for a dramatically gothic bite. Fresh from that small kitchen, the pintxos sharing board is not to be missed, the fish rendition featuring mouthwatering juicy prawns, tender octopus and tasty squid. Wash it all down with a tasty cocktail, or a refreshing Spanish beer. kroketa.co.uk 
Retail Therapy
There are over 160 shops to explore in Carnaby, from IKKS Paris' UK flagship to rebellious Aussie brand Ksubi to C&TH favourite, RIXO. Pop into Bloobloom to browse the chicest, most ethical of glasses and sunglasses; plan ahead and book yourself a free eye test, too. Or maybe get a cheeky ear piercing at the endlessly aesthetic Astrid & Miyu – or a tattoo, or a permanent bracelet, perhaps. Or maybe just browse the sparkly jewellery…
It's not just shopping here, though: Carnaby is all about experience. Take RS No.9 Carnaby, for instance – The Rolling Stones' concept store with its glass floors, giant tongue installations, rock soundtrack, and array of unique merchandise. NICCE's sumptuously soft casualwear has never looked so lavish, arranged by colour with unique displays. Or, over at Lazy Oaf, enjoy the satisfying combination of minimalist display and maximalist decor, with the graphic and playful apparel inspired by youthful rebellion speaking for itself.
Window shoppers will be content here, too: from multicoloured facades to extravagant window displays, there's plenty to see even if you're reducing your new purchases. And if that is you, make sure to pop into Mind; is this London's chicest charity shop? With a baby pink painted front and a small interior, it feels boutique in here, despite being a charity shop. The items have been specially curated with the W1 shopper in mind: browse the rails for Givenchy, Vivienne Westwood, Burberry, Coach and Louis Vuitton; don't miss the jewellery and vintage handbags tucked away at the back.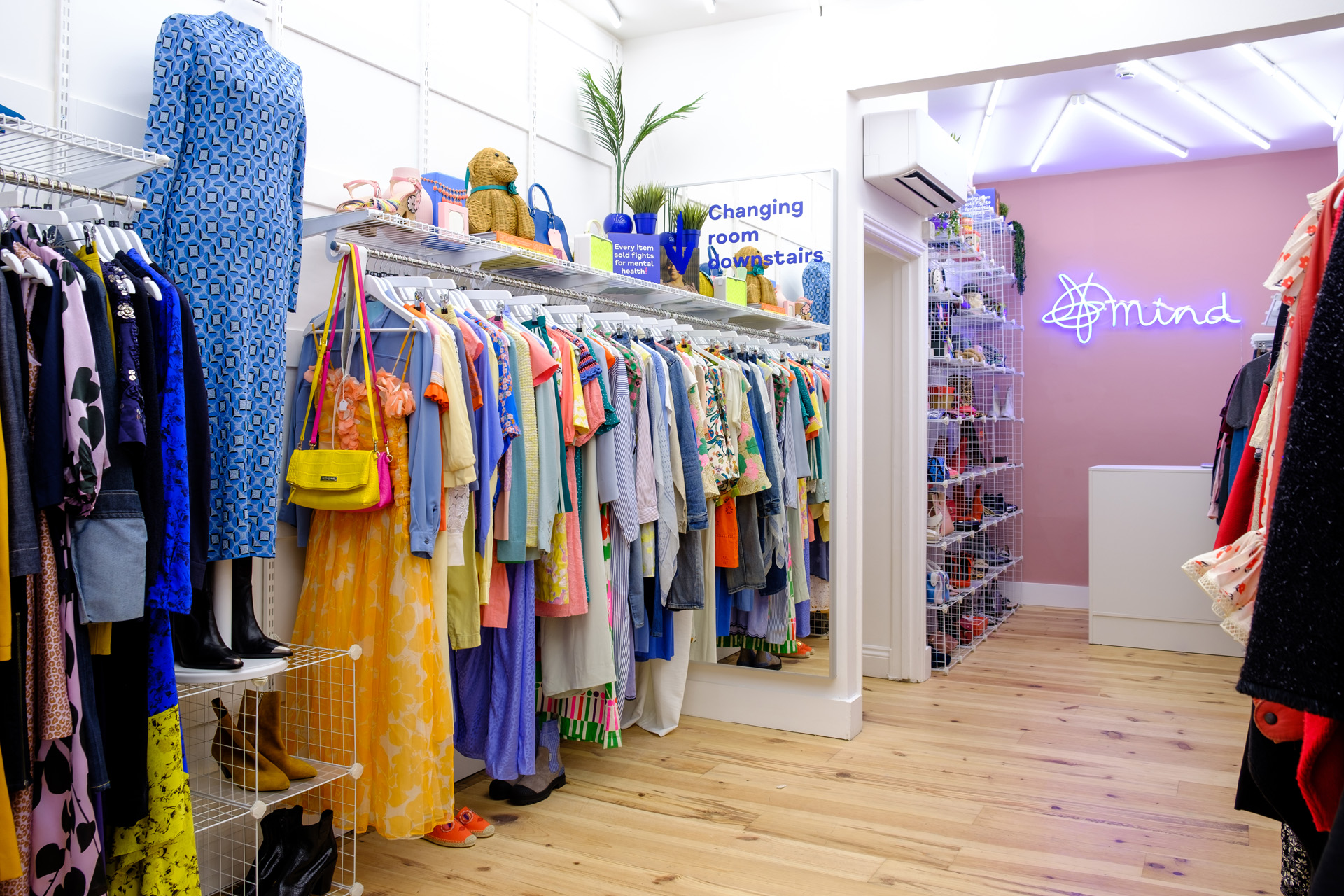 Stroll Around & Spot The Street Art
Carnaby is home to a range of funky art: to see it, just look up. From the huge, tiled homage to London on Broadwick Street, to the giant wallplug with parakeets on Ganton Street, to multicoloured shop fronts and typography reminding you where you are (Carnaby) on almost every corner, there is so much to absorb – and that's before mentioning the iconic installations. Two huge, shimmering rainbows arch over Carnaby Street while, further down the road at the junction with Ganton Street, a glittering union flag hovers over shoppers, created with 30,000 red, white and blue shimmer discs. Grapple with other keen phototakers for your moment in the spotlight or, pro tip, arrive before 10am for quieter streets and more peaceful photo opps. 
Head to the west side of Ganton Street to stroll beneath the 51 oversized, multicoloured LED light bulbs – even more spectacular at night – and to Kingly Street with its pink string lights crisscrossing the street. Here, find a range of tasty restaurants to dine in for the evening, from Dishoom to Pizza Pilgrims, Kolamba to Dehes. Don't miss Kingly Court, a bustling courtyard that welcomes you in with aesthetic signage and black and white chequered floor. Slip down the narrow corridor, which opens into a bustling multi-floor courtyard with outdoor heating, greenery, a tented ceiling, blue railings on each floor, and an autumnal tree with glittering gold lights at the centre. 
Darjeeling Express
Kingly Court, Kingly Street, London W1B 5PW
Hidden at the top of Kingly Court, Darjeeling Express is Asma Khan's new London home – or should we say homecoming, her first London restaurant having been housed here in 2018. Moving from the successful Covent Garden branch in search of a more open space, Darjeeling Express is and always has been woman-led, with a team of women at the helm of the kitchen cooking up home-style food inspired by Calcutta's street food. Here in Kingly Court, watch dishes being cooked up in the open kitchen, surrounded by sun-kissed terracotta interiors and house plants galore. Lunch is a la carte, but dinner is a set menu, a selection of tasty dishes served on a circular metal tray, where guests are encouraged to pour, dip, and eat with their hands, gathering around the table and sharing in the traditional 'daawat' (feasting) style. Think succulent chicken in a rich sauce, the juiciest prawns, and a wealth of rice, puri and poppadoms. Health warning: not one for the spice averse. darjeeling-express.com
View this post on Instagram
Nightjar
Kingly Court, Kingly Street, London W1F 9PY
Then venture back down the stairs of Kingly Court and keep your eyes peeled for Night Jar, the Soho outpost of the iconic Shoreditch venue, signalled only by subtle signs and a bouncer guarding the unremarkable door. Venture down another flight of stairs to find a buzzy speakeasy bar with a healthy dose of old school glamour, live music and bubbling chatter emanating from every table. The menu is world-renowned, uncovering forgotten cocktails from as far back as the 1600s; the concept menu is split into Pre-Prohibition (1600–1918), Prohibition (1918–1932), Post-War (1940–2000) and 'Nightjar Signatures'. 
There's a drink for every mood, whether you're looking for a fruity number, a 'serious cocktail from a desperate time' (Prohibition, naturally), or something experiential. The Yorkshire Punch sharing cocktail (Ford's Gin, St Germain elderflower liqueur, berry liqueur, Yorkshire Tea, apple and rhubarb Juice, fresh lemon, ginger beer, bee pollen syrup) arrives in a bird jug billowing dry ice mist, before your pour the delicious concoction into tea cups. Or for your moment in the spotlight, pick the delicious Barrel-Aged Zombie (Appleton Estate 8 Year Reserve Rum, Hendrick's Absinthe, Foursquare Spiced Rum, Aluna Coconut Rum, Wray & Nephew Overproof Rum, Merlet Apricot Brandy, maraschino, Mamajuana cordial, fresh pineapple juice, ginger beer) which comes with an alcohol doused slice of Madeira cake set alight at the table. Nightjar is the perfect destination for a theatrical night out (fitting in such proximity to the West End), or just a nightcap before you venture back to bed. nightjarcarnaby.com
Breakfast At Dishoom
22 Kingly Street, London W1B 5QP
After a cocooning night's sleep and enveloping shower at Karma Sanctum Soho, bid farewell to the musky corridors and step out into the fresh morning air. Just steps away, the cavernous Carnaby Dishoom beckons with its iconic breakfast. Believe the hype: paying loving homage to Bombay's lost Irani cafés, expect a menu brimming with breakfast delights with an Iranian twist and playful descriptions. The Parsi Omelette (three eggs, chopped tomato, onion, coriander, green chilli and cheese) is a light and refreshing start to the day, or try one of the iconic Dishoom Naan Rolls, filled with bacon, sausage (vegan sausages available) or egg, or brave the Wrestler's Naan Roll containing the whole hash. Eat surrounded by a range of warm interiors with billowing houseplants, wood finishes and leather sofas – truly, this Dishoom is like three restaurants in one. Don't miss the House Chai: spicy, warming and gratifyingly bottomless. And then it's back out into bustling Carnaby for another day of aesthetic exploration. dishoom.com 
DISCOVER
Discover more about Carnaby at carnaby.co.uk and @carnabylondon