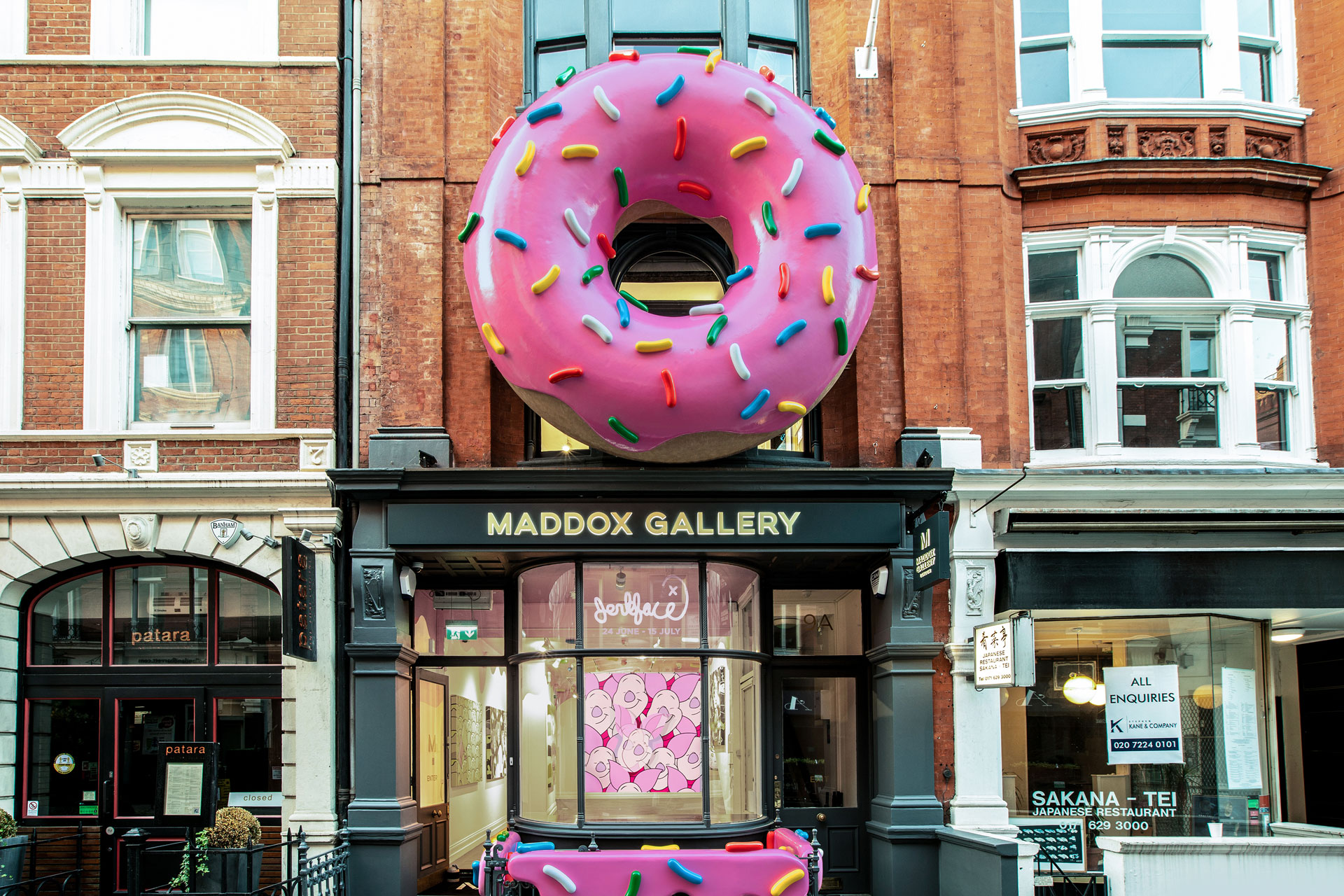 48 Hours In London's Most Exclusive Postcode: The Perfect Mayfair Minibreak
What to do, see, eat and buy in London's West End.
London's boroughs are notoriously hard to choose between when planning a city staycation. The cool kids head east, families favour the museum-packed west. The south has colourful districts packed with local culture, the north is home to historical landmarks and a whole lot more. How about living it up in the most expensive (and arguably the most famous) borough of them all? If you're looking for the best hotels in Mayfair, or how to fill the ultimate weekend in London's West End, read on…
Mayfair London: A Travel Guide
STAY
For many, a little red plastic house on the most coveted Monopoly board square is as close as they'll ever come to owning property in Mayfair. No matter, since the area's hotels are so plentiful you could spend several weeks hopping from one to another without ever tiring – the budget would probably run out before the options. From Claridge's to Brown's, some of the most historic hotels in the capital can be found in Mayfair, and even if you're not in town long enough to rest your head in all of them, dropping in for a cup of tea (preferably served with a tower of mini sandwiches and scones) is a great way to take a peek at some of these grand and famous addresses.
All our London hotels content in one place.
If it's something more modern you crave, follow our lead, and check in to one of the buzziest openings of the 20s so far, The Mayfair Townhouse. In the thick of the action on Half Moon Street a stone's throw from Green Park Station it's equally well-positioned as a crash pad after a night of over-indulgence at one of Mayfair's notorious members' clubs, or for eight hours' beauty sleep after an early-bird supper and an evening at the theatre. Speaking of beauty sleep, the enormous, pillow-soft beds are not the only ingredient to ensure you catch your full prescription, whether customary or down to luck, our room at The Mayfair Townhouse was one of the quietest London rooms we've ever experienced. Our open-plan Skylight Suite was flooded with natural light via the sizeable above-bed skylight, which also provides a rare central-London stargazing opportunity (should you bear witness to an even rarer clear night in the capital). The room comes complete with a complimentary bottle of Laurent-Perrier champagne and inclusive minibar, although you'll want to join in the fun at the Dandy Bar downstairs come cocktail hour. Read our full review of the Mayfair Townhouse here. Rooms from £252. themayfairtownhouse.com
DO
One of the most affluent areas in the world, luxury is the order of the day in London's Mayfair, but that doesn't necessarily mean parting with any of your hard-earned cash. Mayfair's art scene is one of the most electric in the capital, with scores of free galleries packed with unique and exciting exhibitions. Check out the Maddox Gallery for stimulating modern and contemporary art shows or keep things classical at the stunning Royal Academy, which has various free collections as well as ticketed exhibitions that are well worth the fee.
Of course, if you do feel like parting with some money, Mayfair's iconic Bond Street is one of the capital's most exclusive shopping streets, with brands from Fenwick's towering department store at one end to De Beers at the other. From here you can check out Fortnum & Mason's, wander through Burlington Arcade or head along Jermyn Street for iconic British brands from Crockett & Jones to Favourbrook.
Our pick for retail therapy comes with an extra layer of feel-good, on the pleasant pedestrianised shopping stretch of South Molton Street, the UK's first sustainable department store, The Good Store by Groundwork charity. Every product and brand has been carefully sourced to ensure it has been created with the environment in mind, with departments covering home, health and beauty, fashion and kids. There are upycled furniture masterpieces, luxe denim reworks and even a vintage fashion haven hidden upstairs (in which we uncovered brands like Sandro, Mulberry and more). thegoodstore.uk
And from retail therapy to beauty therapy, some of London's most exclusive therapists and clinics can be found in the W1 postcode, too. Head to Mount Street for a visit to Dr Barbara Sturm's boutique and spa where you can enjoy an instant glow facial in just 45 minutes and leave looking and feeling infinitely more radiant. An intensely nourishing treatment, the rumblings of the Piccadilly Line beneath add to the relaxation element. You'll leave feeling clean and serene.
The serenity won't last for long if you make time for one of the hottest theatre tickets in town during your Mayfair minibreak. Currently playing at The Criterion Theatre until January 2023, 2:22 A Ghost Story stars famous faces including Tom Felton, who gives an enthralling performance in this satisfying did-you-figure-it-out thriller. criterion-theatre.co.uk
EAT
Whether you dare to scare at the theatre or are pounding the pavements in pursuit of purchases, you'll need fuelling and refuelling regularly. No hardship in an area full to the seams with famous eateries and Michelin-starred restaurants. There's always space for newcomers, too, like Chantelle Nichol's Apricity, a zero-waste, sustainable restaurant with a menu focused on hyper-seasonal dining championing local produce. From hero dishes like the hand dived Scottish scallops or the cured pollock, squid and sambal butter to the lowly chickpea doughnut produced using ingredients to be otherwise discarded, everything is delectable and thoughtfully produced and presented. So often promised but rarely delivered, the fruit and vegetables truly do take centre stage at Apricity, from the pink fir potatoes (don't share them) to the tomato and shallot salad. Wash the strawberry, cashew cream, 'goldencomb' and raspberry granita dessert down with a glass of English sparkling wine while chatting to the serene and sincere staff and gazing lovingly at the designer (and presumably planet-loving) dogs that typically accompany this relaxed Mayfair eco-fashion crowd. apricityrestaurant.com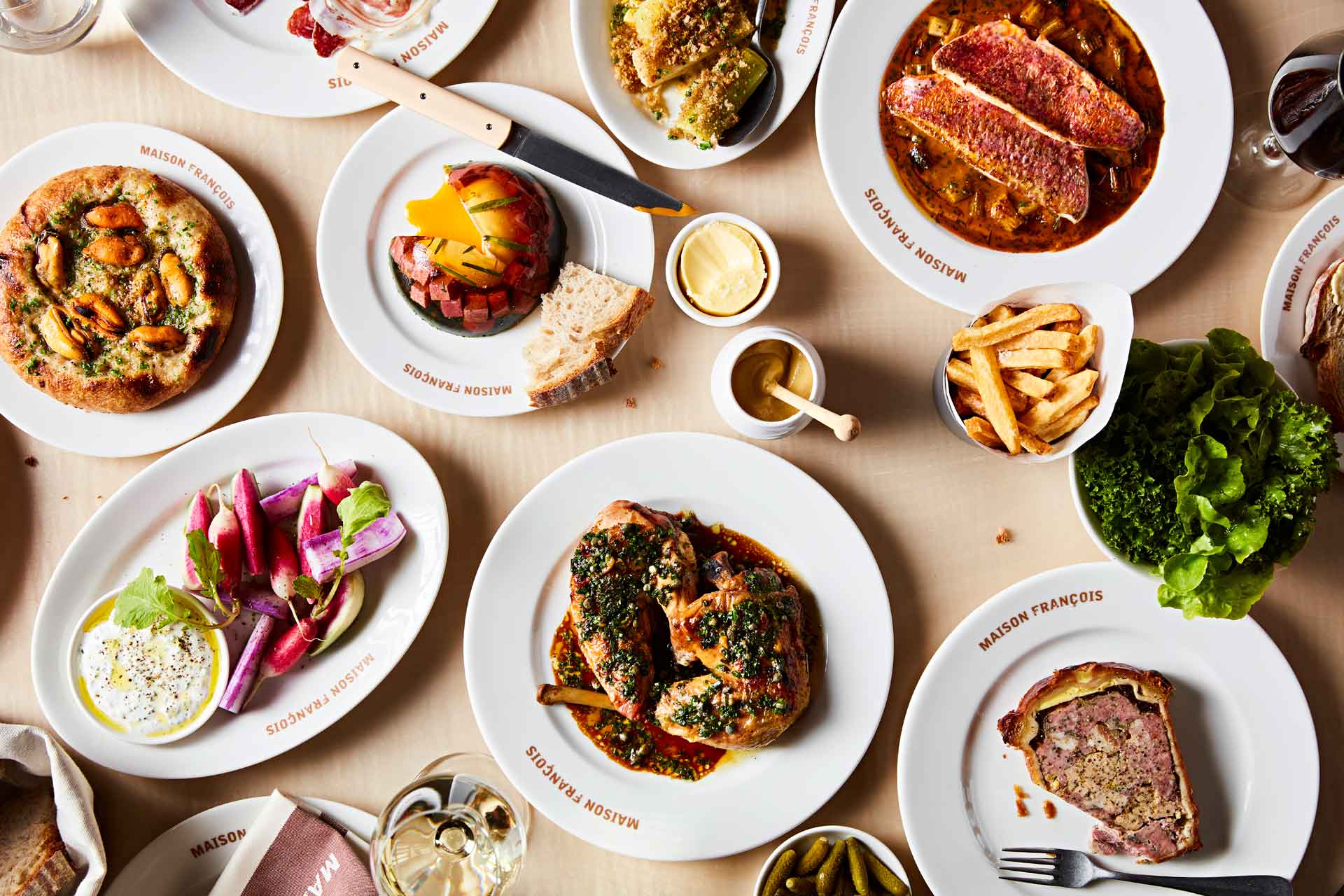 If all this Britishness is overwhelming, find a fresh French vibe at Maison Francois, just behind Fortnum's. An elegant all-day brasserie with a warm and bustling service, an ample menu, richly seasoned, indulgent dishes, and a wine list so tempting your resolve to resist the dessert trolley is sure to be weakened by the time it rolls up. Best not to visit if health-food is on the agenda, everything is butter drenched (and all the better for it) and the comté gougères are so comforting that from now on we'll be returning for a medicinal plateful whenever even the most minor inconvenience occurs. It's a lovely spot for a relaxed pre-dinner drink (downstairs in Frank's bar) or a special occasion meal, with cuisine good enough (and a postcode glitzy enough) to lure the occasional famous face – we were seated next to a member of the cast of Friends, but even they weren't magnetic enough to distract from the array of puddings touring the floor in a most provocative manner. maisonfrancois.london
Round off the weekend with the best of British cuisine. No, not fish and chips or one of the best roasts in the capital (although both are splendid), but crustless sandwiches cut into neat rectangles, warm scones slathered in clotted cream and jam, bitesize luxury bakes and a china teacup of steaming tea. The afternoon tea offering at Brown's Hotel, the oldest hotel in London, is well worth the £70 starting price if it's a slice of English luxury you seek. Sit in one of the prettiest drawing rooms in the capital, listening to the tinkling of live piano music and nibbling on a perfectly balanced sandwich collection (the prawn cocktail with crispy onions stands out as the ultimate posh prawn sarnie), refilling your cup from a weighty silver teapot and wondering whether your salary would stretch to a butler and a new china set or at the very least an annual return to Brown's. roccofortehotels.com
THE FINAL WORD
Often marred by its noisy neighbours on Oxford Street, which runs right through the West End, staying in the heart of Mayfair will show you that the streets rarely get going before midday, and the side-roads are blissfully traffic-jam-free, so quiet city brunches and a morning browse is more peaceful than you'd think. There's something for every budget in this, the most exclusive of London postcodes, but whether you come away laden with expensive purchases or just a weekend's worth of memories, if you get your Mayfair minibreak right, you'll return home feeling like a million pounds.