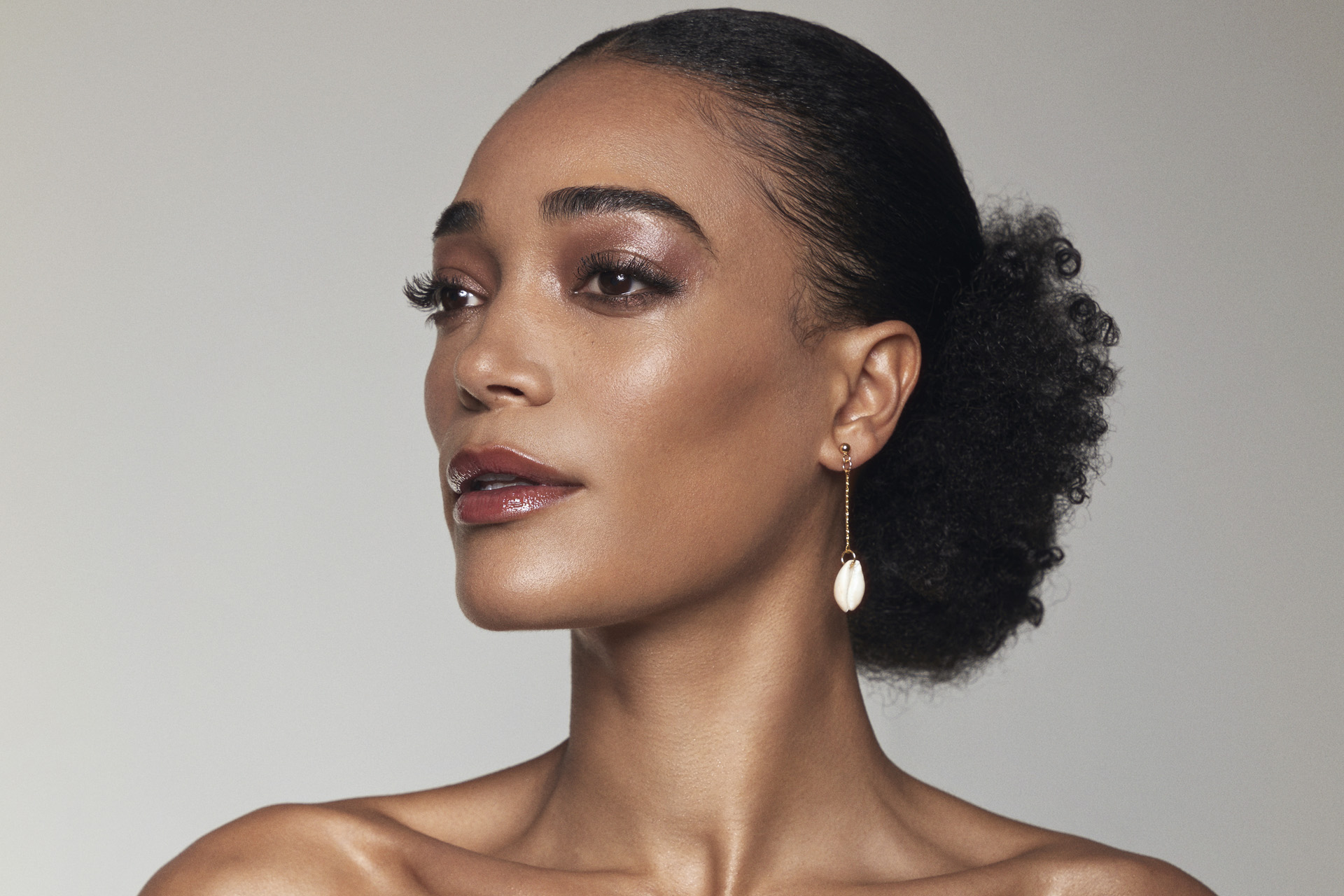 'Myanna Buring Is The Definition Of A Leading Lady': Cassie Clare On The Witcher Season 3
Season 3 of The Witcher is streaming now on Netflix
Season 3 of The Witcher has finally landed on Netflix, with Ghanaian actress Cassie Clare reprising her role as sorceress Philippa Eilhart. Transporting viewers to the fictional, medieval-inspired 'Continent', Philippa is an advisor to king Vizimir of Redania who appears in season 2, but has more of a central role in season 3. We sat down with Cassie to chat all things filming The Witcher season 3, plus learning from Julie Walters and finding the positives in life.
Interview: Cassie Clare On Playing Philippa Eilhart In The Witcher
Hi Cassie, how's life going at the moment?
Hello! Life is going really well. Thanks for asking!
You can currently be seen in season 3 of The Witcher – can you give us a quick intro to the series for anyone unfamiliar?
I'm so excited for people to see season 3. For anyone new to the Witcher world, I would say it's a thrilling fantasy series that has real and relatable storylines with a lot of heart.
What can viewers expect from season 3?
So many twists and turns! It really is a rollercoaster. When I first read the scripts, I was laughing, crying and gasping every few minutes as the story developed.
You play Philippa Eilhart – can you describe her?
Oh, my dear Philippa, how I love this character. I could talk for hours about her but, in short… She's the kind of person who is always thinking 10 steps ahead.
What was it like playing her?
I learned a lot playing Philippa; she has this stillness that I don't often have. I'm an excitable, all-singing, all-dancing kind of person. Philippa sits in stillness, observing every detail of everything and everyone around her, collecting intel before making a move or saying anything.
How did you get into character/prepare for the role?
I did a lot of preparation for this role. I have my Phillipa folder, full of information such as Witcher lore and history, maps of the continent with places like 'where Philippa went to school' marked, and details about her past. The folder was packed and I would read through it, listening to my 'Philippa Playlist' of songs I'd chosen to help me get into character. I also did short meditations to find the presence and stillness of Philippa.
Any funny stories from rehearsals or filming?
I remember one of my first rehearsals with the stunt team. I arrived a little early, so I got to watch the end of Eammon Farren and Freya Allan's rehearsals. Both were learning fight sequences that had me applauding from the sidelines. Then I was called to my rehearsal and was taught how to whip targets on a wall. It made me chuckle thinking those two characters get right in the brawl and get messy, whereas Philippa prefers a more sniper style of attack, staying well back so as not to get her hands dirty.
What is the cast dynamic? Who was your fave person to work with?
It was such a bonus that the cast are all so lovely, as well as so talented. It was honestly a joy to work with everyone. We filmed some huge scenes where almost the whole cast were involved, and I loved those days where we were all together.
You've also starred in the likes of Sandman, The Irregulars, Endeavour and What Happened To Monday – what has been your favourite project to date?
That's a tricky one, as I learn something from every role. But Philippa has to be my favourite so far. She is a very complex and layered character who is not always as she appears to be, which is challenging and so much fun to play.
Any roles in the pipeline that you're excited about? (If you're allowed to tell us!)
I can't say much, but I may be returning to some roles I really enjoyed.
Who has been your favourite actor to work with in the past?
Right now, I would say Julie Walters. I learned so so much from her on Mamma Mia 2 – mostly how to balance working hard, having fun and taking care of yourself. I watched Ms Walters go from having us in hysterics in between takes, to having a power nap on a prop sofa, to jumping up and nailing every one of her scenes! She was a joy to be around.
Which co-star did you learn the most from?
Every single person I came into contact with on this production taught me something valuable – not just the cast. However, I must say Myanna Buring is the definition of a leading lady. Her leadership, strength and courage shine through at every moment. She welcomed us newbies so warmly. She really is a teacher and a guide to us all, just like her character Tissaia. I always looked forward to every time I got to work with her or be around her, and always went home after a day on set with her thinking, 'Wow, what an amazing actress and what an amazing human!'
What's your dream role?
I daren't say in case I jinx it! But I will say most of my dream roles are singing and dancing powerhouses with a lot of strength and vulnerability… Can you tell I love musical theatre and strong female leads? Hehe.
What's a genre you'd like to do more of?
I'm loving getting to delve into the fantasy world; I'm finding out about a whole world I hadn't properly been introduced to. It's exciting when you think about the possibilities for characters in fantasy… I mean, fantasy gave me the space to do magic and turn into an owl – it's so fun!
Do you get to spend much time at home?
I do in between work, especially as the last few jobs I've done have been filming in or around London. 
Do you live in the town or the country? Which do you prefer?
I have always lived in a city, but I'm starting to want more nature around me. I'm always more peaceful when I'm in nature. I'm not feeling the concrete jungle like I used to. This city never sleeps, but I love a little nap!
What's your relationship with social media like?
I wouldn't mind not being on socials at all – it can be a distraction for me. I have plays and film scripts I want to finish! But I can make peace with socials if I use them as a place for people to learn a bit more about the real me. I like the idea that past students I've taught can look through my Insta and track exactly what I've done – the things that worked and the things that didn't.
How do you find balance in your personal and work lives?
I'm still working on that balance, to be honest. I can get very focused on my work and pouring all my energy into it, but then other things suffer because of that. I want to find a balance between work, family, chosen family, health and creativity. I'm close, but I haven't quite mastered it yet.
What did you want to be when you were growing up?
The first thing I remember saying I wanted to be was a choreographer. I was so young I could barely pronounce the word properly!
If you could give advice to your 15-year-old self, what would it be?
You are enough. Do not bend or shift or diminish who you are to please others. Learn that putting yourself first is not selfish because, when you take care of yourself (mind, body and soul), you will have all the love and energy to spare and you can help others properly. So, in short, be you to the fullest, and fill your cup first. There are parts of me that still think that sounds selfish, but you can't give love and energy if your battery is empty!
How can we all live a little bit better?
By remembering that negativity breeds negativity. Our thoughts, words and actions have a ripple effect that affects us and everyone around us. We are mammals that look for negatives as a survival mechanism, and that's OK. However, I believe that if we work on finding the positives, too – having gratitude for all the small things as well as the big things – we will have more strength to come together and make positive changes. So many times we point fingers at others, saying what they should be doing to be better, but did we even drink enough water today?! If we can take better care of our inner world – our own mind, body and soul – we will have so much more to give to those around us, and then possibly the world.
Anything fun in the pipeline – professionally or personally?
Not that I can speak about. Hehe. 
Quick Fire
I'm tuning into… The kind of representation I didn't know I needed so much as a child.
What I'm reading… The biographies of one of my idols.
The last thing I watched was… Never Have I Ever. I love it and I love shows that can teach me a bit about other cultures.
What I'm most looking forward to seeing… I'm going to be watching I Wanna Dance With Somebody over and over again. Naomi Ackie as Whitney Houston was brilliant!
Favourite film of all time… It's always between Singing in the Rain or West Side Story. Probably West Side Story right now.
Singer I always have on repeat… What I listen to reflects my mood at the time, so there is a lot of jumping between genres and singers. I don't listen to any particular artist on repeat.
My ultimate cultural recommendation… Try roller skating! There are great roller discos in London, and groups of skaters having fun in Hyde Park on sunny days. It's more fun than squats at the gym, but the results are the same.
Cultural guilty pleasure… It's only a guilty pleasure right now because I feel that I talk about it non stop… But get yourself to the theatre and see a musical! Too many people deny themselves the escapism and joy that a musical can bring, and why!? Because it's unrealistic to burst into song? Well I wish we lived into a world where we could burst into song to express ourselves! Ha!
What's next for me is… I'll be over here, focusing on growing as a person and refining my creative skills.
Parting words… Sending love and respect to all, have a wonderful day.
The Witcher is streaming now on Netflix.