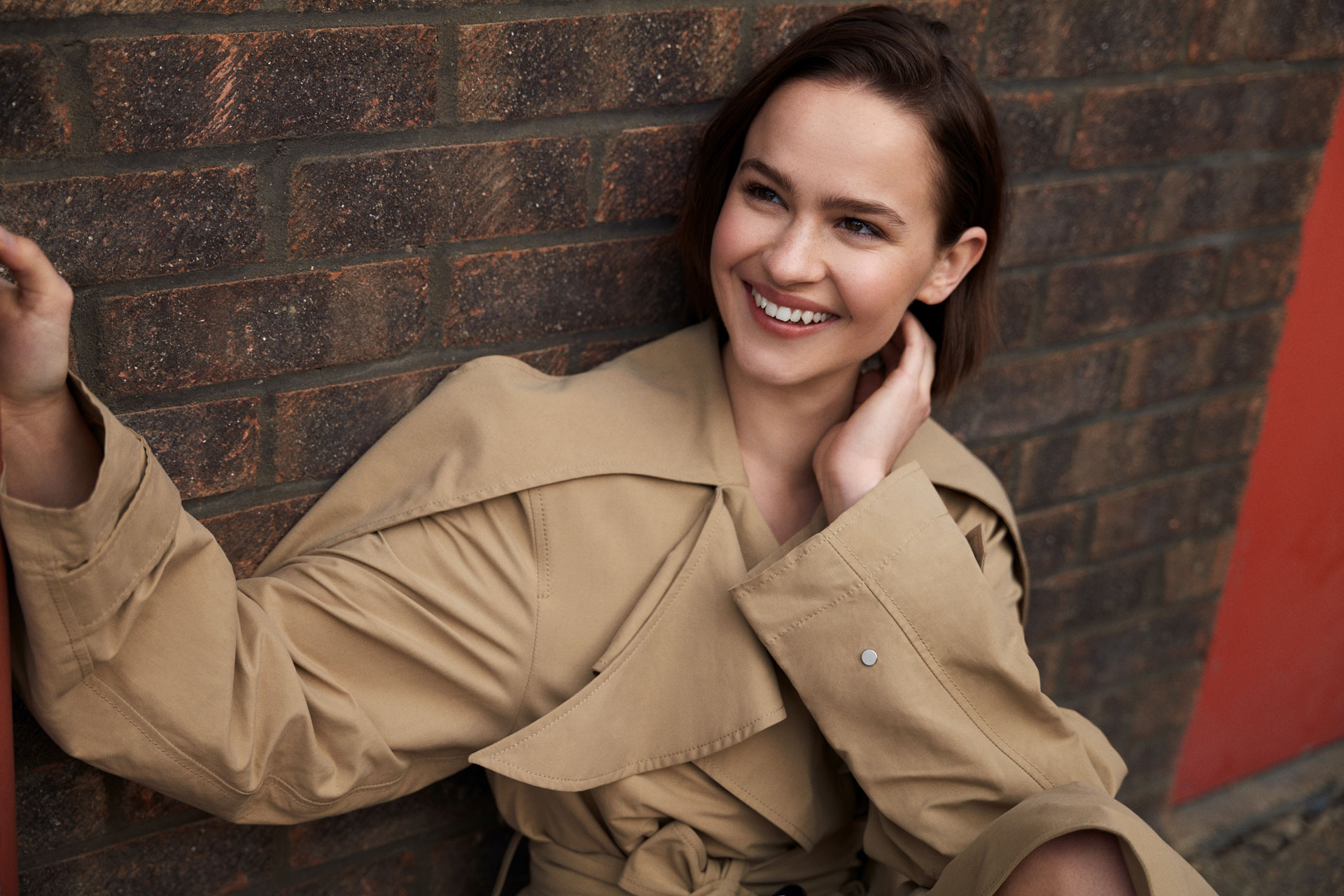 Clara Rugaard on The Rising
---
Meet the lead star of Sky's new supernatural thriller
Danish actress Clara Rugaard sprung onto the scene in 2019, when she starred alongside Hilary Swank in Netflix film I Am Mother. This year, she returned with another big hit, Sky's new eight-part thriller The Rising. Clara plays protagonist Neve Kelly, a woman who discovers she is, in fact, dead – and, worse still, has been murdered. Clara is here to tell us all about it.
Clara Rugaard on The Rising
What can you tell us about The Rising?
The Rising is an innovative and unique spin on the mystery crime thriller genre in which we, through the eyes of the 'victim', go on a journey to find her killer, her voice and right the injustice done. It's a reimagining of the dead girl story that we've seen so many times before, this time giving her the agency to react to and avenge her murder. She's the hero of her own story, which is what I think makes this show so interesting. It's also a show jam-packed with brilliantly complex characters, badass action motocross sequences, stunning scenery from the north of England, covering themes of love, family, self-discovery and adolescence, with a cool and bold aesthetic and a supernatural twist. So, I know I'm bias, but I'd say that there are plenty of reasons to go and check it out.
Any funny stories from filming?
Many! I feel like we spent 60 per cent of the shoot laughing, either purely delirium induced or due to the rather dire subject matter, leaving us simply no other choice. I remember this one time we were on a night shoot (cue delirium) and we probably had two hours left of shooting. I was sitting on this fold out chair on a slanted hill watching the monitor next to Ed Lilly, our brilliant director of episodes one and two. I got so excited at the sight of the sandwiches approaching that, as I reached into the box to grab a cheese and pickle, my chair started tipping and I fell onto Ed in slow motion (which everyone witnessed, naturally), knocking over his coffee which landed in a quite unfortunate area, making everyone believe he had wet himself. I still can't tell this story without cracking up because it was so utterly ridiculous.
Favourite person on the set of The Rising and why?
I genuinely love them all and have come away from the experience with some very dear friends. Mushiness aside, I really loved getting to work with Emily Taaffe who plays my mum, Maria Kelly. Not only do I have such immense respect for her as an actor and have learned so much from watching her (which was literally what the majority of my scenes with her entailed), but she's also just one of the downright loveliest, funniest human beings I've met. She immediately makes you feel at home in her presence which is something that is incredibly valuable, especially during a shoot as intense as this one. Perhaps it's the Irish, but nonetheless, she rocks.
Favourite role to date and why?
Again, a rather difficult question to answer as I've loved getting to take on such vastly different characters and have learned so much from each and every one of them. Neve Kelly, however, has got to be the most far-removed of them all. She is also the character that has been with me for the longest, as this is my first full series. She therefore, naturally, holds a special place in my heart and portraying her felt like quite a transitional moment in my personal, as well as my working life.
Role you'd cut your right arm off to get?
A fair few roles I'd discard some limbs for: the female version of John Nash in A Beautiful Mind, Maggie Fitzgerald in Million Dollar Baby and Sally Bowles in Cabaret, to mention a few.
What demands do you have on set?
I wish I had some only red M&Ms policy or something outrageous like that, but I think good vibes and some working toilets will be fine.
Director you'd most like to work with and why?
I mean, the list is endless. And Paul Thomas Anderson, Chloe Zhao, Martin McDonagh and Sophia Coppola are definitely on there. But if I had to choose, the dream right now is to work with Thomas Vinterberg for a number of reasons. He's Danish, he directed The Hunt, which is one of the greatest movies of all time, I'm Danish and he can just do no wrong.
What qualities do you think have made you successful?
I think that making an effort to generally be a good person is very important. I believe that you're a product of the people that you surround yourself with, so keeping the good eggs around is key.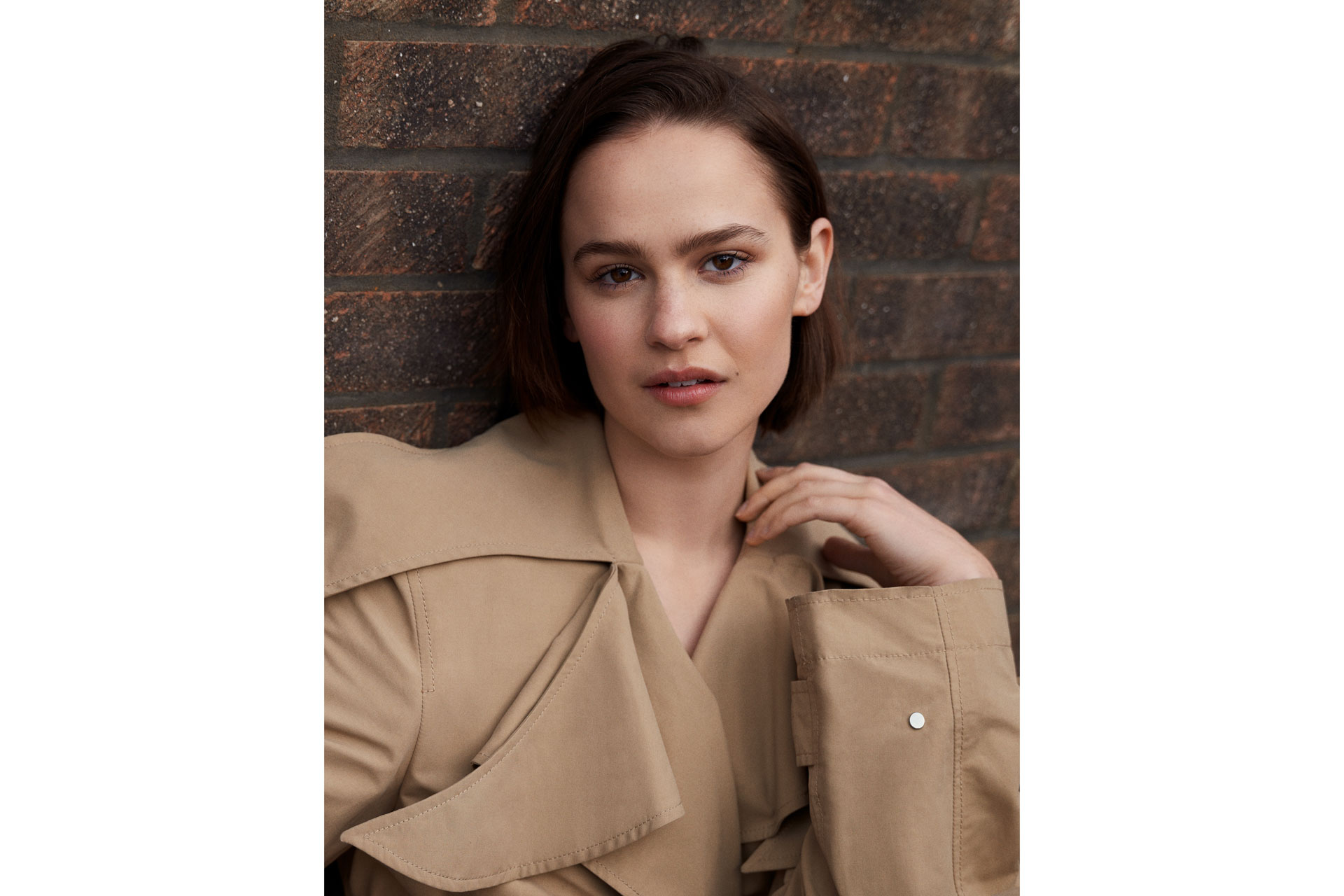 Film you think everyone in the world should see?
As much as I want to say The Hunt, it is quite a tough (but oh so brilliant) pill to swallow. I want to say Life Is Beautiful by Roberto Benigni, that I only recently got around to watching. Its message is simply the most powerful of all.
What's your relationship with social media like?
It is a rather helpful tool in my profession and I love the connective side of it as well as how it provides a space for free expression. But I really hate what it's doing and has done to young men and women in terms of inferiority complexes and negative body image. I try and moderate my usage.
What did you want to be when you were a little girl?
I really wanted to be a singer. And a vet, as I was absolutely obsessed and wanted to save every single animal I came upon. A singing vet!
If you could give advice to your 15-year-old self, what would it be?
Believe in yourself a little more, kid. And stop plucking your eyebrows for crying out loud.
Three books you'd take to a desert island and why?
I'd have to bring The Power of Now by Eckhart Tolle. I'm convinced I'd survive at least a tad longer with his guidance and perhaps even come to enjoy the ride a little more. Where The Crawdads Sing was my favourite thing I read during lockdown and provided a great and beautiful escape which was very much needed. Finally, The Little Book of Hygge because I sure can't survive without a little hygge on my desert island.
The most challenging moment of your life?
Moving to London from Denmark at the age of 16. It was a big change, on top of the challenges that come with that, already, difficult adolescent stage of life. But I am so utterly grateful for it.
How can we all live a little bit better?
Eat cinnamon buns.
What's your interior design style?
I'm probably very predictably Scandi-minimalistic in my interior style. However, creating a warm and cosy environment is the most important thing to me.
What is your current beauty regime?
It's ever-changing but the only consistent thing in my life is lip balm. Never not got one on me.
What would your best friend say about you?
Surprisingly tall, accident prone and great snack cupboard.
How do you relax?
Pop my slippers on, switch on my projector and snuggle up with a cup of tea.
Are you a rule breaker or a rule taker?
I always thought of myself as a Rachel or Phoebe, but I am slowly coming to terms with the fact that, I am more of a Monica.
All episodes of The Rising are now available on Sky Max and NOW
Shoot images
MORE INTERVIEWS: