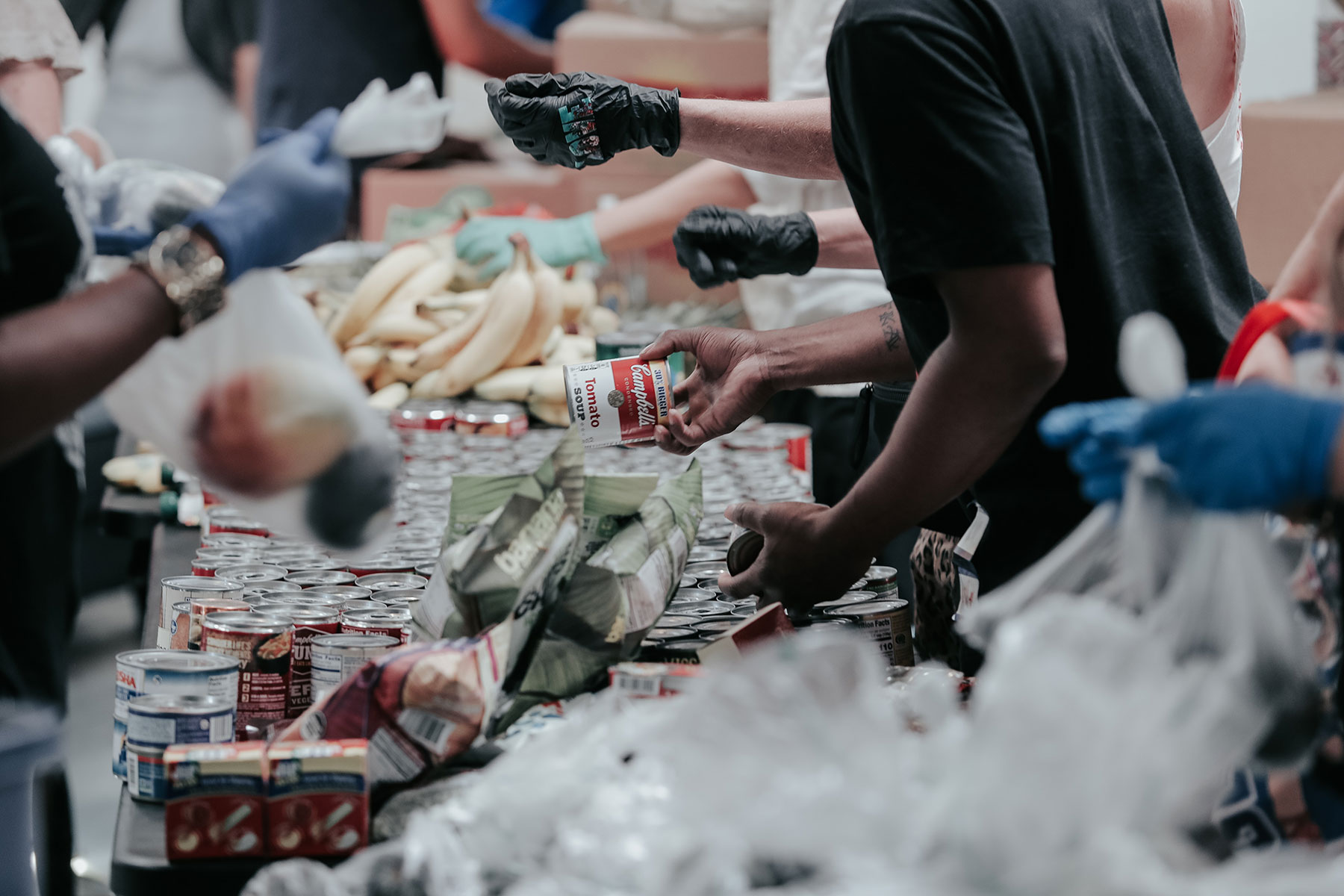 Compliments Of The House: The Brixton Charity Serving Up Surplus Food
---
Founder Sinéad Browne is fighting food poverty - one plate at a time
The UK wastes almost 10 million tonnes of food every year – yet 9 per cent of the population are struggling to feed themselves. Brixton based charity Compliments of the House is tackling both these issues with one elegant solution; collect surplus food and redistribute it to the hungry.
Founded in 2018, Compliments of the House is a food charity with a difference. Unlike other London foodbanks which pre-prepare packages of basic necessities, they offers guests a choice of starters, mains and deserts. The menu varies based on what has been collected that day, but Franco Manca, Honest Burger, Pret and Marks & Spencer's all make regular appearances.
'There's a massive gap in the market to support people with cooked food, so much of which ends up in landfill,' says founder Sinéad Browne. Giving guests a choice of restaurant quality meals is part of her mission to provide a foodbank service that feels like a hospitality experience. The name 'Compliments of the House' – which means 'this one's on us' in restaurant lingo – was chosen for the same reasons.
Food poverty is an issue close to Browne's heart; she spent much of her childhood in the care system, and while she was awarded a university scholarship, she's acutely aware that many of the people she grew up with fell into a vicious poverty cycle.
'Not knowing where your next meal is coming from causes anxiety – it affects your physical health and your emotional well being,' says Browne. 'A lot of our guests can't even consider going back to work when they're constantly hungry.'
Sustainable Cafes and Coffee Shops in London
The genius of Compliments of the House is that it utilises an enormous untapped resource (surplus cooked food that would otherwise be thrown away) to solve the equally towering problem of food poverty. Inspired by her time at The Free Store  – a food redistribution charity in New Zealand – Browne ditched her desk job as a lawyer and set about adapting the model to help London communities. So far, she's set up hubs in Brixton and Tower Hamlets and is in talks to expand to Leeds and Stoke-on-Trent.
'Wherever there's a high concentration of food, so restaurants, cafes and supermarkets, we can open – so ideally, we'd like to operate everywhere,' says Browne. Eateries are eager to donate their surplus food, and are also open to employing regular guests as part of Compliment's back to work scheme. It's all part of treating guests with dignity and respect – an attitude Browne thinks we also need to have towards food.
'In previous times people used everything they had in their pantries. Now people don't have that same respect for food,' she says. Food surplus is more than just an inconvenience – it's a major cause of carbon emissions, contributing one fifth as much as cars did in 2018. So – how can we all do our bit to waste less?
'Be more comfortable with portioning and freezing food, and be better at taking food that doesn't look the best,' says Browne. 'Take that sad looking tomato, boil it down, make a soup. Even if you don't want to eat it yourself – give it to a foodbank or a charity. Don't just throw the whole thing in the bin.'
Visit complimentsofthehouse.org to find out more.
Featured Image: Joel Muniz, Unsplash
Read More:
A Guide to Ecological Growing with Poppy Okotcha / The Healing Wound Exhibition Raises Funds for Turquoise Mountain