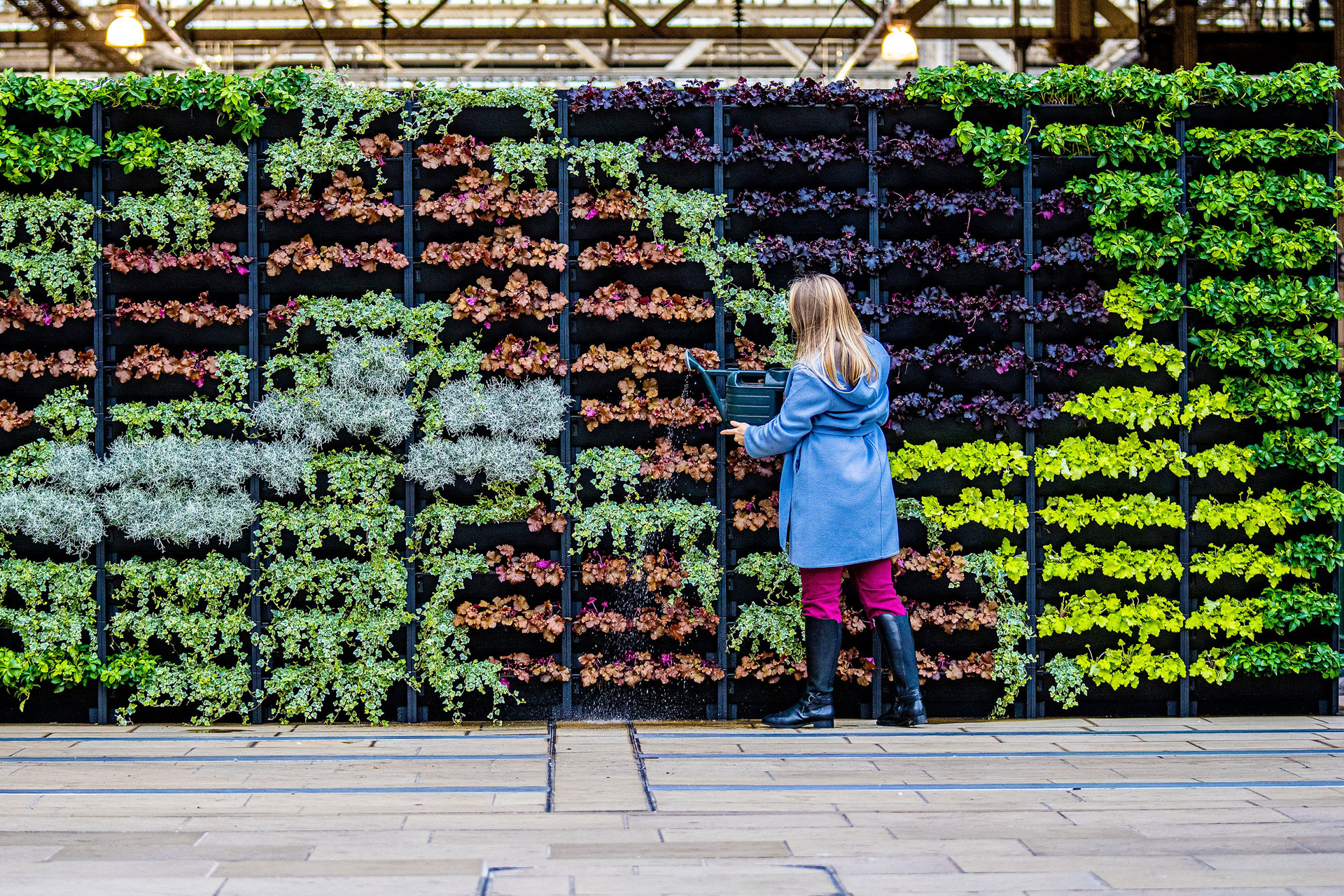 COP26: How the Art World is Getting Involved
Galleries and artists are joining in with the climate change conversation
All eyes are on Glasgow this month as the Scottish city hosts COP26, a United Nations summit about climate change. The event sees world leaders joining forces to forge a response to the environmental crisis, agreeing on ways to reduce greenhouse gases globally. But change doesn't just come from policymakers: engagement from the public is also crucial. This is where the arts come in. Through their works, artists can help both raise awareness of and create a connection with the issues, therefore inspiring people to get involved. Here, we highlight some of the ways the art world is marking COP26 – from large-scale works to lighting up green.
COP26: How the Art World is Getting Involved
Art For Your World
View this post on Instagram
Conservation organisation WWF has teamed up with curatorial practice Artwise to launch Art For Your World, a campaign designed to mobilise the art world on climate change action. It has been running on Instagram since September, with initiatives including a bid for artists and galleries to support WWF projects through their work. Alongside this, on 5 November the cultural sector will demonstrate its support by turning green – either visually, virtually or both. artforyourworld.wwf.org.uk
The Dear Green Bothy
Led by the University of Glasgow's College of Arts, The Dear Green Bothy is a programme of free public events showcasing the key role of the arts and humanities in addressing the climate crisis. It includes an online exhibition from the Bright Edge Deep team which examines the scientific basis of peatlands as important ecosystems, an immersive art experience exploring the connection between movement, migration and climate justice, and much more. deargreenbothy.gla.ac.uk
Indestructible Language by Mary Ellen Carroll
View this post on Instagram
Glasgow locals and visitors will struggle to miss an artwork by New York-based conceptual artist Mary Ellen Carroll, which sits on the roof of The Schoolhouse building. Designed as a call to action that spotlights the myriad meanings and challenges of the climate crisis, the work consists of three-metre high red neon characters spelling out the phrase: 'It is green thinks nature even in the dark'. Until 31 January 2022
Pollinator Pathmaker
Launching on 3 November at the Eden Project in Cornwall, Pollinator Pathmaker is a living work created by artist Dr Alexandra Daisy Ginsberg. An exploration of the UK's indigenous pollinators, Ginsberg's creation uses an algorithm to create a garden that is specially designed for pollinators. The second part of the work is a website where UK audiences can use the same algorithm to generate their own planting scheme of locally-appropriate plants. edenproject.com
Hope Sculptures
Three sculptures by British designer Steuart Padwick are being erected across historically significant locations in Glasgow to coincide with COP26. The central piece, The Hope Sculpture, is a 23.5m high structure towering over Clyde Gateway's woodland park at Cunnigar Loop, made from a new low-carbon concrete and incorporating recycled crushed glass. It is topped by a sculpture of a child with its arms reached out – a symbol of hope for the future. There's also the 4.5m Beacon of Hope work, located at Glasgow Central Station, a celebration of the country's expanding timber construction industry. And finally, the Hope Triptych, an adaptation of the child featured at the top of the columns located at the University of Strathclyde's Rottenrow Gardens.
Bruised Lands
Documentary photographer Alan Gignoux's show, Bruised Lands, is being exhibited in Glasgow's WASPS Briggait Gallery during COP26. Originally shown at Brighton's Fishing Quarter Gallery, the exhibition showcases the impact of mining and oil extraction in different parts of the world. waspsstudios.org.uk
Khvay Samnang: Calling for Rain
A new video work from Cambodian artist Khvay Samnang being shown at Tramway is designed to teach young audiences about the challenges of climate change. The film takes viewers on a journey through the landscapes of Cambodia, following The Monkey on his quest to save the dying forest. 19 November 2021 – 6 March 2022, tramway.org
Azuma Living Wall Installation
Those arriving into Edinburgh Waverley station this month will be met by a living wall, introduced to promote green tourism – particularly rail travel. Built by GP Plantscape in partnership with Royal Botanic Garden Edinburgh, the wall consists of more than 600 individual plants from six species, created to look like an LNER Azuma train. Visitors will also be able to take home a limited number of Scottish wildflower seeds to grow in their own gardens at home.
Salmon School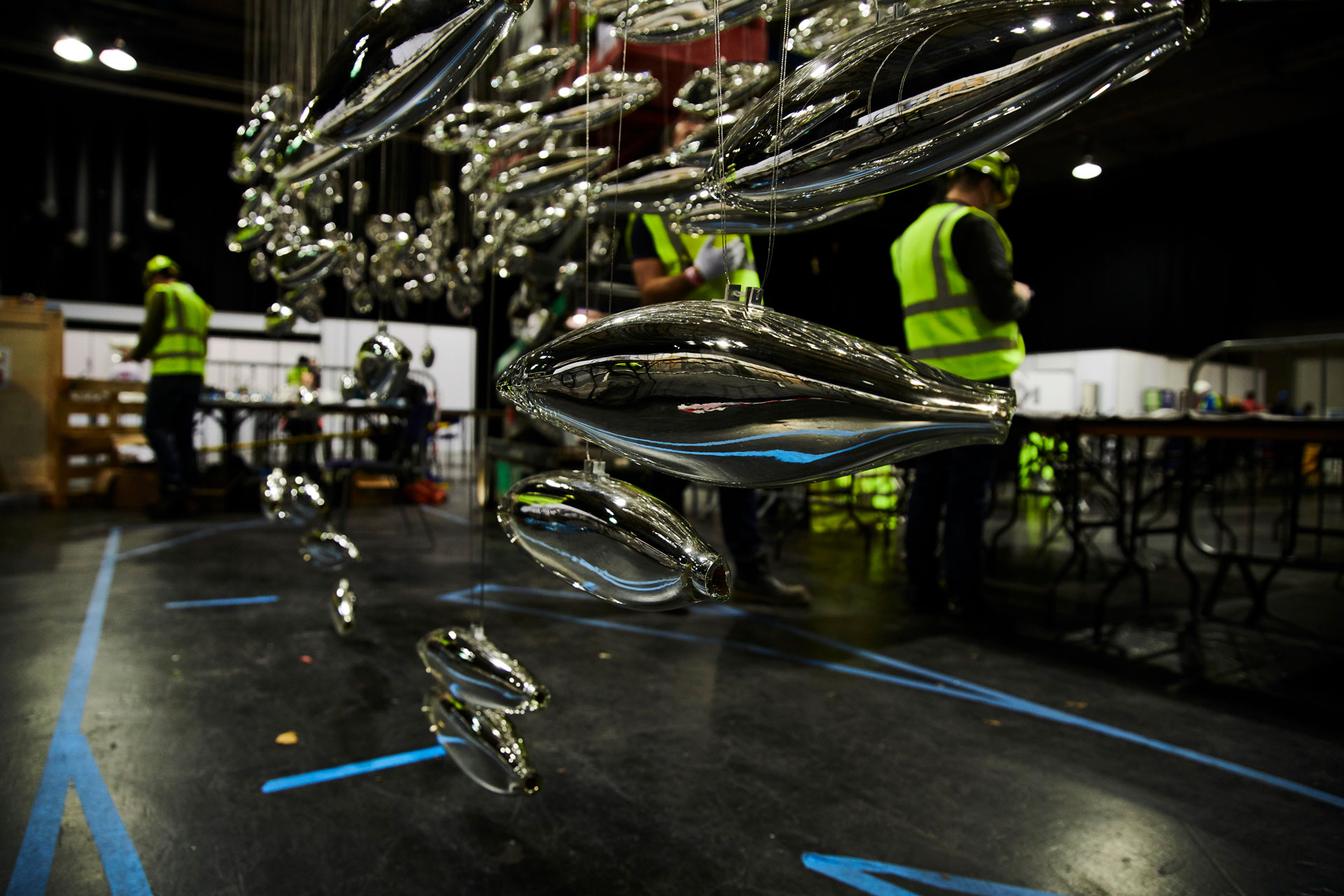 An art installation featuring more than 300 hand-blown, glass-mirrored salmon-like forms has launched at the heart of the UN Blue Zone. Created by artist Joseph Rossano in collaboration with artists and makers from all over the world, Salmon School aims to motivate onlookers to tackle the issues facing salmon populations, a species whose existence is under threat. Until 12 November, thesalmonschool.com
Main image: Azuma Living Wall Installation, courtesy of LNER
READ MORE:
A Guide To Sustainable Art / 5 Artists Tackling Climate Change