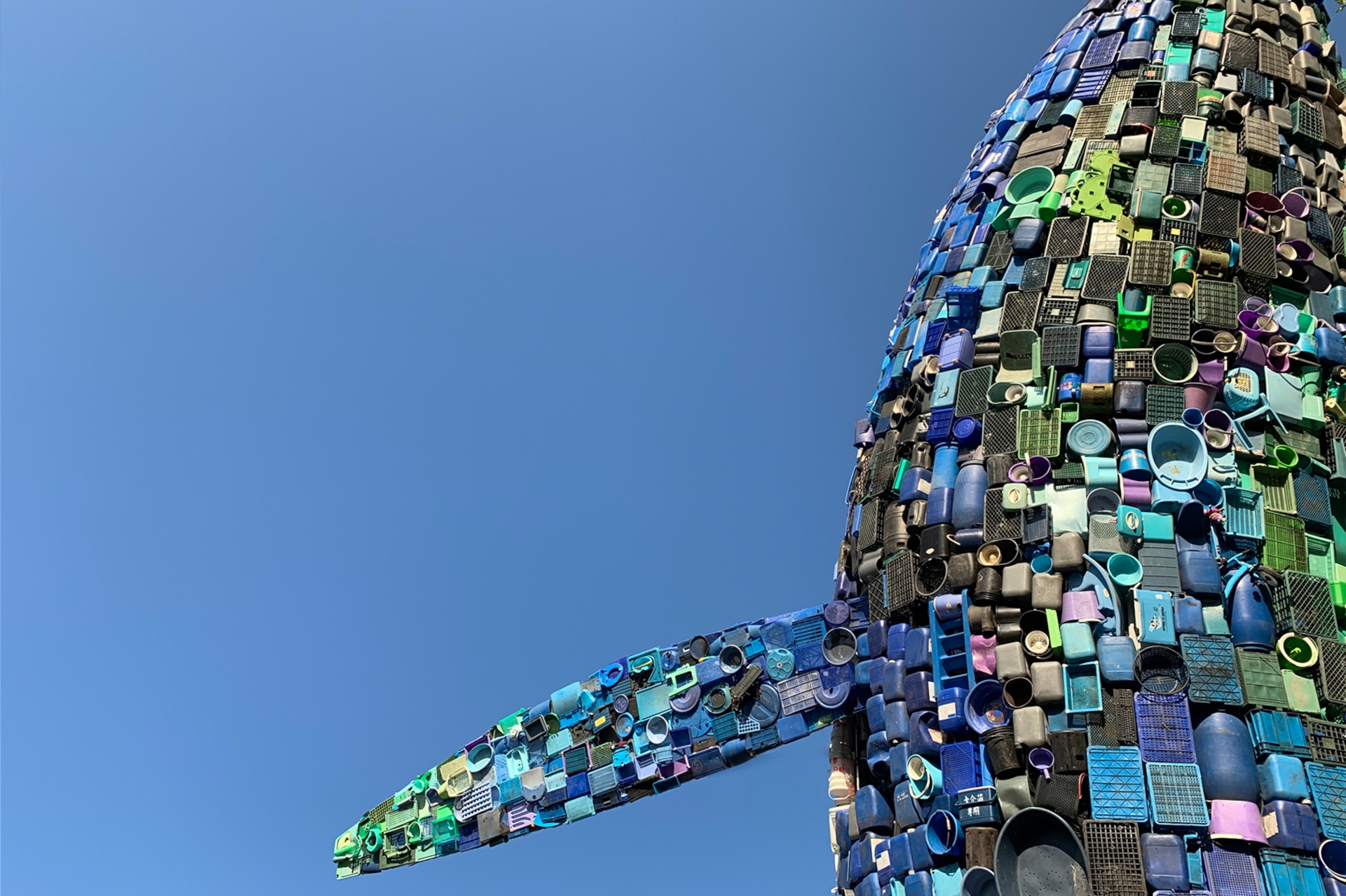 A Guide to Sustainable Art
---
There's beauty in saving the planet
It shouldn't come as a surprise that we have drastically impacted the planet. Oceans are rising, fires are raging, and people are forced to evacuate their homes for fear of natural disaster. We've reached a point where awareness simply isn't enough to stop climate change; it's time to learn and act. Sustainable art, with its various subgenres, approaches, and messages, is a step in the right direction.
5 Artists Tackling Climate Change
A Guide to Sustainable Art
The world is waking up to the harsh realities of climate change, with record-breaking heatwaves, catastrophic floods and forest fires, and the extinction of 15 animal species. Artists have always encouraged us to look up and see what's happening around us, but their message has never seemed so prominent. From working in harmony with the natural world to showcasing the ways in which we can harness renewable energy sources, sustainable art is a broad practice that can show us how to see beyond our current way of life to a better alternative – one with less waste, fewer consequences, and more opportunities for a greener future. But how is this manifested?
Conceptual Art
While an umbrella term, Conceptual Art in the context of sustainability highlights the motivations for the creation of a particular artwork. Artists will highlight key environmental or social issues through thought-provoking artworks in any medium they can think of, from sculpture and installation to fashion and photography. These displays may seem oddly beautiful on the surface, but they're created to make us question our actions and impact on the planet.
View this post on Instagram
South Korean artist Choi Jeong Hwa is known for using humble materials such as plastic waste, used items, and items he finds in charity shops to create his installations. Largely inspired by the inner workings of urban environments, Choi's artworks pick up on the bright colours and flamboyant displays of consumer marketing. Items once considered trash are transformed into decorative garlands, gigantic flowers, and geometric sculptures, creating a dialogue where viewers are confronted with their own wastefulness and encouraged to question what constitutes an unusable object.
Other conceptual artists creating sustainable art include Mel Chin and Simon McCheung.
Ecological Art
Some artists don't stop at the conceptual aspect of the artwork, instead choosing to amplify their message with activism and restoration. Ecological art brings an element of functionality to the artwork by offering solutions to a problem through the artwork itself. In doing so, the artist more directly advocates for civic responsibility, social injustices, and global ethics.
Architectural design firm StudioKCA is a prime example of how art and environment can come together to highlight, discuss, and solve issues impacting local communities. The studio's practice explores the ways in which context and locality offer opportunities to design and create objects and spaces that respond directly to site-specific environmental conditions.
'Whale in Love', a seven storey tall sculpture in Taiwan, is just one example of how the studio fulfils its mission. The sculpture was the product of 15 tonnes of collected plastic pulled from oceans and waterways by local groups in Kaohsiung, Taiwan's largest port. Working with local engineers, fabricators, and volunteers, StudioKCA created the largest environmental sculpture ever created in the country. The whale, while a beautiful piece of public art, is a reminder of how much waste urban societies produce – and how this waste can damage the environment if left unchecked. Speaking on the sculpture, Lesley Chang of StudioKCA said 'Whale in Love is a physical example of why we need to change how we use and dispose of plastic in the world today.'
Ecological artists to keep an eye on include Aviva Rahmani, Olafur Eliasson, and Lorenzo Quinn.
Land Art
Land Art is best described as working in harmony with the natural world to produce an artwork embedded in the landscape. Artists will work with the environment and the resources it has already provided to create an artwork reflective of that space, often without bringing any outside materials to interfere with the space.
View this post on Instagram
British artist Andy Goldsworthy is one of the most well known land artists of today, having made a name for himself by creating site-specific sculptures that utilise materials in the nearby environment. Swirling patterns, layered shapes, and upscaled constructions are key characteristics that underpin Goldsworthy's work. Building the sculpture is only the first part of the artwork, the second is photographing it. 'It's not about art,' Goldsworthy explained. 'It's just about life and the need to understand that a lot of things in life do not last.' The physical artwork, although beautiful, isn't intended to stay there forever – and by being made up of natural materials it can simply merge back into its environment without causing any lasting damage.
Other artists to work in Land Art include Jon Foreman, Richard Long, and Nancy Holt.
Renewable Energy Art
Social action is key to Renewable Energy Art. Through the creation of sculptures that harness wind, solar, and other sustainable energy sources, the artist can bring renewable energy to communities and highlight its positive impact on local spaces. Art and science come together to create a glimpse into the future of functional design: greener, cleaner, and meant to last.
Elena Paroucheva's series of wind sculptures, for example, are an eco-conscious solution to energy consumption. Working as a renewable energy generator as well as a piece of art, each sculpture examines how wind turbines can be used to harness energy in modern environments. The artist has indicated that her sculptures are flexible enough to be adapted to specific sites; while each sculpture can accommodate one or more turbines, a dozen small turbines can provide just as much energy while reducing sound and visual pollution – an ideal solution for cities, towns, and other residential areas. Paroucheva's hope is that her sculptures can showcase the advantages of wind power and encourage their widespread use.
Renewable energy can also be seen in the works of Deedee Morrison and Land Art Generator Initiative (LAGI).
Upcycled Art
As the name suggests, this branch of sustainable art sees artworks come together using materials that have previously been deemed unusable, unwanted, or broken. Upcycled art puts green methods right at the heart of its practice, highlighting issues surrounding waste while also showcasing the longevity of items beyond their initial function. Transformational, clever, and thought-provoking, upcycled artworks encourage viewers to reassess their definition of value and beauty – as they say, 'Another man's trash is another man's treasure'.
View this post on Instagram
Artists like Aurora Robson and Thomas Deininger create art from found objects, transforming the mundane into something quite magical. Both artists repurpose plastic waste in new, large-scale sculptural assemblages, shifting the negative associations of waste into something positive.
Robson creates visual hybrids that blend semi-abstract childhood nightmares and natural forms. The result? Beautiful hanging sculptures that seem a world away from the landfills, beaches, and bins that Robson sourced her materials from.
View this post on Instagram
Deininger similarly builds transformational sculptures, but instead of altering the physical appearance of each individual waste item, the artist uses them to create a much bigger picture. Huge constructions of birds, fish, and insects are made to look seamless from afar – it's only upon closer inspection that the smaller pieces are revealed in jumbled layers. Quite the metaphor for the current climate situation, don't you think?
Upcycling can also be found in the work of Marina DeBris, El Anatsui, and Thomas Dambo.
Featured image: Whale in Love (c) Jason Klimoski and Lesley Chang, StudioKCA