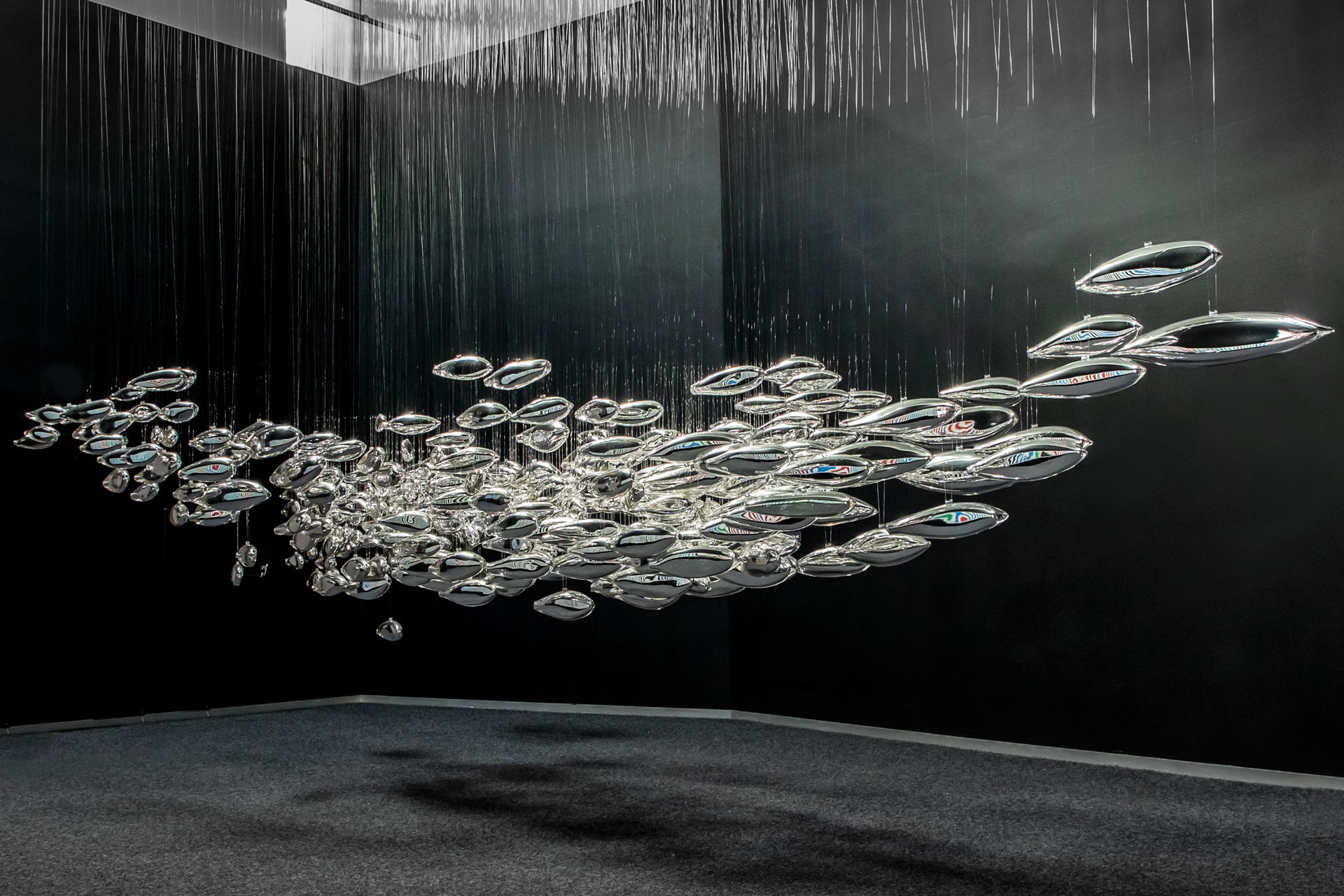 Meet COP26's Shimmering Salmon Installation
---
The glimmering glass fish highlights Wild Atlantic Salmon's shrinking numbers
Meet COP26's Shimmering Salmon Installation
With COP26 underway and our future hanging in suspense, so too does Salmon School, a new installation suspended in the COP26 conference room. Comprised of around 350 hand-blown glass salmon and almost 40 feet long, internationally renowned artist Joseph Rossano tells C&TH how the work is a call for collaboration. 
Housed in the Blue Zone room of Glasgow's COP26, where dignitary dining is taking place, this striking artwork, titled School of Salmon hangs overhead. Serving as a manifesto for urgent teamwork, Rossano tells C&TH, that the school of fish mirrors the 'disparate stakeholders who have come together to make this happen.'
There's a symbolic element with its reflective quality of the fish too. 'Each piece is a mirror. And when you look in the mirror, the mirror is made out of glass. That means it's fragile, it's transparent, and it's reflective, and it's reflecting us', Rossano adds.
It's an apt choice to choose salmon as a potent symbol, Rossano explains: 'salmon comes together as a school as a means to protect themselves and become stronger to the present, to be more powerful,' and that's exactly what we need to do, to come together to address the climate crisis.
Over 150 artists created the hand-blown glass of fish, spanning from Japan, Australia, to the UK and the United States, as well as from all types of backgrounds, Rossano adds. 'We've helped artists that have come off the streets to make these fish. There were people from all walks of life down on their knees, flattening this glass and putting a curve to it.'
The threat to salmon is in dire straits. Wild Atlantic salmon populations are in rapid decline in Scotland and elsewhere, with stocks crashing by 80 per cent in just 25 years. The team have been working with the local Clyde River Foundation on projects around the Glasgow area – including a collaboration with 26 primary schools, to help teach students about salmon, conservation, and climate change. The UK Missing Salmon Alliance (MSA), a coalition of groups and individuals dedicated to reversing declines in wild fish, is the lead partner in bringing Salmon School to COP26.
SEE MORE
A Guide to Sustainable Art / Sustainable Exhibitions and Art Shows in the UK