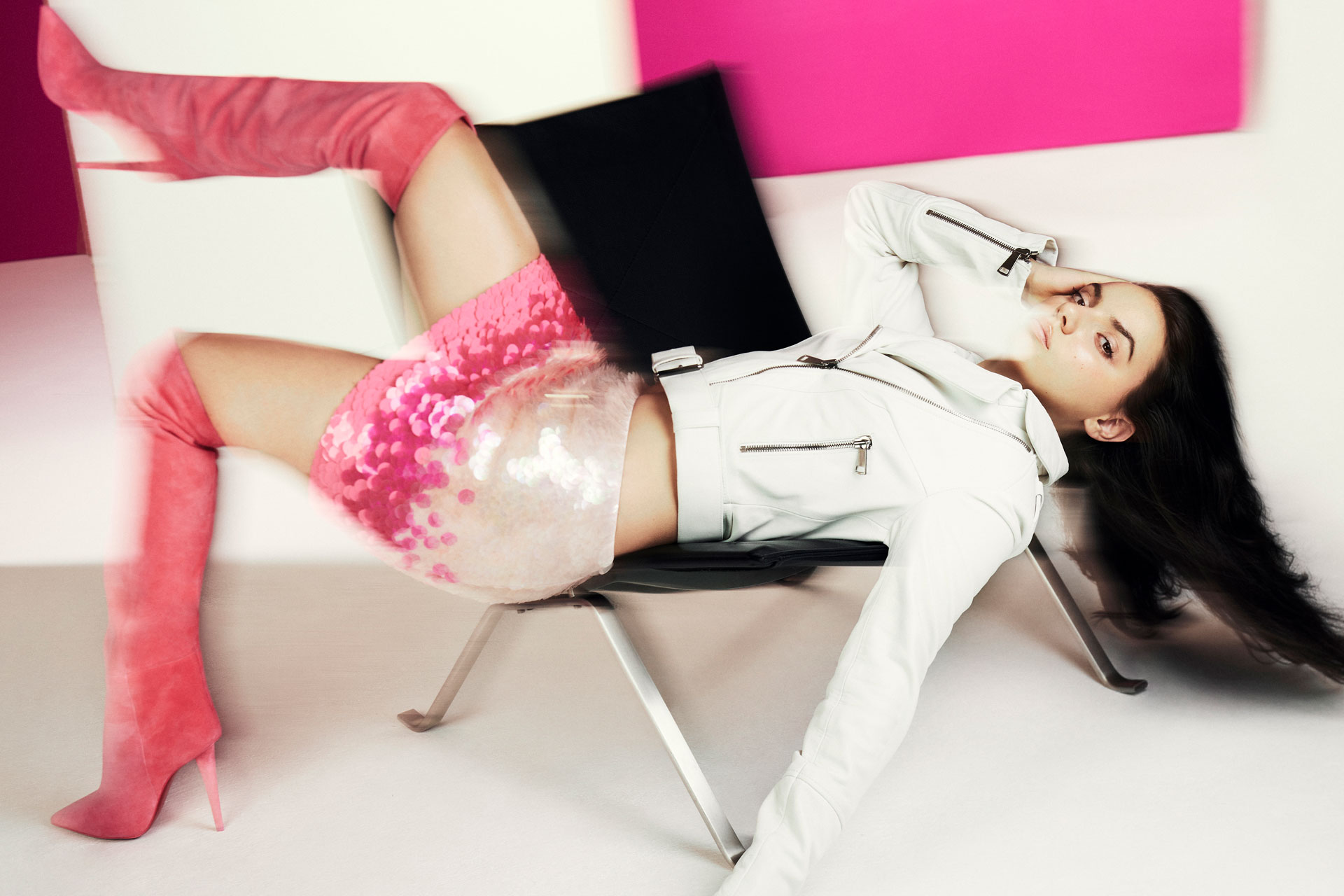 Meet Our Nov/Dec Cover Star, Dafne Keen
Talking to the His Dark Materials Star
As the final instalment of Philip Pullman's His Dark Materials comes to our screen this December, Harriet Compston meets its stand-out star Dafne Keen to talk growing up, grief and her first on-screen kiss. Meet our cover star and read the exclusive interview below. 
Read our exclusive interview with Dafne Keen
It's the fashion market at Portobello today. Dafne Keen admits that if she wasn't here, in production at a central London hotel, then she would be trawling the stalls of W11. 'The charity shops are so good. I can't deal with it,' says the 17-year-old British-Spanish actor, who also likes to make her own clothes. But, instead, we're talking about HBO/BBC's highly successful adaptation of Philip Pullman's epic His Dark Materials trilogy in which she plays heroine Lyra Belacqua who, as Pullman puts it, is 'destined to bring about the end of destiny'.
For Dafne, the role started with a jellyfish. She was on a tiny island off the coast of Puerto Rico when the makers of His Dark Materials contacted her asking for an audition tape. 'I was about to do it when I was like "let me go and have a swim in the ocean". I got stung by a Caribbean jellyfish. So, I did the tape in this dark room with no lamps, bad Wifi, bad quality with a rash over my face.' It obviously didn't matter. Dafne got the part.
'Lyra is a very complicated character,' says Dafne, who, in her role, also tackles complex emotions such as loss, abandonment and grief. 'There were lots of conversations about how a young girl would react to death. What was so interesting and good to put together was that Lyra continued to mourn for all three seasons. She finally gets closure but usually when characters in films get that, that's it. And it really isn't. Life, death, love, loss. You still feel the pain of it.' 
Her first on-screen romance
The final season follows Lyra and fellow adventurer, Will Parry (Amir Wilson), as they continue to battle across a series of parallel universes, amid a swirl of witches, spectres and dark matter. It also sees Lyra and Will become more than friends – a storyline that resulted in Dafne's first-ever romantic scene. 'It was wild – but fine because I've known Amir for years. We have great chemistry when we act together. He is a delight, super talented and super respectful. It was very interesting to navigate sexuality, which I have never done before on camera. I think we did a really good job of it without sexualising Lyra, without her just becoming an object of desire.'
The topic of desire in her roles will surely become even more pertinent, I say, as Dafne gets older. She agrees. 'It starts happening when you begin looking like a woman. People treat you differently. I have never had anyone try to flirt with me on set, anyone say I am beautiful on set or talk about how to make my character look more attractive. I've never experienced being a woman in the industry. Until now. It's really formative, bizarre and amazing. It's also very weird and sometimes bad. But, ultimately, I am so grateful that I get to do acting.' 
Dafne's screen debut
Born in Madrid in 2005 to English actor Will Keen and Galician writer, actress and theatre director María Fernández Ache, Dafne grew up in London for a few years before returning to Spain. 'It was madness,' she says of her upbringing. 'My parents were always improv'ing. One of them would be writing a play, the other acting in it… They taught me that the glitz and glam of acting is nice, but my job is to show up on set, know my lines, do it as well as I can and try and tell a story.' Her parents also gave her a great education in old movies – Some Like It Hot is her favourite film and Jack Lemmon her actor role model.  
Dafne made her screen debut aged nine alongside her father in The Refugees, a sci-fi drama about a Spanish family who take in a group of refugees from the future. 'My dad had to [spoiler alert] kill me in the film. He was traumatised. I was milking it. The fake blood tasted like strawberries. I was having a great time.' Dafne's mother was on set coaching her. 'It was the three of us, a little family business. Really fun.' 
Three years later, Dafne landed the lead role in Logan, opposite Hugh Jackman ('the loveliest, most talented and charismatic man ever') in his swansong as Wolverine. The film was packed with stunts – a perfect fit for Dafne who has been practicing aerial silks since she was tiny. Hugh recalls: 'There's a scene where Dafne punches me in the arm. I went home with bruises.' Her compelling performance earned her the 17th spot in The Hollywood Reporter's list of the 50 Greatest Superhero Movie Performances of All Time.
Logan catapulted Dafne into the spotlight. 'It was really terrifying, really daunting.' Couple that with the usual teenage challenges. 'Being young is complicated. Everyone feels very intimidated by everyone. I think some boys feel emasculated by the fact that I am successful. Some love it, some just feel indifferent about it. Anyone around my age is just going to be immature. So I just have to cope with it basically.' She also has to contend with social media which, unsurprisingly, she describes as 'a really dangerous place for young people'.
Life outside of acting
Fortunately, Dafne has enough to distract her.
She is into street photography – most recently, shooting her way around Paris where she stayed up all night and watched the sunrise from the Louvre. She draws, too, keeping a sketchbook on her at all times and loves music (right now, she is having a 'huge' 50s jazz moment, last week it was 90s New York rap). She also wrote a novel last year and a few short films, including one that she is directing. With so many interests, is acting her future ambition? 'I don't want to stop acting ever.' Her next project is 'top top secret… with lots of stunt action'– but whatever it is, going by Dafne's track record, it will pack a punch. 
See Dafne Keen's full photoshoot for Country & Town House