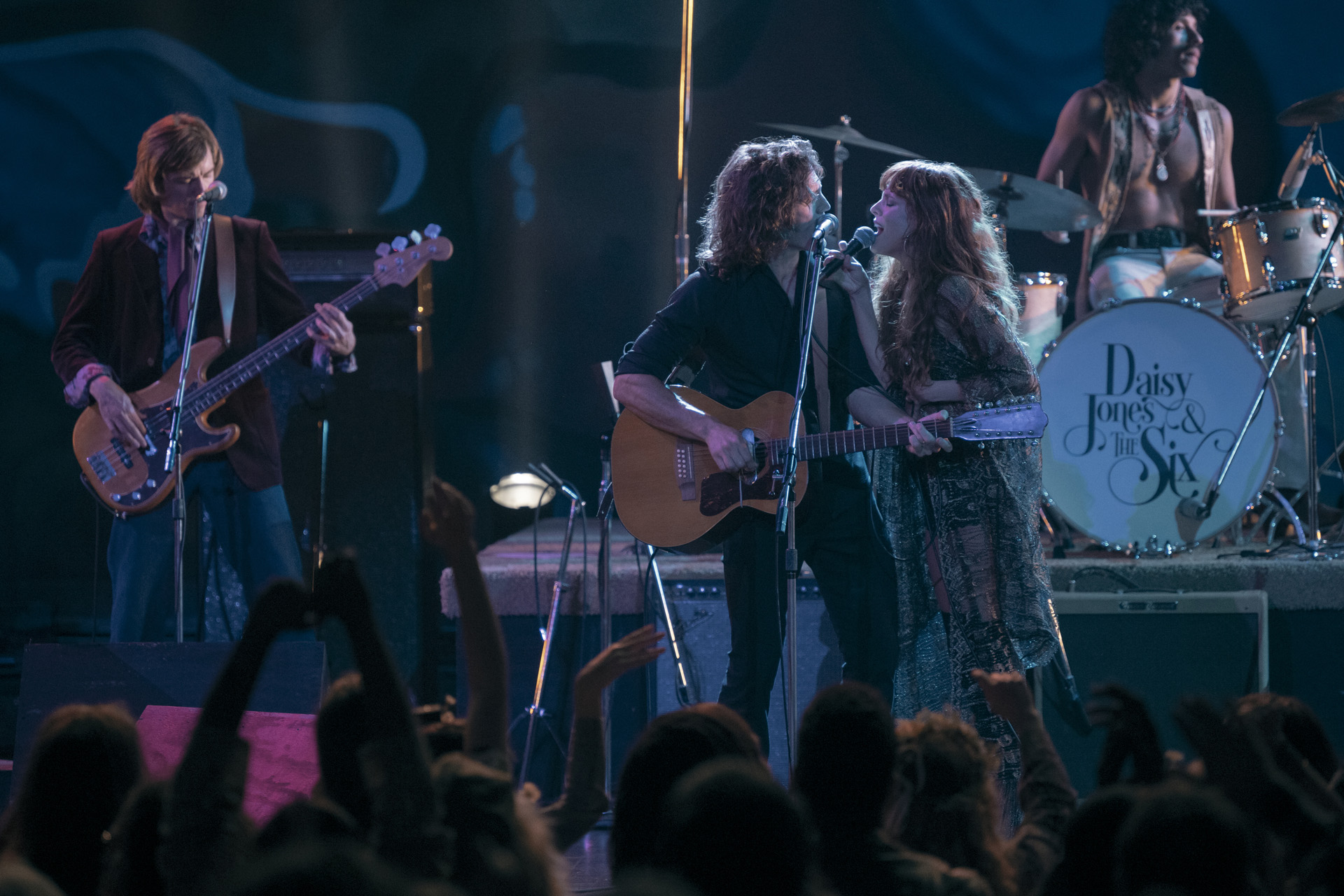 Daisy Jones & The Six Is A Gift To Fans Of The Book – Review
---
The first three episodes will arrive on Prime Video on Friday 3 March 2023
It's finally here: the TV adaptation of Taylor Jenkins Reid's popular novel, Daisy Jones & The Six. A characteristic cocktail of sex, drugs and rock and roll, an uncertain start paves the way for an electric series, says Olivia Emily.
Review:
Daisy Jones & The Six
Is A Gift To Fans Of The Book
Told in direct reported speech, Taylor Jenkins Reid's Daisy Jones & The Six was always destined for the screen, emulating so many of reality's reflective, oral-history documentaries – ageing rock stars reminiscing the glory days, granting life-long fans a brief peek behind the curtain. And here it is fictionalised: Daisy Jones and members of rock band The Six tell the history of their tumultuous rise and fall through to-camera confessionals accompanied by flashbacks and simulated archive footage. 'You just let me know when you're ready,' says a smiling Will Harrison with a wave of his hand; 'How long is this gonna take?', a long-haired Sam Claflin asks, settling into his seat as leading man, Billy.
'On October 4, 1977 Daisy Jones & The Six performed to a sold out crowd at Soldier Field in Chicago, Illinois' – white text appears across a black screen, soundtracked by the faint, echoing sound of singing and cheers, followed by filtered concert footage seemingly pulled from an archive. 'They were one of the biggest bands in the world at the time, fresh off their award-winning, multi-platinum selling album "Aurora".' Crowds, screaming fans, interviews, recording sessions, smiles, smashed guitars, shouting matches; a guitar riff swells. 'It would be their final performance. In the 20 years since, members of the band and their inner circle have refused to speak on the record about what happened… Until now.'
The story famously bears resemblance to the '70s golden age of Fleetwood Mac; Reid grew up watching the band's shows on TV. The Six is a wide-eyed rock cover band from Pittsburgh, Pennsylvania, ironically made up of five members: Billy Dunn (Sam Claflin) and his brother Graham Dunn (Will Harrison), Karen (Suki Waterhouse), Eddie (Josh Whitehouse) and Warren (Sebastian Chacon). They venture from their hometown to the bright lights of Los Angeles on the advice of a veteran tour manager (Rod Reyes, played by Timothy Olyphant in a very-'70s get-up), with Billy's smitten girlfriend Camila (Camila Morrone) in tow.
Meanwhile, Daisy Jones (Riley Keough) is a down and out wild child longing to be a musician while grappling to resist the exploitation and erasure that frequently comes with this. 'I'm not the muse,' she yells in a sun-drenched car park, directed at yet another superficial romantic interest capitalising on her songwriting and witty one-liners. 'I'm the somebody.'
She is enamoured with the Hollywood Strip, where music is redefined before her eyes. 'What a time to be alive if you love music,' she says in retrospect – and she embodies that heady sentimentalisation of the era, flaws and all. Befriending emerging disco singer Simone (Nabiyah Be) and her industry-stalwart manager Teddy Price (Tom Wright), Daisy starts taking music and songwriting seriously. It is at the request of Teddy, who is also managing The Six, that Daisy collaborates with Billy to reinvigorate the band's music. And thus the turmoil begins…
The start of that transition from novel to screen is faintly rocky: the scene-setting is slightly rushed, and stories unfold a shade too rapidly to leave an impression (granted, the same is true of the book). Teenage versions of Daisy and Billy are strikingly fleeting, for example, only appearing momentarily in the first episode; you'd almost prefer the core actors were aged down rather than leap so quickly to their adult counterparts as if overnight, never to return. The confessional interviews of the future (or the present?) often feel stilted, forced dialogue accompanied by somewhat heavy-handed age-up makeup and wigs.
Luckily, it is the ensemble of those core actors, somewhere-in-their-twenties, that propels the series, generating a magnetism with each episode that is downright electric by the finale. Chacon's Warren is grounding yet lively, bedecked in the best costumes of the bunch. Harrison's Graham is soft and affecting with his mop of floppy hair, embodying the puppy dog naivety of brother chasing brother, not yet ready for the spotlight that comes with it. And if you can't quite place Whitehouse, who plays Eddie, it's because his scorn and swoosh of hair render the English actor unrecognisable from his roles in Poldark and as the jovial Sir Cole Lyons of Norwich in Netflix film, The Knight Before Christmas; I'm not sure sneering suits him.
Sam Claflin and Suki Waterhouse are reunited here for the first time since Love, Rosie (2014), the former mastering the drunk singer with an American twang, the arrogant frontman who demands (and achieves) success for his band. Scene-stealer Waterhouse delivers a gradually powerful performance in her native English that builds with her significance to the plot; she is, of course, a natural on stage. And Camila Morrone, playing Billy's wife of the same first name, is a quietly compelling matriarch, still binding the band together when the edges begin to fray.
But it is Riley Keogh who steals the show: with her long and wavy auburn hair, her fringed cardigans and compulsive coke habit, Keough embodies Daisy with verve, dynamism and, at times, devastation. Her performances are charged, her wild eyes enchanting and her voice addictive. It is her real voice on the song recordings, powerful and captivatingly matched with Claflin's, who painstakingly learned to play the guitar for this role. You could almost believe their gigs, concerts, jamming sessions and festival sets are real, pulled from those archives with the other bits of aged footage.
As with all adaptations, though, this is Daisy Jones & The Six (Reid's version), abridged. Some parts of the book appear in brief without the development and fleshiness prose enables; other parts are erased completely. But there are dimensions achieved that a novel couldn't: gorgeous sepia-tinted, sun-soaked '70s scenes; marvellous costumes with fringes, flares and flamboyant co-ords; documentary-style found footage contextualising the era; a finger-tapping retro soundtrack introduced by Patti Smith's apt 'Dancing Barefoot' atop the opening credits; and sweeping shots of vast concert audiences, complete with the buzz of live music. The series tracks the creation and promotional tour of Aurora, Daisy Jones & The Six's only ever album, including the turbulent song-writing process and subsequent fallout as the band spend increased time in close quarters. The full album – created by Blake Mills along with musicians Phoebe Bridgers, Madison Cunningham, Marcus Mumford and Jackson Browne, and which is being released in reality in tandem with the series – is drip fed through full-length track performances at shows, festivals and recording sessions. (Avoid listening to the album before finishing the series for the full effect.)
Most importantly, though, Daisy Jones & The Six (Scott Neustadter and Michael H. Weber's version) maintains the book's addictive, car crash Fleetwood Mac factor: a mangled mess you can't pull your eyes from. It's about Daisy (pill addict) and Billy (recovering alcoholic), yes, but they are merely the eye of the storm, the rest of the band and their loved ones torn into the spiral. It's enthralling and morbidly mesmerising, if a slightly sanitised look at the '70s compared to Reid's novel, and compared to real life. Fans of the book will adore it. 
WATCH
The first three episodes of Daisy Jones & The Six will arrive on Prime Video on Friday 3 March 2023, with the remaining seven episodes arriving in three more instalments every Friday until 24 March. amazon.co.uk
All images courtesy of Prime Video.