Books To Read Before Their Adaptations Are Released in 2023 & 2024
Assigned reading: these soon-to-be blockbusters
Avid readers are well-acquainted with the satisfied feeling of knowing exactly what is happening on screen when watching a book-to-film or TV adaptation. (Though we also know the immense pain that comes from a poor adaptation…). So far this year we've enjoyed the likes of Daisy Jones & The Six, The Power and The Last Thing He Told Me – and there's still plenty more to come out in the rest of 2023. We've rounded up the best books to read before their adaptations are released in the latter half of 2023, plus those to look out for ahead of 2024. Happy reading!
Books To Read Before Their Adaptations Are Released
The Fall of the House of Usher
As book adaptations go, Edgar Allen Poe is notoriously creepy – and, with Mike Flanagan at the helm of this adaptation of his short story The Fall of the House of Usher, he's about to be creepier than ever. With The Haunting of Hill House, The Haunting of Blythe Manor and Gerald's Game all under his Netflix belt, Flanagan is best-known for his horror films and TV series. Filming wrapped in July 2022, and an October release date has finally been confirmed (Halloween watching, anyone?).
Released: 12 October 2023, Netflix
Lessons in Chemistry
One of 2022's hottest debut novels, Bonnie Garmus' Lessons in Chemistry is being adapted by Apple TV, slated for release in October 2023. With Brie Larson, Lewis Pullman and Aja Naomi King confirmed stars, the series will transport us to 1950s USA, where Elizabeth Zott (Larson) dreams of being a scientist, but her hopes are put on hold when she unexpectedly becomes a single mother.
Released: 13 October 2023, Apple TV+. Watch the first look trailer below.
All The Light We Cannot See
The screen adaptation of Anthony Doerr's Pulitzer Prize winning novel has been in production for many years, with Netflix acquiring the rights in 2019. And now, with a release date finally disclosed, we are edging closer to finally seeing Doerr's touching novel brought to life, split across four episodes and starring the likes of Mark Ruffalo and Hugh Laurie. Netflix summarises: 'All the Light We Cannot See tells the story of Marie-Laure, a blind French teenager, and Werner, a German soldier, whose paths collide in occupied France as both try to survive the devastation of World War II.'
Released: 2 November, Netflix
The Ballad of Song Birds and Snakes
Suzanne Collins' The Hunger Games trilogy was a massive success, which ushered in a new era of young adult action films (think Divergent, The Maze Runner, The Mortal Instruments), especially those led by women. Collins' 2020 prequel The Ballad of Song Birds and Snakes transports us to the Capitol, where we follow a young Cornelius Snow (later President Snow). With an ensemble cast (Peter Dinklage, Viola Davis, Hunter Schafer), it's sure to be (along with Dune) one of the year's hottest book adaptations.
Released: 17 November, theatrical release
Eileen
Based on Ottessa Moshfegh's debut 2015 novel of the same name (though the author is perhaps best known for her 2018 follow up, My Year of Rest and Relaxation), Eileen debuted at Sundance in January, starring Thomasin McKenzie and Anne Hathaway. Transporting us back to 1960s New England, the film follows Eileen (McKenzie) working in a prison when a captivating counsellor arrives and helps her access new facets of her personality. Read all about the film here.
Released: 1 December, theatrical release
Leave the World Behind
Based on Rumaan Alam's hit 2020 novel of the same name, this psychological thriller will star the likes of Julia Roberts, Mahershala Ali, Ethan Hawke and Kevin Bacon, landing on Netflix this December. Scrutinising our modern world and centred on a trip to an Airbnb, the film follows a couple on holiday who are joined by another couple seeking refuge from a cyber attack.
Released: 8 December, Netflix
Wonka
After a year of Timothee Chalamet sightings on set in Oxford, there's still a year to wait for Wonka, slated for release in December 2023. If you can't wait for Chalamet star as Roald Dahl's Willy Wonka in this musical prequel (also starring Keegan-Michael Key, Sally Hawkins, Jim Carter, Matt Lucas, Natasha Rothwell, Olivia Colman, and Rowan Atkinson), you can reminisce by reading Dahl's classic kids' novel, Charlie and the Chocolate Factory. Here's everything we know so far.
Released: 15 December, theatrical release. Watch the trailer below.
All of Us Strangers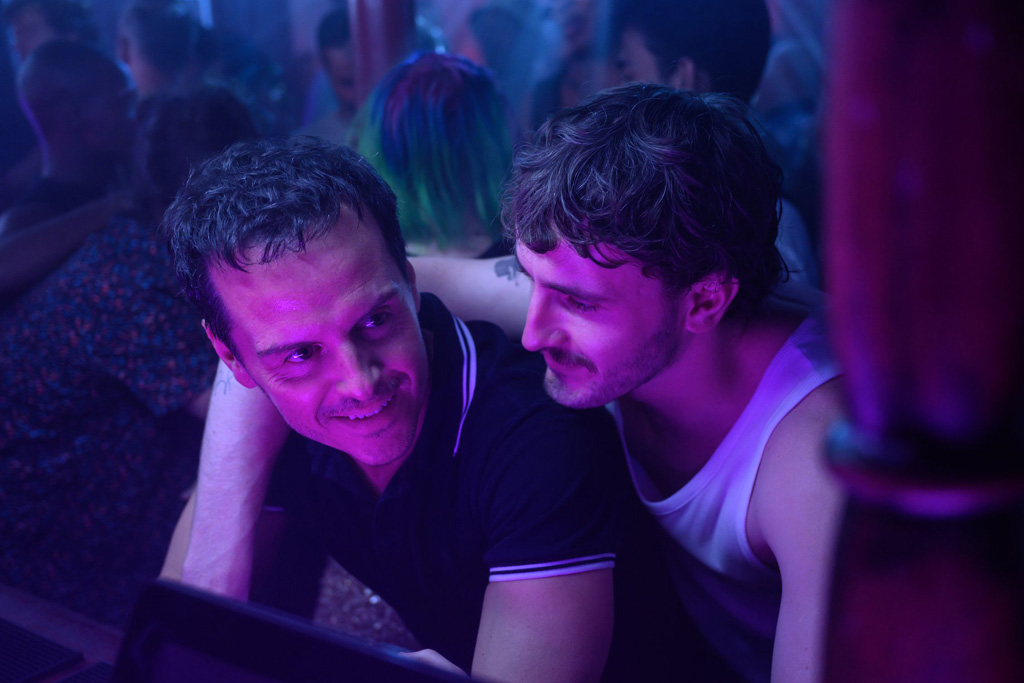 The second film adaptation of Taichi Yamada's 1987 novel, Strangers, All of Us Strangers will be a weird fantasy drama starring Andrew Scott, Paul Mescal, Jamie Bell and Claire Foy. Reimagining the Japanese novel in contemporary London, Scott will play Adam, a screenwriter who has a chance encounter with his mysterious neighbour Harry (Mescal) that ultimately changes his life.
Released: 22 December, theatrical release
Bridgerton
Julia Quinn's Bridgerton series has been a huge hit for Netflix, adapted by Shonda Rhimes and making stars out of the likes of Regé-Jean Page, Phoebe Dyvenor and Simone Ashley, and casting Jonathan Bailey and Nichola Coughlan into further stardom. With season three set to be based on Quinn's fourth book in the series, there's plenty of reading to do ahead of the 2023 series, with a release date still yet to be confirmed.
Released: TBC (estimated December 2023), Netflix
The Color Purple
Based on Alice Walker's seminal classic 1982 novel of the same name, The Color Purple will arrive in cinemas ahead of Christmas with a new 2023 book adaptation, almost 40 years after Stephen Spielberg's 1985 adaptation of the novel. The novel follows Celie (played by Fantasia and Phylicia Mpasi) and her life-long struggles in southern America in the early 1900s. Colman Domingo, Taraji P. Henson, Corey Hawkins and Halle Bailey will also star.
Released: 26 January, theatrical release
3 Body Problem
Fans of sci-fi should pick up Lui Cixin's 2008 novel, The Three Body Problem, which is one of the most successful Chinese sci-fi books in the last two decades. A series of three books, The Three Body Problem sees Earth encounter an alien civilisation in a nearby star system that consists of three stars that orbit each other in an unstable, 'three body' system. Netflix snapped up the rights in 2020, and it's sure to be a big hit, with David Benioff (Game of Thrones) and D. B. Weiss on the writing team, joined by John Bradley and Liam Cunningham (also Thrones) and stars such as Jovan Adepo and Tsai Chin.
Released: January 2024, Netflix
Dune: Part Two
Following the acclaimed 2021 adaptation of Frank Herbert's seminal sci-fi classic starring Timothee Chalamet and Zendaya, Dune: Part Two will arrive at long last in cinemas in November 2023. With Florence Pugh, Austin Butler, Léa Seydoux and Christopher Walken all joining the cast for Part Two, it's set to be a showstopper.
Released: 15 March 2024, theatrical release. Watch the trailer below.
Mickey 17
We've seen a few first look images from Mickey 17, Robert Pattinson's next flick based on Edward Ashton's novel, Mickey 7. Directed by Bong Joon-ho – the man behind Parasite – we're expecting big things. Warner summarises: 'Mickey7, known as an "expendable," goes on a dangerous journey to colonize an ice planet.' With a supporting case starring Steven Yeun, Naomi Ackie, Toni Collette and Mark Ruffalo, we're expecting a thrilling sci-fi ride.
Released: 29 March 2024, theatrical release
The Uglies
An adaptation of Scott Westerfeld's 2005 sci-fi novel, Uglies, has been in and out of the works for almost two decades now. At long last, a film adaptation is expected to land on Netflix soon, starring Joey King in the lead role, after filming took place in 2021. Following Tally Youngblood, the basic premise is that at the age of 16, everyone undergoes cosmetic surgery to turn them 'pretty' – but Tally rebels after her friends show her the downsides of the surgery. Does this hail the return the dystopia renaissance?
Released: TBC, Netflix
Salem's Lot
Following the recent success of Stephen King's novels on screen – think Carrie (2013), It Chapter One (2017), and Gerald's Game (2017) – (and, frankly, King's career-long appeal), Salem's Lot, King's second ever published novel was supposed to arrive in cinemas in September 2022, but it has since been pushed back to April 2023, and then pushed back again to a to-be-determined date. Salem's Lot follows Ben Mears who returns to a town he lived in between the ages of five and nine called Jerusalem's Lot; while there, he discovers the residents are becoming vampires.
Released: TBC, theatrical release
The Nightingale
Starring real life sisters Dakota and Elle Fanning playing fictional sisters Vianne and Isabelle – their first appearance as sisters in a film – this book adaptation was initially slated for release on 23 December 2022. But, with very little buzz and still no trailer, it is likely the historical drama is being pushed back to 2023. Penned by Kristin Hannah and published in 2015, The Nightingale follows two sisters, one a housewife and the other a rebellious 18-year-old, who struggle against the German occupation in 1939 Nazi occupied France.
Released: TBC, theatrical release