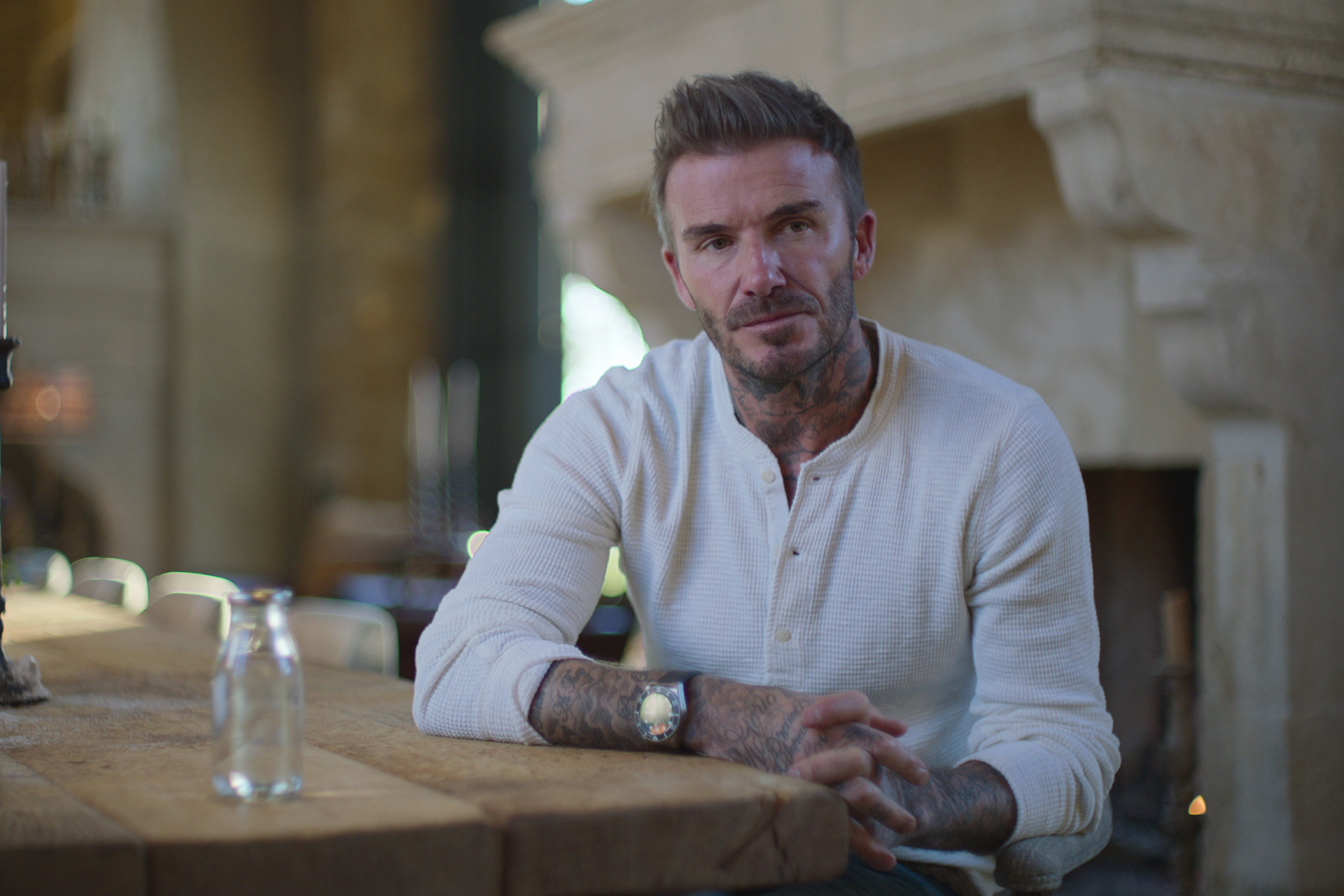 David Beckham Documentary: 5 Things We'll See In The New Netflix Series
From Bootgate to the early days with Victoria
Ten years after retiring from football, David Beckham remains one of the country's most beloved sports figures. He's just got that enduring appeal: timeless good looks, charisma, family man, long-standing marriage to a former Spice Girl – and of course there's the lasting mark he left on the football world. It was only a matter of time before he became the subject of a Netflix documentary, Beckham, which is set to drop on 4 October 2023. Directed by Fisher Stevens, the hotly anticipated four-part series will give us an inside look at the international star: from his childhood and rise to footballing fame to his family life with wife Victoria Beckham. Read on for a preview of what you'll see on screen.
David Beckham Documentary: 5 Things We'll See In The New Netflix Series
Childhood
Beckham will start at the beginning, delving into the footballer's childhood, growing up in Leytonstone and playing football from a young age. 'I never really did well at school because all I ever really wanted to do was play football,' says Beckham in the early moments of the trailer, alongside images of him as a boy.
Relationship with Victoria Beckham
Posh and Becks: they're one of the world's most famous celebrity supercouples, whose relationship has been the subject of intense media scrutiny over the years. But now, they'll be telling their own story. From the trailer, it's clear Victoria will feature heavily in the documentary, and we'll be given an inside look at their 24-year marriage – right back from their early days meeting in car parks. 'My manager kept telling me to keep it under wraps,' she reminisces.
Big Football Moments
Naturally, David's football career will be a key focus for Beckham. The series features both historic and contemporary interviews with his former teammates, including Rio Ferdinand, plus his Manchester United manager Sir Alex Ferguson. It will also address the famous Bootgate scandal, which saw Sir Alex kicking a boot at David following a loss to Arsenal in 2003, leaving a scar on his face. In the trailer, David is asked if he 'went at' his manager afterwards, to which he replies: 'yeah'.
Struggles With Backlash
Early reviews of the docuseries have also made note of the moment Beckham was delivered a red card in the 1998 World Cup, which left him 'clinically depressed' according to wife Victoria. The second episode of the series explores the aftermath of the match against Argentina, which England ultimately lost in a penalty shootout. Beckham's red card was delivered after he kicked Diego Simeone, and fans levelled a torrent of abuse at the couple as a result. One pub hung an effigy of Beckham, while the Manchester United team bus was pelted with rocks and pint glasses at an away game in West Ham.
'I don't think I've ever talked about it just because I can't,' Beckham says. 'I find it hard to talk through what I went through because it was so extreme. Wherever I went, I got abused every single day. To walk down the street and to see people look at you in a certain way, spit at you, abuse you, come up to your face and say some of the things they said, that is difficult. I wasn't eating. I wasn't sleeping. It took a toll on me that I never even knew myself.'
'He was absolutely broken,' Victoria adds. 'He was in pieces. He was really depressed, absolutely clinically depressed.'
Struggles With Fame
How has David coped with life in the limelight? The series will explore the difficulties of fame, particularly how it affected his family. It's unclear how much we'll see of David's children, Brooklyn, Romeo, Cruz and Harper, but the trailer shows one snippet of David and Victoria being followed by paparazzi while Brooklyn was a baby. 'Don't worry Buster, they can't get in the car', we hear David say.
At another point, Beckham tells us fame 'definitely didn't change me' – though Sir Alex Ferguson disagrees, stating: 'Well, he changed. There's no doubt about that.'
Release Date
Beckham will be available to stream on Netflix on 4 October.
Trailer
You can watch the trailer below.