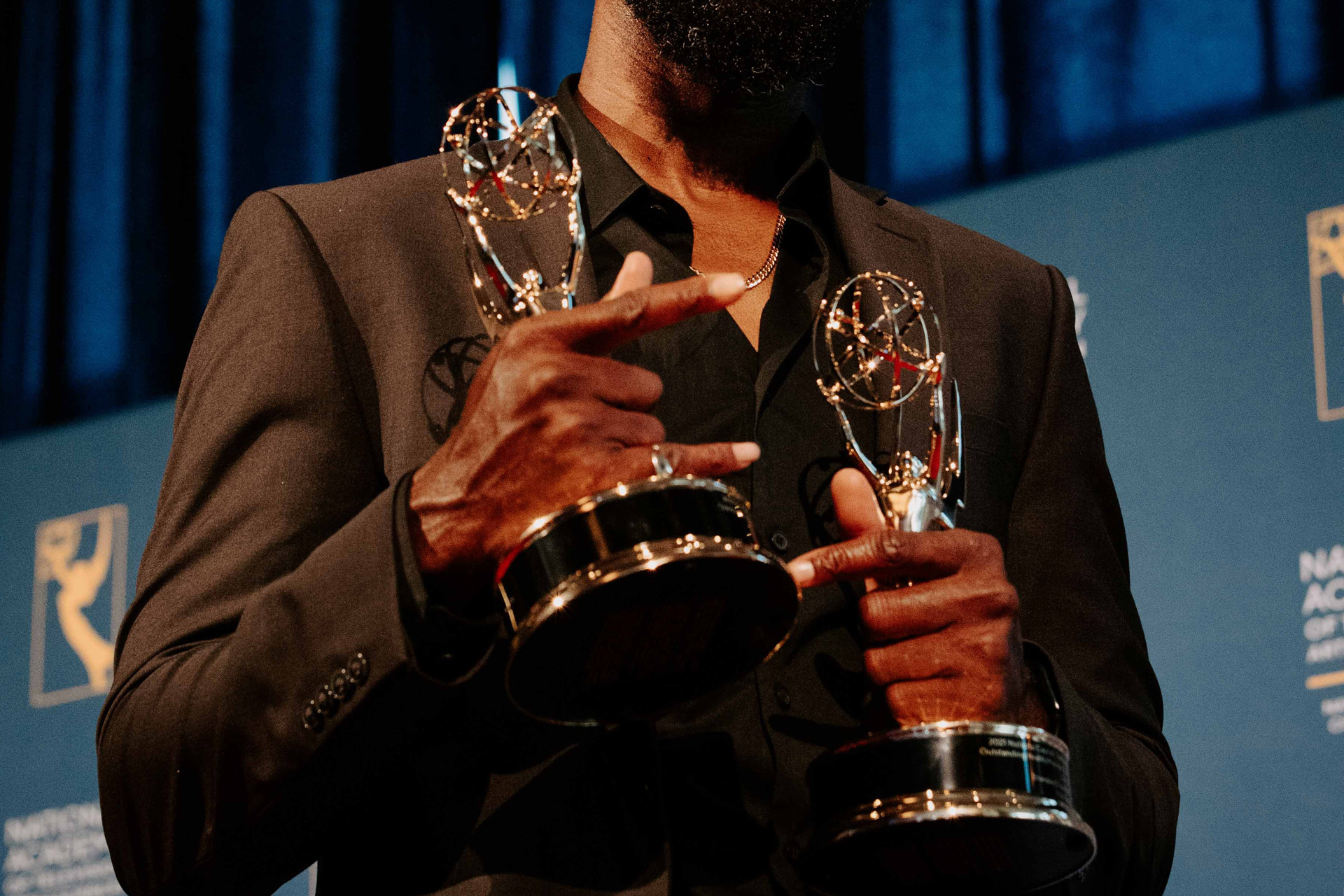 What Is An EGOT? And Who Has Achieved It?
---
The American award phenomenon explained…
Viola Davis just became an EGOT – but what does it even mean? C&TH explains all…
What Is An EGOT?
An EGOT is an individual who has won an Emmy award, a Grammy award, an Oscar award and a Tony award – these four awards being America's major four entertainment awards. Similar to the 'triple threat' phenomenon, EGOT individuals, in theory, represent the pinnacle of entertainment prowess, as outstanding achievements in TV, music and/or recording, film and Broadway theatre must be made in order to win every award.
How Many People Have Achieved The EGOT?
To date, 18 people have achieved EGOT, with Viola Davis becoming the most recent member of the exclusive club at the 2023 Grammy Awards. 'I just EGOT!' she exclaimed during her acceptance speech, referencing her entry into this talented club.
View this post on Instagram
Who Has Achieved EGOT?
As well as Viola Davis, the glittering EGOT club contains the likes of Audrey Hepburn, Whoopi Goldburg, Andrew Lloyd Webber and John Legend. Here's the full breakdown of EGOT winners.
Richard Rogers
Becoming the first individual to achieve the EGOT in 1962, it took American composer Richard Rogers 17 years to gather up his Emmy, Grammy, Oscar and Tony awards.
Helen Hayes
Next up, 15 years later, Helen Hayes achieved the same feat, taking 45 years to collect her awards – the longest stretch of any EGOT winner. An actor, it was the Grammy that eluded Helen for the longest amount of time, with 24 years passing before she could complete the EGOT set. However, with her Emmy, Oscar and Tony in hand, Helen was the first individual to win 'The Triple Crown of Acting'.
Rita Moreno
Hot on Helen's heels, Rita Moreno achieved the EGOT in a swift 16 years. An actor, dancer and singer, Rita is a true 'triple threat', and was the first Latina EGOT winner.
John Gielgud
Collecting his awards over 30 years, English actor and theatre director John Gielgud was the first LGBT+ and the first non-American individual to win all four of these prestigious awards and, achieving EGOT aged 87, he remains the oldest ever winner. His role in the BBC's 1991 miniseries Summer's Lease secured the Primetime Emmy John had been missing for 12 years.
Audrey Hepburn
Despite being one of only two individuals on this list to achieve one of each of the EGOT awards (as opposed to multiple of any of the awards), Audrey Hepburn is one of the EGOT club's most familiar names. She was also the first to achieve EGOT posthumously, winning the 1994 Grammy Award for Best Spoken Word Album for Children for her Audrey Hepburn's Enchanted Tales after her untimely death in 1993.
Marvin Hamlisch
Collecting his awards over 22 years, this American composer is one of only two individuals on this list to have achieved a Pulitzer Prize alongside his Emmy, Grammy, Oscar and Tony awards (the Pulitzer Prize for Drama for A Chorus Line [1975]; 'PEGOT', if you will). Likewise, he was also the first EGOT winner to achieve a so-called 'General Field' Grammy, bagging both Song of the Year and Best New Artist in 1974 for writing 'The Way We Were', sung by Barbra Streisand for the popular film of the same name.
Jonathan Tunick
Like Audrey Hepburn, American orchestrator, musical director, and composer Jonathan Tunick efficiently bagged one of each of the EGOT awards. Collecting his awards across 20 years, Jonathan completed his set in 1997 when he was awarded the Tony Award for Best Orchestrations for the Titanic musical (which has perhaps been overshadowed by James Cameron's movie of the same name, released in the same year).
Mel Brooks
American actor, comedian, and filmmaker Mel Brooks has a total of 11 EGOT awards, collecting them over 34 years and well and truly sealing the deal in 2001 with three Tony Awards for his musical The Producers. 
Mike Nichols
Director and comedian Mike Nichols joined the EGOT club in 2001, with 40 years between his first (the 1961 Grammy Award for Best Comedy Performance for An Evening with Mike Nichols and Elaine May) and last (the 2001 Primetime Emmy Awards for Outstanding Directing for a Miniseries, Movie or a Special and Outstanding Made for Television Movie for Wit) qualifying awards. Despite the Grammy being Mike's first EGOT award, he never won another. That said, he racked up nine Tony Awards.
Whoopi Goldberg
Whoopi Goldberg joined the EGOT club in 2002 when she added a Daytime Emmy and a Tony Award to her existing roster of Academy Award and Grammy Award. Note that some would argue Whoopi isn't a true EGOT as her two Emmys are Daytime and not Primetime awards. Regardless, Whoopi was the first African American person to achieve all four prestigious awards.
Scott Rudin
After a 10 year pause in EGOT enrolment (for whatever reason), producer Scott Rudin joined the club in 2012 with the Grammy Award for Best Musical Theatre Album for The Book of Mormon: Original Broadway Cast Recording. With one Emmy, one Grammy and one Oscar, Rudin has a whopping 18 Tony Awards, sharing the record with one other individual for most EGOT awards (21). 
Robert Lopez
Collecting his EGOT awards in a rapid 10 years, Filipino-American songwriter Robert Lopez Robert Lopez is the fastest EGOT winner. Perhaps his most notable award was the 2013 Academy Award for Best Original Song for 'Let It Go' from Frozen (yes, this is the man to blame for that earworm…). To date, Robert is the only double EGOT, winning at least two of each award.
Andrew Lloyd Webber
Kicking off a big year for the EGOT club, English composer and general musical theatre legend, Andrew Lloyd Webber joined the EGOT club in 2018 when he bagged the Primetime Emmy Award for Outstanding Variety Special (Live) for Jesus Christ Superstar Live in Concert. Unsurprisingly, it is Tony Awards that Andrew has collected the most of, collecting six for the likes of Evita, Cats, The Phantom of the Opera and Sunset Boulevard.
Tim Rice
Longtime collaborator with Andrew Lloyd Webber, English lyricist and author Tim Rice also joined the EGOT club in 2018 when he also bagged the Primetime Emmy Award for Jesus Christ Superstar Live in Concert, which he wrote with Andrew. Tim is best known for writing classic movie songs such as 'A Whole New World' from Aladdin (for which he achieved the 1992 Academy Award for Best Original Song) and 'Can You Feel The Love Tonight' from The Lion King (which secured the same award two years later). 
John Legend
Singer-songwriter and producer John Legend also completed the EGOT challenge in 2018, also playing a role and sharing the Primetime Emmy Award for Jesus Christ Superstar Live in Concert. While John has only one Primetime Emmy Award, one Academy Award and one Tony Award, he has (understandably) wracked up 12 Grammy Awards throughout his career.
Alan Menken
At 70 years old, American composer Alan Menken became the 16th EGOT winner in 2020 when he bagged the Daytime Emmy Award for Outstanding Original Song in a Children's, Young Adult or Animated Program for 'Waiting in the Wings' from Rapunzel's Tangled Adventure (though, like in Whoopi Goldberg's case, some believe that Daytime Emmy Awards don't count). Known for writing the scores of films such as The Little Mermaid, Beauty and the Beast and Pocahontas, Alan has the most Oscars of all EGOTs (eight), and he also has a whopping 11 Grammy Awards. Alongside his singular Emmy, Alan won his first (and, thus far, only) Tony Award for Best Original Score for Newsies in 2012.
Jennifer Hudson
Joining the lofty heights of the EGOT club in 2022 with a Tony Award, singer-songwriter Jennifer Hudson is currently the youngest female EGOT winner in history, completing the challenge at 40 years old. Her first award came in 2006, when she achieved the Academy Award for Best Supporting Actress for Dreamgirls. Like Whoopi Goldberg and Alan Menken, Jennifer's Emmy Award is a Daytime Emmy (for Baba Yaga in 2021).
Viola Davis
And the latest EGOT club member is American actress and producer Viola Davis, who began her journey in 2001 with the Tony Award for Best Featured Actress in a Play for King Hedley II. With an Oscar (for Fences) and a Primetime Emmy (for How to Get Away with Murder) under her belt, Viola completed the EGOT journey in 2023 with the Grammy Award for Best Audio Book, Narration & Storytelling Recording for her memoir, Finding Me. 
A handful of other individuals have won all four EGOT awards, but are often excluded from the EGOT list due to their win in one of the categories being non-competitive (i.e. honorary). These include:
Barbra Streisand, with two Oscars, five Emmys and 10 Grammys, but whose 1970 Tony Award for Star of the Decade was non-competitive

Liza Minelli, with one Oscar, one Emmy and four Tonys, and who won the non-competitive 1990 Grammy Legend Award

James Earl Jones, with one Grammy, three Emmys, three Tonys, and who was awarded the 2011 Academy Honorary Award

Harry Belafonte, with one Emmy, one Tony, three Grammys and the 2014 Academy's Jean Hersholt Humanitarian Award 

Quincey Jones, with one Emmy, one Tony, a whopping 28 Grammys and the 1994 Academy's Jean Hersholt Humanitarian Award.
Likewise, there is an abundance of famous names just one award away from making the EGOT club, including Adele, Julie Andrews, Cher, Eminem, Martin Scorsese, Ringo Star and Kate Winslet who all need a Tony Award to complete the roster; Jeremy Irons, Helen Mirren and Al Pacino in need of a Grammy win; Elton John, Benj Pasek and Justin Paul in need of an Emmy Award; and Hugh Jackman, Cyndi Lauper, Lin-Manuel Miranda, Bette Midler and Ben Platt missing an Academy Award from their collections.
Featured image courtesy of De'von Wellesley via Unsplash.