Elena Perminova's life so far reads like something from a Russian fairytale, a classic rags to riches tale with a happy ending. Here, she talks to Alice B-B as she shoots the C&TH January cover…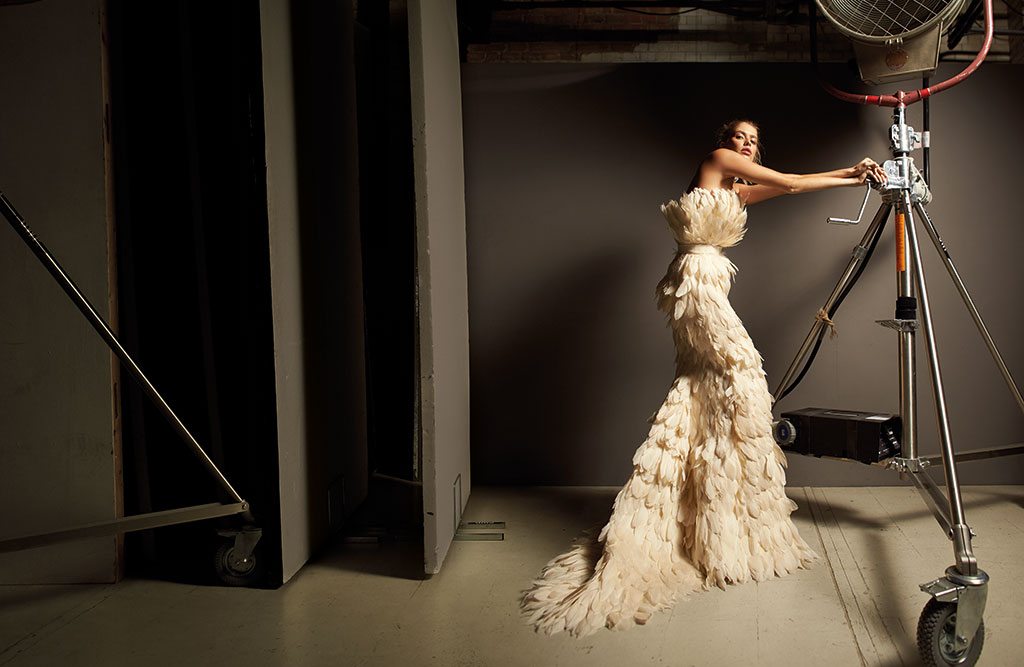 I'm expecting a diva… after all, Elena Perminova is a top model, an Instagram sensation with 1.6 million followers who hang on her every glamorous post, while her partner is 58-year-old Russian businessman and media owner Alexander Lebedev. But my expectations are dashed almost immediately. Elena, 31, shows up to this interview accompanied by her partner and publicist, but after hellos and firm handshakes – the latter both disappear. This – dear reader – is not the behaviour of a prima donna. Most celebrity interviews take place with a publicist/rottweiler on hand for gatekeeping, fire-fighting or fluffing duties. But Elena (or Lena as she's known to her friends), flies solo, ordering a cappuccino while distractingly arranging her linguine-long legs in off-duty Topshop jeans, white T-shirt and leopard print jacket, from a sofa in the Cub Room at The Beaumont Hotel.
A Russian Fairytale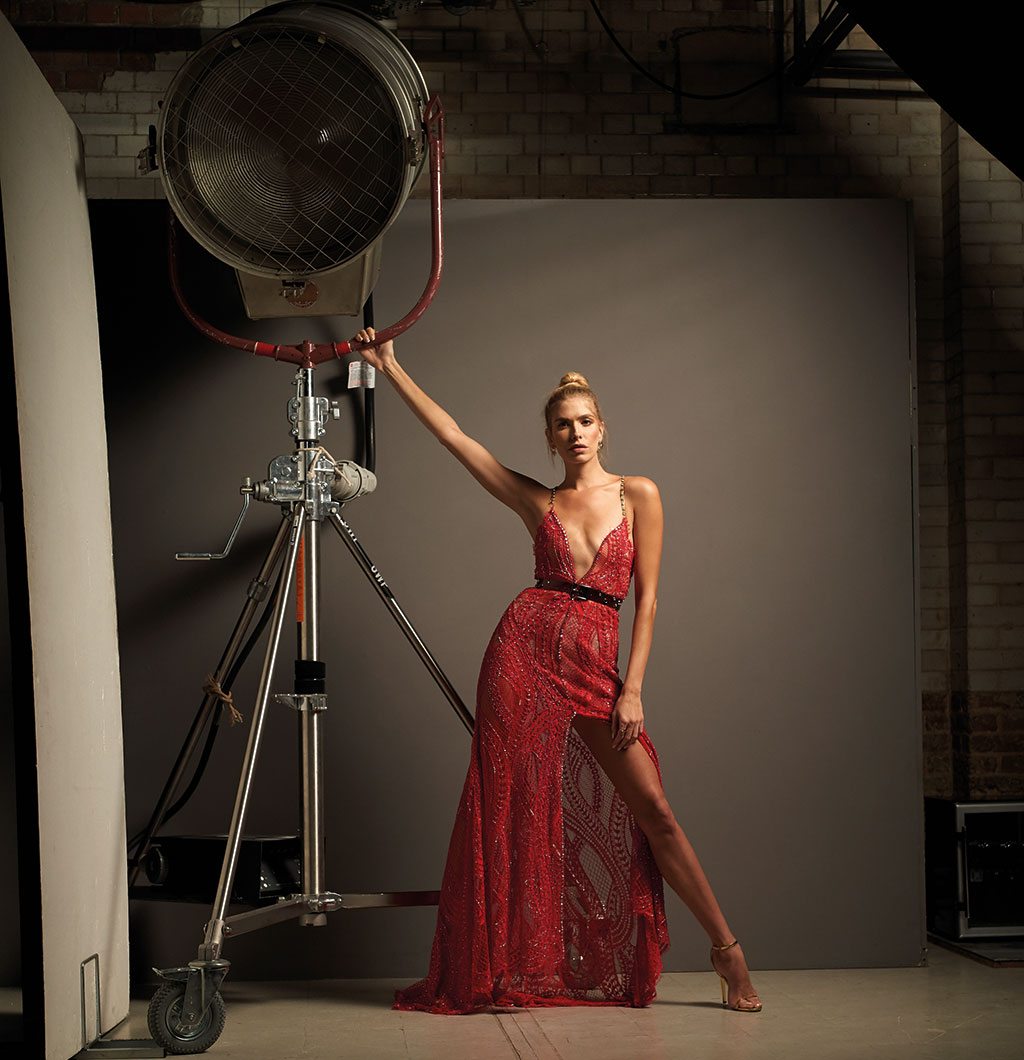 So who exactly is this self-assured beauty? Well, Elena's backstory reads like something from a Disney tale. Once upon a time in Siberia, a young Perminova grew up dreaming of being a model. So when scouts came to her home town, she was picked aged 14, much to her mother's astonishment. But where there is light, there is darkness. Enter the baddie… Elena's first, older boyfriend, who turned out to be a drug dealer and used the naïve 16-year-old Perminova to be his mule and sell drugs in nightclubs. Then one fateful day… she was caught and arrested in jail for a night. Her hero came in the shape of Russian member of parliament Alexander Lebedev – who, at the time, was campaigning for witness protection and chose to help our young, imperiled heroine.
'He looked like a real man,' says Elena of their first meeting in her beguiling Russian accent. 'Strong, fit, a real gentleman and super clever – like a walking encyclopaedia.' Elena was pardoned, while her boyfriend got a five-year sentence.
Elena left Siberia, and went to study economics at the Moscow state university, where, aged 19, she began dating Lebedev. Over a decade later and the couple have three children and, although unmarried, refer to each other as 'husband' and 'wife', living in the countryside outside of Moscow. 'We are best friends,' she says. 'And you know, with every day it's getting better and better.
The Instagram Sensation
Another stroke of fortune has been her Instagram career. 'My friend [fashion maven and entrepreneur] Miroslava Duma was like, "Lena, you're not on Instagram, it's amazing." We were laughing, looking at people with 150,000 followers and she said to me, "One day I would like to have that many followers." Cut to four years later and they're now both on 1.6 million. But the Instagram immersion wasn't popular with everyone. 'At the beginning, my husband was like, "Lena, we're losing you, you have three kids, you can't spend so much time…"' It then made sense for Perminova to do something positive with her massive following, so in 2015 she founded the first global Instagram charity auction. 'It was by accident. I was chatting with a girl who was raising money for kids and decided to sell my dresses,' explains Elena. 'Not dresses I don't need, but the most beautiful, memorable, expensive, historical ones.' And so @sos_by_lenaperminova was born. 
Sneak Peek: Inside the January 2018 Investment Issue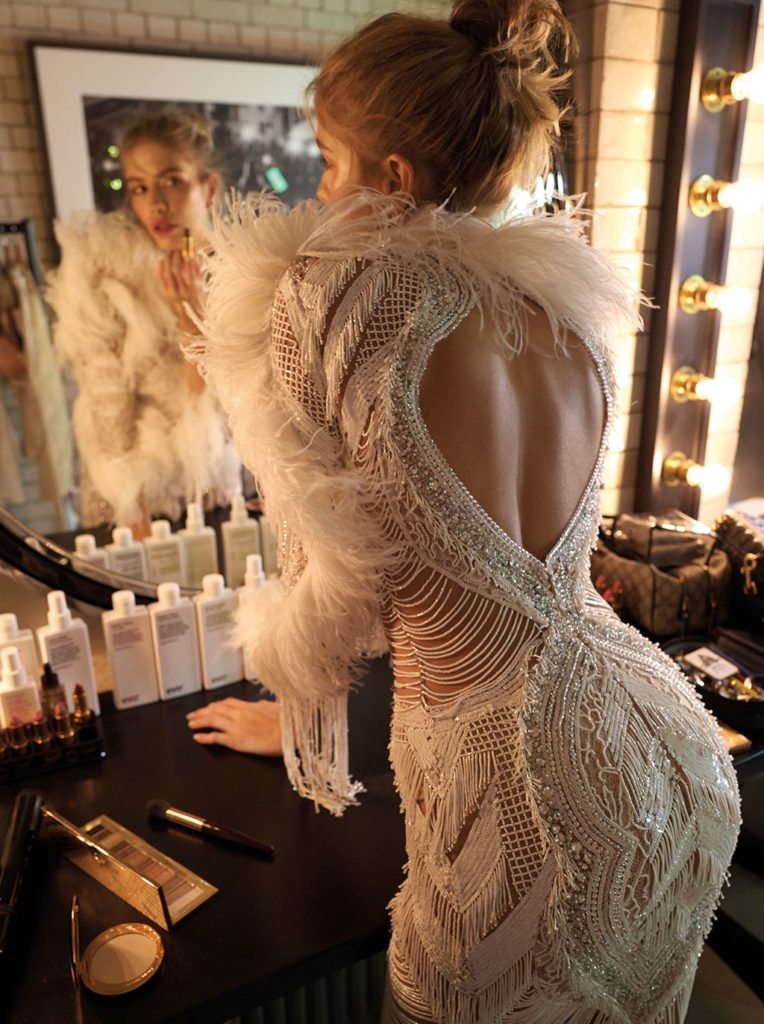 Since the launch, Perminova has raised over $3m, which has been used to provide life-changing operations for 94 children to date, many of whom are chronicled before and after on the Instagram account. The charity fields over 30 requests a day and, sometimes, Elena's own children get involved too. 'We had a girl who needed an operation on her back,' she explains, showing me a heart-wrenching video of a girl unable to sit or walk properly, 'and when my son Igor saw her, he said, "Mummy, how is this possible?" I explained I was raising money for this girl. Then Igor, who was then four and a half, went to get his safe, and said, "Mummy take everything for this girl."
Spreading the online bandwidth, Elena also calls upon friends, including Elton John, Jared Leto and Miranda Kerr, to donate pieces or experiences for auction. 'Bella Hadid gave a dress that was specially made for Cannes and she was shocked at how much money we made. We sold it for €22,000 and she did a post,' explains Elena. 'Can I show you?' She proudly plays the clip with a gorgeous Hadid thanking Elena, cutely creating awareness among her own 15.7 million followers too.
"I don't like professional pictures on Instagram… I like using phones, it needs to feel like real life, this is what people like"
But despite the success, Elena has no ambition to create her own foundation or hospital. Sensibly she wants the charity to remain manageable. 'I'm doing it naturally, not putting on pressure.' I ask if she feels that the Instagram world has become a pressure. She sighs exasperatedly. Clearly what was once a bit of fun has become a beast that needs feeding. And Perminova has set a high bar; family holidays in the Maldives, a Mad Max-inspired series from Burning Man or regal-themed birthday parties for her kids. But, unlike many of the Instagram superleague, Elena doesn't have a stylist or use a photographer to tail her every move. 'I don't like professional pictures on Instagram,' she says, 'I like using phones, it needs to feel like real life, this is what people like.' So the footage is taken by her tight-knit gang of human tripods, 'My husband, my nanny, my sister. That's all,' she says.
Family First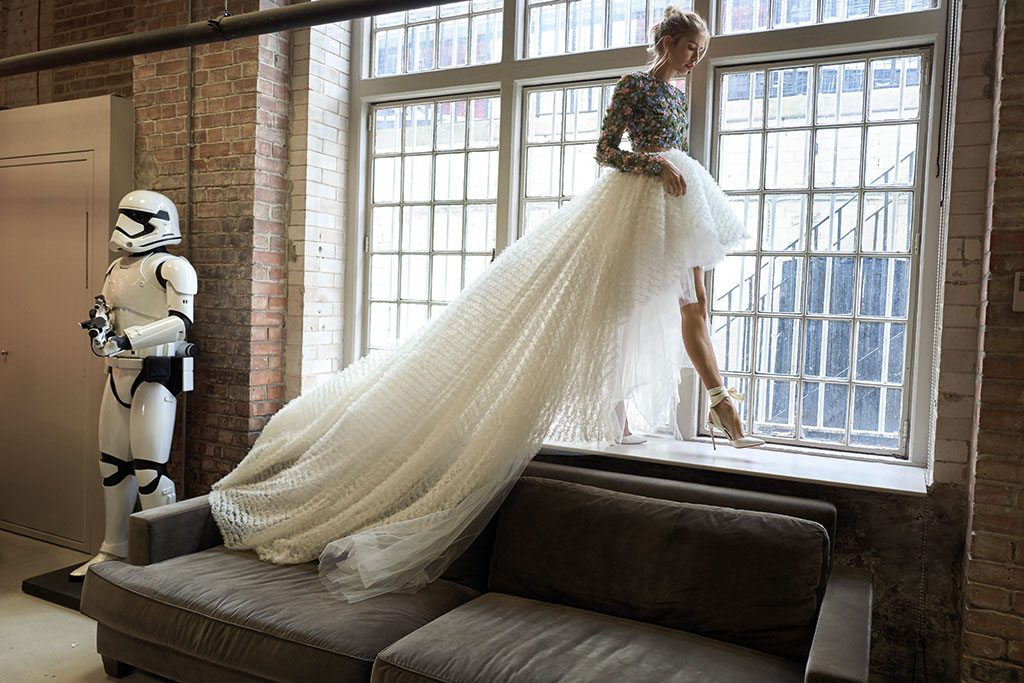 Perminova is quick to point out that, most of the time, she inhabits a world far removed from the Instagram fantasy; her reality revolves around her three small children. 'The day starts at 6am and one by one they come into my bed and we spend time just talking.' Then she takes the children to school, slots in time for her workout, which includes pole-dancing, 'It makes your body the strongest, the most beautiful,' she says. There's no time for lunch with friends, instead she's working on her charity, playing games with the children when they get back from school or collecting eggs from their chickens.
She's also keen to explain that she doesn't spend fortunes on schmutter. 'People think I spend so much money on clothes, but it's not true. Designers lend me dresses or, for example Giambattista Valli made me a dress as a special present, but I never, ever buy couture. I just go to Topshop and buy jeans. It's better to give money to poor kids.'
Then, having finished her cappuccino, Elena Perminova unfurls those endless legs and effortlessly catwalks out of the hotel. The power of beauty, youth and confidence – that makes high street look like couture, makes everyone in the lobby stop and stare, makes doors open as if by magic. Even with #nofilter she leaves a golden glittery trail. It would be so easy for Elena Perminova to be a diva, but actually she's a bit of a goddess.
MORE INTERVIEWS: Anna Harvey on Princess Diana's Style | Miranda Kerr on Family Homes & Tea | Gemma Arterton on Paris & Feminism
---