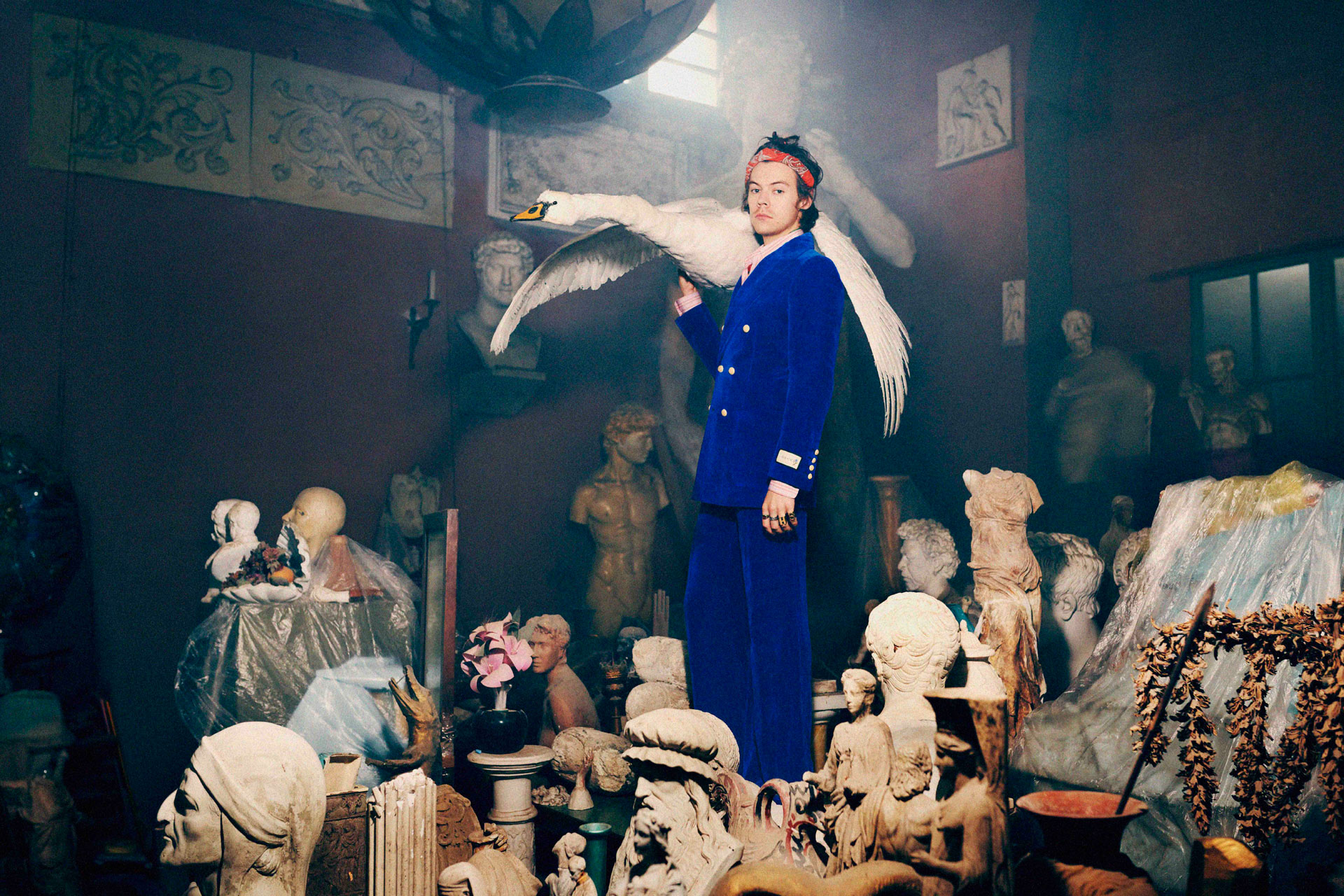 V&A's Fashioning Masculinities — Gender Fluidity is as Ancient as the Greeks
---
Stride, saunter or sashay to V&A's breakthrough exhibition
If you think patriarchal beauty standards afflict just women — history will prove you otherwise. From Hercules to Harry Styles, V&A's Fashioning Masculinities threads together how menswear — from the oppressively restrictive to joyfully flamboyant —has been fashioned over the centuries. 
Featuring Harry Styles' custom gown he wore for Vogue USA's first male cover to Billy Porter's tuxedo gown, the show positions more than 100 garments that are held up for scrutiny. From historical artefacts to the twentieth-century abundance of mass-produced suits, to today's anxieties around gender and sexuality — the show's scope leaves you with more questions than answers. 
V&A's Fashioning Masculinities: The Art of Menswear — Review
When we talk about perfectionistic body standards today, the assumption is that it's a conversation around women. But Fashioning Masculinities quickly points out that patriarchal ideas around the body are just as toxic for men. The first room Undressed, neatly traces a line from Greek and Roman sculptures to today's fanaticism with contemporary gym culture and toxic dieting that proliferates on social media platforms. The room casually juxtaposes an Apollo Belvedere cast with a Calvin Klein advertisement. There's a fig leaf from the cast of Michelangelo's David (added on after Queen Victoria disapproved) next to the works of the late Virgil Abloh for Off White.
It all goes to show the origin of where this masculine pin-up originated. During the 18th Century, European men from the upper echelons of society would visit Italy, known as The Grand Tour. Taking back plaster-cast copies of the Farnese Hercules and Apollo Belvedere (both on display) such men would flaunt these works in their stately homes as a kind of upmarket souvenir. It was since then this Herculean hyper-masculinity — with its rippling musculature and pectoral flexes — held society by a chokehold as the golden standard for the male form.
It's a well-trodden idea, but Fashioning Masculinities breaks new ground platforming a Greek myth that's been historically unseen: the myth of Tiresias. Transformed from male to female and back again by the goddess Hera, Tiresias is a mythology story that goes to show that gender fluidity is hardly a new concept. The myth sits side by side body shaping garments and compression vests which are becoming increasingly visible in a growing market today.
Fixed ideas of masculinity are further unpicked at the seams in the next room: Overdressed. Overseeing the European court's flamboyance of lace collars and cuffs, Fashioning Masculinities hones in on the colour pink through the ages. Pink, in fact, since it was a shade of red, originally signalled virility and patriarchal power, as seen with Joshua Reynold's portrait of the notorious womanizer of his day, Charles Coote, 1st Earl of Bellamont, donning his swags of silky pink.
It was only in the latter half of the 20th Century that as a society we anxiously decided it was only for girls. We've seen in recent years menswear designers subvert this, with Billy Porter's viral Fushia floral embellished suit, designed by Randi Rahm, and Harris Reed's Fluid Romanticism piece, both on display. Harry Styles' iconic indigo suit designed by Alessandro Michele for Gucci, too makes an appearance via peephole.
The focus of the third and final room, Redressed, presents the masculine uniform as we've typically understood it today: practical, rational, sharp, tailored, which is of course: the suit. Otherwise known as the casualty of the pandemic (this week the suit has been removed from the UK inflation calculator since it's dived so much in irrelevance thanks to working from home). The room takes on the mass-production of suits and tuxedoes (which, the show describes as 'a visual shorthand for patriarchal privilege'), taking on classic pieces worn by the likes of Oscar Wilde and Cecil Beaton to its contemporary refashioning worn by Sam Smith and Timothée Chalamet.
The show culminates with a part immersive experience part runway extravaganza showcasing three iconic gowns – another Harry Styles outfit (that famously featured on the cover of US Vogue) by Alessandro Michele for Gucci, as well as a custom gown by Christian Siriano tuxedo gown worn by Billy Porter.
Fashioning Masculinities: The Art of Menswear runs 19 March to 6 Nov 2022, Wed-Sun 10-5.45. Adult tickets £20. Tickets on sale at vam.ac.uk/masculinities
SEE MORE 
Gender Neutral Fashion Brands to Know  / Sculpture 
Main image: Gucci Pre-Fall 2019 Men's Tailoring Campaign. Courtesy of Gucci