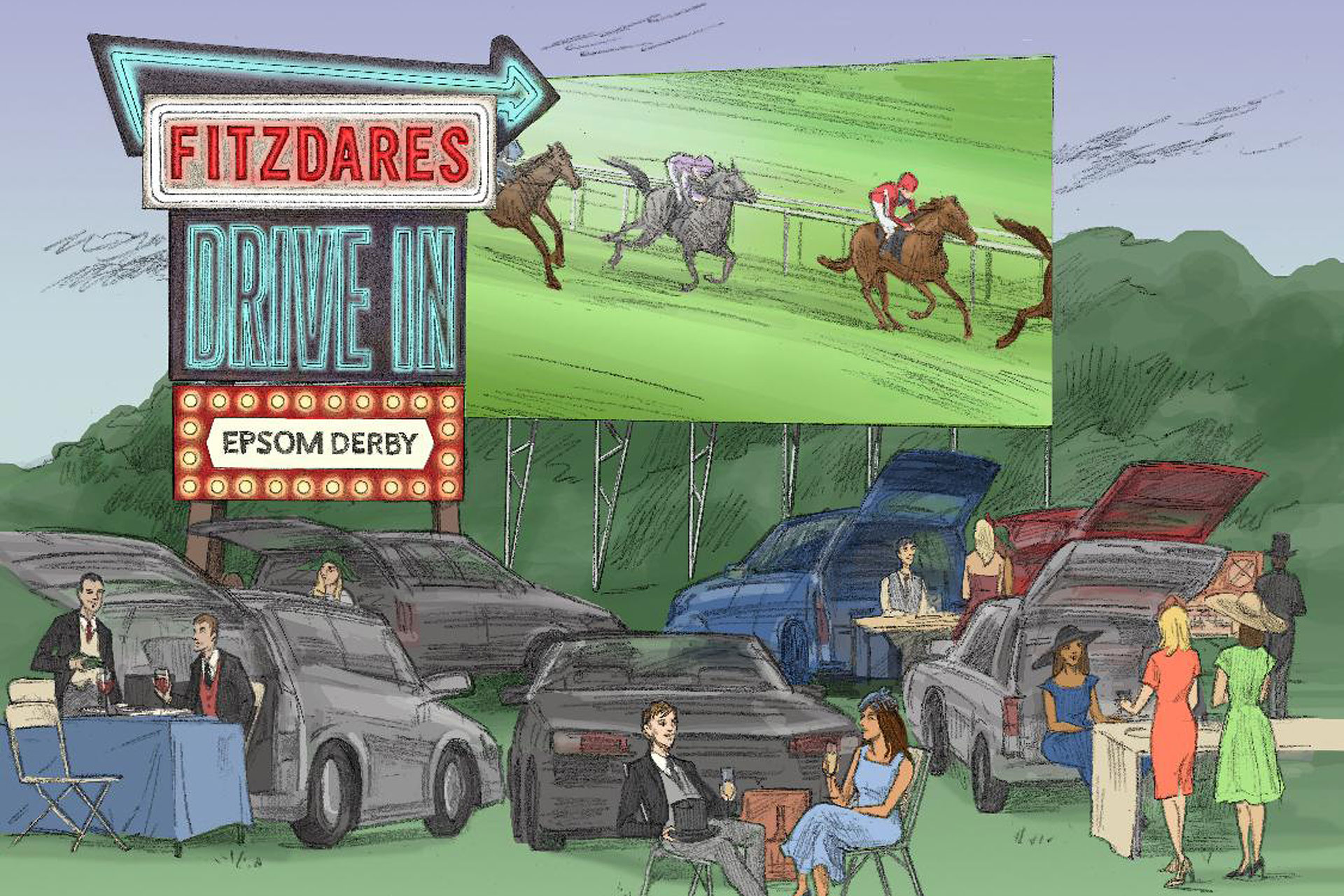 Experience Epsom at the World's First Drive-In Derby
---
Off to the (socially-distanced) races
Pack your picnic hampers and don your finest racing attire to see the Epsom races at the first-ever Drive-in Derby.
Though the COVID-19 pandemic has caused the famous Epsom Derby to be held 'behind closed doors' this year, premium bookmaker Fitzdares has dreamt up a way for lucky Londoners go to the races in a safe, socially-distanced manner – with a retro twist. Inspired by the drive-in movie theatres of the 1950s, the world's first Drive-in Derby (to be held at a secret West London location) invites attendees to experience all the fervour and magic of the Derby on-screen, from the comfort and safety of their cars.
Spectators are encouraged to dress up to the nines, just as they would for the usual Derby, and to bring their own picnic hampers, though food and drinks will also be available on-site. To ensure safe picnicking, each car – with a maximum of five people per vehicle – will be granted its own 'bubble' of green space.
The Drive-In: Secret Cinema's Summer Series
With live commentary transmitted to car radios, there's no danger of missing any of the action. The day's schedule is packed with world-class racing: in a special treat for fans, there will be two Classic races, with the fillies' Oaks to take place before the Derby itself, set to start at 4:55pm. Fitzdares' Drive-in Derby is likely the first spectator sport to be held in London since the lockdown began in late March, an encouraging sign that social distancing measures need not spell the end of collective sporting events.
William Woodhams, the CEO of Fitzdares, said: 'It has been wonderful to see sport return, but a little eerie not hearing the sound of fans enjoying it. With such a spectacle of horse racing happening, we couldn't resist finding an innovative and fun way of enjoying the action. Weirdly, it was an old idea – the drive-in movie – that inspired us. We hope everyone enjoys a very safe day, but with the sound of race-goers' roar back again!'
Fitzdares' Drive-in Derby will take place on Saturday 4th July in West London, with each car priced at £100. For more information and to purchase tickets, please visit driveinderby.co.uk