Frieze Sculpture is back from 4 July to 7 October in London's Regent's Park…
Twenty-five of the world's leading artists, spanning five continents, all in one place… It must be this year's edition of Frieze Sculpture, a free display of international outdoor artwork in Regent's Park just in time for the warmer weather.
A cultural attraction like no other in the heart of the city, expect to see installations from established names such as Tracey Emin, Kiki Smith and John Baldessari as well as emerging galleries which will show for the first time. The playful and interactive displays are a must-see in London this summer, and will be installed in Regent's Park's English Gardens until the end of Frieze week in October.
Soundscape, Sculpture, Scenery: The Wonder Project at Wakehurst
We speak to Clare Lilley, Director of Programme at Yorkshire Sculpture Park, who was responsible for selecting and placing works for this year's Frieze Sculpture. No one is better placed to give us the inside scoop, as Clare selects her top pieces to look out for at Frieze Sculpture 2018…
The Pieces to Look Out for at Frieze Sculpture 2018
C&TH speaks to Clare Lilley, who selects the top 10 installations to make sure you see…
Virginia Overton, Untitled (2018)
Raised in rural Tennessee, for as long as she remembers, Virginia Overton has been familiar with farm and other machinery. There is something fantastically honest and poetic about this work, filled with pipes of various metals to form a robust, lyrical sculpture that ripples as the sun hits it.
Tracey Emin, A Moment Without You (2017)
Tracey Emin is aware that sometimes the public responds negatively to sculpture in the public realm. With this in mind, while also thinking of a good friend who passed away, she gives us a clutch of small bronze birds atop slender poles, creating a work of great tenderness that is hard not to love.
John Baldessari, Penguin (2018)
One of the world's most important and influential conceptual artists, who riffs off images and texts from contemporary culture, John Baldessari also has a sense of humour. The artist is 6' 7" tall and so is this perfectly rendered emperor penguin, the tallest of all penguin species, which stands as a self-deprecating self-portrait.
Rana Begum, No. 814 (2018)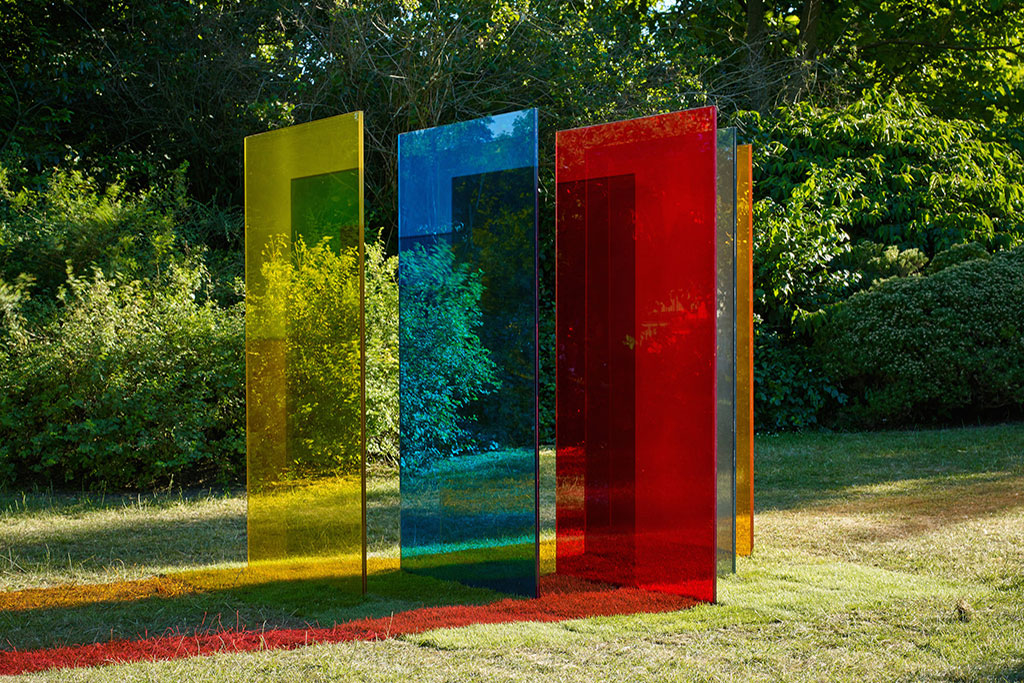 Rana's precisely made, minimal sculpture of four panes of coloured glass is caught by the sun, the colours merging and rippling to create a lovely sensory experience. For Rana, it reflects her childhood experience in Bangladesh of being in a mosque and experiencing calm and exhilaration as light entered the room.
Dan Graham, London Rococo (2012)
For over fifty years, Dan Graham has made exquisite structures that sit somewhere between architecture and sculpture. I love that as you approach this work, it is so poised and transparent, yet when you enter it you feel as though you're enclosed in a bubble.
Bharti Kher, Intermediary Family (2018)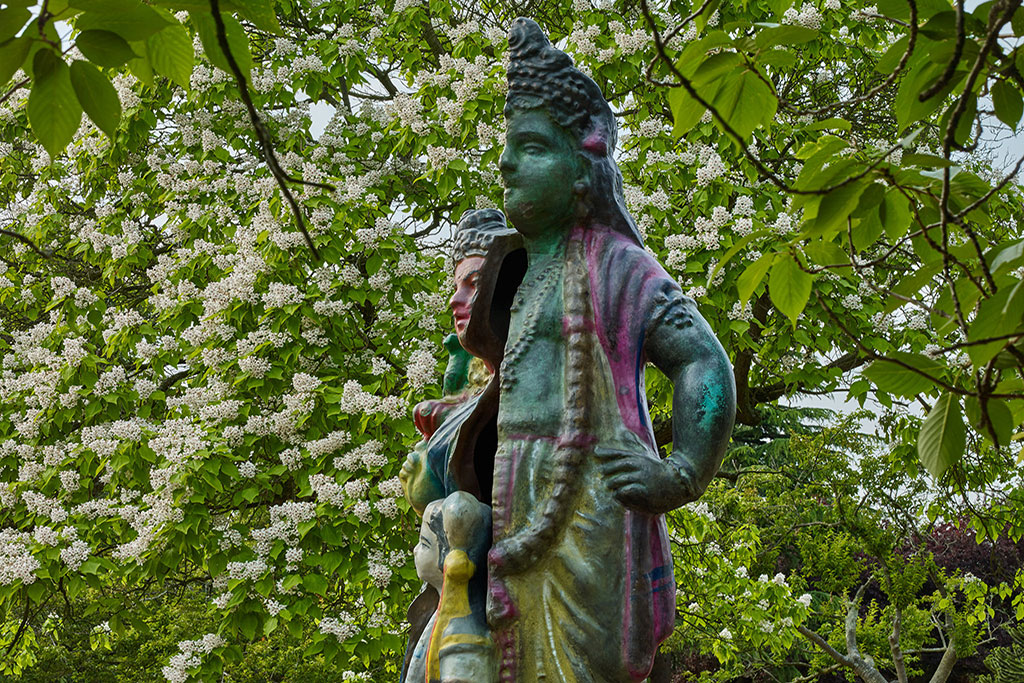 Born and raised in the UK and now living in New Delhi, Bharti Kher explores how cultures merge and separate and this dynamic four and a half metre high sculpture relates to her own family and to the many personalities of the Hindu god, Vishnu. A sculpture of in-betweens, Intermediary Family is perhaps a work to which we can all relate.
The Best Current Art Exhibitions in London
Conrad Shawcross, Optic Labyrinth 
Like pyramids and other ancient monoliths, Optic Labyrinth is activated by the course of the sun across the day and seasons as it traces across a specially developed steel mesh that seems never to be still. It's a wonderful, dynamic sculpture, which visitors can enter, run around and enjoy.
Richard Woods, Holiday Home (2018)
Holiday Home is a marvellous, brightly-painted house with its roots in cartoons, pop-imagery and archetypal children's illustration. This perfect but unusable house plays with ideas about our home-improvement obsession and aspirations – in central London specifically drawing attention to those who have and those who have not.
Summer Holidays Ideas and Beyond
Larry Achiampong, Pan African Flags for the Relic Travellers Alliance (2018)
With British-Ghanaian heritage, Larry is an important contributor to Afrofuturism, which explores the intersection of African diaspora culture with technology. At a point when the UK is negotiating its break from the European Union, Larry's imaginary future travellers encounter an Africa whose gorgeous flags convey the alliance of 54 nations.
Kimsooja, A Needle Woman: Galaxy was a Memory, Earth is a Souvenir (2014)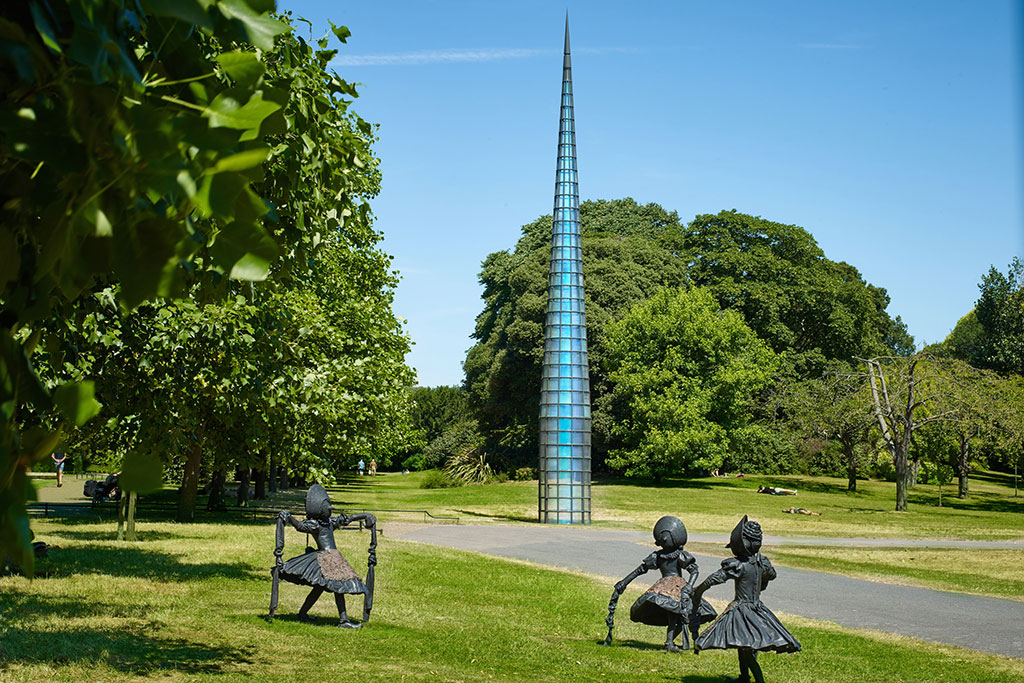 Named by her mother 'Sooja', which means 'needle woman', the practice of stillness whilst living in a hectic world is central to Kimsooja's work. Her structure reaches 14 metres into the sky and its unique polymer coating closely mimics the iridescence of insect wings ­– it is utterly mesmerizing and instils great calm.
Find out more at frieze.com/sculpture
---