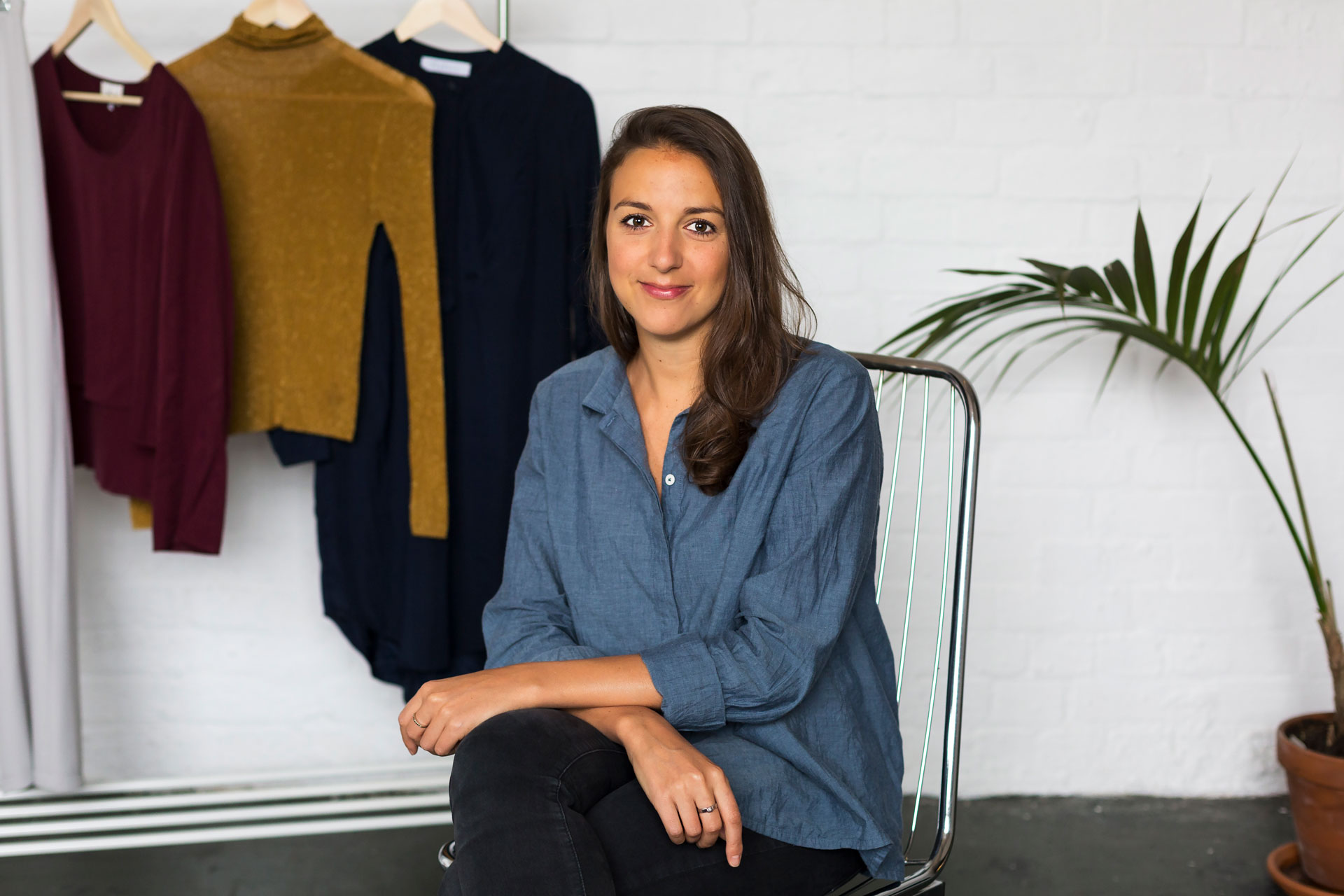 Green Heroes: Sandra Capponi, Co-Founder of Good On You
---
'It's about taking the time to think. Think about what you really need, and what really matters to you'
Green Heroes: Sandra Capponi, Co-founder of Good On You
Sussing out a genuinely sustainable fashion brand feels like an impossible task nowadays. From wading through unhelpfully vague buzzwords (see 'natural') to sifting through the dark underbellies of marketing campaigns, it's a minefield to get right.
The Good On You app has trawled through over 3,000 fashion brands, critically analysing their environmental and ethical policies, before giving a final score. Co-founder, Sandra Capponi tells C&TH how it all came together, and what the future of fashion could look like. 

When was your green lightbulb moment?
I've always loved fashion, but it was a few years ago that I heard stories about what was going on behind the scenes of the major labels, and I just became more uncomfortable buying clothes without knowing where they came from. I guess my green lightbulb moment was when I realised I wasn't the only one that cared, and that more and more people wanted to shop sustainably but didn't know how. So I saw that there was a real opportunity to use all our buying power as a force for good and to hold the industry accountable.
What green business practices are you most proud of?
So far we've rated over 3,000 brands about their impact on people, the planet, and animals. and we've helped literally millions of people make more sustainable choices. And now we're seeing this start to make a real difference in holding big brands to account. We actually hear from big brands now all the time from H&M to Nike reaching out wanting to know how they can do better on their Good On You score.
What makes you feel positive about a sustainable future?
The demand for sustainable fashion is growing more and more. Shoppers are looking for options that protect the things that they care about, and that didn't diminish during the pandemic, many people are even more motivated to support brands doing good.
We've actually had our most successful business performance in the last couple of years yet, and we've been really fortunate to double our team size. The demand for ratings continues to grow: both from consumers using our app for sustainable options but also brands and retailers want to partner with us and platform their Good On You ratings on their website, like Farfetch and The Outnet.
And what are the facts that make you fearful?
Sadly there are a lot of facts. The more you dig on some of the issues, the more overwhelming it can get. Starting with the fact that fashion is one of the most polluting industries in the world, and it's responsible for 10% of global carbon emissions. The fact that we're making, buying, and discarding more and more clothes than ever before. I think one of the facts is that around 92 million tonnes of textile waste is created every year from the fashion industry, and very little clothing is recycled so most of it ends in landfill.
We did a bit of research recently on our Good On You app, and only 10% of the brands currently score 'great', and they are almost always small brands. Whereas more than 70% of the most profitable brands receive our two lowest scores. So that's really to say that the industry has a long way to go.
Who is your own green hero?
I'd have to say Greta Thunberg. She's still only a teenager, and yet for years she has been standing up to world leaders, demanding action on climate change. She's become the voice for a whole generation of young climate activists who are worried about their future who are screaming, enough is enough. She's inspired a movement of people that give me a lot of hope.
Your favourite product – and tell us why we can feel good about buying it?
I wear jeans almost every day and I'm a big fan of local brands like Outland Denim. They've created a whole business model around protecting their female workers in Cambodia and using materials that don't cost the earth. Vintage pieces from my mother's wardrobe will be a favourite too. She always had a great sense of style, and the clothes of that time are rooted in craftsmanship that I'll cherish for a long time.
Can producing anything new really be called sustainable?
I think it's important to consider alternatives to buying new as a starting point. Care and mend the clothes you already have, consider buying second-hand or renting. We've rated so many innovators that are emerging who do really think about their material selection and minimising the use of resources and water and chemicals. If they've considered all the other alternatives and they still want to buy new, they should be able to find something that doesn't go against their values and still makes them feel good, because ultimately that's what fashion is supposed to be about.
Name three other of your favourite brands who are doing the right thing and why you like them?
It's got to be Outland Denim, and another Aussie label I do love is A.BCH. They keep raising the bar on what it means to be sustainable. Everything from the thread, to the buttons, and designing with circularity top of mind. In Europe, another brand I wear a lot is this German brand Armedangels, which does a kind of edgier streetwear.
Should we be green shaming the brands/companies who are doing nothing to change their ways?
We're actually not about blaming and shaming brands. We're more about holding all brands accountable and promoting those who do good. It's not enough just to give consumers or shoppers a list of bad brands to avoid because then what, what do we do with that information? What's more important is telling the positive stories of brands doing good and helping shoppers discover them.
What are the biggest challenges in running a sustainable business?
Sometimes there's a debate that running a high-performance business and making a social and environmental impact are at odds with each other. I don't think that's the case for us: we want to be a successful business because the more successful we are, the greater impact that we can have.
What advice can you give to other businesses who are wanting to do better?
I think transparency is really key. Being open about the things that you are trying to do to tackle sustainability issues means you are accepting responsibility. It also means you get to think more about how you can improve. Be specific and be comprehensive in explaining how you're tackling that, explain what you know and what you don't know yet, and what you're going to do about it in the future.
Three things we should all, as individuals, be doing to help in the climate change fight?
It's about taking the time to think. Think about what you really need, and what really matters to you.
Think about the alternatives to shopping
Recognise that your choices actually do matter. With every little thing you're doing, whether it's maybe not buying something, all of that is really powerful and driving the future we want to see.
SEE MORE GREEN HEROES 
Katie Walsh, Founder of Re-Pete Project / Tessa Cook, Founder of Olio