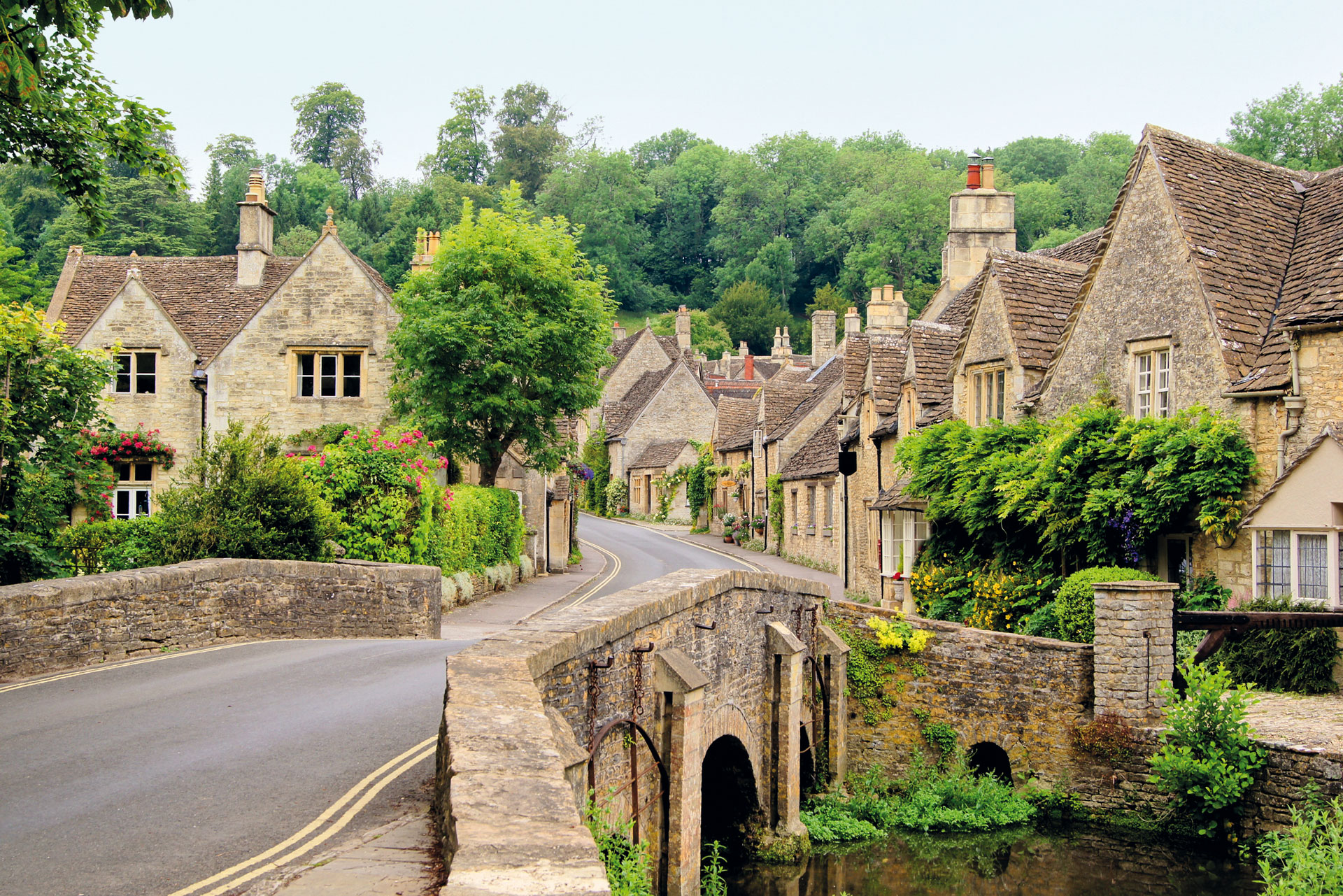 The C&TH Guide To The Cotswolds
From animal encounters and antique-hunting to wild walks and perfect pubs, the Cotswolds are cruising
Wondering what to do, where to eat and the best things to see in the Cotswolds? Look no further. Although its winding lanes and chocolate-box villages will always retain their charm, it's the bountiful local produce, fascinating historical houses and great independent shops that really make the Cotswolds an unmissable destination. From an award-winning seafood restaurant to the Westonbirt National Arboretum, here's our guide to the Cotswolds.
The Best Hotels In The Cotswolds
Where To Walk In The Cotswolds
Hardcore – Bath to Chipping Campden
More an epic journey than a casual amble; the glorious 100-mile Cotswold Way goes from Bath to Chipping Campden.
Ancient – Salford, Chipping Norton, Oxfordshire
The Cotswolds' answer to Stonehenge, the Rollright Stones' origin remains a mystery. Begin in Salford and wend your way back past Manor Farm. (5 miles)
Equine – The White Horse, Oxfordshire
Chase the ancient chalk horse across Dragon Hill, find Uffington Castle and the neolithic burial ground. This circular stroll is best in winter. (7.7 miles)
Steep – Broadway, Worcestershire
Hardgoing at points, you will be rewarded with a glimpse of the rich history of the region's famous, honey-coloured stone. Start at the quarry before heading to Broadway tower. (3.5 miles)
Awe-Inspiring – Cleeve Hill , Cheltenham, Gloucestershire
For flawless views across the Malverns, start at Postlip Hall and walk all the way round the edge of the common, simple. (4 miles)
What To See In The Cotswolds
Historic Sights
There are thousands of years of history waiting to be discovered in the Cotswolds. One of the oldest surviving monuments is the Belas Knap Long Barrow in Winchcombe, an impressive example of a Neolithic burial chamber. Or if you fancy something a bit more modern, there's the Chedworth Roman Villa to explore, with its well-preserved mosaic floors, bath house and fascinating hypocaust systems.
Sezincote House
The Cotswolds isn't all chocolate-box cottages and thatched roofs. Sezincote House is a 200-plus year-old Mogul Indian palace, set in lush gardens that include temples, grottoes, waterfalls and canals reminiscent of the Taj Mahal. It's said to be the inspiration for the Brighton Pavilion. If you're feeling more active, then get involved with the Dursley Walking Festival, held every October in the south Cotswold village of Dursley and offering guided walks through the beautiful surrounding countryside.
Wildlife Park
Lions and tigers and bears, oh my! Cotswold Wildlife Park has them all in its 160 acres of parkland, roaming against the surreal but stately backdrop of a neo-Gothic manor house. An utterly enchanting day out for the whole family.
What To Eat
Bibury Trout
Bibury trout is a local delicacy; catch your own at Bibury Trout Farm, before stocking up on supplies from its smokehouse and shop.
William's
An award-winning seafood restaurant, fishmonger and delicatessen, William's in Nailsworth is the local foodie destination of choice. A Cotswold institution for 45 years, it sources its seafood daily from Scotland and the south-west coast.
Le Champignon Sauvage
It's well worth veering away from the chocolate box villages towards the racing town of Cheltenham for its striking Regency architecture and the wonder that is Le Champignon Sauvage. The family-owned, two-Michelin-starred restaurant does field-to-fork dining at its best, where French technique elevates hyper-local, seasonal produce to dizzying standards with undoubtedly British results.
Sunday Lunch
Go traditional at the legendary Wheatsheaf Inn: a coaching inn that dates back to the 17th century, complete with crackling fires in winter, a beautiful garden in summer and a menu showcasing the very best of the Cotswolds countryside. Sunday lunch is the stuff of dreams.
The Wild Rabbit
Bag a table at Carole Bamford's fashionable Wild Rabbit, the epitome of new wave Cotswolds chic and winner of Michelin's 2015 Pub of the Year.
Where To Visit
The Miserden Estate
For a truly wholesome and nature-inspired day out, head to The Miserden Estate. Guests can get creative through courses run by local artisan craftsmen and women – with the likes of cooking, wood carving, jewellery making, pottery or floristry on offer – enjoy delicious bites and refreshments at the glasshouse cafe, indulge in afternoon tea in a stunning alfresco setting, or head out on a nature walk to soak up the rolling Cotswold countryside.
Cider with Rosie
Laurie Lee's Cider with Rosie is an evocative memoir of a time now lost forever. However, you can still wander Lee's beloved Slad Valley, the bucolic setting of the book, and even visit the author's childhood home, Rosebank Cottages.
Westonbirt Arboretum
Westonbirt Arboretum in Tetbury is another leafy landscape to explore, with 600 acres of woodland in total, home to 15,000 specimens of trees from all over the world.
Lower Slaughter, Gloucestershire
A babbling stream flows through traditional Cotswold sandstone cottages. Hold hands on Copse Hill Road – named the most romantic street in Britain.
Castle Combe, Wiltshire
With Roman roots, Castle Combe is now crammed with hauntingly beautiful reminders of its medieval past. Ranked number two in The Times's 30 best villages.
Painswick, Gloucestershire
Dubbed 'Queen of the Costwolds' for its charming houses and rich history. At Painswick there's an original Norman church and the oldest bowling green in England.
Bibury, Gloucestershire
Home to one of the oldest trout farms, Bibury has beautifully tessellated remains of a Roman villa and a higgledy-piggledy row of weavers' cottages.
Ascott under Wychwood, Oxfordshire
Pay your respects to the 16 women who died campaigning for better agricultural wages in 1873, commemorated by a bench around a chestnut tree in the centre of the village.
Where To Shop
Burford
Burford is home to the family-run Upton Smokery, supplier to top restaurants and renowned for its homemade smoked partridge, trout, goose and guinea fowl. Arrive hungry for the regular Firehouse BBQ buffet, and pick up a packet of biltong for the road. Don't leave without visiting nearby Burford Sweet Shop, where every sweet treat imaginable is beautifully displayed in old-fashioned glass jars.
Daylesford
Daylesford's farm shop in Kingham is an absolute must. Fruit, veg and herbs are picked each morning from the garden and travel just a few metres into the shop – while the meat and dairy comes from animals freely roaming the surrounding organic pastures.
The Old Bakery
Speaking of farm shops, make sure you visit The Old Bakery in the main square of Guiting Power. This brand new boutique farm shop is the brainchild of chef Christopher Davey, the founder of The Cotswold Guy. Opening this month after a makeover by Kitesgrove, The Old Bakery is eager to open its doors to the public for the first time. And with a deli and coffee bar on offer alongside its selection of quality local, seasonal produce, it's definitely worth visiting.
Antique
The Cotswolds has one of the highest concentrations of antique shops outside London. Stow-on-the-Wold, Tetbury (Long Street Antiques in particular), Cirencester and Chipping Norton are full of treasures to take home.
20 Things to Do in the Cotswolds
There's so much to do in the Cotswolds that we've rounded up an entire gallery of activities not to be missed on your next visit.