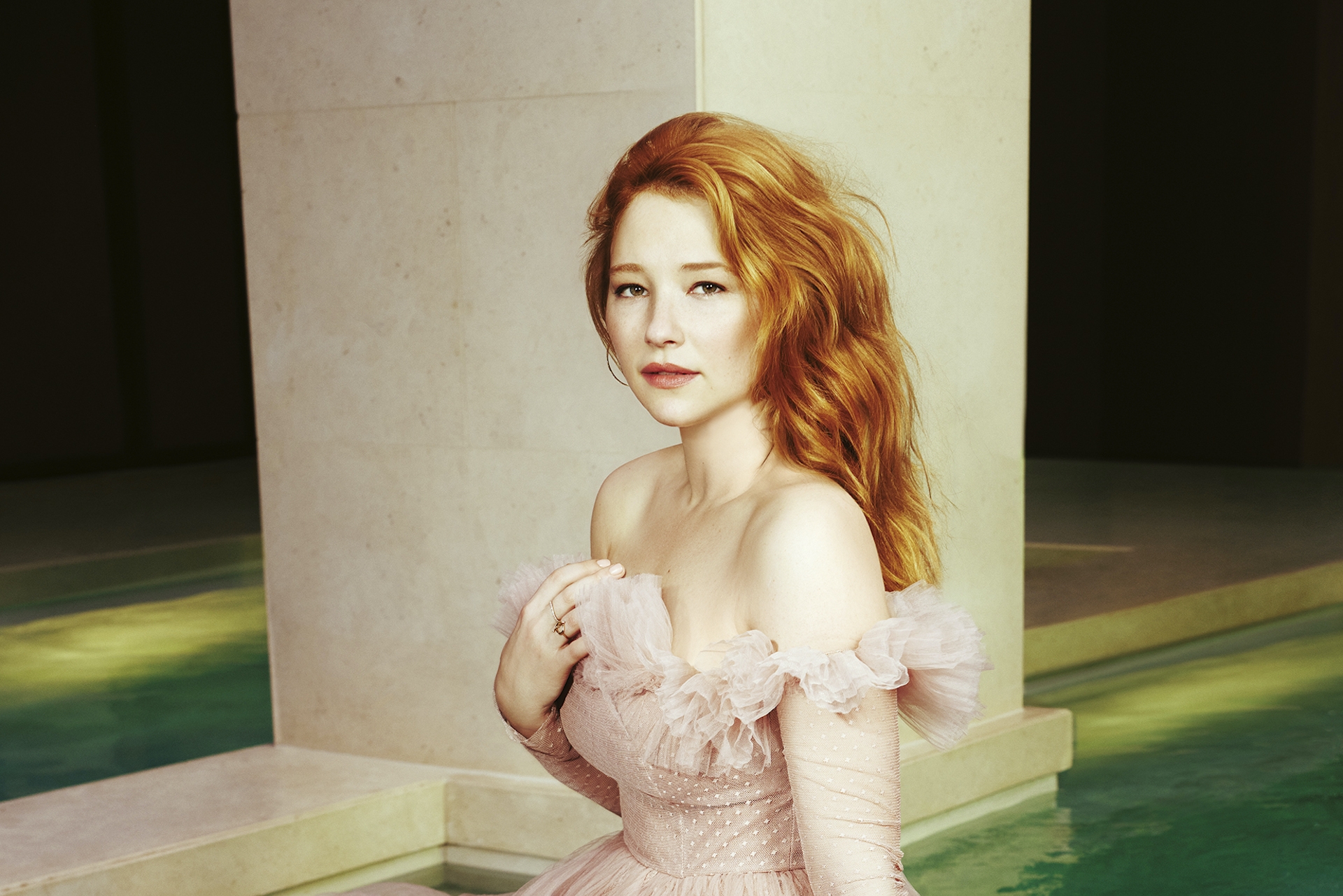 Haley Bennett: Portrait of a Lady
The American actor talks swapping Hollywood for Somerset, working with her other half, and new film Cyrano
Haley Bennett, cover star of C&TH's new Wellness issue, on the allure of rural Somerset, the power of change, and why working with your other half isn't such a bad idea, after all. 
An American in Bruton
Minutes after we've fed handfuls of mealworms to her small brood of bantams, Haley Bennett proudly unearths and holds aloft a bunch of her homegrown heritage carrots, still hung with the rich soil of the Somerset countryside in which the American actress has made her home. In this moment, on a hillside near the small town of Bruton, she's a picture of contentment.
'When we found this place, we were living in New York,' she says, explaining the way in which Haley and her partner, the film director Joe Wright, came to reside in this rustic spot. 'I'd never been in the UK for more than seven days at a time, but we knew we wanted to live in the south-west of England. We saw the house online, Joe made an offer on it, but they didn't think he was serious. So he just said to them: "OK, I'll be on a flight this evening." Now, I can't bear to leave. I've had many lives, lived in a lot of different homes, but I've never felt like I've found my beginning and my end. So, knock on wood, I think I'll die here…'
What helps make this part of the world so special for Haley is its community of shopkeepers, makers and restaurateurs. 'I'm at The Old Pharmacy deli and wine bar on Bruton High Street probably every day of the week,' she says. 'Our daughter Virginia loves their sticky buns, I love the coffee. It's next door to Osip, which is another amazing restaurant.
'At The Chapel is a staple, too – Catherine Butler there has an amazing wine selection that helped me survive the pandemic, and we love their pizzas. And I adore Hive at Bruton's West End, it's casual and serves comfort food made with beautiful ingredients.'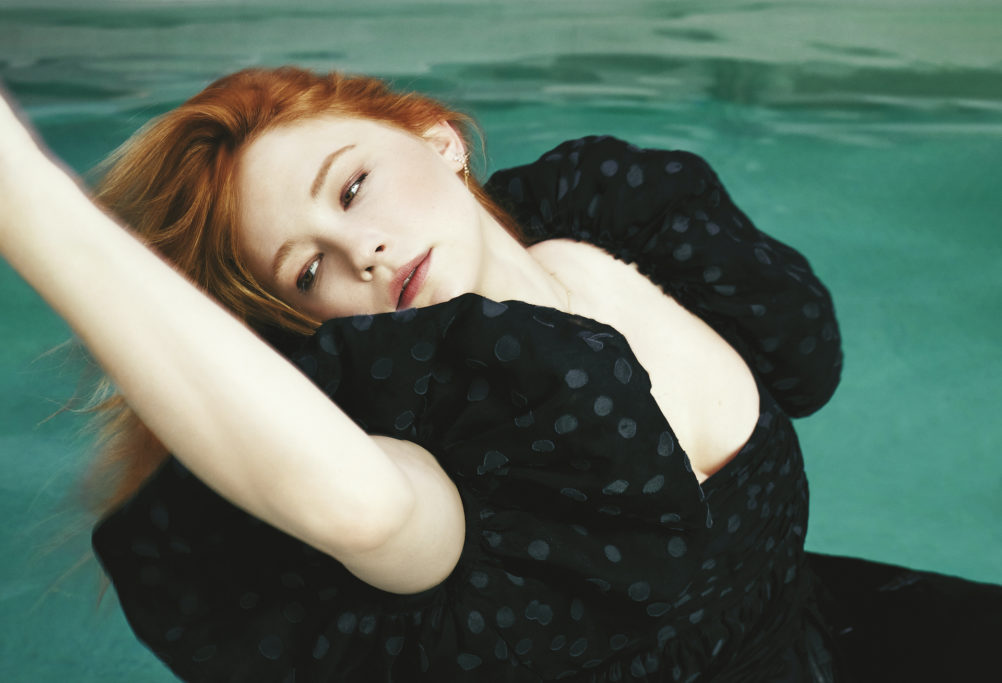 She recommends Swan Vintage for unique, pre-loved clothes. 'Jacqueline at the Make gallery on Bruton High Street is always curating incredible shows and brings people together,' she adds. 'And we frequently visit the Oudolf Gardens at Hauser & Wirth.'
We talk while touring her house and gardens, pausing to discuss tomato cultivation ('no one enjoys anything more than a good chutney'), appreciate the size of Haley's chilli pepper plants, and reflect upon her admiration for the local community's artists and craftspeople. 'People here are really taking care of nature, cultivating, and creating for the next generation,' she explains with civic (or should that be 'agrarian'?) pride.
We're accompanied by her two dogs, River ('a rescue terrier I've had since I was 21') and the delightfully named Early Pippin, a Bedlington Terrier puppy ('a very classically English dog, and suitably named since we're living in the land of apples, the great Avalon'). The knees of Haley's denim jeans are muddied from tending her plants; they're matched with a thrifted blouse and Gucci loafers speckled with morning dew and grass clippings.
As she slides open the door to a filmgoer's dream barn conversion, she explains that: 'This door is actually in the same aspect ratio as a cinema screen, so when you look out through it, it's like a moving picture of nature, of the seasons changing,' as she gestures admiringly to the rolling views beyond. Encompassing its own actual cinema screen, the expansive outhouse became the editing suite for Haley's newest film, Cyrano, which not only features her as the female lead, Roxanne, but was also directed by Joe. Given that few of us possess the inclination to share a place of work with our other halves, I ask whether domestic harmony was preserved on location? 'Some couples work together and it doesn't work [out], but it seems to bring us even closer,' she says. 'It's an intimate process, but you do need to have boundaries and respect each other's roles on set.'
The result of the couple's most recent venture is a film that's made for our times – a story of the search for self-worth, the craving for acceptance, and the pressure of expectation. 'At its core, Cyrano is about self-doubt,' Haley explains. 'And every character is on that journey. Society projects that we have to be all things to everyone, and that's such a fallacy. It holds us back from attaining the things we truly want and deserve. Each of these characters, Cyrano, Roxanne and Christian, would be on the "outsiders" lunch table at high school. Roxanne looks like she belongs in high society, but inside she's this quirky intellectual who's held back by her outward appearance, much like Cyrano himself. And for Christian, when Roxanne sees him and falls instantly in love with him, there's something terrifying and limiting about that. To think that you'll never live up to what someone thinks of you or sees in you. That triggers this fear of intimacy to the point where he can't approach her, which I can relate to.'
When it premiered at 2021's Telluride Film Festival in Colorado, she says, members of the audience wept into their face masks. 'Every time we've screened it, there's been this incredible outpouring of emotion.'
So what's next? Haley hefts a pile of A4 paper onto the table. 'I'm developing a couple of projects. This one is Brood – I've written the screenplay, which is based on a debut novel by Jackie Polzin. I'm producing that with Joe and Mollye Asher who did Nomadland and Swallow'. [Swallow is a 2019 film for which Haley won multiple awards in her lead role of Hunter, a pregnant woman with Pica, a disorder that causes her to swallow unusual objects]. 'It's not as repulsive as it seems,' she reassures. 'It's a really beautiful portrait of an isolated woman.
'Filming Swallow, I felt like I shed so much, and I gained an enormous amount of power from that portrayal. It's a film about finding your voice, and breaking free from the things that hold you, and I feel that in a way that was a very parallel trajectory for me. It was like a point of metamorphosis in my life.'
As she stands over a kitchen sink, vigorously scrubbing the dirt from her carrots, I ask what plans remain for the metamorphosis of her rural acreage. 'Well, down here, I want to make this a walled garden,' she gestures. 'Plant more vines perhaps; make champagne… I'd like a herb garden, a fernery. We'll be fully sustainable – all set!' she laughs.
Abandoning Haley to her horticulture, my abiding memory is that of a woman at peace, kneeling in her cutting garden and bunching together dahlias. Someone not just at one with her environment, but thriving in it. 'Being on a film set is like being in a cocoon; I always come out changed,' she'd told me earlier. Time spent with Haley Bennett is its own transformative experience. She's living the good life. Couldn't we all use some of that?
Cyrano is in cinemas 25 February 2022