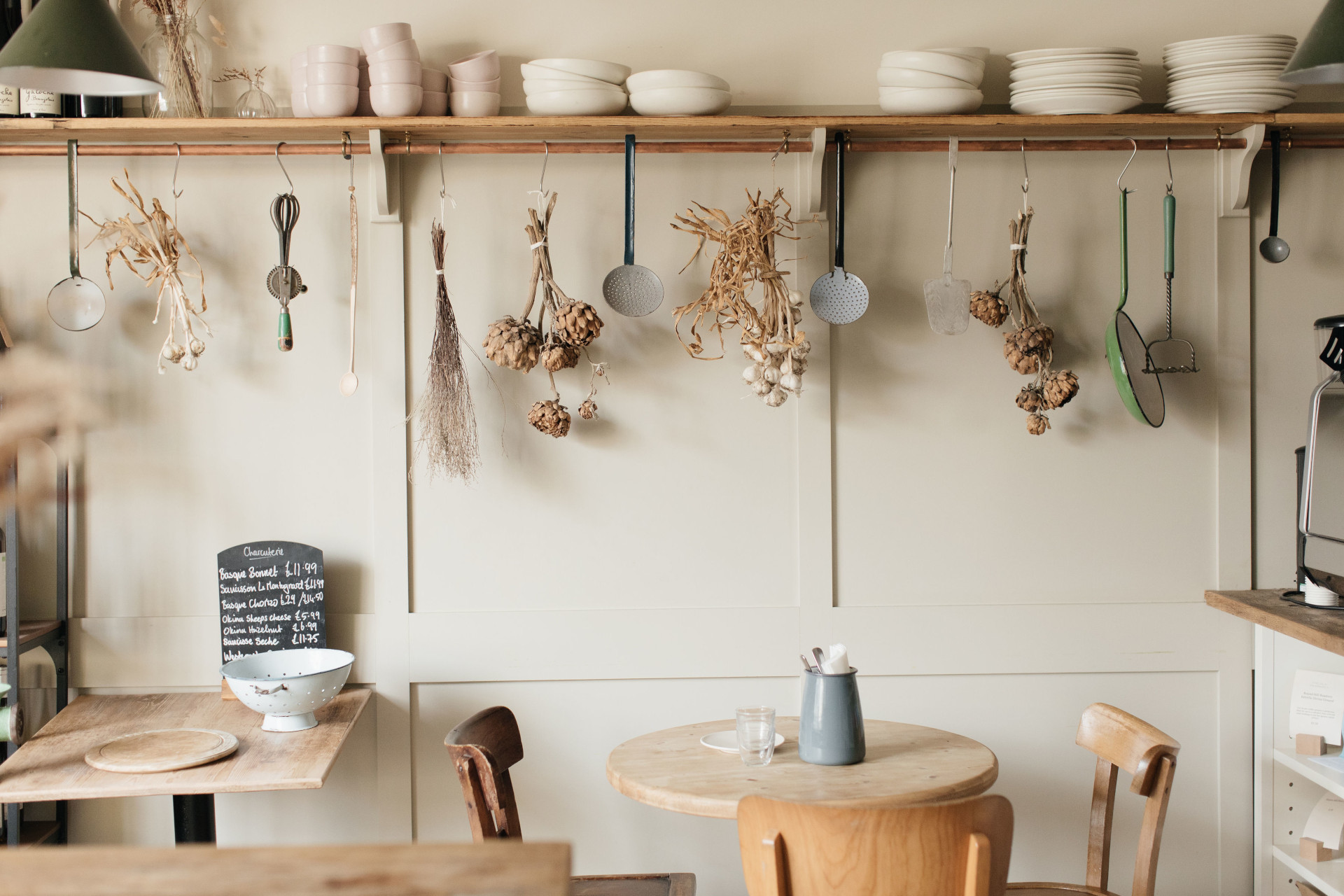 Where to Eat in Bruton, Somerset
---
The best places to grab a bite in stylish Bruton
There's definitely style, but is there substance in the West's chichiest rural outpost? The proof is in the pudding, says Sandy Carr. Here's where to eat in Bruton, Somerset.
Where to Eat in Bruton, Somerset
It is a truth universally acknowledged that Bruton was and is the spearhead of the creeping metropolitanisation of Somerset. So the town is nothing if not stylish. What was a sombre main street has been transformed into a 'destination', spattered with smart shops that look like galleries and sophisticated eateries that are often booked up days if not weeks in advance. But what about substance? Well, yes and no.
Most of these new stores are achingly smart: exquisite objects (exquisitely priced) are exquisitely displayed in cool immaculate interiors. The ethos is beyond post-modern: the epitome of rural chic that is really more urban than rural and where form rarely follows function. How on earth do you drink out of what is definitely a mug, and a gorgeous one at that, where the rim slopes sharply inward? It's practically impossible, but practicality is not what this is about. Occasionally, amid this icy perfection, you just long for somewhere warm and messy.
On the plus side, the food in Somerset – for eating out and in – has improved immeasurably. The produce in these parts has always been wonderful: great meat, organic veg, artisan cheeses, even locally produced charcuterie to rival any London deli. But good restaurants have been few and far between.
This began to change in 2008 with the opening of At the Chapel serving largely Mediterranean-style food with an excellent bakery and wine shop alongside, and by far the best pizzas for many a mile. Otherwise the quality is a bit hit and miss and the service more often a miss but it's the best place in Bruton for breakfast or brunch and still hugely popular so booking is a must. A little later came the fashionable Roth Bar and Grill, part of the Durslade Farm complex alongside Hauser & Wirth, the international contemporary art gallery that bears much of the responsibility for enticing the great and glossy to relocate to the villages around Bruton.
Then a year ago the gastronomic ambitions of Bruton moved up a notch or five with the arrival of Osip, the brainchild of multi-award-winning chef Merlin Labron-Johnson, born in Devon and longing to rediscover his rural heritage. It was originally conceived, apparently, as the equivalent of the traditional French bistro, relaxed, unpretentious and homely. Well, it certainly isn't that. Osip is so high-falutin' it offers nothing so vulgar as an a la carte menu. With six- and nine-course tasting menus at £85 and £110 you get what you are given and they make no concession for children. This is serious eating, which some may struggle to find an entirely joyous experience, but about which others are ecstatic. It already has a Michelin star and is booked up until early December so the formula is obviously working very well indeed. One frequent quibble though is the cost of the wine. A 1998 Chateau Musar, for example, available from Tanners at £35 is £110 on the current list. Not sure how you can justify that. osiprestaurant.com
The Old Pharmacy
In the building next door is The Old Pharmacy, a much more laidback off-shoot of Osip and closer to the original bistro ethos. If this is where L-J can relax from creating gastronomic miracles, it's where we can too. It began as a deli and takeaway and started in-house eating a couple of years ago. Like everywhere else in Bruton the signage is discreet but at least they have a chalkboard outside guiding you to the entrance. Through the door you come into a lively open kitchen. More often than not pasta is being rolled and bread kneaded on the central island with food prep on the range behind. The dining room is kitted out with olive-green Shaker-style cupboard, and scrubbed tables, timber panelling and reclaimed wooden floorboards complete a look that inclines towards farmhouse kitchen but perhaps without the warmth – a slightly austere version of rustic chic. theoldpharmacybruton.com
Dreamers Farm
But prices are reasonable for Bruton and the food is truly delicious. It relies almost entirely on local produce including fruits and vegetables from their own allotment at the wonderfully named Dreamers Farm in nearby North Brewham. What you get is whatever the plot or local suppliers provide that day. The menu is short but that doesn't matter because it's all tempting and too much choice can be stressful. We started with nocellara olives in a simple lemon and fennel dressing, fresh herby focaccia, a classic pork terrine and quick sweet-sour pickled vegetables. We would have had anchovies but they'd already sold out. We followed with excellent pork escalopes – succulent tenderloin pork coated in something thick and crunchy – and a generous bowl of tagliatelle with plump fresh porcini mushrooms, and finished up with a superb fig, honey and almond tart, moist, crumbly and just sweet enough. The menu changes frequently but the emphasis on French-Italian flavours and seasonal ingredients freshly and sensitively prepared remains.
The drinks chalked up on a large mirror also change frequently and offer a very good range of wines by the glass and local beers and ciders. Apart from lunches and dinner, it also operates as wine bar in the evenings when you can drop in just for a glass, snacks and nibbles or a small plate. It doesn't take bookings so 'dropping in' is a practical possibility. Not so great if you are coming from afar, but for lucky Brutonites it makes for a great neighbourhood restaurant. dreamersfarm.co.uk
Featured image: The Old Pharmacy (c) Maureen Evans