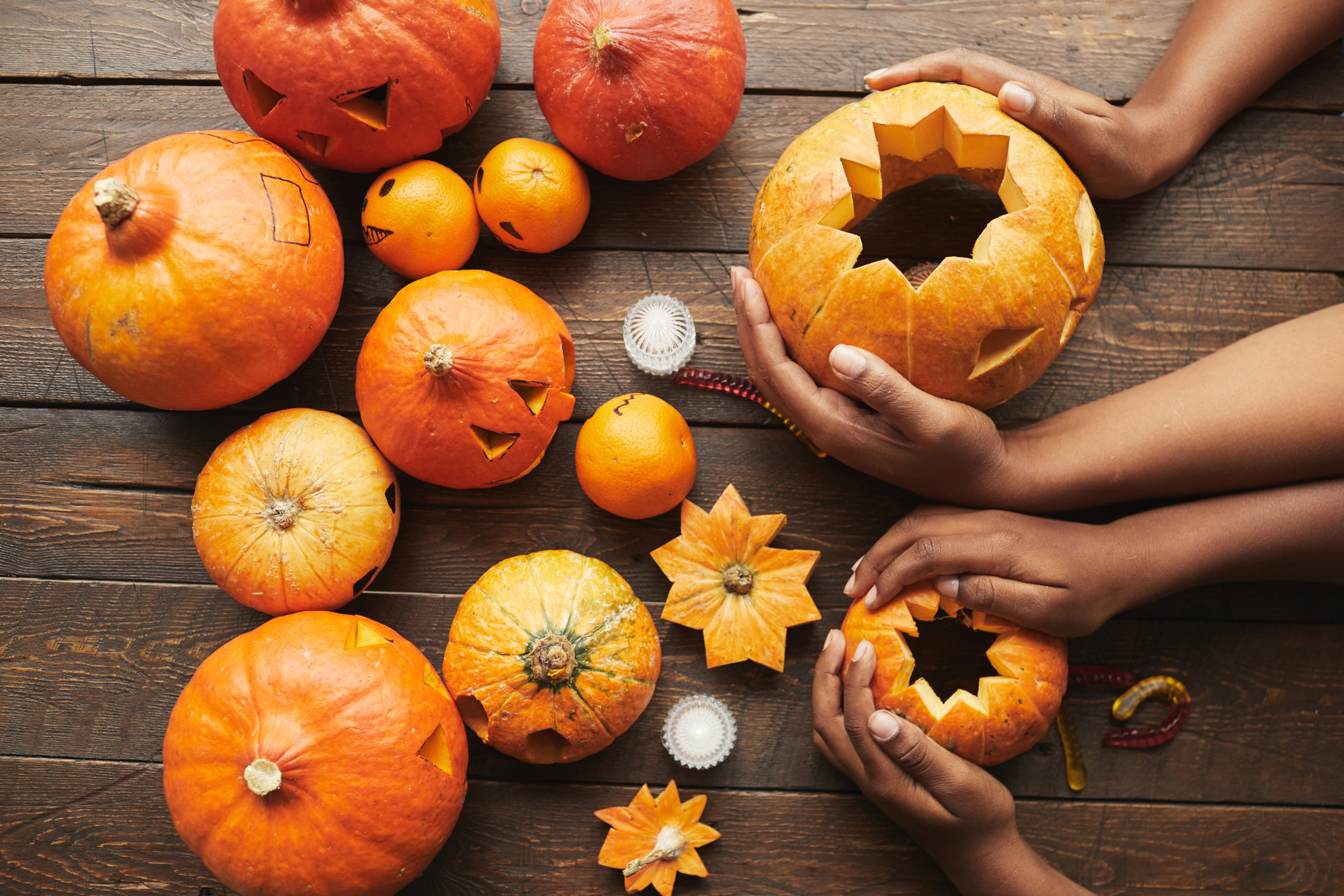 How To Celebrate Halloween in 2021
---
Ditch the trick or treat for ghoulish glitz
This year, we can take Halloween beyond the realm of Zoom. To celebrate the occasion, we've found a whole host of spook-tacular goings on across the UK, from Wizarding World experiences to hair-raising circus shows.
How to Celebrate Halloween in 2021
Halloween at Backyard Cinema
One of the best parts of Halloween? The films, of course. See some of your favourite ghostly tales on the big screen this year at Backyard Cinema, which has transformed its winter show space for the spooky season. With firm favourites such as The Rocky Horror Picture Show and Beetlejuice as well as new releases like Candyman in the programme, be prepared to be scared this Halloween. backyardcinema.co.uk
Halloween Afternoon Tea at Lantana
Lantana invites city-goers to indulge in the ultimate Halloween Afternoon Tea at its London Bridge restaurant. The menu, which takes inspiration from the restaurant's Australian heritage, features Sweetcorn Blinis served with beetroot cured salmon and chive sour cream, sausage rolls with plum ketchup and a selection of seasonal sweet treats – think mummy brownies, pumpkin spice and apple cake, pumpkin carrot cake and chocolate mousse with chocolate crumble graves. Available Monday 25 to Friday 29 October 20201. Prices vary depending on menu; £15pp for afternoon tea served with tea or coffee, and £20pp to opt for Prosecco. lantanacafe.co.uk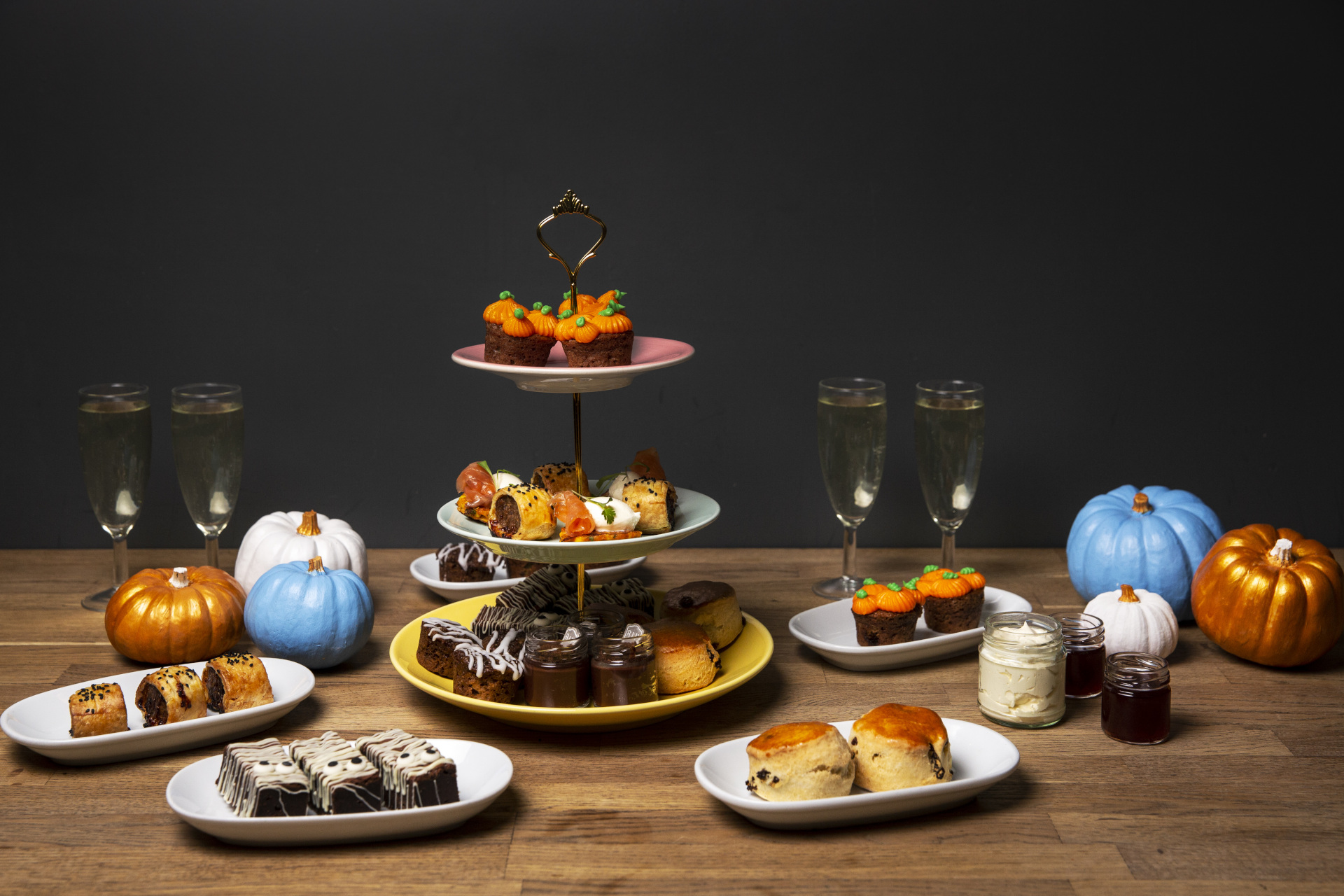 GoBoat Halloween Activities
Kids and grown-ups can join in on the fun this Halloween with GoBoat, which is launching an immersive child friendly pirate treasure hunt at Paddington and an adult murder mystery at Canary Wharf. Hop aboard the eco-friendly self-drive boats, which will transport guests back in time with an adventure across the city's rivers. At Paddington, young pirates can immerse themselves in a life at sea as they track down a secret treasure trove, while aspiring sleuths can step into a host of Victorian era riddles, tasks and clues to help crack a murder case. 25 – 31 October, goboat.co.uk
Eerie Events at Crazy Pizza
Crazy Pizza, a fresh spin on the classic Italian restaurant, is celebrating Halloween with an immersive evening, featuring hilarious staff shows, a saxophonist, drummer, and dancers to perform throughout the event. Crazy Pizza will also be showcasing a new selection of spooky dishes for the occasion, such as the Pumpkin Arancini: fried rice balls with pumpkin, parmesan and truffle sauce as well as home made Tonda mozzarella. Wash it all down with a limited edition cocktail (we recommend Saints & Souls). Make sure to get your bookings in for Crazy Bubbles brunch on the Sunday, or come back in the evening for some extraordinary entertainment with music and dancers. New menu served between 28 – 31 October, brunch will be served on Sunday and is £135pp, crazypizza.com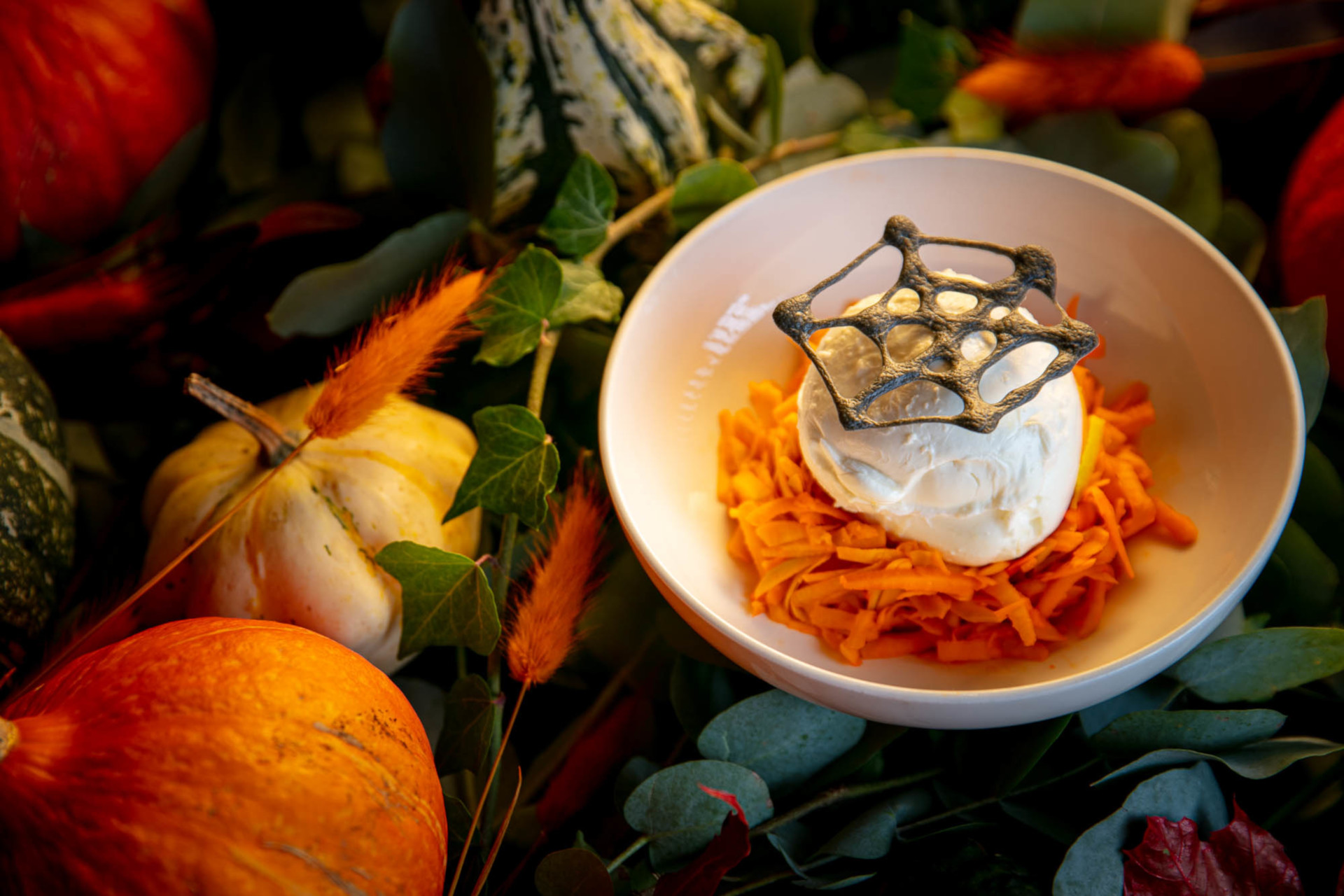 The Fore's Festival of Fear: Fright Night Fitness Class
For a real fright this Halloween, head to The Fore for a candlelit fitness class filled with screaming Skillmills, torturous TRX and revolting RIP trainers. Expect Halloween décor, a spooky playlist and slime shakes. 31 October, 3pm, the-fore.co.uk
Day of the Dead at Chotto Matte
Head over to Soho's most iconic Nikkei restaurant, Chotto Matte, this Halloween for a celebration of the Day of the Dead. The venue has teamed up with award-winning Mexican Tequila brand Código to create a week of festivities to honour its Latin roots. Expect incredible Nikkei dishes, captivating entertainment and a celebration of all things Latin America. The new menu of limited edition cocktails includes the delightful but deadly Midnight in Lima (Codigo Anejo Tequila, amontillado sherry, cocchi di torino vermouth and blackberry smoke) and, for those with a sweet tooth, the Dulce Muerte (Codigo Blanco Tequila and peach liqueur). Make sure to join the festivities on Saturday, when performers, DJ sets and musicians will be keeping the party going from brunch time to late at night. New cocktail menu available from From 26 October to 2 November, liver performances will be Saturday 30 October, chotto-matte.com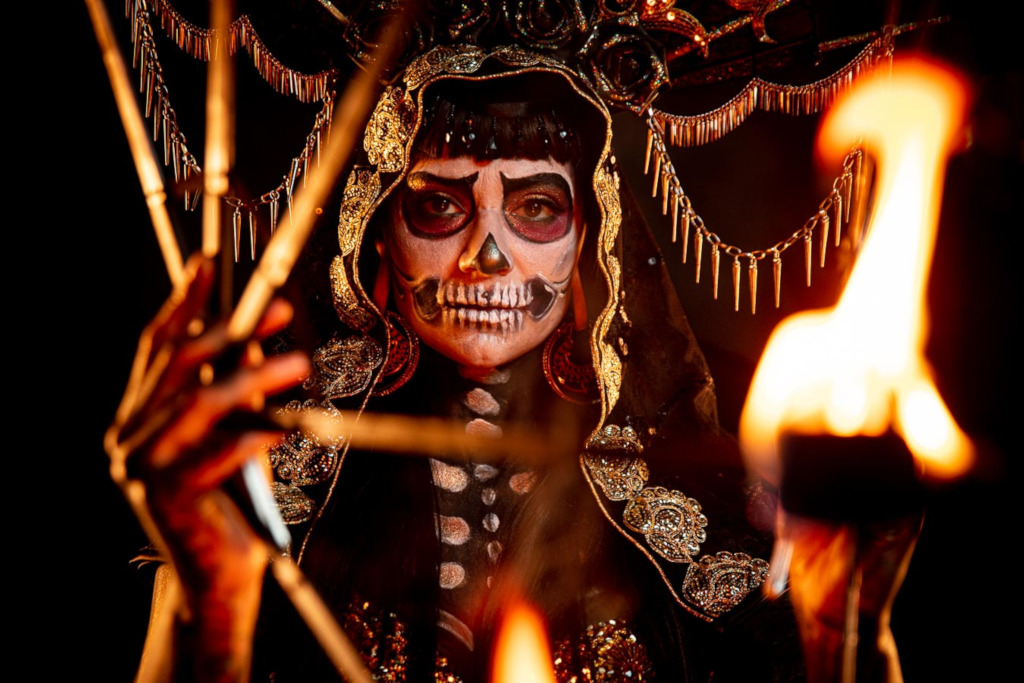 FLEX Chelsea's Halloween Fitness Classes
Want to get your pulse racing? Luxury boutique fitness studio FLEX Chelsea promise to do just that with a celebration of El Dia De Los Muertos. The evening will transport you to the streets of Mexico City for a fitness fiesta. Book on to one of the classes available for an adrenaline kick – featuring a Petrifying Power Flow, Sacrificial Spin and Fierce FLEXhiit. Thursday 28 October, £35 per class, spaces limited, flexchelsea.com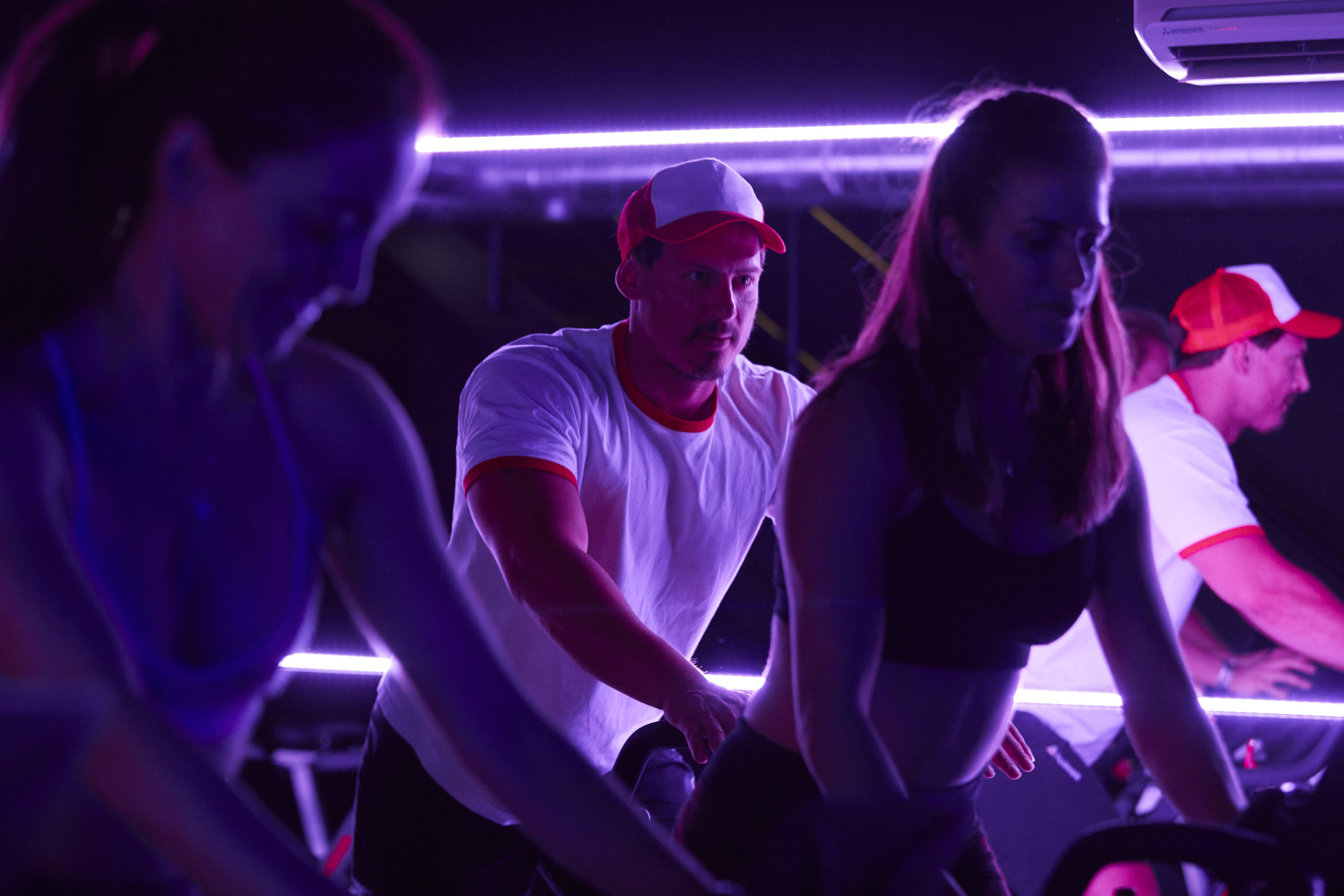 Halloween at Park Chinois
Mayfair's most luxurious Asian restaurant, Park Chinois, will be ringing in the spookiest weekend of the year with a special editions of its weekly Dim Sum Afternoon Soirée and a Halloween Show. The Halloween Afternoon Soirée, taking place on the Saturday, will offer a three-course menu from Park Chinois' Executive Chef Lee Che Liang and live entertainment. From Friday to Sunday, guests can also watch the Halloween Show, where immersive characters adorned in red capes and skeleton catsuits making appearances as guests dine. The Halloween Afternoon Soirée: Sunday 30 October 12 – 5pm with entertainment from 1.30 – 3.30pm, tickets cost £85pp. The Halloween Show: Friday 29 – Sunday 3 October 6pm – 2am. Bookings can be made at [email protected]
Halloween

Afternoon Tea at Mariage Frères

Put the 'treat' in Trick or Treating this year with luxury French tea purveyor Mariage Frères, as it unveils the new Halloween Afternoon Tea in its Covent Garden flagship store. As expected, the menu is suffused with flavours from Mariage Frères' Halloween tea collection – guests can tuck into black bao burgers infused with Chaï Parisen® tea, yuzu sponge cake steeped in Earl Grey Imperial® tea and black macarons filled with Midnight Magic® red tea chocolate ganache. Available between 25 – 31 October, £35 per person, 38 King Street, Covent Garden, London WC2E 8JS, mariagefreres.com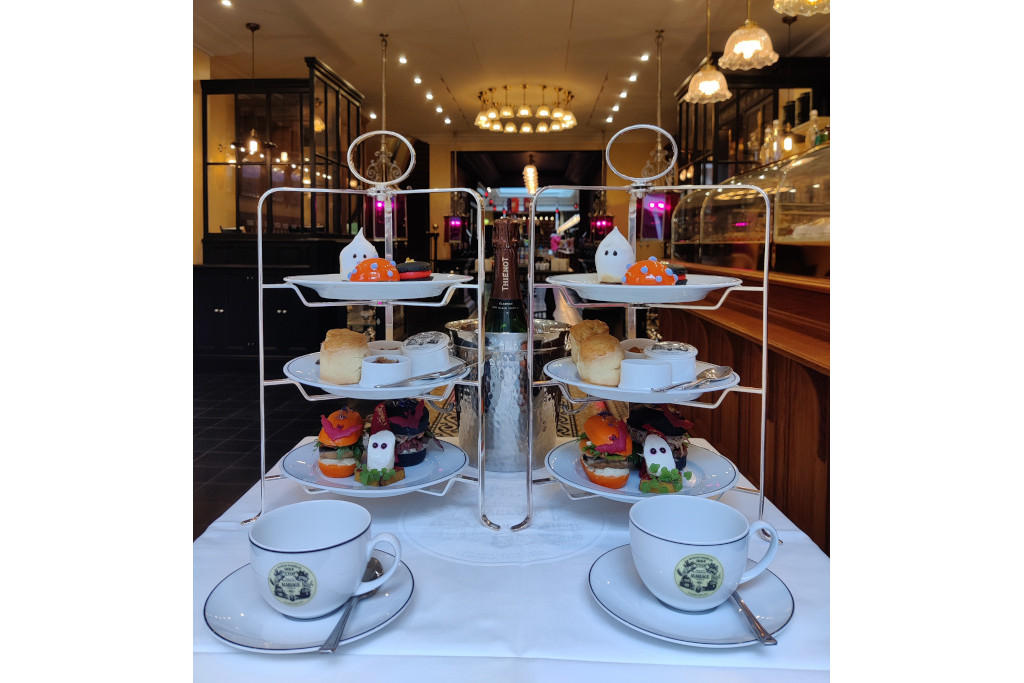 Fire on the Water & The Hippodrome Circus' Halloween Spooktacular in Great Yarmouth
Get out of the city this Halloween and visit Great Yarmouth, where you can find a whole host of spine-chilling events.
Out There Arts will be presenting 'Fire on Water', an immersive outdoor experience on the Venetian Waterways featuring light installations, water projections and a fire show. 21 October – 6 November, tickets are £6 and admit up to six people, outtherearts.org.uk
Or visit the Hippodrome Circus, where the all new Halloween Spectacular will be showing. Join Jack Jay and Johnny Mac as they embark on a spooky adventure, which promises amazing acrobatics, daring stunts, aerialists and hilarious comedy. 22 – 31 October, tickets start at £16 for adults and £12 for children up to 14 years old, hippodromecircus.co.uk
Halloween Cocktails at the Ivy Soho Brasserie
The Ivy Soho Brasserie has teamed up with No Name Bourbon and Monkey 47 Gin to create a menu of limited edition cocktails inspired by the Deadly Sins. Make your Halloween celebrations fiery with the Wrath cocktail, a blend of Horse With No Name Bourbon infused with habanero pepper, Fever-Tree Ginger Ale, Angostura Bitters and Maraschino cherries. The party comes alive on 30 October, when The Ivy Soho Brasserie will play host to Deadly-Sins themed performances and DJ sets. Cocktails available between 11 October – 7 November, theivysohobrasserie.com
Halloween at Between the Bridges
Between the Bridges is hosting a line-up of spectacularly spooky events this Halloween, with something for everyone in the family to try. From Monday 25 October, guests can get involved in the Family Monster Brunch – a free five-hour extravaganza of face painting, dance classes, singalongs, drawing games and bottomless bubbles (of the blowing variety). Grown-ups can tagalong on Horror Hits Singalong in The Reaper's Arms, check out one of the epic drag shows listed throughout the week or try A Drag (Brunch) Out of Hell, featuring your favourite queens from RuPaul's Drag Race and the Clapham Grand's Dreamteam. 25 to 31 October, free daytime entry, £5 from 6pm on Friday & Saturday, £5 from 5pm on Sunday, betweenthebridges.co.uk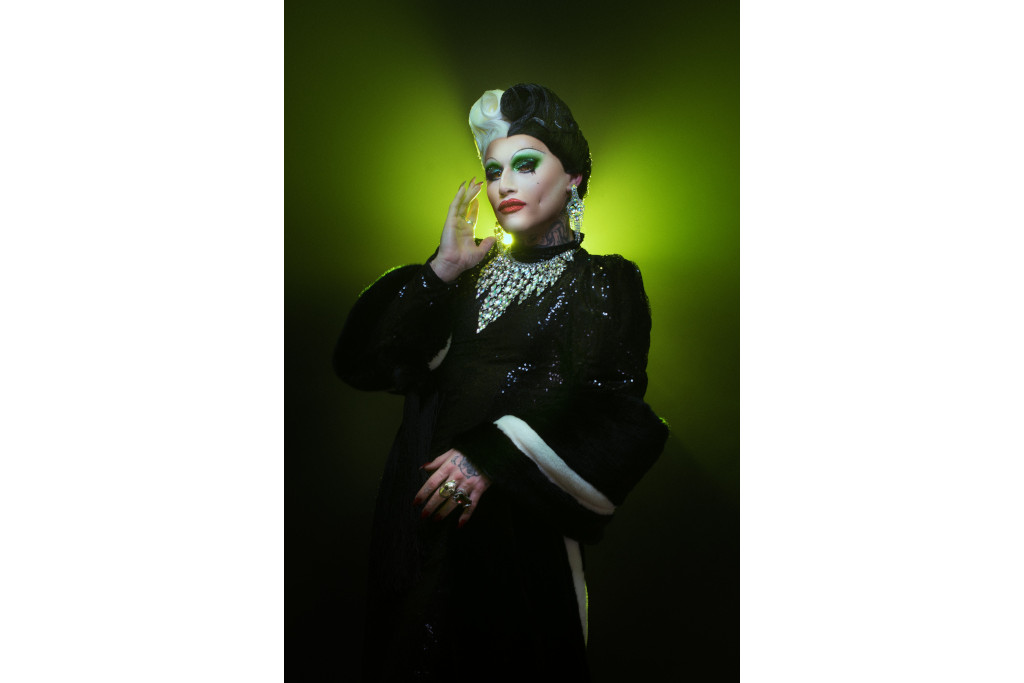 M Restaurant's 'Woof & Treat' Pooch Party
M Restaurant in London will be hosting a 'Woof & Treat' Pooch Party, where guests can enjoy a three-course six-legged brunch with their canine companions. Human partygoers can tuck into shakshuka, steak and pancakes, while furry friends can expect chicken jerky, biltong risotto and bacon and peanut butter cookies in their food bowl. M will also be giving your pooch a Halloween makeover, with all-natural temporary chalk fur colours, bow and a grooming session. To make matters more exciting, a prize will go to the best dressed dog of the day. The event will also be raising money for the charity Dogs for Good, who make life-changing differences for people with disabilities through the power of expertly trained dogs. 30 October, tickets are £35, mrestaurants.co.uk
'Coven Garden' Halloween Celebrations at Seven Dials Market
This Halloween, 'Coven Garden' will be taking over Seven Dials Market with scarily good special dishes, a two-day Halloween Ball and a bottomless Sunday Feast. Spend the Friday and Saturday donong on street food and dancing the night away to the Monster Mash, with tracks spinning from 00's Hip Hop DJ Matman followed by DJFlexin'. The fun continues on Sunday with a bottomless brunch in partnership with Moet Hennessy, featuring special Halloween dishes and cocktails. 25 – 31 October, tickets from £35, designmynight.com
Creepy Cocktails at MY&SANNÉ
Get the party started this Halloween at MY&SANNÉ in Knightsbridge, which has conjured up a selection of cocktails for the frightening festivities. The new drinks menu includes a Bloody Mary Cocktail, which mixes tomato juice, vodka, celery and lemon juice in a blood bag, a Munchkin Scary Spice, packed with vodka, homemade pumpkin puree, red apple syrup, Baileys Irish Cream, Cointreau, lemon juice, a pinch of nutmeg and two dashes of chilli mix. Spicy! myandsanne.com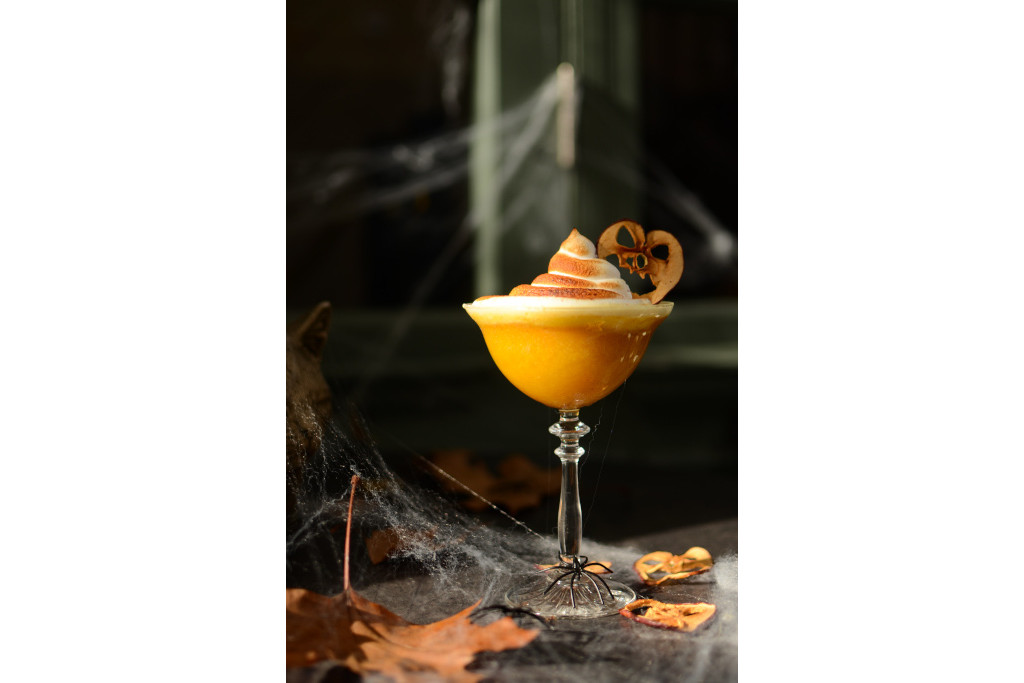 Burials, Bombs and Fantastic Beasts Walking Tours at Leadenhall Market
Head over to Leadenhall Market, where the cobbled Victorian streets will be decorated with monstrous appendages as part of the market's Halloween celebrations. Join on the 'Burials, Bombs and Fantastic Beasts' walking tours, taking place every Wednesday evening in October, where you can find out about Leadenhall Market's 700 year history – from witchcraft and murder to chilling crimes and mysterious deaths. Every Wednesday in October, £7 per person, book your place here
Harry Potter: A Forbidden Forest Experience in Cheshire
Enter the Wizarding World this Halloween with Harry Potter: A Forbidden Forest Experience, where visitors have the chance to explore a dark forest, discover fantastic beasts and stumble upon illuminated moments from the film franchise. On this nighttime trail, experience the special effects that bring to life the world of the nation's favourite boy wizard, with magical creatures and stunning effects at every turn. Just make sure you remember to bring your wand, as you'll have the chance to cast spells and conjure your very own patronus on this adventure. Opens this October at Arley Hall & Gardens, Cheshire, tickets start at £19 per person, hpforbiddenforestexperience.com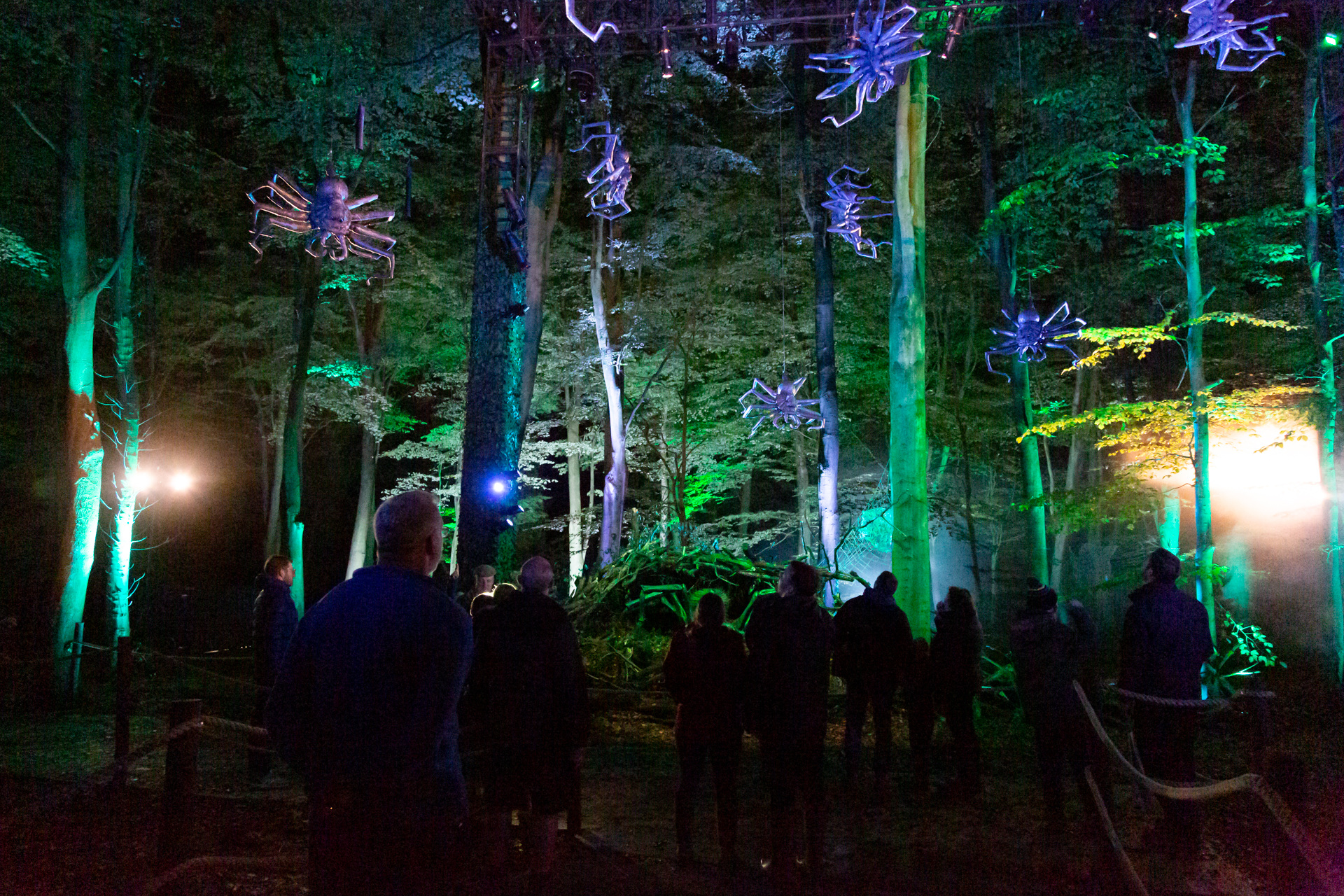 Pumpkin Carving and Cocktails at Bluebird
Bluebird are getting creepy this year in more ways than one. The restaurant is transforming its seasonal outdoor terrace into a cosy retreat decked out with autumnal florals and plants, pumpkin patches and bales of hay, setting the scene for a selection of events it will be hosting this October.
Bluebird White City will be partnering with Kevin Sueiro to host a Cointreau Halloween Masterclass, where guests can learn how to make two signature cocktails and delve into the history of Cointreau's signature drinks. 27 October at 7pm, £25 per person, book your place here
Bluebird Chelsea will be running two pumpkin carving classes with Blooming Haus, where Halloween fans of all ages can refine their carving skills and make a mischievous masterpiece. The event ticket includes a free Cointreau cocktail from the new spooky menu. 28 and 30 Ocotober at 11am, £35 per person, book your places here and here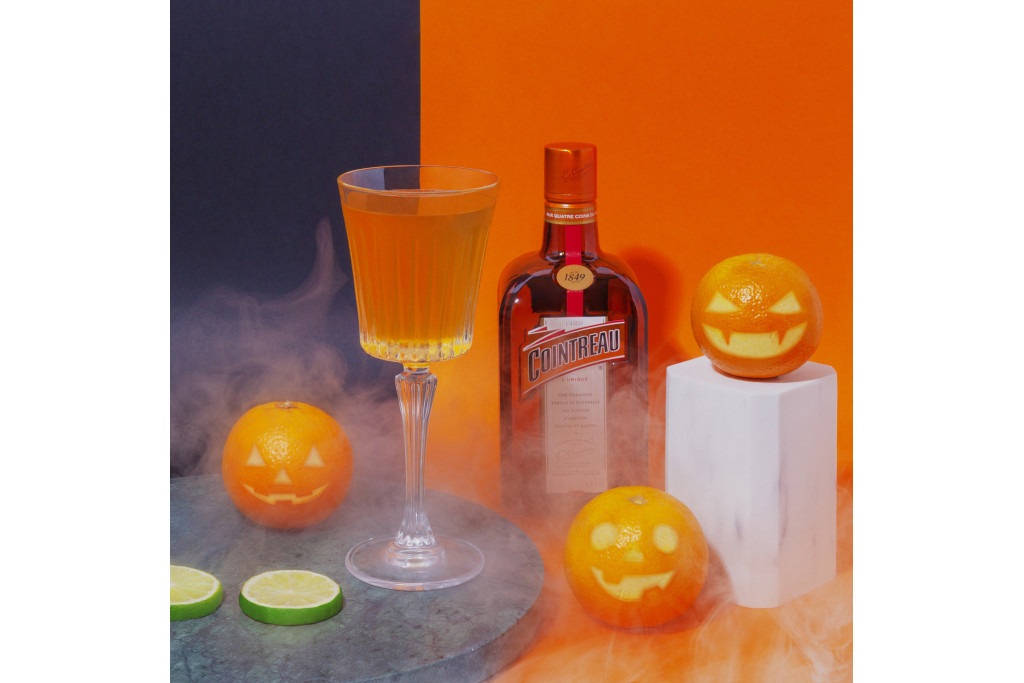 Ghost Walks & Tours in York
Considered the most haunted city in Europe, York is home to some of the best events during the Halloween season. Choose one of the many ghost tours and let yourself be led through the history, mystery, folklore and legends that lurk beneath the city's streets. From dark streets and narrow passageways to snickleways and old houses, get stuck into York's ghostly traditions. visityork.org
Halloween at The Prince
West London's favourite drinking and dining spot, The Prince, will be transforming into a spooktacular haunted house just in time for Halloween this year. Start the freaky festivities early in the week with pumpkin carving (complete with Halloween cocktail or mocktail and pumpkin spiced popcorn), paranormal parties on the Friday and Saturday and a Bottomless Brunch of Horrors to finish off the weekend. 26 – 31 October, theprincelondon.com
Pergola Lates Halloween Special & Halloween Bottomless Brunch
This Halloween, Pergola on the Wharf is celebrating seasonal spookiness with two events:
On Friday, head over to experience the Pergola Lates Halloween Special, where you can experience live music, dancing and drink until the early hours – no tickets required. There will be a prize for best fancy dress though, so make sure you dress to impress! Friday 29 October.
Guest can experience Pergola's Bottomless Brunch with a spin to celebrate All Hallows Eve this year on Saturday. Expect a whole host of tasty dishes, from freshly baked pastries to main dishes like smashed avocado toast with a selection of toppings and the Pergolas Breakfast Burger. The scene will be set with a panoramic view over the city, flowing drinks and plenty of room for dancing to DJ sets and live music acts. Saturday 30 October from 11am, from £35 per person. Purchase tickets here. pergolacanarywharf.co.uk
Celebrate Day Of The Dead at The Hawk's Nest
The Hawk's Nest will be kicking off it's Halloween shenanigans with an all-day fiesta. Guests can start getting involved at midday with face painting and a selection of baked goods, with a DJ spinning tunes from 4pm. A brand new cocktail menu will also accompany the event, with a variety of Tequila and Mezcal Shots available and new Halloween cocktail, Sweet Poison, on offer for guests to try. Saturday 30 October, the-hawks-nest.co.uk
Staying in?
Pumpkin Pottery Class with Sculpd
Get ready for pumpkin season with Sculpd's at-home Pumpkin Pottery Class. Create spooky and autumnal decorations that you can use year after year – and get the family involved while you're at it. The kit comes with enough materials for two people, including clay, paints, brushes, varnish, tools and a step-by-step guide to crafting the perfect pumpkin. £49, sculpd.co.uk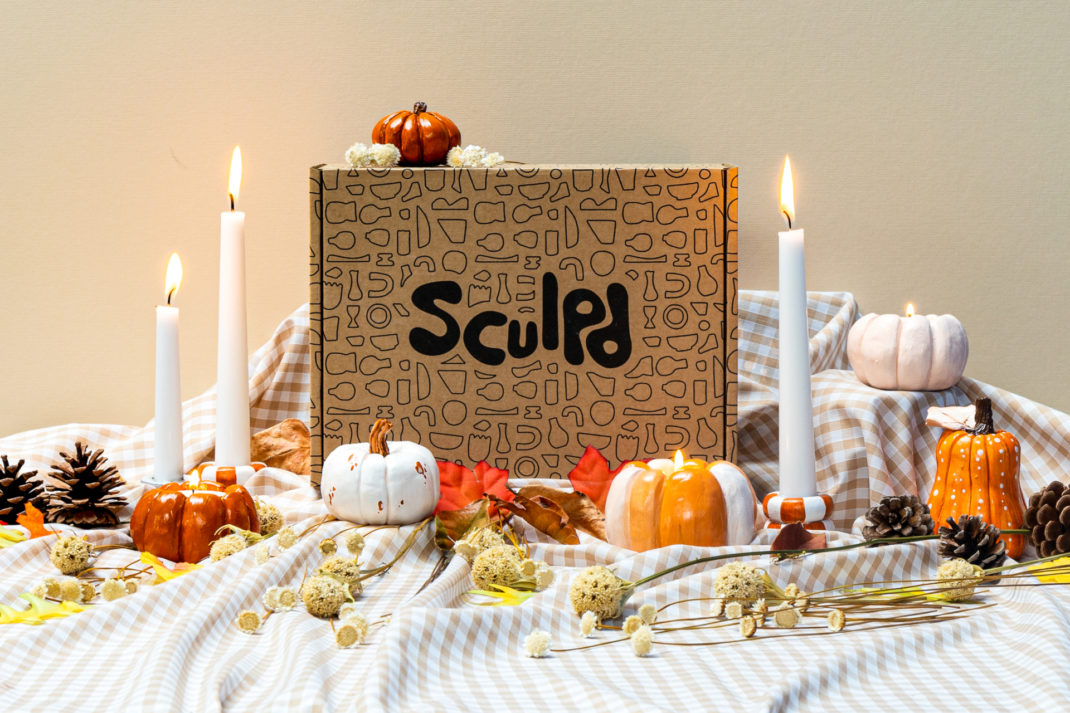 The Digital Murder Mystery Co.
Stuck inside this Halloween? Fear not: you can still celebrate the occasion with friends with the help of The Digital Murder Mystery Co. The company organises virtual parties for anything from four to 24 guests, with an array of themes to choose from including the Grand Horror Hotel package for Halloween. digitalmurdermystery.com
Halloween Hampers & Gift Boxes
Forget the tricks this year and go straight for the treats instead. Celebrate the spooky season at home with Fortnum & Mason's Wicked Wicker Halloween Hamper, packed with ghoulish goodies like witches' brew hot chocolate, deadly chocolate skulls and witches' fingernails. The Wicked Wicker Halloween Hamper, £75, fortnumandmason.com
Still craving something sugary? Ladurée has put together an assortment of macaroons just in time for the Halloween celebrations, including four popcorn flavoured and four personalised vanilla macarons. Don't Panic 8 Macaron Gift Box, £25, laduree.co.uk
LoveRaw's Jack Skellington Butter Cups
Who says you have to leave the house to get into the Halloween spirit? Make the most of a party at home with LoveRaw's recipe for Jack Skellington Butter Cups: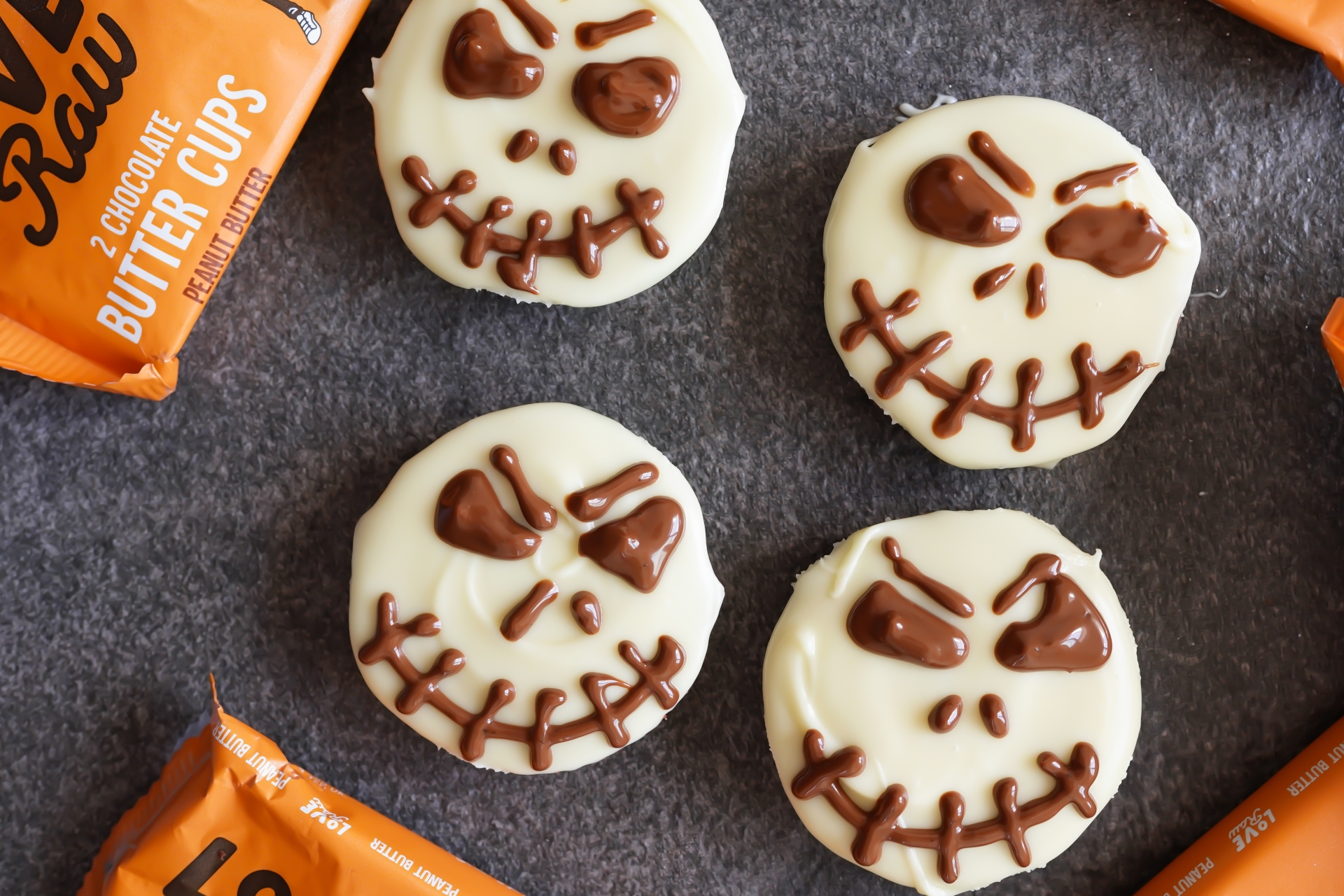 Ingredients
LoveRaw ButterCups (Peanut Butter, Salted Caramel, Cookie Dough or Hazelnut)
Vegan white chocolate
Method
In a bain-marie, melt the vegan white chocolate. Remove from heat and allow to reach room temperature.
Unpackage the ButterCups onto a plate and spoon some white chocolate over each ButterCup, spreading it evenly towards the edges.
Refrigerate the Cups while you melt the M:lk Choc in a separate bain-marie.
Once melted, remove from the heat and allow to cool slightly before spooning the chocolate into a zip lock bag or piping bag if you have one.
Remove the Cups from the fridge and snip the corner of the zip lock bag off so that you can pipe Jack Skellington's face onto each Cup.
Refrigerate again until solid.
Prepare as many Butter Cups as you need.
Featured image: Getty Images
How to Keep the Kids Happy this Half Term / The Prettiest Pumpkin Patches