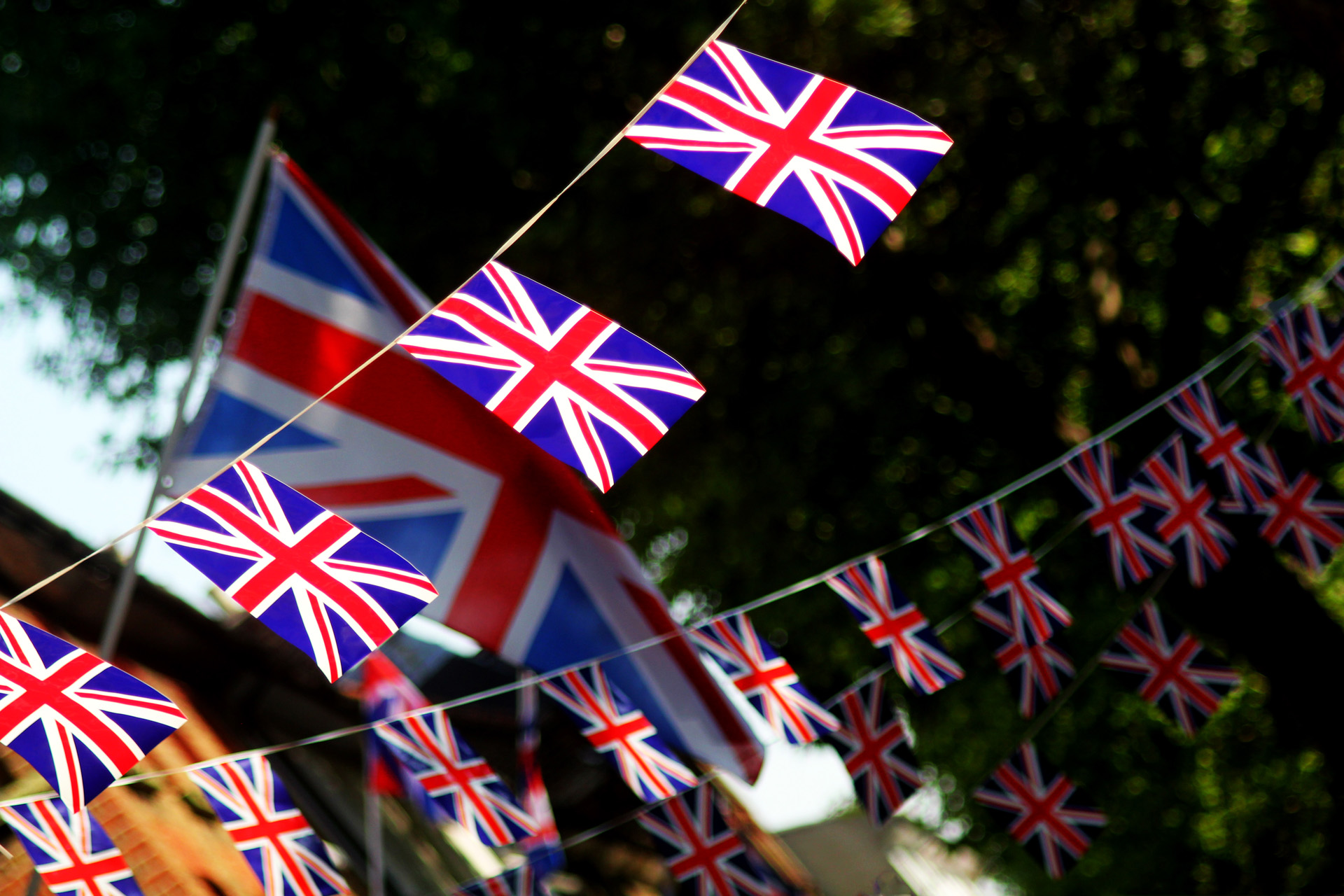 How To Throw A Coronation Street Party
---
Last minute tips for the big day
A once in a lifetime event is just around the corner: King Charles III's Coronation on Saturday 6 May 2023. There's plenty going on across the country in celebration, from special menus at restaurants to brand-new bits of memorabilia. How better – and how British – to celebrate than by hosting a street party? Here we round up how exactly to throw a Coronation street party, with tips and tricks from the experts.
How To Throw A Coronation Street Party
1. Get Permission
'If you're planning a Coronation street party, then you will need permission from your local council,' says Sarah Allsop, creative manager at Party Delights. 'This will allow you to have a section of your street closed to traffic for the day. If you want to hold your party on external private land or green space, then you'll need the go ahead from the landowner, so find out who needs to give consent before you start your planning.'
2. Invite Your Guests
'Knowing who is attending your Coronation street party from the outset is key, so you can plan accordingly,' Sarah says. 'Start drawing up your guestlist early to get ideas of numbers for space, how much food and drink you need, and what entertainment you'd like for adults and children.
'With the Coronation weekend only a few months away, get those invites out now so guests have plenty of notice and make sure to set a date for them to RSVP,' says Sarah.
'Get to know your neighbours!' adds luxury wedding planner, Alice Wilkes. 'There is something so lovely about a community event and making the most of getting to know people in your community. Make sure to invite everyone on your street in advance so people can plan ahead for the celebrations.'
3. Pick A Theme
Kitsch or chic? 'If you really want to make a patriotic statement at your Coronation party, ask your guests to come in fancy dress,' says Sarah. 'Families can come dressed to impress or really get into the theme with matching costumes or dressed as their favourite royal. Masks, wigs and tiaras are also a fun and easy way to add an element of fancy dress to the party.'
'If your guests prefer something more subtle, provide Union Jack flag head boppers, or red, white and blue face jewels to enhance their party look,' Sarah suggests.
4. Plan Your Menu
'Once you're sorted on numbers, you can decide on your food selection,' says Sarah. 'An afternoon tea style menu is the traditional go-to for a garden or street party, and fitting for such a special occasion.'
Luckily, it doesn't have to all be up to you. 'If you are throwing a Coronation street party, ask each of your neighbours to bring something for a shared table,' Sarah suggests. 'Traditional go-to items are sandwiches, cakes and scones, but you might want to have some hot options on hand, too, especially if your party lasts into the evening.'
'This also means dietries can be taken care of easily and all cultures can be included,' adds Alice Wilkes. If you do ask guests to bring food, though, keep sustainability in mind: 'Think about reducing waste by asking guest to not bring single-use items and opt for more planet friendly alternatives that are recyclable,' says Alice.
5. Design Some Drinks
Ensure you have a few drink options on hand, covering all alcoholic, non-alcoholic and child-friendly options. 'If you are hosting a garden party, why not create your own special royal cocktail for the day?' asks Sarah. 'It's as easy as blending a few extra ingredients with any clear spirit and mixer or glass of fizz. 
'Try adding a dash of raspberry syrup to give a vibrant red colour, top with fresh blueberries and raspberries, and add a crown glass decoration for the perfect finishing touch!' says Sarah.
For some exciting Coronation specials, we asked Anjali Douglas, Wine Educator at the Wine & Spirit Education Trust, for her picks:
White Port & Tonic: Think port should only be reserved for a Christmas cheese board? Think again! Mixing your favourite tonic with this lesser known (but no less delicious) white version of port is the perfect bank holiday apero. Try it if you're a fan of a classic G&T.
Moscato d'Asti: This sweet and fruity fizz punches well above its often excellent value price tag. Perfect for sipping alongside both sweet and savoury food, whether it's sausage rolls, scones with cream and jam or cupcakes, this fruity fizz has you covered.
Iced Tea: Iced tea can make for a refreshing and beautifully balanced drink if you'd like to keep it alcohol free. Try using an aromatic tea like Earl Grey, brew a hot cup and let it cool down. Then add some simple sugar syrup to taste. If you'd like to make a hard version, add a shot of scotch whisky – rumoured to be the King's favourite. Drink over ice and sliced lemons and oranges, ideally out of a teacup.
6. Plan Your Table
Crockery or paper plates: which is the best option? 'When hosting outside, you may not want to use your regular tableware – especially if you have a few clumsy attendees,' says Jess Martin, party planning and decoration expert at Ginger Ray. 'Recyclable paper plates and cups can be a super convenient option – no one wants to wash up after hosting a party – and they can look great, too, coming in a range of Coronation-worthy colours and patterns.'
Don't forget the table cloth, which doubles as a decoration and a table protector, saving time cleaning up at the end of the party. 'With the possibility of wind, ensure you hold down any tablecloths with special weights or heavier items like vases and lanterns to avoid any disasters!' Jess suggests.
7. Decorations
'Just because you are hosting your party outside, doesn't mean you need to scrimp on the party decorations,' says Jess. 'With a few simple adaptations, you can create a Coronation street party with a wow-factor without spending a fortune.' Balloons, bunting, and anything Union Jack themed (or simply red, white and blue) is sure to make a splash. 
'Why not create a focal point perfect for pictures with a showstopping balloon arch?' Jess recommends. 'To elevate your balloon arch display, add some coordinating bunting in a classic Union Jack design to get everybody in the party spirit!'
'Go traditional with a sea of red, white and blue,' recommends Sarah at Party Delights. 'Or if you want something more sophisticated, pick a purple and silver theme for a more regal feel. If you are planning on covering your tables with a gazebo, paper pom poms or hanging garlands can also make a lovely addition.'
To stay eco-friendly, avoid plastics wherever possible, opting for any paper or compostable decorations instead. Better still, use decorations you already have – like vases, or any leftovers from the Jubilee. 'Bunting is the first thing that comes to mind,' adds Alice Wilkes. 'A fun way to have a more sustainable approach to this is to opt for cotton bunting that can be reused. Alternatively, perhaps you could host a get together ahead of the Coronation with some like minded crafters and make your own with your chosen colour palette for true community spirit!'
8. Showstopping Treats
If you'd rather your decorations were the edible kind, why not make your food and drinks the star of the show? 'If you are serving some bubbly to toast the new King, add some crown-shaped drink toppers and turn your delicious treats into a focal point by arranging them on a decorative treat stand,' Jess recommends.
Why not avoid the stress and order your sweet treats in? The Hummingbird Bakery's Coronation collection features a Coronation Chocolate Biscuit Bar, a Whiskey Bundt Cake, a Vanilla Union Jack Cake, and a even a cake with Charles' stamp on it. Preorder from April at hummingbirdbakery.com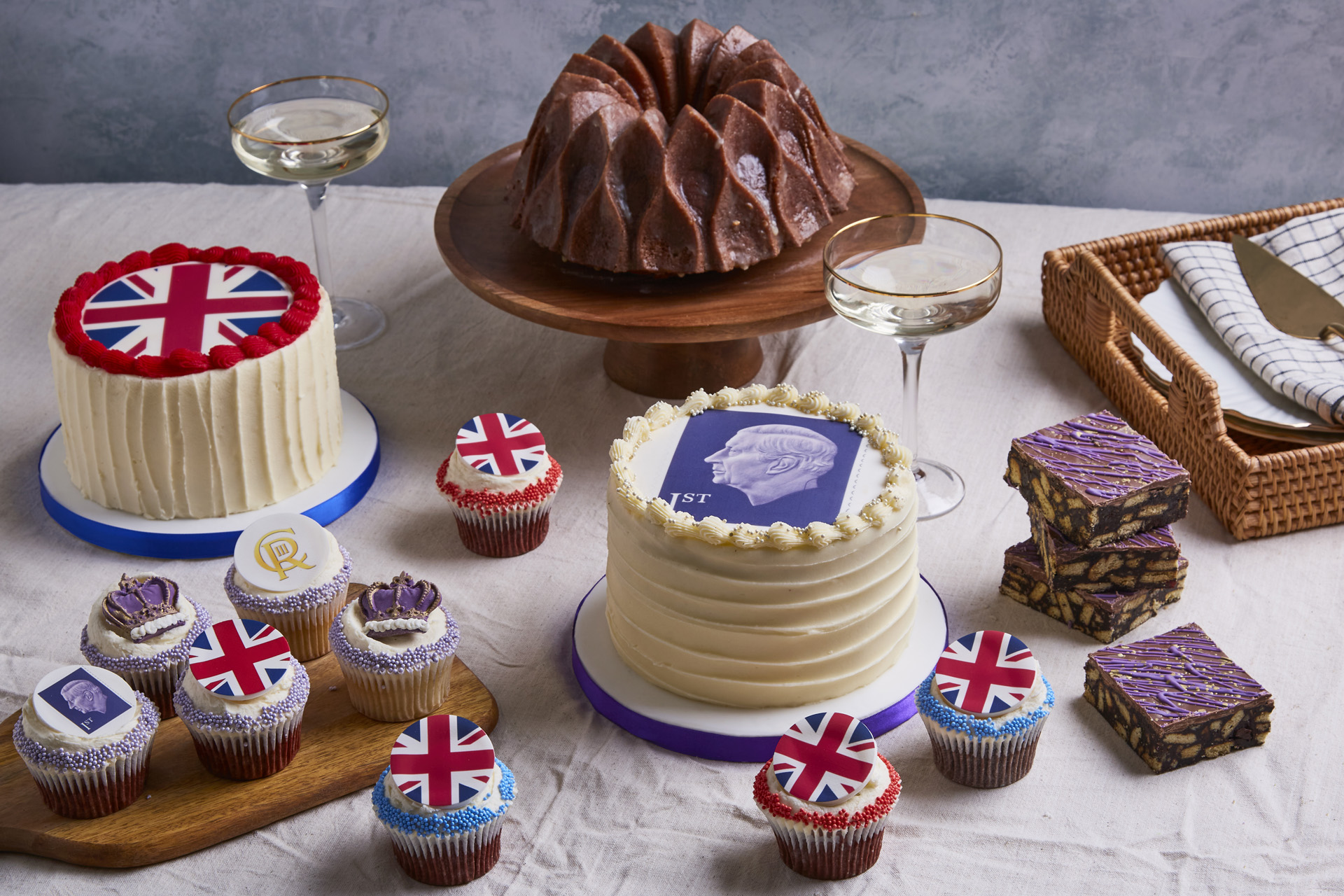 9. Decide How You Will Tune In
Don't forget the Coronation itself! The Coronation will be aired live on BBC One, with a sign-language version on BBC Two and accessible coverage for people who are blind or partially sighted on the Red Button. The most accessible BBC live event ever, the Coronation will also be live streamed on iPlayer, with subtitles, sign language and alternative commentary for people with sight loss also available.
But how will you tune in? You could clear out the living room so that guests can dip in and out of the celebrations, or perhaps move your TV closer to the door. Alternatively, you could stream the event on phones and tablets, or use a projector.
10. Party Games
As entertaining as King Charles' Coronation is sure to be, pull your guests away from the TV with some exciting games. 'When it comes to deciding on what activities to do at your Coronation street party, keep your guests in mind,' Jess recommends. 'For example, will it mostly be families or elderly people? From there you can consider whether some classic games like a treasure hunt and pinata might be more suitable, a tea party or even a combination of the two.'
'If there's going to be children in attendance, make sure you keep them well occupied as it'll be a long day of festivities,' Sarah adds. 'Set up a Coronation themed crafts table with pens, paints and cardboard boxes for flag drawing, castle building or crown making. For a hopefully warm and sunny day, invest in a bouncy castle, a pinata or some outdoor games to keep everyone entertained.'
On The Day
'Don't forget to capture the moment,' says Alice. 'You are part of history! Make sure to take lots of snaps to truly remember such a historic moment. Create a group after for everyone to share their imagery and memories!'
Featured image: Union Jack bunting for the Queen's Jubilee in Surbiton, Kingston Upon Thames (via Getty).