Tour the exclusive BBC Television Centre apartments and their retro interiors. Chic living alongside a Soho House, cinema, Bluebird restaurant and Royal College of Art campus.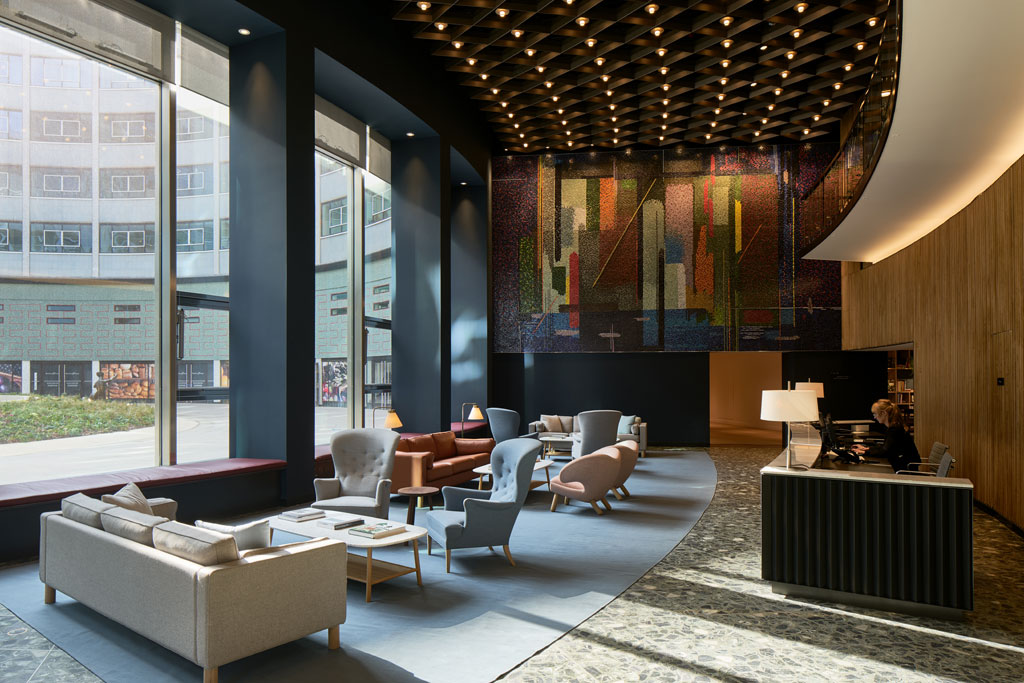 Meet the new-ish BBC Television Centre – a huge residential and living district in White City, West London, housed in a building where Morecambe and Wise once put the National Grid under immense pressure due to the sheer number of people tuning in.
Certainly, the residential adaptation doesn't spell the end of the showbiz side of the building. 'Home of British television' BBC Studioworks, a commercial subsidiary of the BBC, has its studio ever buzzing.
BBC Television Centre Apartments
The history of the BBC Television Centre is magnificent. The 2018 development, even with its luxury penthouses, a Soho House hotel, and prized transport links, is far from equalling the entertainment that's been created there.
However, the transformation from what had recently become a dated building is impressive nonetheless. A village centred around the famous 'doughnut' has been created. This includes gardens, a cinema, cafés, restaurants, and various other amenities that draw in those able to pay for such loveliness.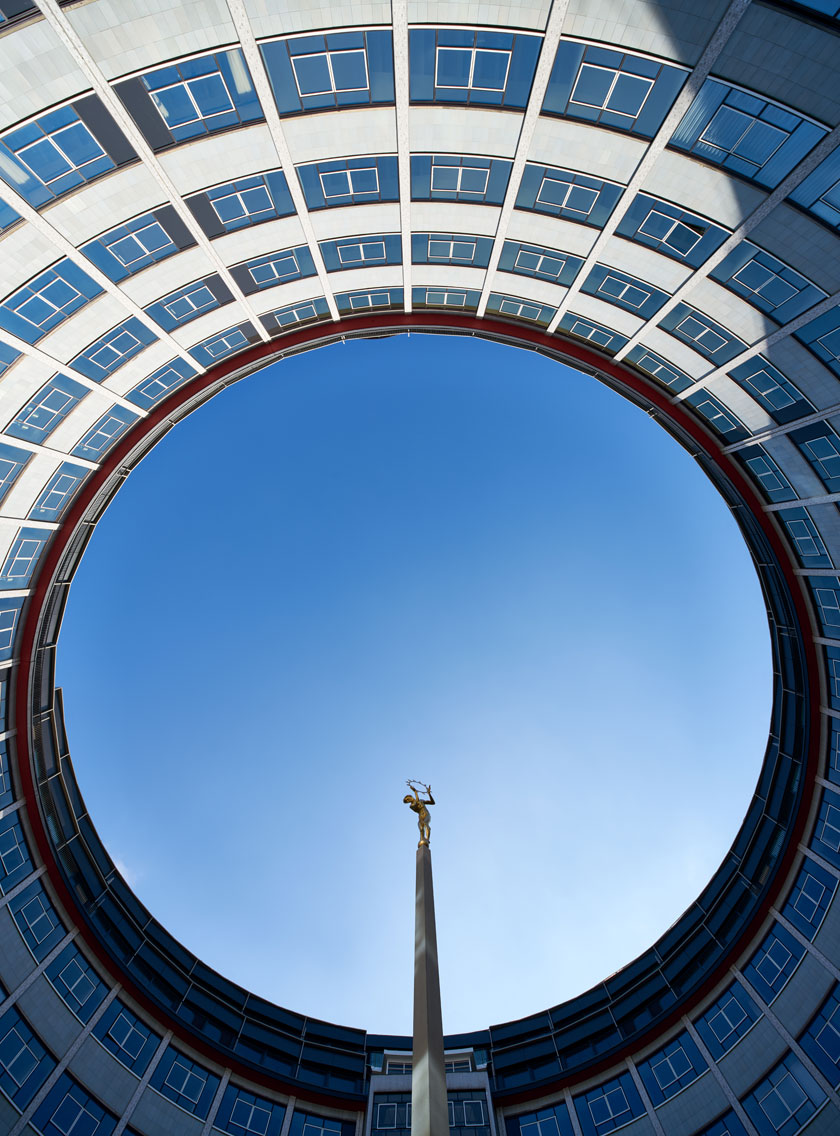 The Helios apartments and penthouses circle the Helios statue. Homes in the reimagined Grade II
 listed Courtyard Apartments retain many original features, such as exposed concrete beams, aluminium-framed windows, polished concrete flooring and distinctive, gently-curving walls. Designed in one curving row, The Crescent Apartments feature large expanses of glazing and balconies with views over the private gardens or Hammersmith Park.
People have already settled into the apartments that they had secured over a year before the development launched. Prices start at around £900,000 and go up to about £7 million. That latter figure gets you a rooftop penthouse apartment. While price varies, the endearing aspect of buying a slice of British broadcasting history echoes through every wall. Doctor Who, Blue Peter, Fawlty Towers – just three of the shows that were contrived on the site.
What's happening in London this month? Check out our Culture Diary here.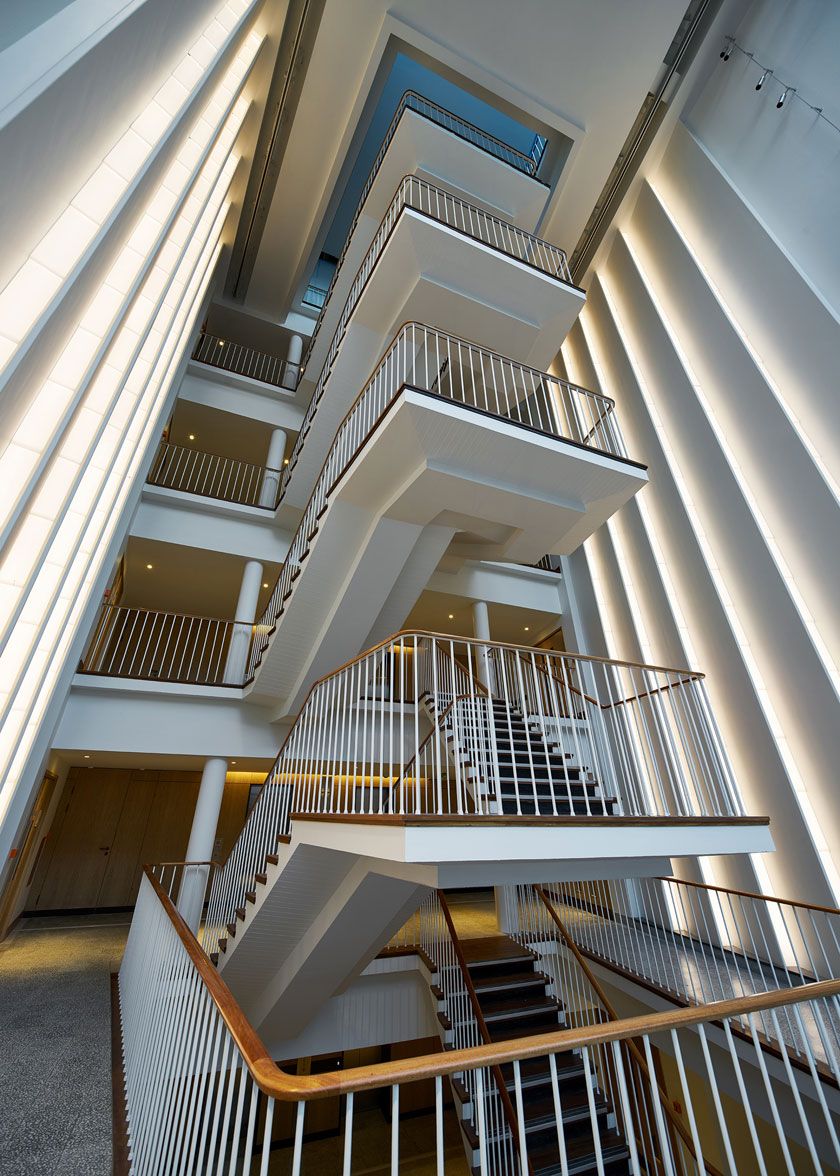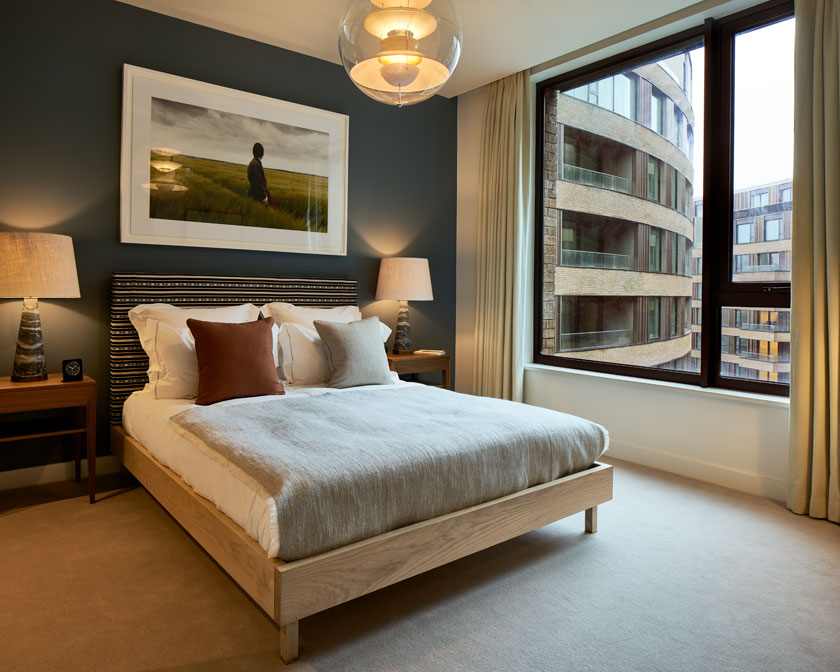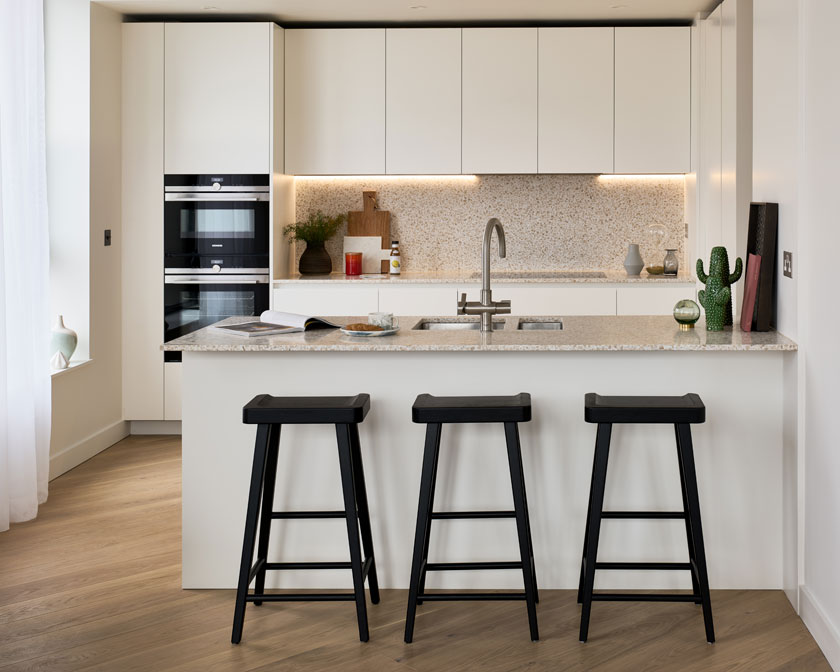 The World's First Custom-Built Studio Complex
The BBC 'campus' is 14 acres. A statue of the Greek sun god Helios stands proud at the centre of it all. It was the world's first custom-built studio complex for television and radio. With 400 offices for 3,000 people. Studios, dressing rooms, equipment stores, wig-making departments, a hair salon, make-up areas, wardrobe space for 16,000 items, libraries for scripts and music, and band rehearsal rooms, among other things. It was first conceived as a scribble on the back of an envelope by architect Graham Dawbarn.
50+ Interior Design Ideas for your Townhouse.
The apartments are the work of Paul Monahan and Suzy Hoodless. Together, the designers have given the flats a '50s, retro edge. With subtle colours and notes from the past – including original pieces salvaged from the original television studios. Consequently, the result is a canny blend of old and new – a nod to the eccentric past of British television in a globally diverse capital.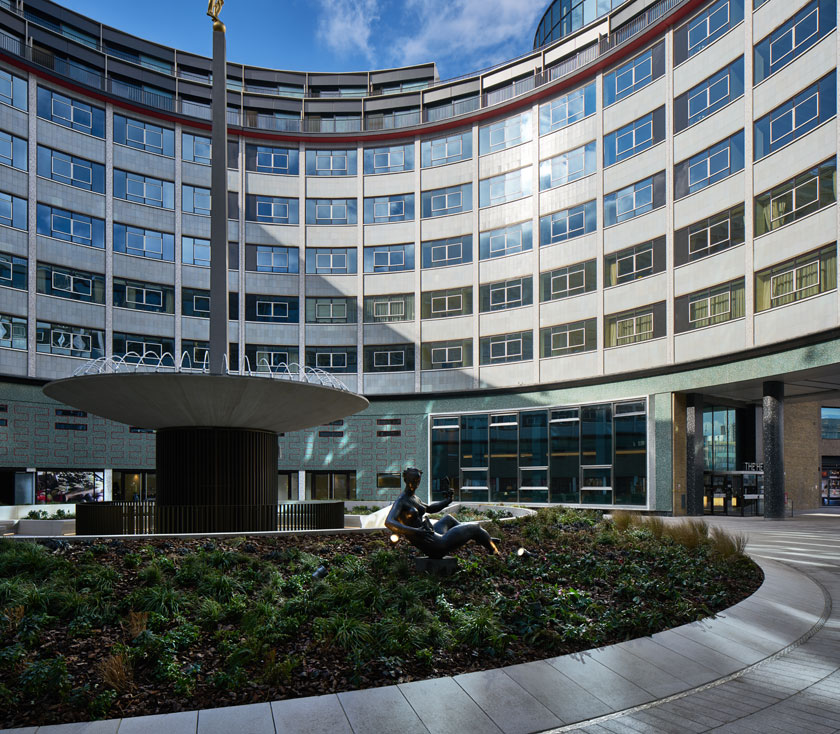 Modernity
The overarching vibe I felt though was modernity. The tiles in the bathrooms are made in Italy. The flooring isn't parquet – as 'is often the case with projects like this,' noted Paul – but diagonally constructed wood. The kitchens are fresh-looking, and, as Paul mentioned, the plentiful storage takes inspiration from Tokyo apartments of a similar nature. The bedrooms are light and hued. Bedrooms are kitted out with walk-in wardrobes.
Many of the flats are situated within a crescent around the 'doughnut'. The main entrance to private residences is through the 'stage door', full of abstract mosaic murals, in a concierge lobby.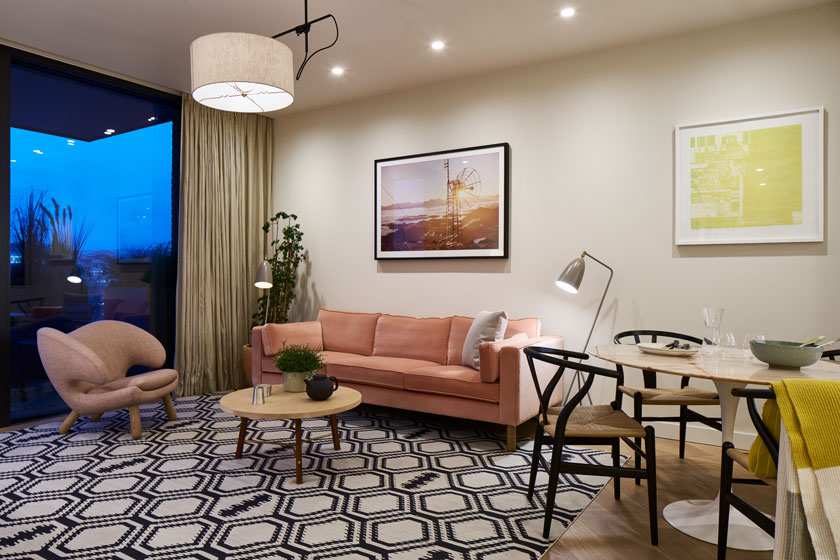 Explaining the interiors, Monahan said: 'What we've done is transformative. These apartments are a little bit of history, and we've incorporated a retro edge. The colour palettes use browns, dark shades with white, and odd spots of colour. We wanted liveable space – somewhere people could entertain and actually live in. The storage was a big factor, and the additions of 'monkey doors,' for example, which allow bathrooms to be for either guests or as an en suite.'
Check Out our Property of the Day for the hottest homes on the market.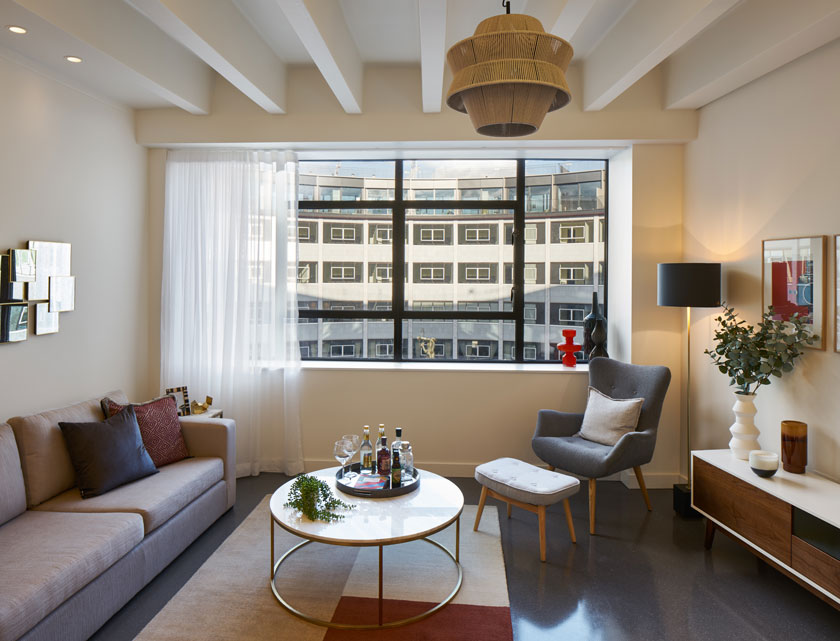 Hoodless, who we spoke to about the project, reiterated the point that she 'wants to capture the essence of the area, as well as the depth of history of the site' with 'interiors that are modern, classic, confident, comfortable and design-led.'
But as elegant and stylish as the design, the concept, and the structure, as the BBC Television Centre writes, enticingly, the heritage is clearly the biggest pull. 'They called it the home of British television. You can call it home.' And that, however much the building has changed, remains.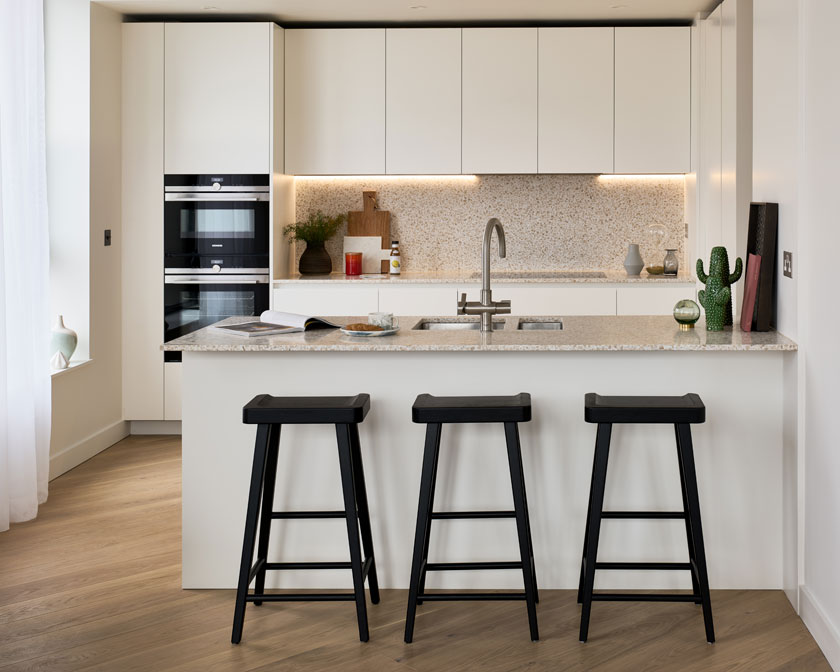 Kricket White City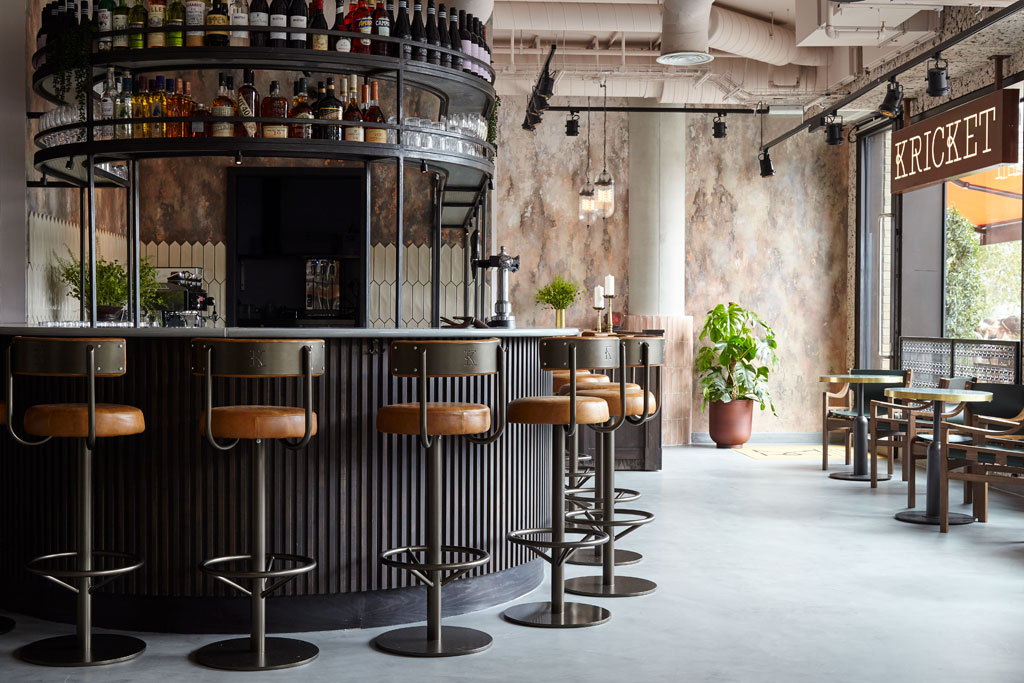 From beginning life in a POP Brixton shipping container to a Soho launch that brought Kricket to the mainstream, Chef Will Bowlby and business partner Rik Campbell have now added a third- Kricket in White City's glamorous Television Centre. In a menu that fuses traditional Indian flavours with fresh British ingredients, guests can expect a gastronomic experience courtesy of taste sensations such as spiced cod's roe and tandoori wood pigeon with pickled blackberries along with some of Kricket's signature dishes that have acquired a cult following amongst London foodies.

Bluebird Cafe
A second Bluebird Cafe is transforming the former home of the BBC to a hub of activity and life, adding to the hustle and bustle. 
For 20 years Bluebird has been a historic Art Deco restaurant, café and retail venue on the Kings Road in the heart of Chelsea. The 5,000 square foot site in White City includes a café, bar, deli and an outdoor terrace, and is sure to be as popular as the Chelsea outpost. 
'Bluebird has always been a flagship D&D London brand and we have over the years received countless approaches to open more Bluebirds, we have however always said no. But when Stanhope approached us we said yes. Why? Firstly because of the growing success of Bluebird Chelsea especially after its recent relaunch. And secondly because we think the exciting new development of Television Centre in White City is a great location to start what I hope will become a significant expansion of Bluebird Cafes in the next few years.' – Des Gunewardena, Chairman and CEO of D&D.

'We are excited to be able to announce that Bluebird will open its second ever site at Television Centre this year. As one of the most iconic names in London's world-leading restaurant scene, this opening sets the tone for what will be a fantastic mix of experiences at Television Centre and in the wider £8bn regeneration of the White City area. We are pleased to be working with an operator of Des' calibre, passion and track record, and look forward to welcoming Bluebird's customers this winter when Television Centre opens to the public for the first time.' – Alistair Shaw, Managing Director of Television Centre.

Royal College of Art
The Royal College of Art's campus accommodates 700 postgraduate students and staff in the heart of White City.
The three-storey Garden House Building in White City Place, is the Royal College of Art creative hub for communication, architecture and humanities.
'It is fantastic for us to welcome the Royal College of Art to White City Place, the commercial heart of White City. Our objective is for White City Place to enable an ecosystem to develop which connects business, technology and education and inspires creative innovation in White City. The arrival of RCA alongside the BBC, Yoox Net-a-Porter and Imperial College is a major step forward in achieving this objective.' – David Camp, Chief Executive of Stanhope.

'This move will give the School, and most importantly its students and staff, a quality of space and interaction that will foster new thinking and practice in relation to arts and culture, media, design and the built environment. We look forward to shaping a vibrant and integrated creative environment in our new home.' – Professor Jane Pavitt, Dean of the School of Humanities.
DISCOVER MORE:
What's On in London This Week? / The Best London Musicals on Right Now
---