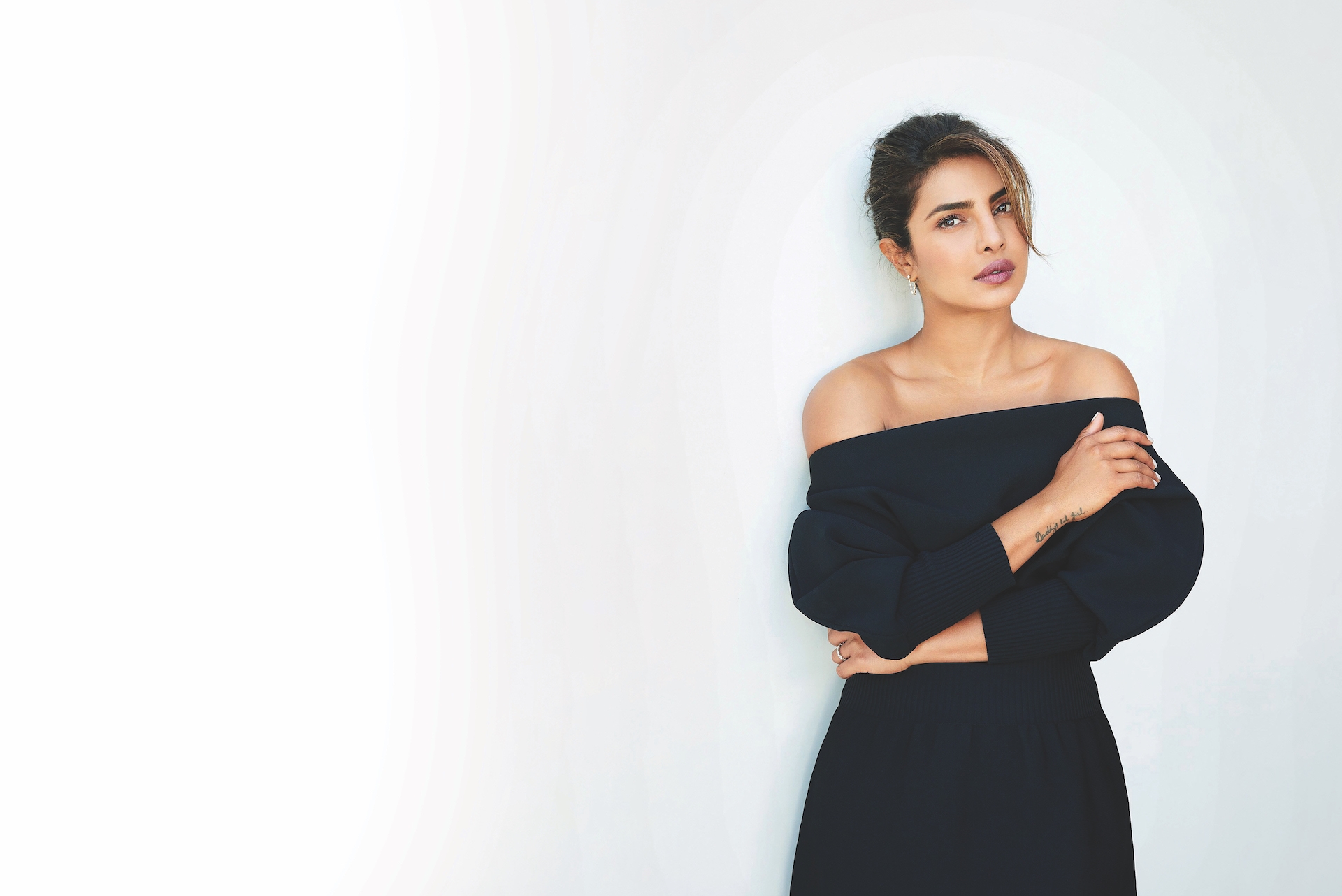 Eye of the Tiger: An Interview with Priyanka Chropra Jonas
---
The Bollywood and Hollywood star talks to Zayani Bhatt about her new memoir, Unfinished
A queen in Bollywood, a star in Hollywood, a pioneering producer, a feminist philanthropist and now an author, Priyanka Chopra Jonas still has big dreams for the future.
Eye of the Tiger: An Interview with Priyanka Chropra Jonas
It's late on a Monday evening in London in January and Priyanka Chopra Jonas is suffering from an allergic reaction. But, ever the professional, she's ready and excited to have a Zoom chat. It's a busy time for the global megastar, one of the few people in the world to have worked in the two biggest film industries in the world – Hollywood and Bollywood. The White Tiger, the Netflix film she both acted in and executive produced, has been trending globally since January, her first book, a memoir entitled Unfinished, was recently released and she's just launched a haircare line called Anomaly.
A busy lockdown you might say, but, admits Priyanka, 'I was grateful to be in one place and grateful for routine, which I hadn't had in at least 20 years. It only took a global pandemic for my husband's schedules and mine to align!' Far from Netflix-and-chill though, it was during lockdown that Priyanka penned her autobiography. 'I think all of us were forced to be introspective. I self-analysed so much I wrote a whole book about it!', she laughs.
The book is a deeply reflective exploration of her life from her early, happy days in Bareilly Cantonment in India, as the daughter of army doctors, to her experience of being suddenly thrust into the limelight after winning Miss World in 2000. It takes in how she navigated nepotism and patriarchy in Bollywood, battled depression after losing her father in 2013 when she was filming US drama series Quantico, her first role in Hollywood – and her whirlwind romance with singer and musician Nick Jonas. She hopes readers of Unfinished will get to know 'the human being behind the headlines or the meme'.
She found writing about the dark years following her father's death a cathartic experience because 'it was after I had come out of the other side of the tunnel'. Now, she hopes others will be helped. 'Reading about my experience will maybe give someone the perspective that nothing is really real except who you are and what you feel. It's important to choose what works for you to bring you out of the seduction of darkness.'
The book also gave her a sense of gratitude, she says, especially in light of the pandemic. 'It's very easy, especially around this time, to be daunted and overwhelmed. I am too. But I play this game actually with my friends, my family or my husband: whenever we're on the phone, we count five things we're grateful for today.'
Gratitude clearly plays a big role in her life but recognising it did not come easily. 'I'm more mature now that I'm on the other side of 35. I am able to feel a sense of contentment and be confident in who I've become and where I've come from. I can't say that I had that kind of gratitude earlier. I was grinding as hard as everyone else, probably.'
She still is. 'I've been working in the US for about five years now,' says Priyanka. 'I've just done my first leading role in a feature there. I want to be able to push myself as an artist and see what my career there can be. In India I've done a variety of roles. I want to be able to have that in the US as well, while still working in India.'
How different is it working in the two ''woods'? Except for more paperwork in Hollywood, and a little more accommodation around punctuality in Bollywood – 'that's an Indian thing' – there isn't much difference between the two, she says. 'Culturally, of course, they're very different. But, besides that, the work is the same.'
Priyanka is currently in London shooting Citadel, an Amazon Prime Video series from the Russo brothers, co-starring Richard Madden. She loves the capital, though with lockdown hasn't seen much more than her house or the studio on this trip. 'I usually love going to a pub for a pint. I love being able to go for dinners. It's such a cosmopolitan city. I love doing tastings [and seeing] shows and concerts.'
I ask her if she sees herself doing theatre one day. 'Oh my gosh, it's so funny you ask that,' she replies. 'It's been my dream. Doing theatre and directing, these two things. My husband, he has [a] massive theatre background. He started with that actually. He talks about it so much, the West End.'
A proud feminist, Priyanka is amazed to see 'the banding together of women' in the film industry right now. 'I've now been around for 20 years and it's a wonderful time to work with female colleagues and build opportunities for each other. When I started it was not like that.' As a producer, her aim is to increase opportunities for women by 'working with female writers, technicians, directors, actors and producers. I'm a big champion of girls who want to make something of themselves and stand on their own feet – that's my greatest joy'.
She also champions women's rights as a global Goodwill Ambassador for UNICEF, and as a philanthropist through her non-profit The Priyanka Chopra Foundation (thepriyankafoundation.org). 'The education and rights of girls around the world really is a priority for me. In so many countries there is not even a conversation about  a woman having a choice in her own life.'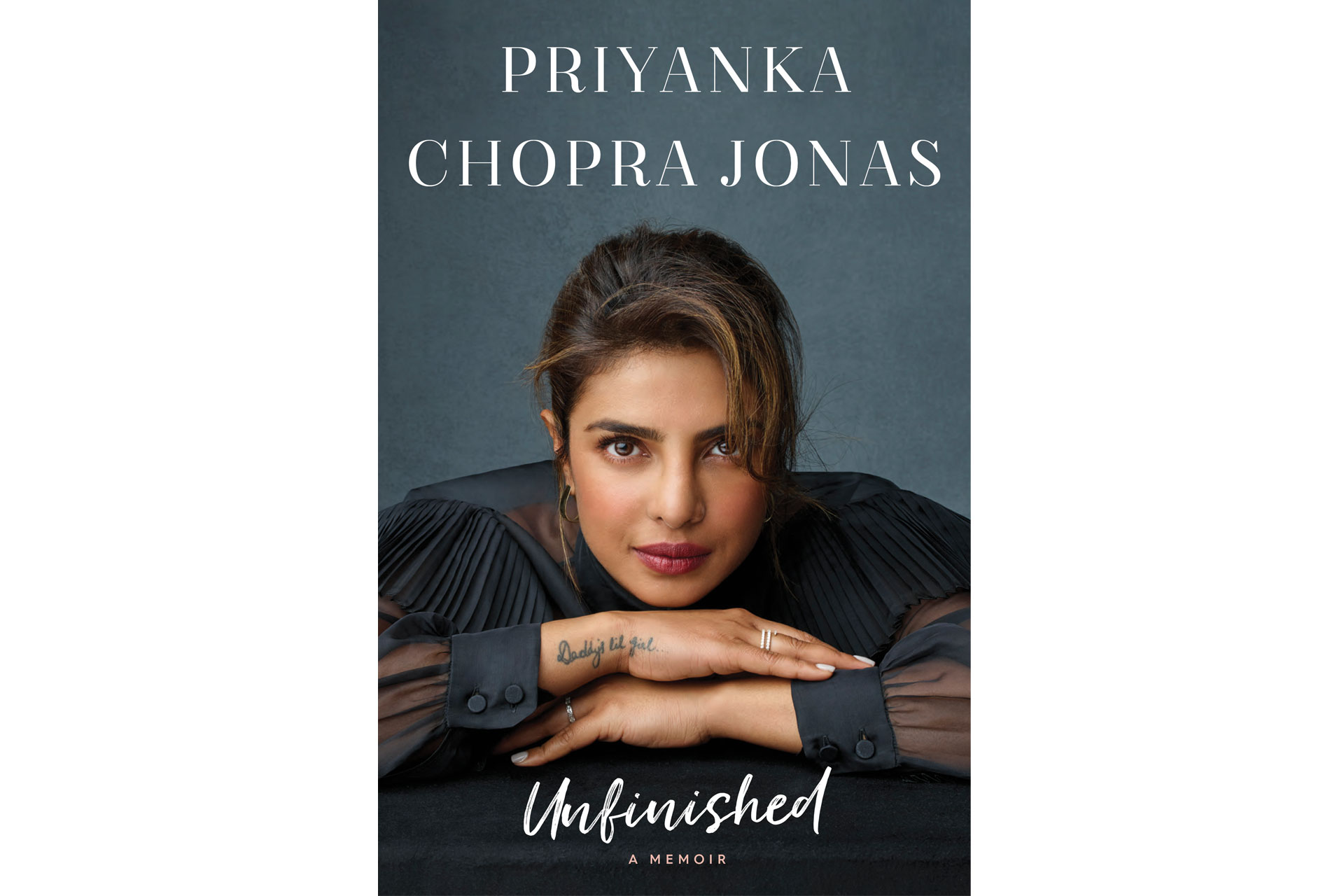 As an entrepreneur, Priyanka is trying to effect change through her recently-launched haircare line Anomaly. Not only are the products cruelty-free, vegan and affordably priced, but the packaging is gender neutral and made from recycled plastic from oceans and landfills. She hopes to make it available in the UK by the end of the year.
It's clear her dreams for the future are ambitious and globe-spanning but Priyanka says the pandemic taught her to take more time for herself and her family. 'That's something I never realised I needed so much,' she says. And through many readings of her book, she has learned to 'pat myself on the back and give myself a little break sometimes'.
'The ability to have joy in your life and to create it in others around you, to make it into a ripple effect,' is what inspires her, she says. 'I'm a big fan of life and I really do feel like life is a gift and I think our purpose is to be able to live it with joy.'
Unfinished: A Memoir by Priyanka Chopra Jonas is out now. unfinishedbypriyanka.com
READ MORE
A Sneak Peek at the March/April 2021 Issue / The C&TH Culture Radar