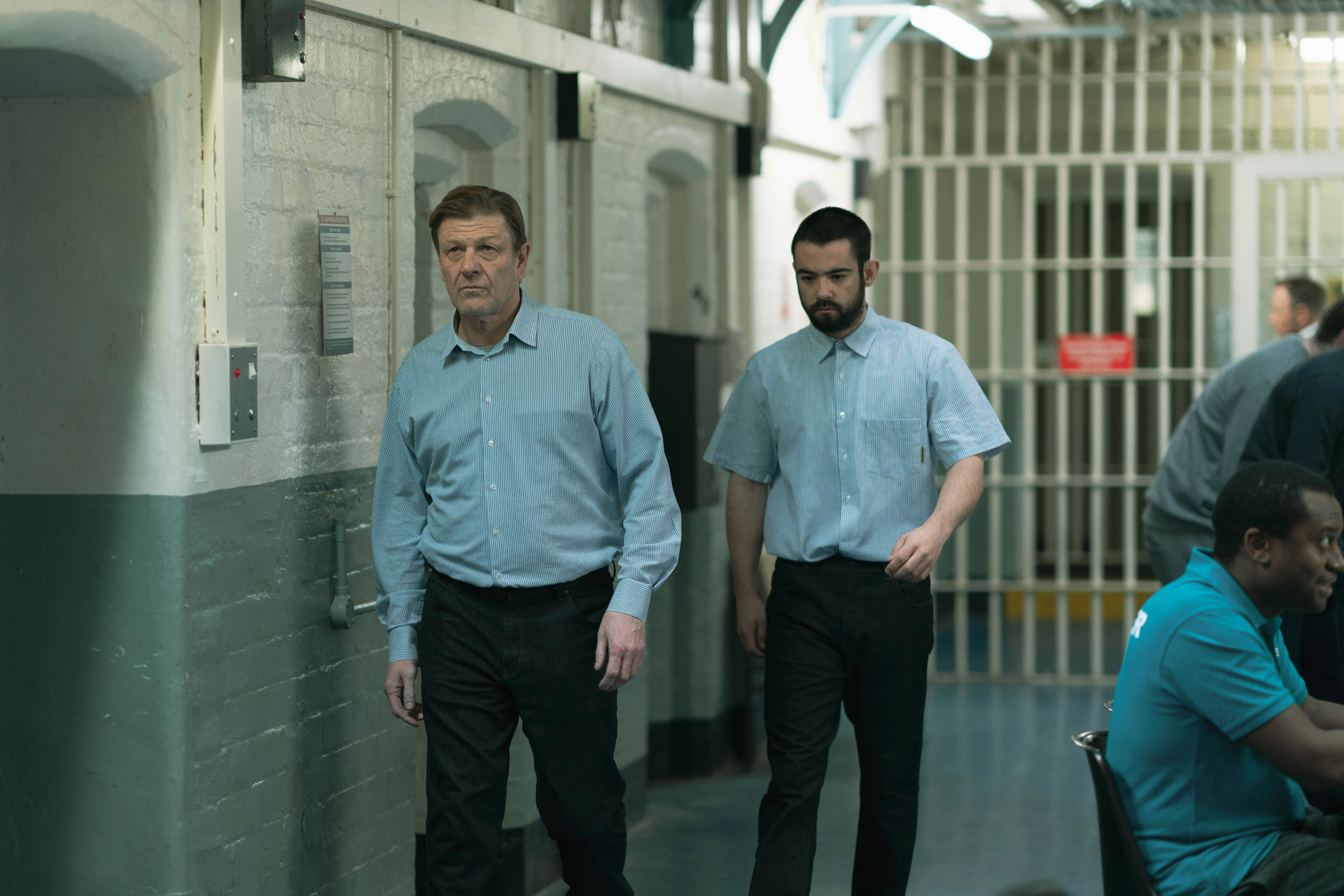 Q&A with Time's Jack McMullen
---
The BBC's new prison drama airs tonight
Still lamenting the loss of your Sunday night Line of Duty viewings? We've got just the ticket: a gritty new BBC drama about prison life, Time. Here we meet one of its stars, British actor Jack McMullen, who plays a young inmate sharing a cell with Mark Cobden, played by Sean Bean. It's set to be a gruelling story – something Jack doesn't shy away from, having featured in ITV's mini-series Little Boy Blue, the true story of a murder of an 11-year-old boy, as well as Fast Freddie, which follows a skilled computer gamer dying of kidney disease. Yet Jack keeps an open mind with roles, telling us: 'Part of what I love about this job is you never know what's coming, so I try to embrace that.' Ahead of Time airing tonight at 9pm, Jack gives us the lowdown.
Q&A with Time's Jack McMullen
What can you tell us about Time?
We get to experience what life is like for somebody who goes to prison for the first time and has to learn very quickly how to survive in that complex, volatile environment. The wing is a social microcosm, with its own unique hierarchy, ethics, currency and language. The story is told from the perspective of both the prisoners and staff – how they manage to coexist and the problems that can arise when the often-fragile order is broken. It's a story I've been interested in for a long time. People generally don't know a lot about what life is like in prison. When somebody goes to prison that's usually the end of the story, we rarely get to peek behind the bars.
Favourite person on the set of Time and why?
I'd worked with James Joyce, Stephen Graham and Bobby Schofield before so it was great to team up with them again, but I was excited to work with the director, Lewis Arnold. Lewis is a proper actor's director, and from the beginning I had complete trust in his vision and what he wanted to achieve through the project. He's a really exciting young British director and I'm looking forward to seeing what he does next.
Any funny stories from filming?
Bobby Schofield is a proper wind-up merchant. He called me before we started and said that Lewis wanted us to live in the prison and stay in character for the whole shoot. He had me going for a few hours, I can't believe I bought it. One night at the hotel there was a pretty bad storm, and one of our cast members had their whole window frame blow out in the middle of the night. They woke up to a big smash, wind and rain whipping into the room. When they called the hotel reception the guy said: 'oh yeah, that has happened before'. They'd have probably been better off in a cell that night.
Favourite role to date and why?
Playing the great Charlie Agapiou in Ford v Ferrari. He's a great guy, really interesting fella and that job as a whole was such a beautiful experience.
Role you'd cut your right arm off to get?
To be honest I don't have my heart set on anything in particular. Part of what I love about this job is you never know what's coming, so I try to embrace that. If the work dries up I'll go back to Liverpool and do a bit of painting and decorating, I reckon I'd need my right arm for that.
What demands do you have on set?
Coffee and a book. I read Akala's Natives while shooting Time, which I would highly recommend.
Director you'd most like to work with and why?
The Coen brothers. I think I've seen everything they've ever done. I find I can watch their films over and over again and always see something new. I love their ability to find beauty in the mundane and comedy in bleak moments.
What qualities do you think have made you successful?
I don't know. I've had a fair bit of luck and I always give 100 per cent. Integrity, curiosity and gratitude are three things I try to live by.
Film you think everyone in the world should see?
Parasite.
What's your relationship with social media like?
Like that friend you shouldn't hang out with but can't quite get rid of because they know all your other friends.
What did you want to be when you were a little boy?
The one thing I knew I couldn't do was anything that involved sitting down for too long, I was too hyperactive for that. When I was really young all I wanted to do was play for Liverpool. Where I grew up football players were our heroes, they represented us. Back then I felt like actors were from another place or time, not something that you could aspire to be.
If you could give advice to your 15-year-old self, what would it be?
Buy as much bitcoin as you can.
Three books you'd take to a desert island and why?
Man's Search For Meaning by Viktor Frankl, a harrowing but beautiful book about identifying your purpose in life and how to own your suffering. The Power of Now by Eckhart Tolle – you'd need a bit of mindfulness, wouldn't you. And The Complete Works of William Shakespeare. Is this cheating? I don't care, I'm having it. Probably best value, all of them stories in one book – and being stuck on a desert island is probably the only way I'd finally get through it all.
How can we all live a little bit better?
The environment is the obvious one for me, I think we can all do better in terms of our carbon footprint. Also just listening to other people. I fear we're becoming very polarised. Partly because of social media, we curate what we're exposed to which makes it difficult to get a rounded view on things. There can be a pressure to have an informed opinion on everything, which is impossible.
Any life hacks you learnt in lockdown that you can share?
Nah, do you have any for me? I've been so impressed by people's ingenuity. I've just been growing plants and playing my harmonica.
What are your indulgences?
Red wine and chocolate.
What would your best friend say about you?
I had to ask him: 'He's a rare breed, the kinda guy that will cook for your nan, listen to your problems and back you in the beef. He's emotionally literate and will never let you down'. I'll take that.
How do you relax?
I try to do my yoga and meditation, that chills me out. I also play football twice a week which I find pretty meditative, while my knees can still hack it.
If we're coming to your area for a visit, what should we do?
Take a walk along the Southbank and have a Guinness in The Crown and Cushion.
Are you a rule breaker or a rule taker?
Both to be fair. I've got no time for bureaucracy but I'll never skip the queue.
Time starts at 9pm on Sunday 6 June on BBC One, with the full series then available instantly as a boxset on BBC iPlayer. Main image: BBC Pictures.
MORE CULTURE RADAR: