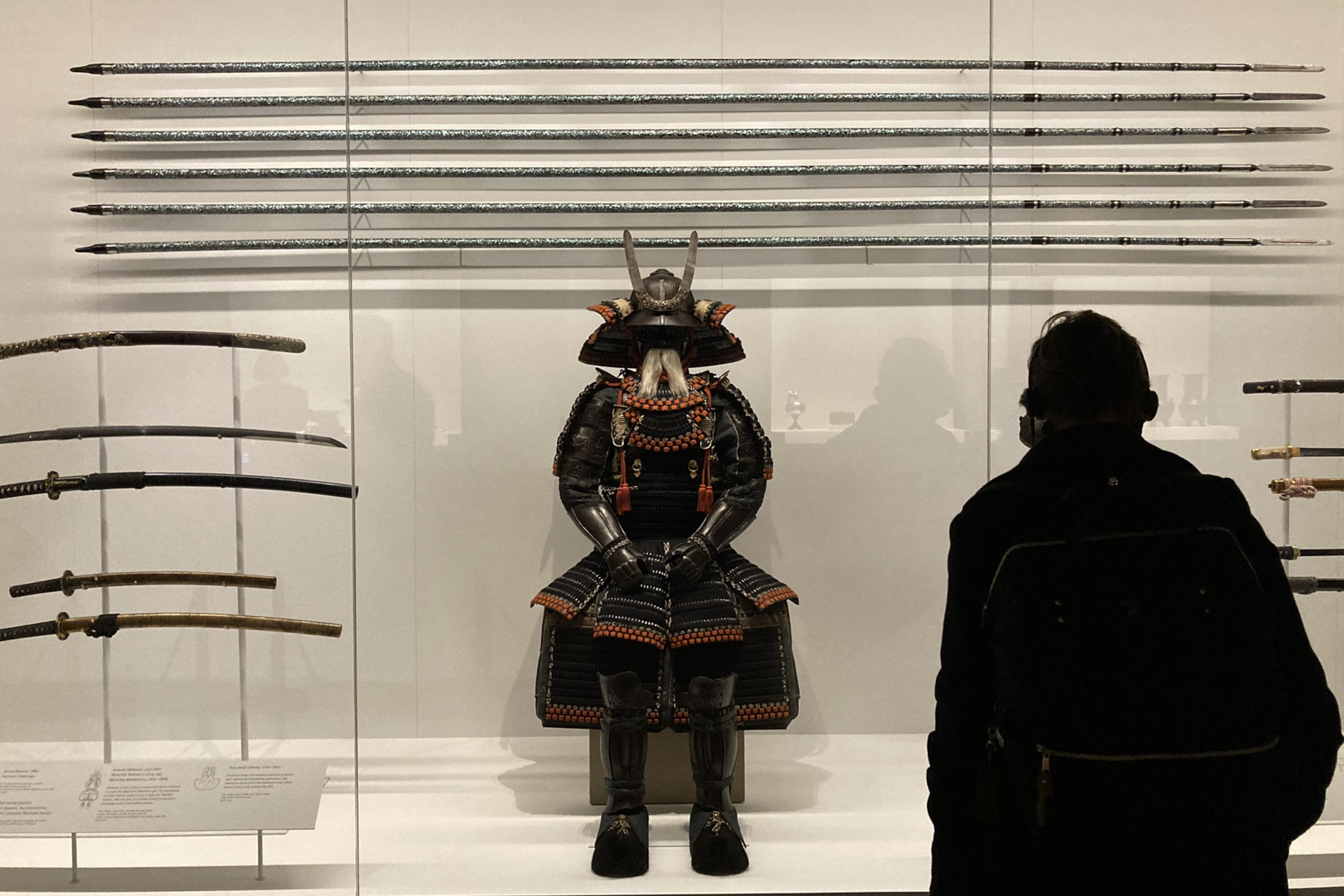 Japan: Courts and Culture is a Celebration of Artistry & Friendship
A meeting of East and West through the royal lens
With Platinum Jubilee preparations well underway at the royal residences, we're more than excited to welcome a number of special exhibitions curated in Her Majesty's honour. Kicking things off at Buckingham Palace this year is Japan: Courts and Culture, which dives deep into the ongoing friendship between the British and Japanese royal families.
Review: Japan: Courts and Culture at the Queen's Gallery, Buckingham Palace
We've long been fascinated by far-away cultures, traditions and trends – but none have quite piqued our interest so much as the Land of the Rising Sun. An island nation much like our own, Japan has historically been awash with skilled artists and craftsmen (be sure to learn more about them in our review of Kyōsai: The Israel Goldman Collection), who created all manner of stunning trinkets, paintings and decorative objects. Perfect for use, display and, most importantly, gifting.
Such items have been gathered together in the Royal Collection Trust's latest exhibition Japan: Courts and Culture. Originally mean to run in 2020, the exhibition was delayed by the pandemic and is now being shown as part of the Platinum Jubilee programme for Queen Elizabeth II.
Laid out chronologically, the exhibitions begins with the first interactions between Britain and Japan in the seventeenth century. Here, you'll find the first diplomatic gift between the two nations: a suit of samurai armour (the first on British soil) given to James I in 1613 by Shōgun Tokugawa Hidetada.
In the years (and rooms) that followed, Japan closed its borders with the rest of the world for over two centuries, but the royal taste for Japanese culture and craftsmanship was far from satiated. As such, many of the pieces on display were collected by members of the British royal family through expensive trade links. The likes of porcelain and lacquer were yet to be successfully replicated in the West, and so Japanese objects demonstrating these skills became very rare. Mary II and George IV were avid collectors of these coveted pieces, and visitors to the exhibition have a chance to see which pieces made it to the royal collection.
Upon its reopening in 1853, Japan became close with Britain. The main room of the exhibition highlights this growing bond with a selection of gifts – with three sets of samurai armour, no less – presented to Queen Victoria and her children. In the attached vestibule, visitors can also see photographs and written memoirs from royal trips to Japan and vice versa. One of the earliest British royal visitors to Japan was Prince Alfred, who ventured over in 1869. You can see one of his letters to his mother, Queen Victoria, displayed next scrapbooks and photographs: 'To give you any account of this country, I feel quite at a loss. Every thing is so new and so quaint that I am quite bewildered.'
Make sure to linger by the pair of folding screen paintings to the left of the room, which were gifted to Queen Victoria by Shōgun Tokugawa Iemochi in 1860 to mark the first treaty between Japan and Britain for almost 250 years. The screens, which are on public display for the time since they arrived at the British Court, became popular recently after conservation work revealed they had previously been repaired using Victorian railway timetables at Windsor Castle.
But how does Japan: Courts and Culture fit in with the rest of the celebrations? The show's curator, Rachel Peat, has dubbed it 'a meeting of East and West', where visitors can explore how two royal families connected over a love of cultural exploration. Over 150 works from the Royal Collection are on display, each one having been bestowed to the British royal family as gifts by its Japanese counterpart.
At the end of the exhibition, you'll find a beautiful lacquer box decorated with a silver heron. A coronation gift to the Queen from Emperor Shōwa (Hirohito), the box was the first post-war diplomatic gift between the two nations. Now on display nearly 70 years later, the gift fittingly marks the historical significance of Her Majesty's Platinum Jubilee.
Final Word
From painting and porcelain to lacquer and armour, Japan: Courts and Culture presents a collection built on the best of cultural heritage. This is an exhibition packed with instances of mutual appreciation and admiration, and visitors are more than welcome to join in on the celebrations.
BOOK
Japan: Courts and Culture opens on 8 April at the Queen's Gallery, Buckingham Palace. Tickets £17 per adult and £9 per child. For more information, please visit rct.uk
DISCOVER MORE
The Biggest Exhibitions of 2022 / The Best Art Exhibitions in London