'Florals? For spring? Groundbreaking.'
Well, in fact, springtime flowers can be groundbreaking. Florist Jonathan Mosely helped us tune in to this spring's floral trends in anticipation of The RHS Flower Show Cardiff (13-15 April). The celebration will bring creativity to the heart of the Welsh capital. This year, the show welcomes Jonathan as he shares beautiful, seasonal, British flowers with displays and demonstrations throughout the weekend.
A Guide to Floral Trends with Jonathan Mosley

What flower and kind of flower arrangement are you seeing most in the home this year?
Lots of natural flowers arranged informally with the inclusion of twigs and branches. Foliage is hugely popular with big sprays of Eucalyptus, berried Ivy and silvery foliages like Rosemary, Senecio and Silver cineraria.
Which flowers make a spring bouquet?
Spring flowers are the most magical blooms. They herald the arrival of Spring and ooze rustic charm and an abundance of fragrance. Look out for scented Narcissi like Soleil d'Or', Winston Churchill or intoxicating Bridal Crown. Tulips are a must for any Spring bouquet. I'm a devotee of the Parrots and fringed varieties like Super parrot, Purple Crystal or Carrousel. For a long lasting addition and a magical fragrance fix select Hyacinths – they can last for over three weeks and finally Ranunculus, which remind me of a flower that has leapt straight out of a Dutch master flower painting. They are available in the most wonderful colour harmonies and never fail to disappoint.
The Best Flower Arranging Classes in London
To what extent does 'less is more' apply to floral arrangements?
When creating a flower arrangement then either choose minimal and dynamic or massed and exuberant! If you want a more tailored sculptural look then choose bold dramatic blooms like Lilies, Paeonies, Alliums or Crown Imperials, mix them with twisted Hazel or Willow and complete the look with a few bold leaves; choose Fatsia, Aspidistra or the amazing monstera (Swiss Cheese plant). However many interiors lend themselves to jugs and vintage vases overflowing with a massed bouquet. For a simple and winning combination then mass flowers of all one variety, but include a touch of individuality by adding a few whispy grasses like panicum, setaria or bear grass. I love massing Muscari together in willow patterned china or why not mass jewel coloured velvety anemones in recycled coloured glass or within a warm copper coloured jug.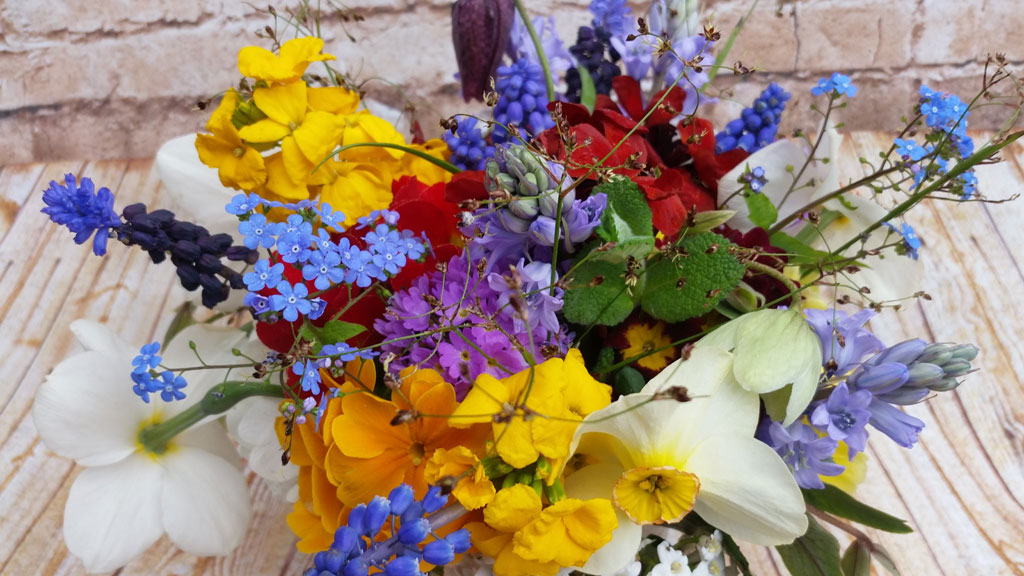 How have large-scale floral displays developed in the past few years?
Large dramatic arrangements have become far less rigid and geometric, the displays are all about the romance of nature and recreating natural growth patterns and plant relationships. We embrace the bends and twists of stems and allow each flower to make a statement. Hanging displays are hugely popular and any large scale design will always include masses of natural foliage clambering amongst branches and seed heads to create the illusion of natural massed exuberance.
What are the most defining characteristics of trending garden designs this year?
One of the main trends in interior design and landscaping is the inclusion of green plants. Foliage houseplants have become an integral component within any contemporary interior. Sadly many of us remember the Rubber plants and Yuccas of the 1970's however this new vogue for green plants embraces much more choice and interesting plant palette. Look out for Alocasias, Rhipsalidopsis, Guzmania and Medinilla magnificas. Orchids remain hugely popular, and look out for scented Phalaenopsis! You can see these in an orchid display I'll be creating with Double H Nurseries at the RHS Chatsworth Flower Show (6-10 June). Grouping and massing green houseplants together with succulents is another big trend. These foliage plants are all about form and texture and they provide a welcome feast for the eye when offset next to the minimal interiors of contemporary living.
What are your favourite British flowers?
As a passionate ambassador for British flowers, then I would encourage everyone when choosing flowers for their home or to give as a gift to remember seasonality and support our British flower farmers. British flowers have a charm and character that is unique, they are fresh and vigorous and possess the romance of seasonality and hold an air of nostalgia, often reminding us of gardens from our childhood.  Look out for the amazing Spring Tulips, Alliums, Ranunculus and Anemones. British Paeony season is in May, followed by Sweet Peas in June, Cornflowers and Scabious in July, Sunflowers in August and then wonderful Gladioli, Dahlia and a host of berries as Autumn approaches. I believe we all have a responsibility to buy the best of British when it is in season, as there is nothing comparable to its quality, freshness and longevity.
People can join me at all the major RHS Flower shows, starting with RHS Flower Show Cardiff (13-15 April) and see for themselves how wonderful these flowers are. Join me for fun and informative demonstrations to learn some new ideas for designing flower displays for your own home and get hands on as you create your own beautiful British flower arrangements.
---