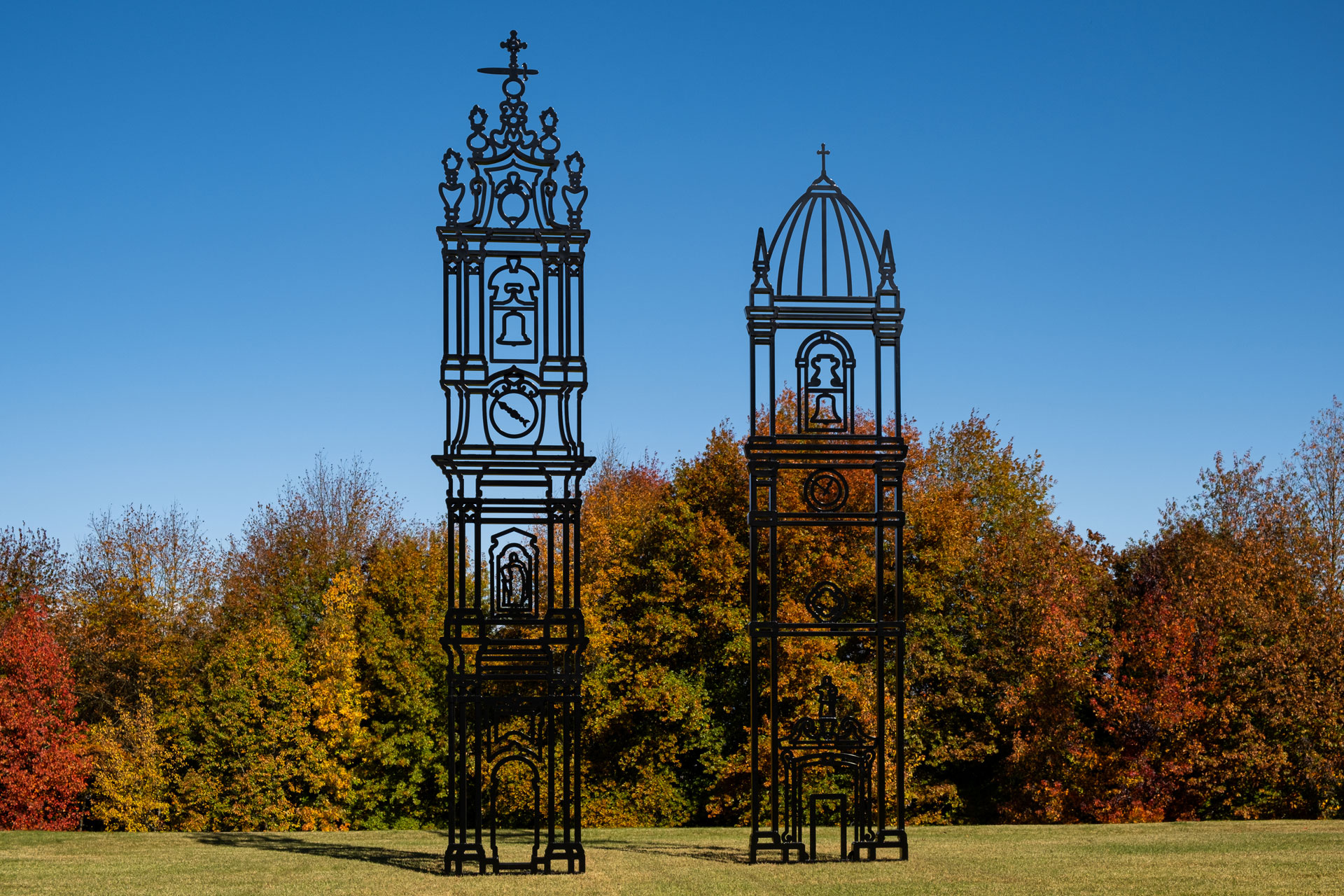 Julian Opie on his New Exhibition
---
A new show from the British artist focuses on architecture, people and nature
Artist Julian Opie tells us about his new exhibition at Pitzhanger Manor on this week's episode of Break Out Culture. Below we share a snippet – but you can listen to the full episode here.
Julian Opie on his New Exhibition
Charlotte: Beautiful Pitzhanger Manor in Walpole Park is a treat in itself, having reopened in spring 2019 after a major conservation project to restore it to its former glory and design by the great Regency architects of John Soane. This Friday, a new solo exhibition by the artist Julian Opie will open there.
Ed: This is Julian's first solo exhibition in Britain for over four years. He's created new sculptures, LED animations, light box paintings and a film. The works create a walkthrough environment, so visitors will feel as if they're journeying through a city in a computer game. Here to tell us all about it is the artist himself, Julian Opie. Tell us about the imaginary village in the southwest of France. Is that a place that you know well?
Julian: Yes, we have a holiday home down there. It's near the Pyrenees. Having visited this village every morning to get croissant, I began to notice it. Since then, I've learned more about that village and the villages in that area, and it turns out that they're actually quite specific. They're called bastides and they were built around the 13th or 14th century when that was pretty much a wilderness.
There was a push by the nobility to populate these wilderness areas. So they built towns as one, on a grid, on the model of a Roman fort. This creates a funnel experience where each house is part of a facade that seems to go on forever.
If you were around a long time ago, you might've seen a show I did at the Hayward Gallery where I drew these maze-like paintings on the wall. I was looking at the way that screensavers and early computer games like Tomb Raider could take you through a three-dimensional picture, which now seems like the most obvious thing to have. But back then, it was an extraordinary thing to actually be able to move yourself through a picture. So, in response to some of that, I made these drawings of simple white blocks that you could move through pictorially, both on computer and as big painting. This is a revisit to that project, but using a real place that has some connection through architecture to that idea of a place being a maze.
Ed: You collect art. What do you collect?
Julian: I've always loved looking at art, since I was a kid. So to have it around me and to own it gives me a great deal of pleasure, but I also learn a lot from it. When I'm stuck with my own work, I'll often stand up and go and look at something. I've collected an awful lot of 17th and 18th century British and French painting. I collect armour a bit, and human hand-axes. Some of them are from Homo erectus people of about a half a million years ago. I collect quite a lot of Indonesian art too, which I find fascinating, and extremely gorgeous, lively and relevant.
Julian Opie at Pitzhanger Manor runs from 25 June – 24 October 2021. pitzhanger.org.uk
Main image: Estrela and Se de Aveiro, Julian Opie, 2020
MORE BREAK OUT CULTURE: