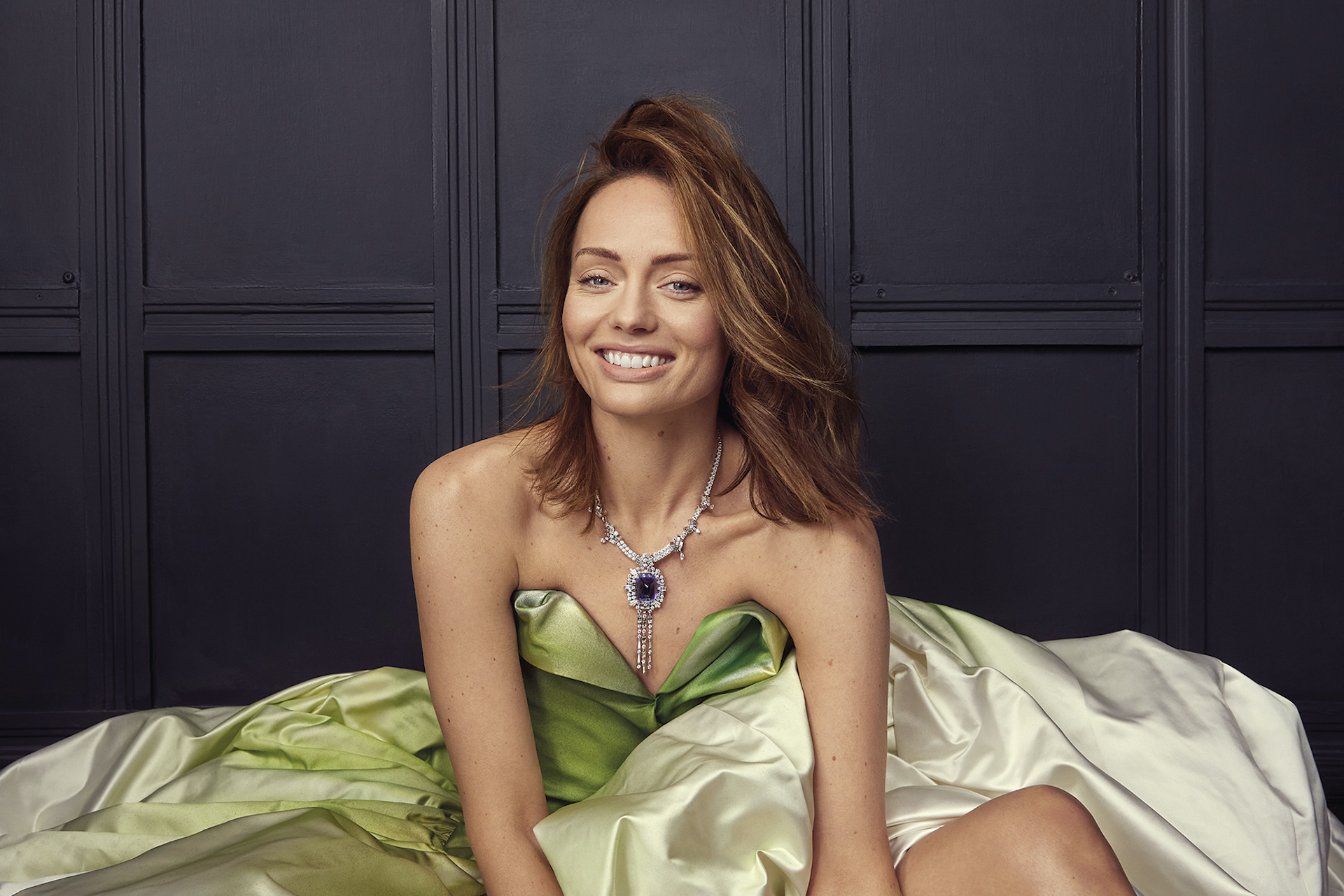 Laura Haddock: The Jewel In The Crown
---
The Downton Abbey star is captured for the cover of C&TH's Jubilee issue
Belinda Bamber speaks to Downton Abbey star Laura Haddock about motherhood, on-set pranks and starting again post-Covid.
Photographer: Carla Guler. Fashion Director: Nicole Smallwood.
Celebrating 70 Years! Your First Glimpse of the May/June Jubilee Issue
Laura Haddock
Laura Haddock appears on my Zoom screen like an apparition of spring, her trademark fresh-faced beauty matched by the clean, Scandi-style interior of her home in Buckinghamshire. Just back from a Monday morning school-run with her children Pip, six, and Margot, four, she's enjoying the English sunshine after the family's recent stay in sub-zero Montreal for one of her film shoots. 'The kids absolutely loved it, they would just walk out the front door and face-plant the snow,' she laughs. 'It was magical for them.'
Raised in Harpenden and trained at Chiswick's Arts Educational School, 36-year-old Laura's prolific acting portfolio ranges from mainstream movies like The Inbetweeners (2011), Guardians of the Galaxy (2014) and Transformers (2017) to Netflix hit series White Lines (2020), set in Ibiza. In her latest film, Downton Abbey: A New Era, she swaps the swimsuits and action-girl garb for theatrical 1920s gowns in her role as Myrna Dalgleish, a 1920s silent-movie star who joins the Crawley family when their castle is used as a film location.
'I felt euphoric when I got that Downton call from my agent,' smiles Laura. It was the day schools reopened post-lockdown in March 2021, and she describes the moment with storyboard precision: the collective sigh of relief among parents at the school gates; steeling herself for the big tidy-up back home ('post-it notes with numbers and letters stuck all over the walls'); feeling anxious about resuming her career after home-schooling her children during the pandemic; and wanting to drop to her knees with gratitude on Kew Bridge when her phone rang with the news that Downton director Simon Curtis wanted to see her. 'I got the rush of adrenaline I used to get when I first started out [as an actor],' she says.
Laura was undaunted by joining such a tight-knit cast because it turns out she already knew several of them, including Joanne Froggatt and Elizabeth McGovern, as neighbours and fellow dog-walkers in Chiswick. Phyllis Logan [Mrs Hughes in Downton] and her husband Kevin McNally had also become close friends and mentors since she moved next door to them on first arriving in London. 'They've been my guiding lights into the industry,' she explains, 'full of mischief and fun.' So – the usual nerves aside – joining Downton felt like 'a gentle invitation… to just go in and play'. She wasn't disappointed.
Maggie Smith was 'absolutely hilarious', recounts Laura. 'You have to really keep a lid on it when you're on set with her because her delivery is so quick, and your instinct is just to relish in her humour. I loved meeting her. She's a great, brilliantly talented, whip-smart woman.'
And there were pranks. Laura recalls Hugh Bonneville telling her it was fine to ad lib during a big dinner table scene. 'He said, "Oh, Laura, you can feel really comfortable and loose on this set, we all throw things in when we want to."' Knowing Julian Fellowes had penned a tight script, she felt doubtful, 'but I thought, Hugh's saying it so it must be true.' She followed his advice for the next take, 'and afterwards, Hugh turned to me and said, "I was only joking… this is not the world where you do that!" I was like, just throw me under a bus, you naughty man.'
It's clear Laura's a team player who's enjoying the chance to explore a variety of roles in her thirties. A fan of 'strong, funny, smart women' in every aspect of movie-making, she says Diane Keaton would be her dream co-star and Lady Bird's Greta Gerwig her fantasy director. With various acting projects in the pipeline, Laura's also working on a film script about Sylvia Plath, called Surviving June, with her writer friend Eve Hedderwick Turner.
Laura's happiest playing women 'very unlike' herself, and her acting's intuitive. 'I rely on listening and being reactive… When you're working with another actor who's also really listening and reacting you create this fizzing space together that's like the sweet spot for me.' She loved working with Sir Anthony Hopkins, her co-star in Transformers: The Last Knight: 'he's so alive… you just don't know what's going to happen next. He creates a really fun space.' He also spent most of his lunch hours on set signing autographs for visitors, despite the punishing schedule. 'He's such a kind, gentle-hearted man, who's been through it in his life as well,' she says. 'I begged him to rest but he told me, "I need to say thank you to them, because they're the reason I'm able to do this job."'
Describing herself as 'an extroverted introvert', Laura seems a natural on the red carpet, something she credits to her tight-knit team. 'I surround myself with people I love and trust. Amy, my stylist, is one of my best friends: we've had children together, she knows my inside life.' Industry events are essentially 'alien', she says, 'but if you do it with friends [in hair and make-up], you get on the carpet feeling confident and bolstered by the people who have your back. 
'I always call my nan before taking on a new role,' she adds, while her sister is good at putting life into perspective: 'she's hilarious and knows how to cut through the anxiety – she'll make me laugh my head off and see the funny side of things.' Such support must have helped her through the 2019 break-up of her marriage to Peaky Blinders' Sam Claflin, the father of her children. Their split is off-limits for our conversation, but they seem to have transitioned into co-parenting with grace and minimal press intrusion.
How does she balance the contradictory demands of film shoots and children? 'If I'm completely honest, I was scared about what this life would look like for them… I had to shake hands with the fact their life is very different to how I grew up,' she admits. 'Motherhood is my first job, but I adore what I do… and it would be a shame to let that go, because then Pip and Margot wouldn't see how important it is to have that passion, love and drive for your career.'
Paradoxically, she has found it empowering to speak up, insisting that the time frame and location of any job has to fit in with her family life: 'It's given me a lot of strength and courage.' And she's delighted her children have thrived on their film-shoot travels, though she's looking forward 'to being in one place and just getting into that routine of school and after-school clubs'.
Their recent move to the countryside, with her parents half an hour down the road, 'has been one of the best things I've done for the family,' she says, 'because although I love London it's opened up their green space: you open the back door and they just go!' The acoustic guitar leaning against the wall behind her suggests the musical influence of her partner Tom Rhys Harries, whom she met on the set of White Lines. 'We've got quite a few in the house, and I have to say I cannot play,' she laughs, 'but we've got keyboards, we've got pianos, it's like, come on, everyone, let's just make a noise, doesn't matter if it's good or not!'
Just before we say goodbye, Laura and I broach the horrors of war in Ukraine – she's been researching the psychology of talking about it to her children and is off to frame a print she bought from an artist friend, which raised £25,000 for refugees through the charity, Choose Love. As the screen fades, the words linger like Laura's own infectiously sunny approach to life.
'Downton Abbey: A New Era' is in UK cinemas now. Shot on location at The Chelsea Pig
READ MORE
Found In Translation: Ten Percent's Fola Evans-Akingbola / More Interviews