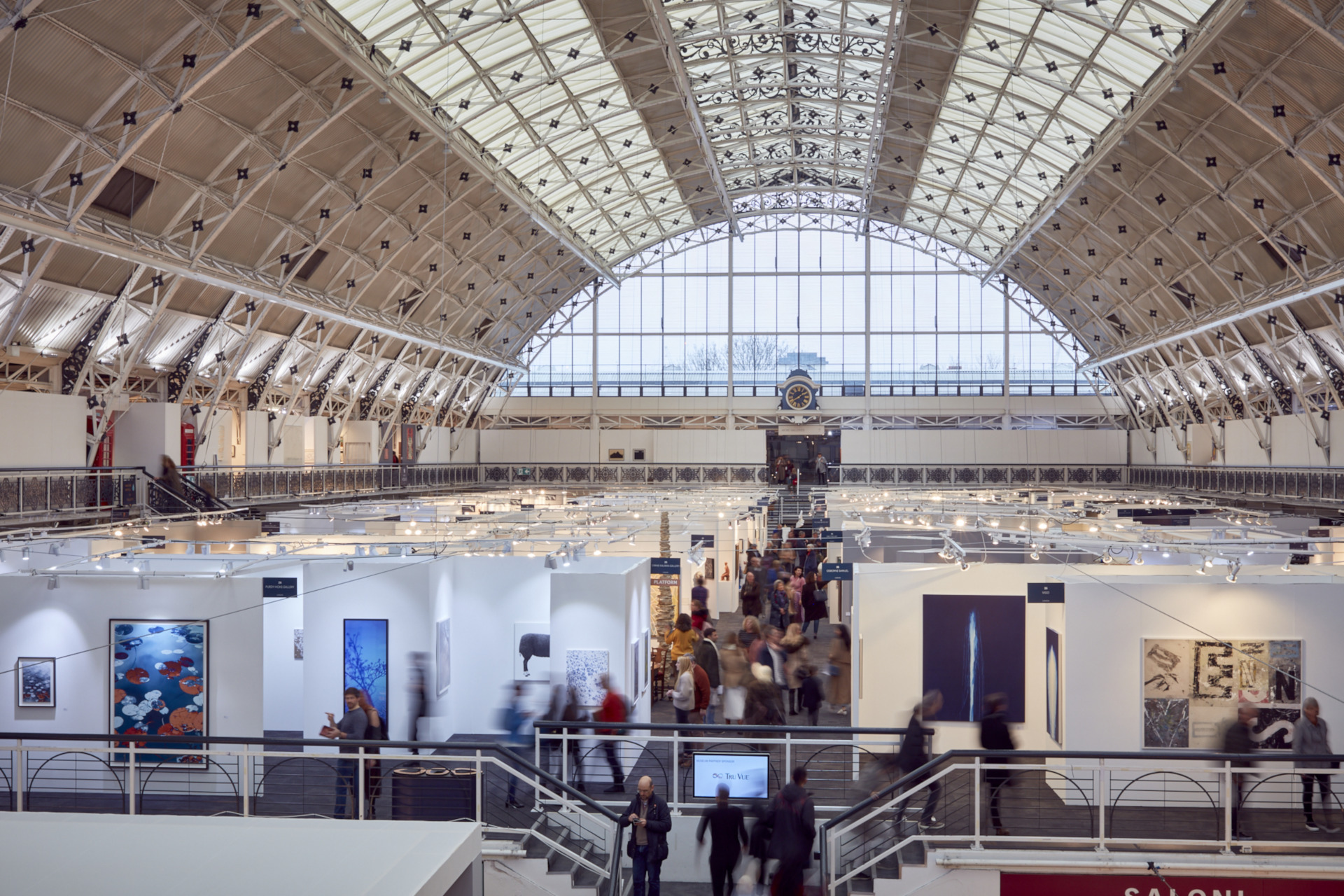 A Guide to London Art Fair 2022
The annual fair celebrating modern and contemporary art is back for its 34th edition
London has long been the beating heart of the UK art scene, with brand new events, shows and exhibitions popping up everyday. The next one to have on your lists is the London Art Fair, which will be celebrating its 34th edition this April. The fair, which boasts presentations from leading international galleries, curated displays, talks, panels and artist insights, is one not to miss for art fanatics. Read on for our guide to the highlights of the long weekend, and stay tuned for updates.
A Guide to London Art Fair 2022
Over 100 galleries are taking to the fair this year, with entries from Austria, Japan, Portugal, Sweden and Australia creating an international dialogue. Alongside regular names like Piano Nobile, James Hyman and Purdy Hicks, visitors will have the opportunity to meet new exhibitors Tanya Baxter Contemporary, Mothflower and David Kovats for the first time.
Modernism, for which the fair specialises in, will take centre stage for many of the participating galleries. If you fancy glimpsing at a Joan Miró or getting up close and personal with Picasso, then make sure to stop by the likes of Thomas Spencer Fine Art, Gilden's Fine Art Gallery, Christopher Kinzgett Fine Art and Waterhouse & Dodd.
Those with a penchant for the present can check out contemporary art offerings from Jordi Alcaraz (Alzueta Gallery), David Shrigley (Jealous Gallery) and Leah Hewson (Stoney Road Press). Up and coming names will also have a chance to shine, with galleries like Elizabeth Xi Bauer presenting a curated group of emerging artists.
London Art Fair's annual themed section has been curated by Candida Stevens, who has chosen 'Music and its part in Contemporary Art' as its starting point. Working with 10 galleries whose artists have created new artwork in response to the theme, Platform will showcase a range of talents in its exploration of how rhythm and movement can inform other art forms. Expect work from the likes of Vanessa Jackson (Candida Stevens Gallery), Ben Crase (Otomys), Tom Farthing (Zimmer Stewart), Matt Smith and Andy Burgess (both Cynthia Corbett Gallery).
The fair's photography hub, Photo50, is a space where artists and visitors alike can examine what features mark current photographic practice. Curated by Rodrigo Orrantia, this year's edition will present brand new works by 14 British and UK-based artists responding to the theme 'No Place is An Island'. Photographers exhibiting their work include Esther Teichmann, Dafna Talmor, Martin Seeds, Tom Hunter and Sarah Pickering.
Art Projects was created back in 2005 to support emerging galleries and the talent they partnered with. This section will showcase fresh contemporary art from around the world, with overarching themes addressing hopes for the future, reflections, beliefs and mythologies. As London Art Fair summarises, these themes coalesce into the following questions: 'How do my own experiences mirror and contrast with those of others, and how can times of reflection and re-evaluation help us build the world we want?'
This year's museum partner is the New Hall Art Collection at Murray Edwards College, University of Cambridge. A permanent collection of modern and contemporary art by women, the museum has joined London Art Fair to present Myth-Making and Self-Fashioning: Women Artists from the New Hall Art Collection. Over 20 female artists will go on display, spanning the likes of Maggi Hambling, Eileen Cooper, Miriam Schapiro, Paula Rego and Gayle Chong Kwan, as they investigate the exhibition's two main themes. Expect everything from paintings and photographs to textiles and ceramics, with subject matter subverting the female form, examining the meaning of femininity and offering alternative views of beauty.
Alongside its exhibitors, London Art Fair will offer a packed programme of talks, tours, workshops and performances exploring the trends that dominate the contemporary art scene. Topics include technology, sustainability, artist estates, collecting and curating from home and the role of art fairs in the 21st century. You can also catch deep-dive discussions into the fair's Museum Partnership, Platform and Photo50 sections.
Those with little ones can book onto the Family Workshop, which will explore place-making and bookbinding. Participants will be able to make their own physical book with guidance from artist Samantha Humphreys. Sunday 24 April, 1-4pm.
You can also join London Art Fair's Thursday Late session, a late opening where visitors can explore the fair after dark and grab a drink from the Campari bar. Thursday 21 April, 5-9pm.
BOOK
London Art Fair will be held between 21-24 April 2022 at the Business Design Centre, Islington. Day Passes start at £18, with concessions at £14. For more information on tickets, please visit londonartfair.co.uk
DISCOVER MORE
The UK's Best Art Shows & Fairs 2022 / The Biggest Exhibitions of 2022