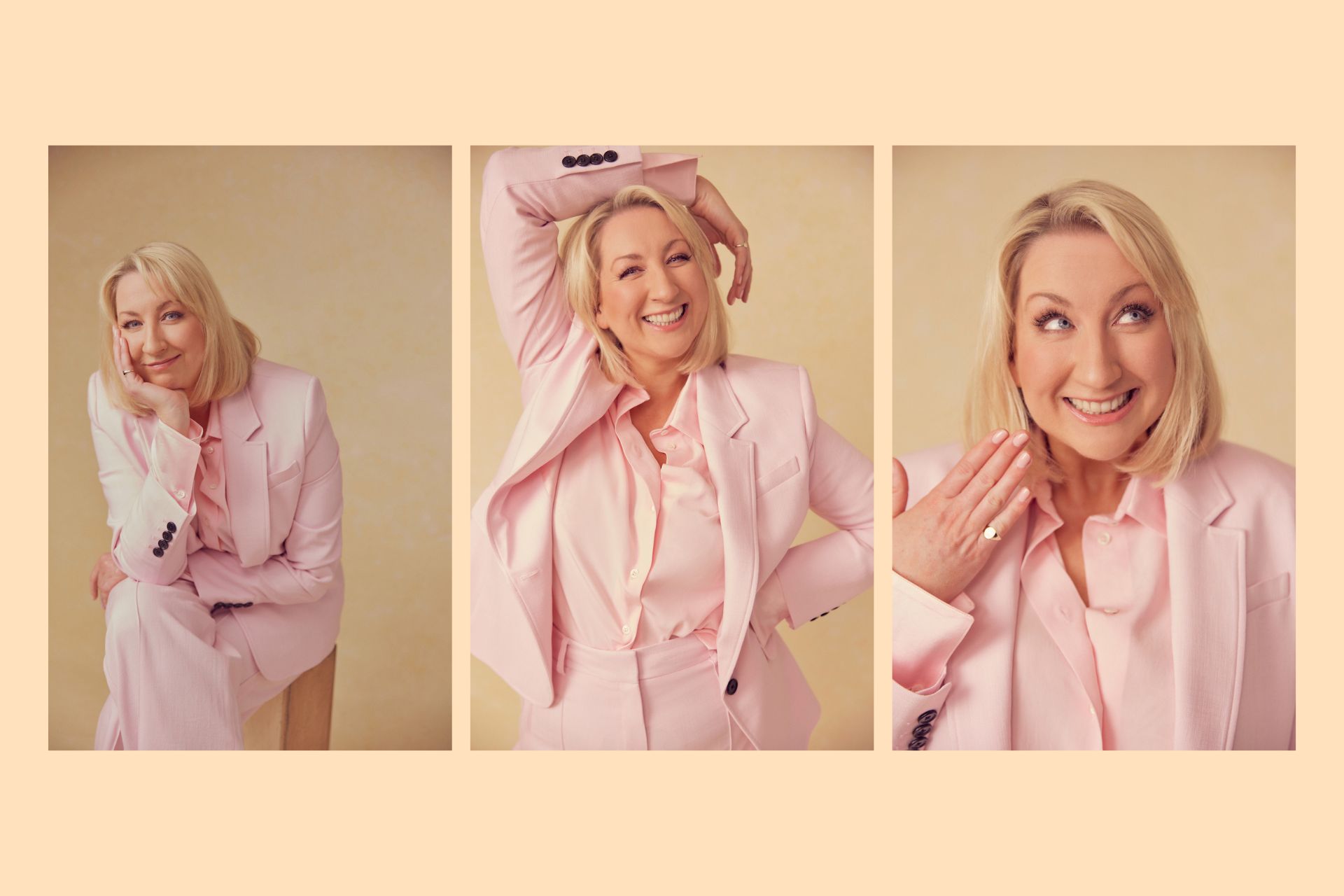 Maggie Service: 'The Good Omens Universe Is A Lovely Place To Inhabit' – Interview
Good Omens season two arrives on Prime Video this Friday (28 July)
Good Omens season two will finally arrive on Prime Video this Friday (28 July), with Michael Sheen and David Tennant returning alongside Maggie Service, who has a new lead role written specifically for her by showrunner (and author of the novel the series is based on), Neil Gaiman. Maggie previously starred as Sister Theresa in the series, and has a background predominantly in theatre, but tells C&TH that Gaiman 'gave [her] the gift of hope' in creating a character for her – it being the middle of the pandemic, after all. We caught up with Maggie ahead of Good Omens 2 to hear all about the series.
This interview was conducted pre-strike.
Interview: Maggie Service On Good Omens Season Two
Hi Maggie, how's life going at the moment?
Hi! Very well indeed, thank you.
You're about to appear in Good Omens 2 on Prime Video – can you give any readers unfamiliar with the show a quick intro?
Season one was based on the book by Neil Gaiman and Terry Pratchett, which is essentially the story of the rise of the Antichrist leading to The End Times being stopped by an Angel and a Demon: an Angel who can be naughty and a Demon who can be kind. In season two, we follow Aziraphale and Crowley, having lost their positions in heaven and hell, through more adventures in the human world… and other realms.
What can viewers expect from the second season? 
We start with a mystery and miscommunications, and that leads to all sorts of adventures ending with… Well, you'll have to watch it to find out.
You play Maggie – can you describe her?
She is fiercely loyal, kind hearted, anxious in most things but sure in one, impulsive and generous.
What was it like playing her?
It was a real tonic. To be able to play her character arc through the show was wonderful to plot, and the Good Omens universe is a lovely place to inhabit.
The role was created for you by Neil Gaiman – how does that feel? 
I found out that he was writing the part of Maggie for me during the pandemic. It was a time when the whole creative industry had been brought to a standstill, so the fact that he'd even had the idea and could imagine a world in which we'd make it gave me the gift of hope – and to actually get to bring it to life was remarkable.
How did you get into character/prepare for the role?
I always have a character perfume, and I made a playlist called 'The Other Maggie'. Those are things that really help on the day of filming but, before that, I write screes of notes, which hopefully you absorb and then don't think about in front of the camera, so you can be purely in the moment.
Any funny stories from rehearsals or filming?
The sets are so fantastic – they literally built streets and streets of Soho in a studio. One day, I was getting my make-up touched up between takes outside my shop, and I said, 'gosh, the sun is so bright today, it's lovely', everyone around me cracked up laughing and it took me a good few seconds to realise that I was in fact inside a studio. If that's not a compliment to our amazing DOP Gavin Finney, I don't know what is!
You star alongside David Tennant and Michael Sheen – what was the dynamic like on set? Who was your fave person to work with?
Their portrayals of Aziraphale and Crowley are epic, so it was great getting to witness them up close. They're both really assured in very different ways, so it was a fantastic Green Room to be part of. Nina Sosanya and I have become a bit of a double act; she's a dream to work with.
What has been your favourite project to date?
Both seasons of Good Omens have been blast, one because it was a hoot to be in amongst my evil nun gang, and two because I got to get my teeth into a story arc through the whole season. I'm looking forward to seeing where I go next on screen.
Any roles in the pipeline that you're excited about? (If you're allowed to tell us!)
I'll be in a new musical version of Roald Dahl's The Witches at the National Theatre later in the year. It's with a brilliant creative team: Lucy Kirkwood writing the book and lyrics, Dave Malloy the music and Lyndsey Turner directing. I'm really looking forward to getting stuck into a new challenge.
Who has been your favourite actor to work with in the past?
Simon Russell Beale. I'd seen him in a number of productions, including Hamlet , so when I first worked with him, it was wonderful to witness his rehearsal process and how he forms his characterisations. He's become a friend now, and it's lovely to now be peers as well as pals.
Which co-star did you learn the most from?
I hadn't met Miranda Richardson before. She is cool, kind, generous and fun, and she gives a fabulous performance as Shax.
What's your dream role?
I'd love to play Adelaide in Guys and Dolls and Beatrice in Much Ado About Nothing.
What's a genre you'd like to do more of?
Action movies and comedies.
Do you get to spend much time at home?
Not when filming – it's early starts and late finishes, so you just have to give into any home time you can when it's available.
Do you live in the town or the country? Which do you prefer?
I live in London, but part of my soul is always in the Highlands of Scotland. I recently moved to Scotland – just after filming Good Omens 2 there, actually – but I just couldn't make it work with work, so I'm back in the big city. It's been lovely to be in the centre of things and loved ones have been very good at taking me to the seaside and into the bucolic English countryside since I've been back to help ease myself back. I definitely need both in my life.
What's your interior design style?
I love a maximalist, dark but glamorous bathroom – it can become a real sanctuary. And a Hamptons style kitchen: clean lines, pastel colours and bleached wood. Perfectly placed art can always lift a space, too. It's such a great expression of a home dweller's personality.
What's your relationship with social media like? 
I feel like I'm quite new to it, really, but I'm having a go! I'm trying to embrace all the good bits about it. It works well when it's a place where people can celebrate their commonalities.
How do you find balance in your personal and work lives?
I basically treat if I'm not working as if I'm on holiday. That way you can look forward to both parts of your life.
What did you want to be when you were growing up?
An actor. I found out you could be such a thing when I was five years old, and I haven't looked back since. I'm really grateful to have had that focus early on.
If you could give advice to your 15-year-old self, what would it be? 
You're going to be just fine and always remember: don't miss the good bits.
How can we all live a little bit better?
Keep your own little corner of the world clean and hope that spreads so that everyone does the same. 
Quick Fire
I'm tuning into… Mindfulness and meditation.
What I'm reading… Landlines by Raynor Winn. It's the third in a trilogy about her real life adventures through adversity. It's a fabulous book about human endurance, love and nature. I've cried my way through it, and I don't want it to be over.
The last thing I watched was… Ted Lasso. I'm late to the party on this one, but I'm loving it.
What I'm most looking forward to seeing… Mission Impossible: Dead Reckoning
Favourite film of all time… When Harry Met Sally and Spinal Tap double bill please!
Band/singer I always have on repeat… Stevie Wonder
My ultimate cultural recommendation… Always remember to look up: there will be amazing architecture and historical secrets to delight you.
Cultural guilty pleasure… Every city has its own deep fried snack and it's always delicious!
What's next for me is… A new musical version of Roald Dahl's The Witches at the National Theatre.
Good Omens 2 arrives on Prime Video this Friday (28 July). Catch up at amazon.co.uk