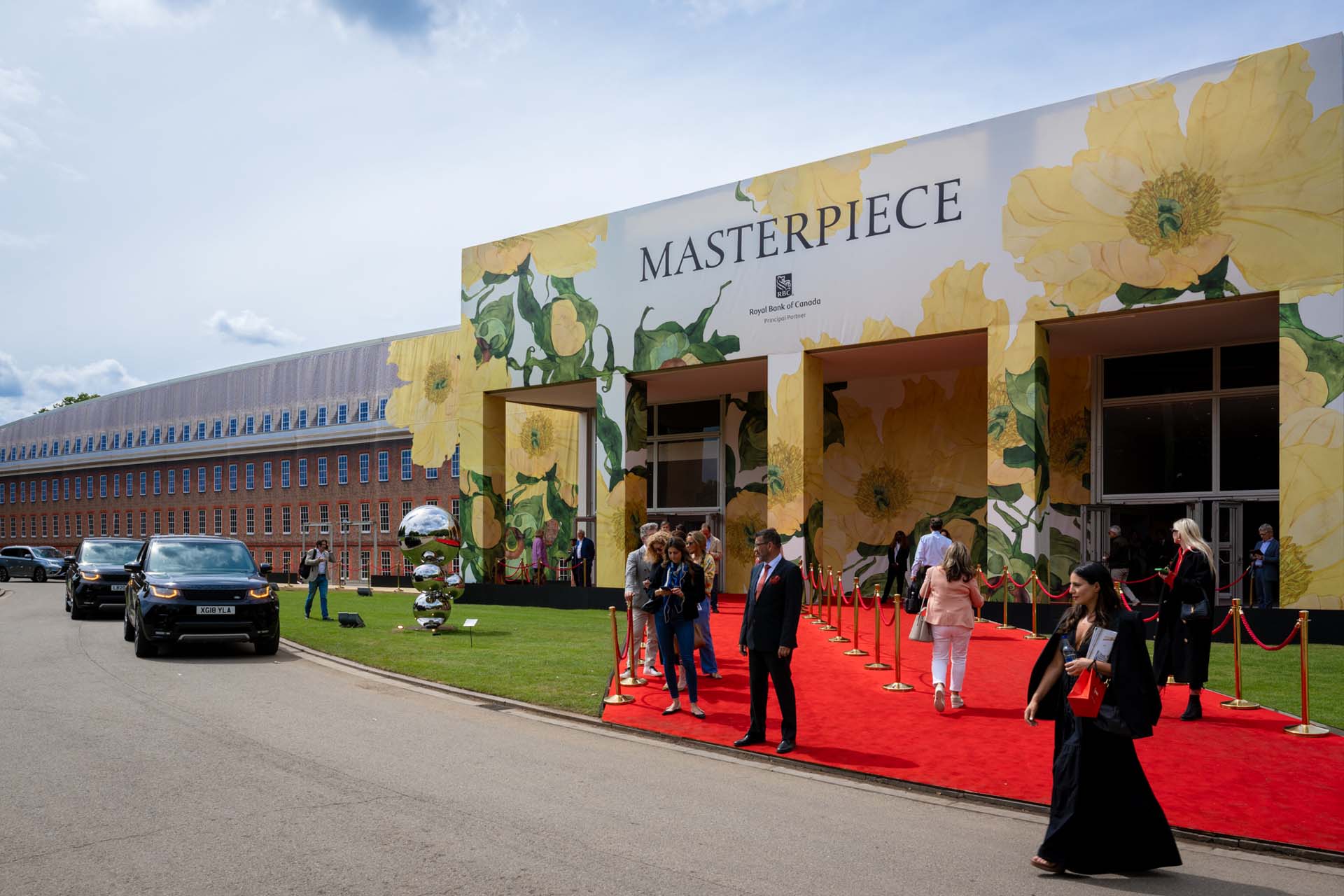 The C&TH Guide To Masterpiece 2022: What to See & Tune In To
---
What to see at this year's fair
Back in person for the first time in two years, Masterpiece London is set to take the capital by storm with its expansive curation of artworks, furniture, jewellery and design pieces dating from antiquity to the present day. Plan out your visit with a little help from our guide below.
The C&TH Guide To Masterpiece 2022
Masterpiece Awards & Highlights
Masterpiece gives out four awards each year to the most outstanding exhibits at the fair, decided by a committee of directors, curators, collectors, artists and journalists. Recipients represent the crème de la crème of the art world, and are expected to draw in big crowds.
Outstanding Display – Awarded to Geoffrey Diner Gallery (Stand 203), for its 'masterly display of modern design, with a fine feel for how post-war furniture makes its claim for museum display but also a sensitivity to domestic display'.
Outstanding Exhibit – Presented to six works of art in the exhibition judged to be outstanding, this year's recipients are:
The Bronckhorst Castle Chandeliers from Fileman Antiques (Stand 113), which were described as 'an exceptional pair of George II chandeliers with a striking cleanness of form and surprisingly fresh aesthetic'.
Paula Rego's Island of the Lights from Pinocchio from Piano Nobile (Stand 204). The committee described it as 'an outstanding drawing from a major series by one of the greatest and most original of all post-war artists'.
Oscar Bergman's Edge of a Wood Carpeted with Flowers from Perrin Fine Art (Stand 311), which was praised by the committee for its 'enigmatic, gem-like watercolours of Swedish landscapes'.
A Vincennes porcelain ewer created in 1755, painted by Armand L'aîné and given in 1756 by Madame de Pompadour to the Elector of Cologne. Courtesy of Adrain Sassoon (Stand 409), it is described as 'an elegant porcelain ewer with beautiful bird paintings and a fascinating connection to Madame de Pompadour'.
An English Delf Dish Brislington, titled The Alomode Dress, or The Maidens mode Admir'd from E & H Manners (stand 417). The committee deemed it 'a rare example of English pottery with a satirical subject'.
Two folding screens from the Japanese Edo Period depicting military maps and formations, from Patrick & Ondine Mestdagh (Stand 613). The committee commented: 'These beguiling maps are extremely unusual but the committee was drawn not only to their historical mystery but to the clarity of the design, reminiscent of concrete poetry but from a very different tradition'.
The Philip Hewat-Jaboor Award – An award which recognises an extraordinary work of art that presents a fresh perspective, discovery or rediscovery, the Philip Hewat-Jaboor Award was presented to a pair of George II Coade Stone thrones designed by Thomas Hope and produced in 1800, from Edward Hurst (Stand 404). The thrones were only recently discovered.
Masterpiece Highlights – Each member of the committee has nominated an object they believe best reflects scholarship, rarity, and connoisseurship in their category. These objects are scattered across the fair, and include picks from Peter Harrington Rare Books, Koopman, Michael Hoppen and Fileman Antiques. See the full list here.
Masterpiece Presents
The artist taking pride of place at this year's Masterpiece Presents is Anila Quayyum Agha, a Pakistani-American artist known for her immersive light installations. Represented by Sundaram Tagore Gallery, the artist has had three solo museum shows in the past year alone.
For her presentation, Agha has created an illuminated cube created from laser-cut steel, which has been suspended from the ceiling and lit from within to cast intricate patterns on the walls surrounding it. These 'lace-like' patterns create a richly ornamented space reminiscent of the mosques Agha grew up visiting in Lahore.
The second work from the artist, This is NOT a Refuge II, 'explores the loss of family and home that stems from displacement and resettlement'.
Talks
There will be stand talks taking place throughout the week, discussing the works on show, the artists' backgrounds, the social landscape they were created in and the techniques used. Notable talks include Photorealism: Painting through the Lens (Waddington Custot, Stand 407), Fashion and Fiction: the Art of Dress in Elizabethan Portraiture (Philip Mould & Company, Stand 413) and The Name's Bond: Collecting Ian Fleming (Peter Harrington, Stand 102). No booking is required for these talks, and anyone can attend. For the full schedule, please see here.
Masterpiece Sculpture Series
This year, Masterpiece's Sculpture series has been curated by Melanie Vandenbrouck, Curator of Sculpture at the V&A. A showcase of the work throughout history, the sculptures on show reflect on the human condition and societal changes through personal, political and universal themes while creating bridges that show how different disciplines can inform each other. See the full lineup of this year's Sculpture Series here.
GET THERE
Masterpiece London will be held between 30 June and 6 July 2022 at the Royal Hospital Chelsea, with tickets starting at £45. For more information, please visit masterpiecefair.com.
Featured image: Guests Arrive at Masterpiece London 2022, Ben Fisher Photography, Courtesy Masterpiece London
DISCOVER MORE
The UK's Best Art Shows & Fairs 2022 / Queer Art Exhibitions To Check Out Now