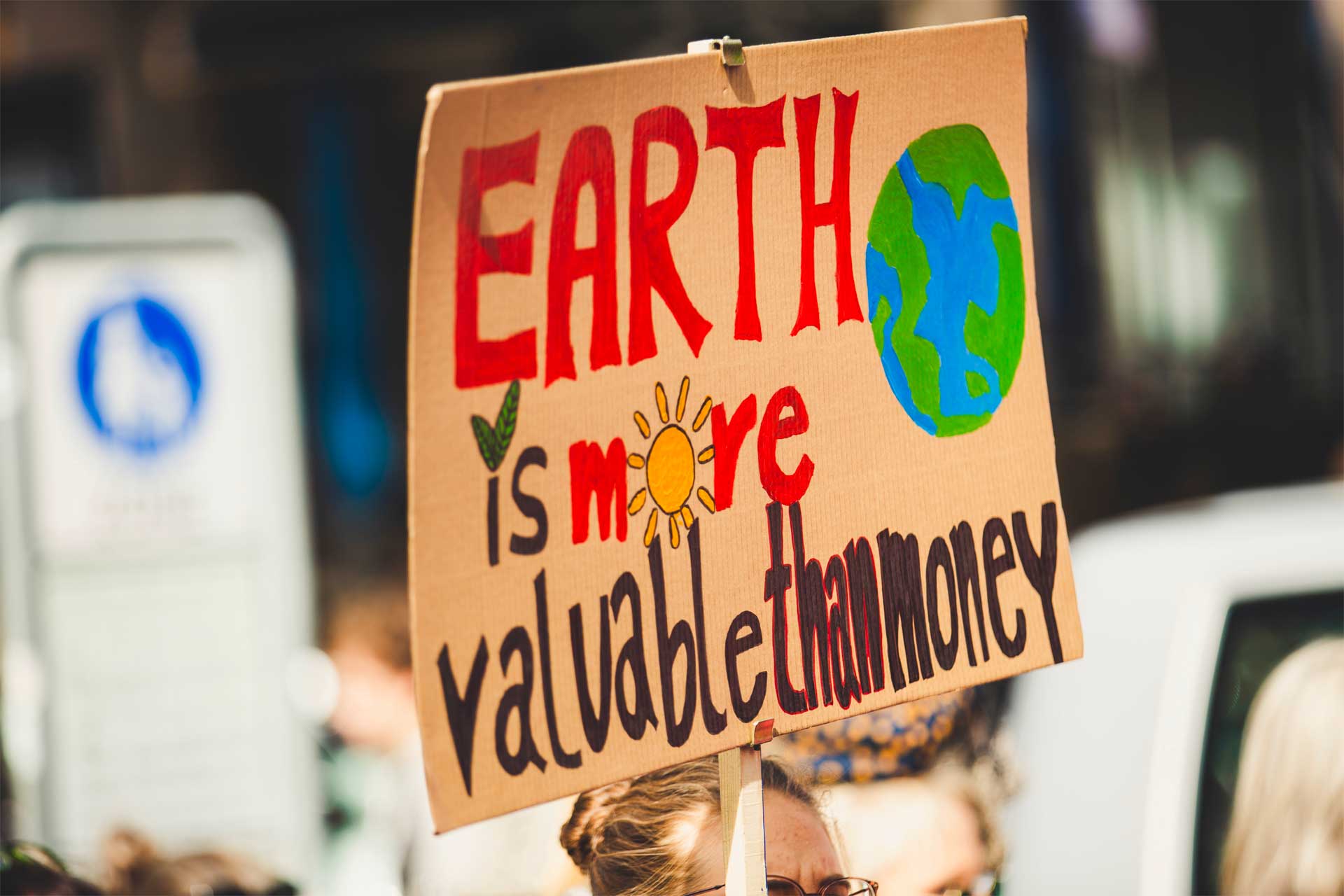 Eco-Anxious? Take These Easy Steps Towards Becoming A 'Net Zero Citizen'
The best way to manage climate anxiety is to take action
It's impossible not to feel a bit overwhelmed by the state of climate change. We sat down with green coach Lucy Johnson to understand where we might have control in the wake of such an insurmountable issue – and to find out exactly what a 'net zero citizen' might be. 
What Is Eco-Anxiety?
Two thirds of us experience eco-anxiety, according to a recent survey commissioned by Friends of the Earth via YouGov. With the steadily ramping effects of climate change hitting Britons, such as the extreme heat we experienced last summer, many of us may be finding ourselves increasingly worried about the future of the planet, and questioning what the impact of our actions are on the planet.
If you're experiencing anxiety around the climate, one of the best ways of handling this feeling is through turning fear into action. But with the magnitude of the issue – and especially given that over half of all global emissions can be traced back to only 25 state and corporate owned companies – it might be difficult to figure out how individual action and change can help, or even where to begin. 
Mental Health Awareness Week 2023: How To Cope With Anxiety
To get a clearer idea of how we can start, we met with Lucy Johnson, founder of the Green Salon and lifestyle green consultant (previously a political and environmental journalist for the likes of the BBC and ITN). She has introduced the idea of a 'net zero citizen', and guides us on easy ways to start fighting climate change. 
'It's now consumers who are behind the curve,' she tells us, 'with many UK companies backing ESG goals and supporting the green wave, but consumers are not picking this up. We need to create the demand. The actions of citizens are the missing piece of the jigsaw puzzle – it only takes one in four people picking up a behaviour for it to become mainstream, and UN reports believe that changes to consumer behaviour could reduce emissions by 40-70% by 2050.'
What Is A Net Zero Citizen?
A net zero citizen is a concept introduced by Lucy, who believes that our individual climate habits might, together, be able to make a mark on this seemingly insurmountable issue.
The idea aligns with and supports wider governmental goals of net zero, a target that mandates that, by 2050, our national carbon emissions should be 100 percent lower than they were in 1990. A net zero citizen, then, is someone who is working towards making their lifestyle choices as carbon efficient as possible, reducing their impact on the natural world to negligible levels (or none, were it possible). 
'We believe that planetary regeneration begins in our homes and habits,' says Lucy, 'and we're not striving for perfection, as this is a futile endeavour – but it's about doing our bit.'
How Do You Become A Net Zero Citizen?
Measure And Know Your Impact
Lucy tells us that the key first step to becoming a 'net zero citizen' is understanding what our individual carbon footprint is – and then breaking it down into small, specific and categorised chunks. The average person in the UK has a greenhouse gas footprint of 12.7 tonnes of CO2e each year, but that alone is not particularly helpful information.
Broadly speaking, the carbon footprint of any UK individual can be divided into the following smaller categories:
Travel – 27 percent

Food – 25 percent

Home & accommodation – 25 percent

Everything else – 23 percent
Breaking this down further, this splits into the following further categories:
Travel:
Vehicle fuel – 11 percent

Personal flights – 9 percent

Cars (manufacturing and maintenance) – 9 percent

Other transport – 4 percent
Food:
Food & drink from shops – 23 percent

Eating out – 2 percent
Home & Accommodation:
Household fuel – 11 percent

Housing (building and maintenance) – 6 percent

Household electricity – 5 percent

Accommodation away from home – 3 percent
Everything else:
Health, education and public services – 10 percent

Non food shopping – 7 percent

Other bought services – 3 percent

Water waste and sewage – 2 percent

Leisure activities – 1 percent
To be a bit more specific, it's possible to get a personal assessment through carbon calculators. 
Take Action To Cut Your Carbon Footprint
With a clearer understanding of your impact, it's significantly easier to find solutions. Maybe you're already pescatarian – which has a much smaller impact on the world than a diet involving meat – so instead you'll focus on areas where you're slightly overshooting the mark, be it in flying or frequent fast fashion purchases. 
According to Lucy, actions you could undertake might include:
Targeting that home and accommodation percentage by switching your energy bills to a more environmentally friendly energy provider, like Octopus. 

Committing to slow travel habits – even if it's not every trip you take – be that ferries, cycling trips, trains, or simply not taking a long haul flight (a return trip from London to Bali tallies up to roughly 3,700kg CO2e per person, for example, of the carbon impact here), it's a significant saving on the planet – Lucy recommends travelling for twice as long half as often so that you make less environmental impact while still getting to benefit from seeing the world. Read our sustainable travel posts to discover more.
Switching to refillables and reusable products – for example, replacing your hand soap with an Ecover refillable (which reduces your plastic use by 74%), or converting to refillable makeup – and you might find that over a year, or longer time period, that this works out significantly cheaper.

Read our guide to sustainable swaps.

Switching to a lower impact diet (did you know the difference between a medium-meat diet and pescetarian diet is a saving of 627kg CO2e per year?).

How to eat meat (right).

Reduce your home energy bill and save carbon by turning off any plugs left on standby by either switching off or investing in timed standbys – about a month's worth of electricity can be saved each year which is significant in terms of cost and energy efficiency.

Talk to other people in your life about it as you take up more sustainable actions – it only takes one in four people to make a movement mainstream so the cumulative impact of converting your friends might mean a wider, mass and structural change.
Lucy Johnson is our Green Coach with a monthly agony aunt column, and you can send in questions to her at info@greensalon.co.uk. She presented 'how to become a net zero citizen' to the Country & Town House team in March 2023; for green coaching, contact her at [email protected]. 
Featured image: Photo by Markus Spiske on Unsplash