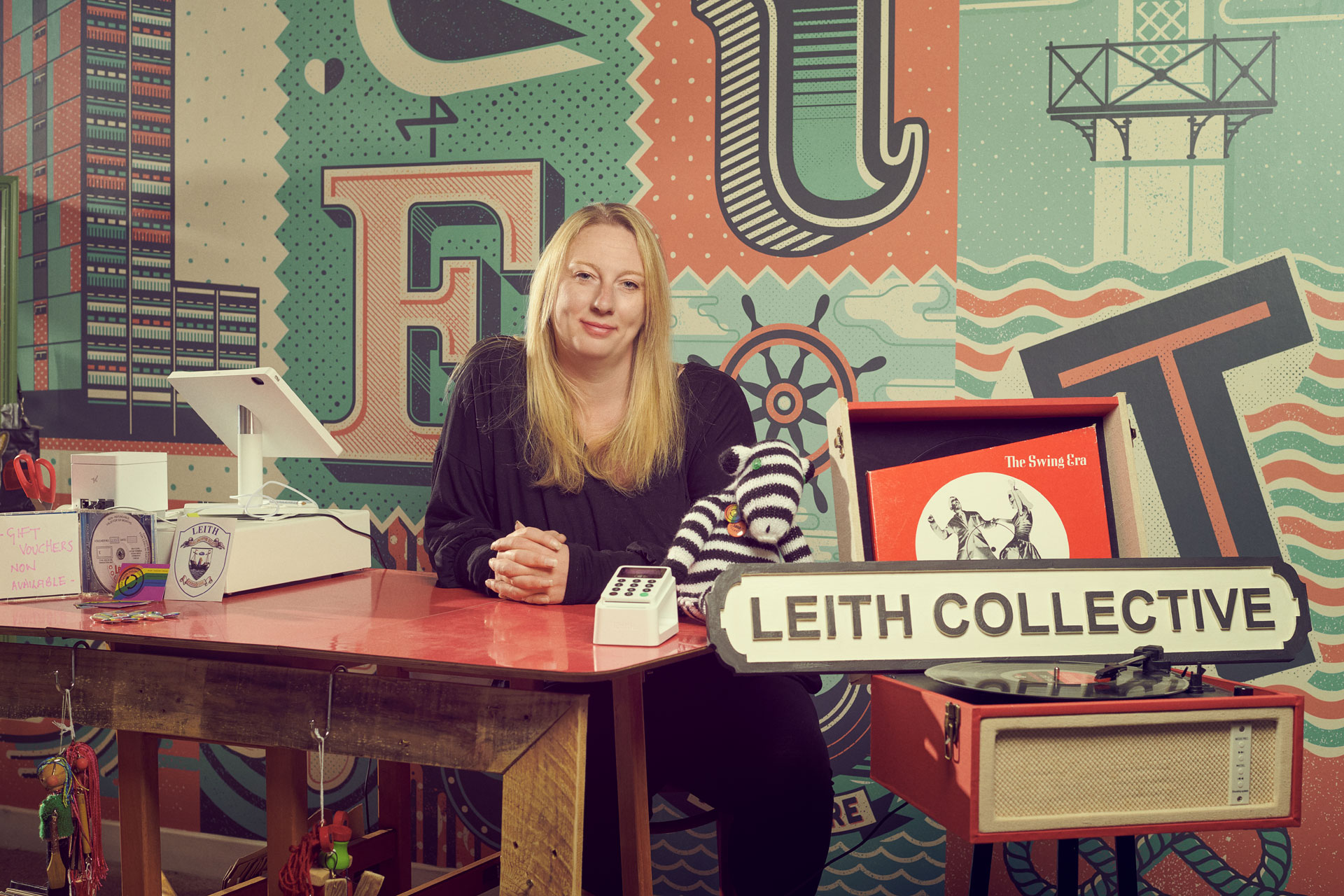 Green Heroes: Sara Thomson, Owner of Leith Collective
'I have a lamp at the side of my desk that's been made out of an old fire extinguisher. It was destined for the landfill, but I use it every day.'
Sara Thomson, owner of the UK's first single-use plastic-free shop of its kind, Leith Collective, is on a mission. Platforming over 130 makers in Scotland, the newly appointed COP26 One Step Greener Ambassador wants everyone to ditch the plastic, and rethink retail. 
When was your green lightbulb moment?
When I was walking my dog, I could see that more and more litter was building up day by day on the path. When I came across makers out there who could turn this rubbish into something not only useable but beautiful, I thought: wow. Now that's completely sustainable. That was the moment I thought, we need to adopt this and just go for it.
What green business practices are you most proud of?
Getting everybody to adopt no single-use plastic in the shops, we just don't allow it. It was really hard, I educated a lot of the artists and makers who work with me because if you go into pretty much any card or gift shop so much is wrapped in plastic. These makers are now taking their learning to other shops, they are taking it online. So actually this small step is turning into this much bigger thing, which is brilliant.
What makes you feel positive about a sustainable future?
The people who come to Leith Collective are genuinely loving it. When we run sustainability-minded workshops like upcycling for kids, they are all really into it. It's a small moment, but it's a big deal for the future because if we can educate our kids now, that's a whole generation who are even better equipped to drive change.
And what are the facts that make you fearful?
There isn't one specific fact that makes me scared, it's people's mindsets that worry me more. It's whether we can get enough people to adopt enough change – and in enough time.
Who is your own green hero?
My granny is my green hero. When I was younger, if a shirt was ripped and seemed beyond repair, she'd get me to cut all the buttons off, save them and carefully put them in a button tin. We'd then cut up the shirt into little squares which we'd use for cleaning. Nothing went to waste. She's taught me everything about how I run my shop today.
Your favourite product – and tell us why we can feel good about buying it?
Moisturising oils for your skin. I'll never go back to buying moisturiser in plastic packaging again. I use skin oil out of a glass bottle, it's by a tiny company called Anam Cara Naturals – it smells amazing and feels so good on my skin.
Can producing anything new really be called sustainable?
When you turn scrap into something new, I think it can be. I have a lamp at the side of my desk that's been made out of an old fire extinguisher. It was destined for the landfill, but I use it every day. Making new things isn't necessarily a bad thing; it's how you make it.
Where do you source your materials?
Predominantly from the landfill and people have now started to donate things to us. We've got lots of robots made out of vintage OXO tins (who have all got their own names). We have a maker at Leith Collective who turns broken umbrellas into handbags, and another who uses old bike tyres into jewellery, but you'd never believe it.
Name three other of your favourite brands who are doing the right thing and why you like them?
One of my favourites is Chilly's Bottles. It's tried and tested, I've dropped mine a million times, it hasn't broken, it keeps everything hot for the whole day. We can't carry on with disposable cups, they drive me insane. Veja sneakers and Finisterre, unlike many brands, have managed to achieve all three: being fashionable, sustainable, and comfortable. They're doing the right things, and they don't even need to shout about it.
Should we be green-shaming the brands/companies who are doing nothing to change their ways?
Let's flip it and praise the brands that are doing the right thing, and give no attention brands that aren't. Voting with your money is much more powerful.
What are the biggest challenges in running a sustainable business?
It has to be price difference. Certain packaging can be more expensive if it's biodegradable or compostable, which is a huge challenge that my makers are finding. It's always worth it, but it's a stumbling block for a lot of people.
What advice can you give to other businesses who are wanting to do better?
Start with the small things. It won't be noticeable at first, but it's a snowball effect to change. When I first started the shop, I didn't buy any new furniture. If it was in the bin, we used it. But now another shop has done the same. And another one. Customers come into Leith Collective asking 'where did you get that table' – you tell them, and then they say, 'well I'm going to do that'. Before you know it you've started to change people's perceptions about waste.
Will you sign up to going carbon neutral (or even negative) by 2050?
100 per cent. Despite us not having the level of emissions that bigger businesses do, for us, it's all about the bigger picture. Sustainability is about building communities back up again and keeping them alive. That's reducing waste, emissions, plastic. It's all interconnected.
Three things we should all, as individuals, be doing to help in the climate change fight?
Nominate somebody in your community to be a One Step Greener ambassador to give their voice a platform.
Take a bag out to go shopping.
Shop local.
To find out more, visit leithcollective.com
Main Image: Leith Collective
SEE MORE
A Guide to the Art of Upcycling / Zero Waste Week: Zero Waste Shops in London