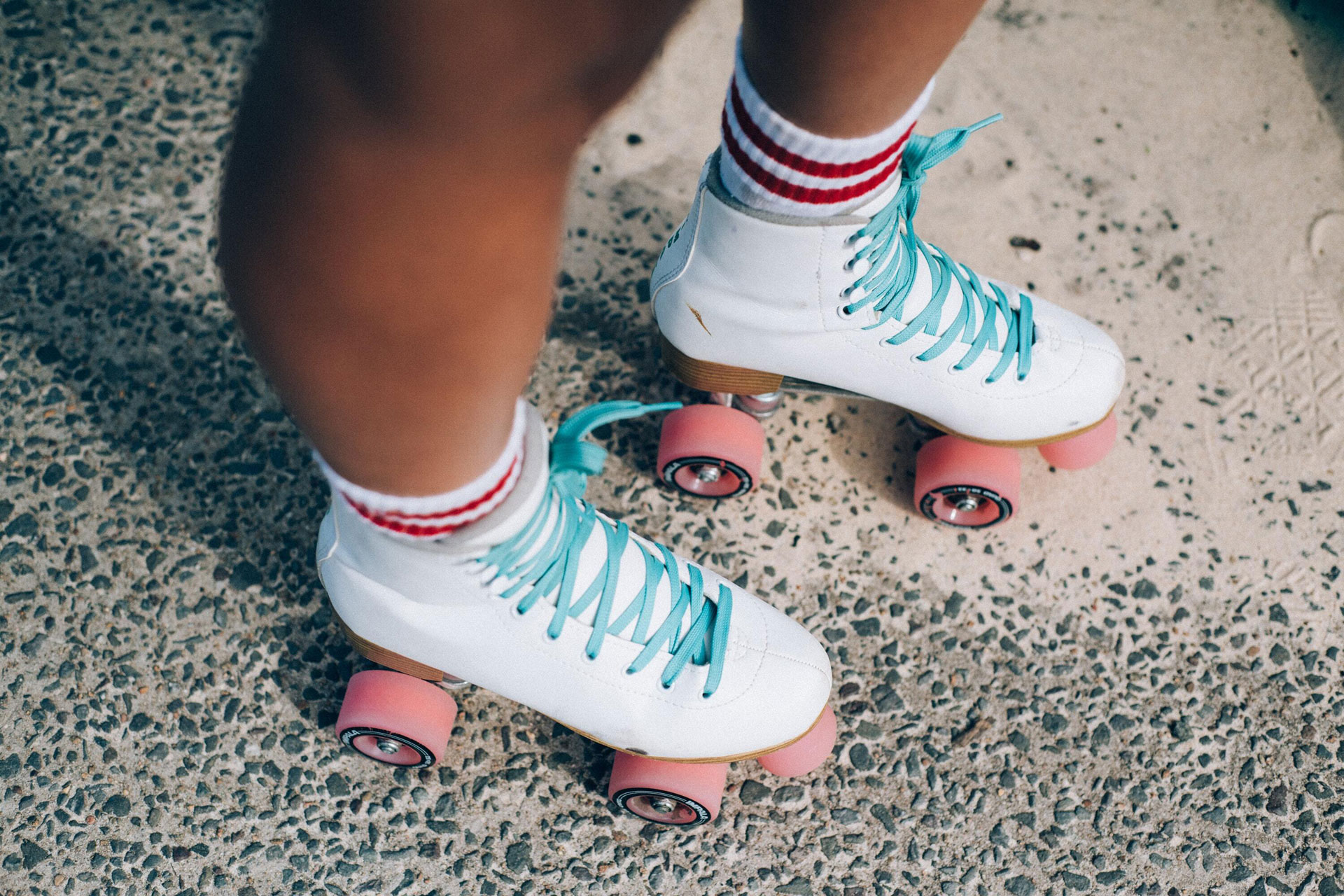 A Guide To Roller Skating
---
The Houseparty app, Zoom quizzes, stockpiling: some lockdown trends are best left in the past. Others, though, are here to stay – one being the revival of roller skating.
The '90s pastime made a comeback last year, in part due to its pandemic-friendly nature. During the deepest and darkest lockdown 1.0, going outside for daily exercise was one of the only things we were allowed to do. While some became pro runners, others took to wheels – spurred on by TikTok and Instagram, where videos of skate-fluencers like Ana Coto gliding around palm-tree lined LA streets were going viral. Globally, searches for rollerblading more than doubled between March and May 2020, while retailers like Locoskates and Slick Willies saw a huge surge in sales for skates – and interest is only growing.
So what's the big draw? For some it's simply the fun factor, while others are drawn in by the nostalgic element. Roller skating is also a great workout: the sport gets your heart rate up, plus it strengthens your core, thighs and glutes. More experienced skaters also praise the sense of freedom gliding around on wheels brings – something that's been lacking in recent years. Tempted to give it a try? Read on for some top tips on everything from gear to technique.
Roller Skating For Beginners: A Guide
Gear
Of course you'll need to begin by buying some shiny new skates. If you're after jazzy colours and patterns, Urban Outfitters stocks a wide range, mostly from upmarket skate brand Impala. There's also Rookie, which sells high-quality, vegan-friendly skates in different patterns and pastels. For kids skates, John Lewis has a good selection. In terms of sizing, Inline Warehouse notes they should feel snug but not too tight: ideally your feet won't move around inside and your toes will just touch the ends of the boots. We've picked a few favourites here.
Now for the less fun bit: protection. Falling over is common for newbies, so it's important to invest in a good helmet, knee and elbow pads, and wrist protectors. If you already have a cycling helmet, feel free to use that – according to the United States Consumer Product Safety Commission, they're your best bet for recreational skating. Impala does a protective pack containing everything you need, while Facebook group Skate Tips offers product reviews.
Technique
Before you hit the pavement, pros recommend wearing your skates around the house to find your balance and get your body used to moving on wheels. Check out Impala's Instagram Live channel for technique videos – or take it even further and book a class with a company like Skatefresh or London Skaters.
A few top line tips are:
Many beginners naturally stiffen their legs – but this will cause imbalances, so bend your knees instead.
Make sure to practice stopping. There are various different braking techniques, including using the toe stop on your skates and mastering the T-stop with your wheels.
Learn how to fall properly. Most skaters will take a tumble at some point, but there are a couple of things you can do to make it hurt less. Try and fall from the lowest height possible by continuing to bend your knees, for instance, and if you fall backwards lean to one side to avoid landing on your tailbone.
Where To Roller Skate in London
Ready to show off your moves? Head to one of the capital's skate parks, such as the famous Southbank hangout. Roller skating is also allowed on cycle routes in many London parks – you'll find a big scene in Hyde Park, Battersea Park and Kensington Gardens, among others.
Alternatively, make a night out of your new hobby by heading to Roller Nation, a roller disco in Tottenham. The club on wheels – formerly located in Vauxhall – is an indoor skating venue complete with a DJ, bar and diner.
READ MORE:
Stand Up Paddleboarding: Where To Learn in London / Best Boutique Fitness Studios in London