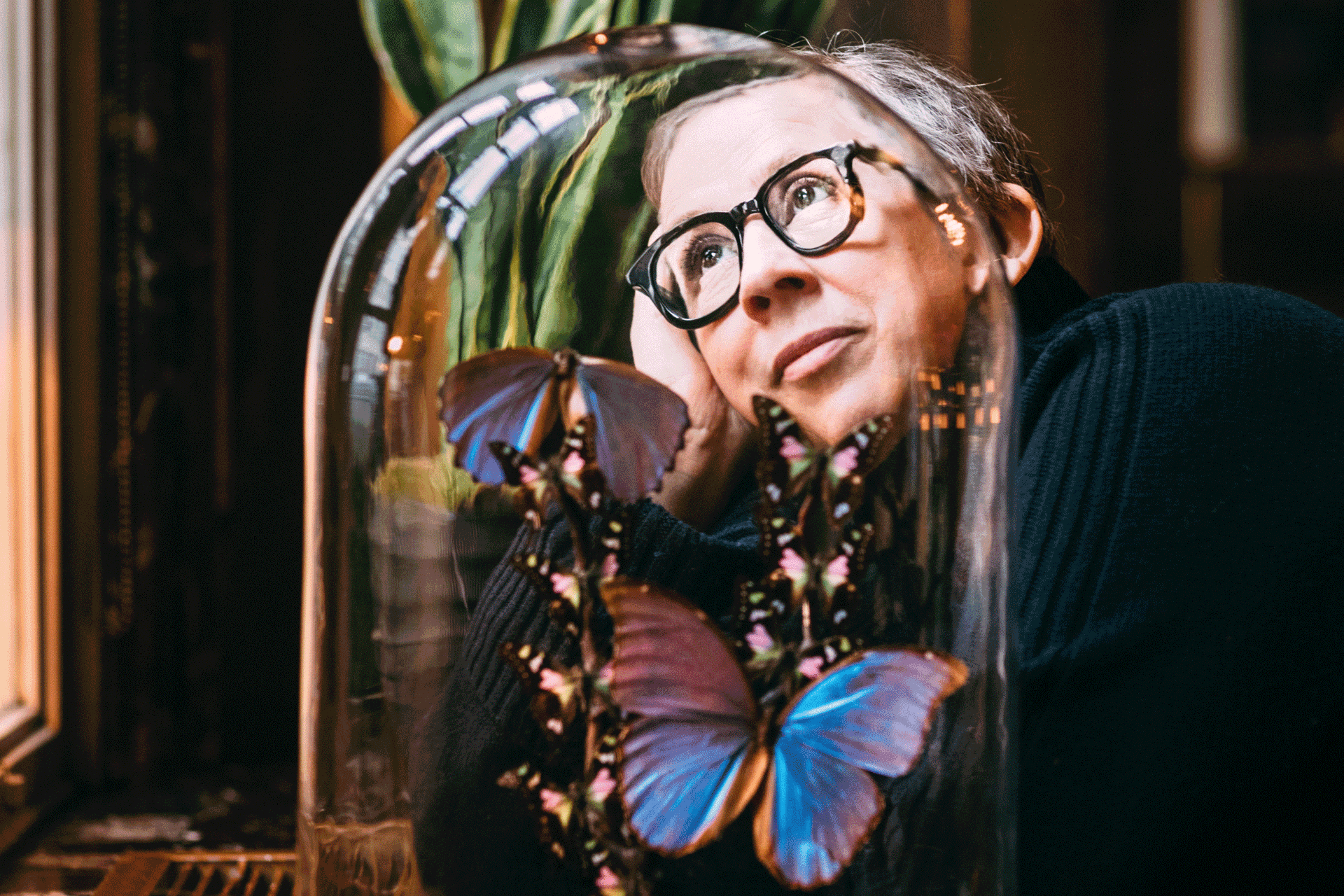 Conversations At Scarfes Bar: Abi Morgan
---
On 'The Split', screenwriting, and her new book, 'This Is Not A Pity Memoir'
Abi Morgan's own life is as riveting as the dramas she's scripted, says Charlotte Metcalf.
Conversations At Scarfes Bar: Abi Morgan
Abi is no stranger to Scarfes because a scene in The Split was filmed here. The Split is the TV series Abi wrote about divorce lawyers, starring Nicola Walker and Stephen Mangan, which had me and countless others glued to our screens for weeks. Abi's written many films and television series and her writing is so exquisitely observed and true to life that it has won her numerous accolades and awards, including an Emmy for The Hour, her series about the BBC in the 1950s starring Romola Garai, Ben Whishaw and Dominic West. Shame, Abi's feature film with Steve McQueen about sex addiction, starring Michael Fassbender and Carey Mulligan, garnered more awards. Initially, Abi was not confident she could write: 'My parents were in the theatre so it was natural for me to go into acting, but it was soon apparent that I was excruciating on stage.' When she eventually wrote her first play, it won a competition at Croydon Theatre and success quickly followed.
Her ideas come from listening and no snippet of idle chit-chat is wasted. The concept for The Split emerged while watching her children play hockey with another mum. 'My parents divorced when I was 13 so I'd always absorbed the taboo of a broken home,' Abi says, 'but as I chatted to this mum about her job as a divorce lawyer, I saw there could be care around divorce which got me thinking.'
We chat about Brick Lane and Suffragette, about how she wishes there'd been a third series of The Hour and then about Shame and how different American attitudes are to sex addiction. However, we're not at Scarfes to dissect her script-writing career but to talk about her book, This is Not a Pity Memoir, the shocking true story of her life unravelling.
First, Jacob, Abi's beloved life partner and father of her two children, collapses with brain damage brought on by MS drugs he was trialling. Jacob is hospitalised for over a year, during which time Abi undergoes chemotherapy and a mastectomy for vicious breast cancer. As Jacob regains consciousness, he recognises their children but refuses to acknowledge Abi as his partner, believing her to be a state-employed carer. Abi relates every detail of this litany of trauma, humiliation and woe with unwavering honesty. 'I had to write to stay sane,' she says. 'I was writing the third series of The Split and screenwriting is very structured and mathematical, which helped. But I wrote the book differently. My normality was entirely punctured and became a surreal nightmare. I approached it like a TV thriller and observed the scenes I was living through as if I were in a movie. That helped me to understand what was happening on a cellular level and dissipate the rage.The dramatist in me was even slightly revelling in it all.'
She records her own behaviour and emotions mercilessly, particularly the shame she felt after failing to thank Jacob during her Emmy acceptance speech for all his love and support. 'Instead of acknowledging him I chose to please the audience by cracking a joke,' she says. 'It was a bad, split-second decision but I can't undo it and I wanted to be as brutal and steely-eyed about myself as anyone else. It's how I get closer to understanding the human condition.'
Though the memoir is a forensic examination of a woman and family under almost unendurable pressure, it's ultimately a love story and ends with a knowing nod to Jane Austen. Abi's ability to accept her relationship's loss of romance and accept it in a different form is testament to her perseverance, optimism and unshakable – though sorely tested – belief in love, which has yielded an unexpected but happy situation. While life will never be the same, Jacob is back at home with Abi: 'The children are at university and travelling so we're empty-nesters and loving it. We never spent enough time together before I was pregnant and then had small children, without really knowing each other, so we drove each other insane. But now, Jacob's wonderful sense of humour is back, he's excited about life again and we're amazed to feel the ground still under our feet.'
What strikes me most about Abi is how avidly she listens, relishing every detail. She has intensity and energy, driven by her capacity for joy and insatiable curiosity and appetite for life. 'Yes, I do have this unbelievable sense of "OMG life is short",' she agrees. 'I care a lot less about a lot of shit and I do try not to worry about the way I look. I mean I'm 5'1", overweight, one-breasted, lopsided and carrying four years' worth of scars. And as age looms, how do we stay transparent, relevant and visible?' Hardly a major concern, given the exciting projects she's planning, including directing the movie of her book. And if the film succeeds in being as truthful and transparent as the book, it too will be a profound lesson in how to endure, love and live to the full – and what could be more relevant than that?
Abi Morgan's This is Not a Pity Memoir is out now in paperback (John Murray, £9.99)
IN BRIEF
COTTAGE OR PENTHOUSE?
Spiritually a cottage but mentally a penthouse.
DOG OR CAT?
Styler is our beloved labradoodle, north London's most popular dog.
COUNTRY PUB OR MICHELIN STAR?
Pubs generally – I like the Bull and Last in Parliament Hill and the Notley Arms in Somerset.
GARDENING OR THEATRE?
Actors are my tribe, it has to be theatre.
DESIGNER CLOTHES OR COUNTRY CASUALS?
Most writers are just scruffy.
Featured image credit: Alexandra Dao