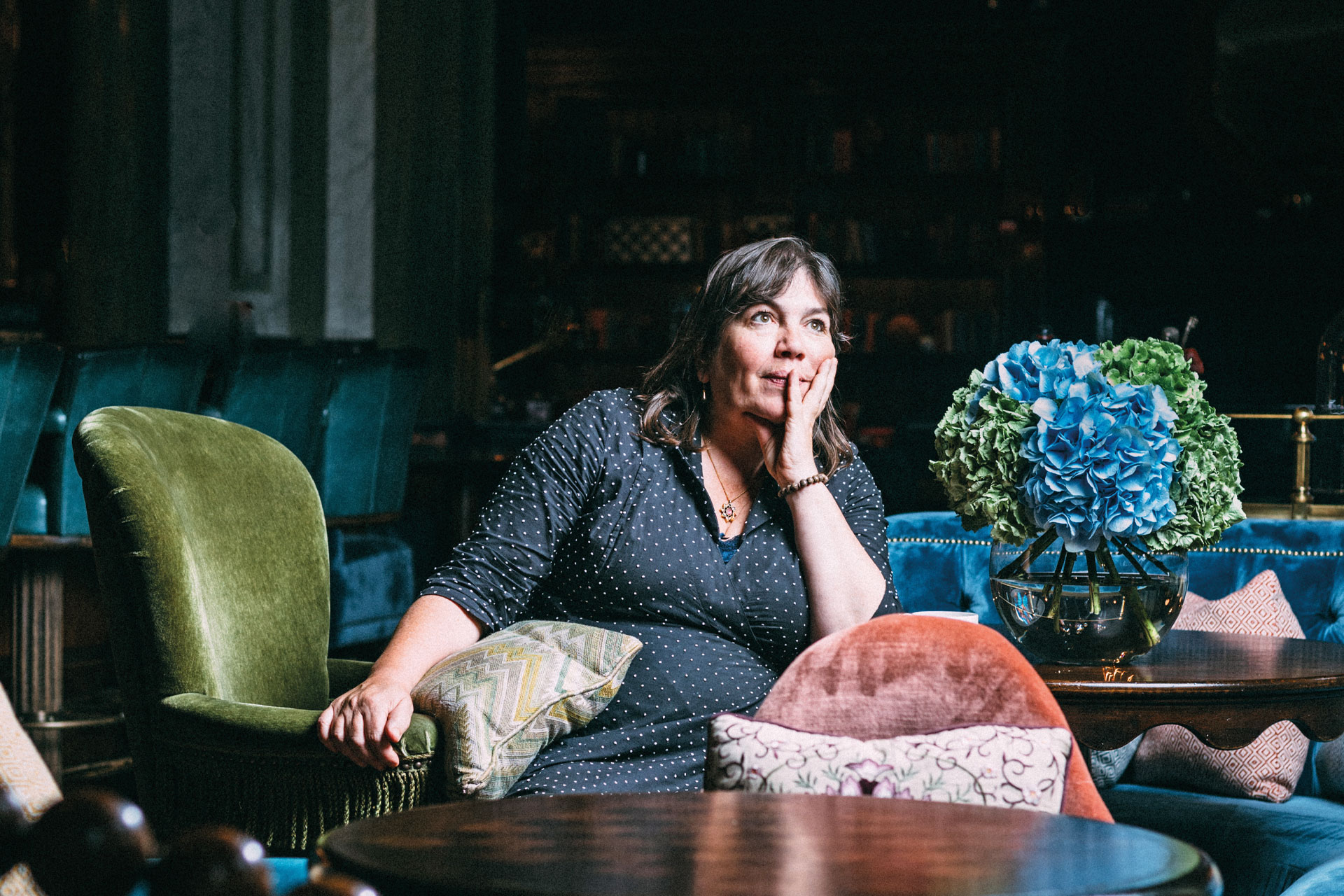 Conversations At Scarfes Bar: Catherine Goodman
---
Artist Catherine Goodman tells Charlotte Metcalf how drawing completely changes how you look at the world
Charlotte Metcalf meets artist Catherine Goodman in the iconic Scarfes Bar. 
Interview With Catherine Goodman
Catherine Goodman arrives at Scarfes while her solo exhibition, And Everything Changed at the Marlborough Gallery is garnering rave reviews and healthy sales. She's just returned from a ten-day trip to Tuscany with 22 art students. 'We worked and drew all day, then ate and drank in the evenings – it was wonderful but exhausting,' she laughs. Despite her punishing schedule, Catherine's belief in the benefits of drawing and her love of painting fire her with an energetic commitment that buoys her spirits.
On Drawing
'Drawing teaches you to look, and the longer and more closely you look, the more you fire the memory, imagination and feeling. "Slow-looking" is the antidote to technology's addictive speed,' she explains. 'By 2000 my generation of artists had split. Many were YBAs who'd been taught by Michael Craig-Martin at Goldsmiths, while at Camberwell, where I studied, there was still a legacy of post-war drawing that was based on a connection with the perceptual. I was taught by remarkable tutors, at both Camberwell and the Royal Academy Schools, including Sickert's nephew. I drew for seven hours a day and then three hours a night.'
But when she went back to teach at Camberwell, drawing had disappeared, engulfed by a tsunami of conceptualism. 'Life drawing was considered old-fashioned and had vanished, which was absurd as it's one of the most interesting things you can do. It's very humbling as you realise how difficult and challenging it is – especially when you look at Van Gogh or Cezanne.' In 2000, Catherine co-established the Royal Drawing School with Prince Charles to address the increasing absence of observational drawing in art education. The school now has 3,000 students a week.
Catherine looks at the bowl of hydrangeas next to her and asks, 'What does their blue remind you of? Maybe your mother's dress? Look again – slowly. Everyone has a unique response to something and it's about using all our senses and feelings to process that. Give anyone 12 hours of observational drawing a week and it'll totally change the way they look at the world. Other schools suggest there's one way of drawing and don't allow a unique response to scale or creating an image, but there's no set way to respond to nature. A school can teach you to draw like an angel but there's not a lot of point if you're drawing like everyone else.'
Inhabiting Places You Love
Catherine grew up with her Russian mother between Kew and Oxfordshire. Her great-grandmother was Lady Ottoline Morrell, a patron of the arts who entertained from her homes in Bedford Square and Garsington. 'My Bloomsbury granny taught me that it was preferable being an artist to being a solicitor or doctor,' she laughs. 'I also had a Stanley Spenser self-portrait in my childhood bedroom that influenced me.' Catherine's early artistic life was aptly bohemian. After leaving the Royal Academy, where she won the Gold Medal in 1987, the artists John Ward and Carel Weight helped her mount shows while she taught. She lived and painted in the attic of St Mary of the Angels Church in Notting Hill, also a homeless centre with a soup kitchen on the first floor. 'I was living a very alternative London life,' she says. Then in 2004 she won the BP Portrait Award and her life changed. The Marlborough Gallery took her on, and she's been with them ever since.
Her recent show there comprised a series of monumental canvases, many inspired by her lockdown visit to a South Indian retreat. They pulsate with colour and unrestrained exuberance and reflect her love of nature and the human form. Nudes and trees intertwine and fuse, revealing her preoccupation with our place in the landscape and with Ovid's Metamorphosis. 'How do you inhabit places you love?' she asks. 'Drawing in one place grounds you as you get to know its atmosphere and vegetation. I work in no more than an acre, finding friends among the landscape in the shape of trees or rocks. I like to go back to the same acre year after year, as the patina and layer of memories reflect back how your life has changed and how you've grown, at the same time triggering nostalgia for the place.'
What's Next
Catherine has also spent time in Corfu and, in April, Waddesdon Manor in Buckinghamshire, managed by The Rothschild Foundation, will mount a major show of her Corfu work. 'I've been visiting Jacob Rothschild's place and drawing the beautiful, ancient, gnarled olive trees there. We're never happier than when we're engaged in something like writing, gardening or painting, a form of concentration that expands our imagination and is key to our mental health.' Catherine's delight in her own artistic process and in teaching others is so contagious that it makes me want to go straight out and buy a sketch book. There is no greater champion, nor such an exemplary success story for learning to draw than Catherine.
Find out more at catherinegoodman.co.uk
DISCOVER MORE:
Conversations at Scarfes Bar: Jeremy Hunt / Artist's Studio: Meet Sabina Savage